Enthusiasm: the Secret to Happiness
The secret to happiness
By Bob Metcalfe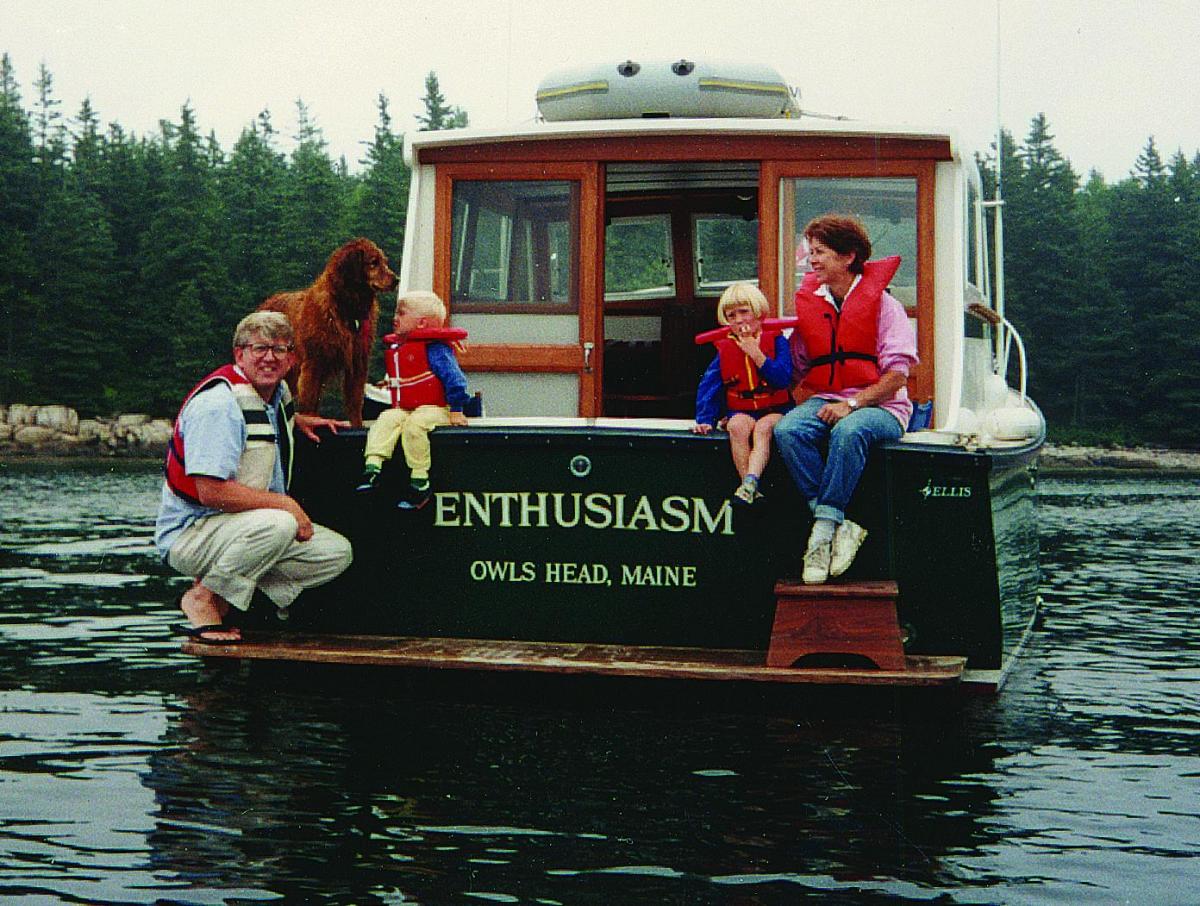 Bob and Robyn Metcalfe and their children Julia and Max posed for this family photo aboard Enthusiasm in their cove on Greens Island in 1991 when they first got the boat. Photo courtesy Ellis Boat Company Enthusiasm is our "lobsta yacht." We've had her since the summer of 1991, when we picked her up at Ellis Boat Company in Southwest Harbor, Maine. She's a 32-foot, diesel-powered, semi-displacement, green-hulled, extended-top cruiser, and she's the secret of happiness.
These days Enthusiasm doesn't go very far. Mainly she cruises around Penobscot Bay, especially between Owls Head and our camp on Greens Island overlooking Hurricane Sound. When our kids were small, we cruised north, to circumnavigate Campobello Island, just across Maine's border with Canada. After picking up a mooring and failing to find the island's border guard, we spent the night illegally in Canada and then, illegally again, re-entered the United States the next day. What I remember most is the 20-foot tides and the swirling water between them.
Another time, we took Enthusiasm south, to circumnavigate Manhattan Island. I was raised on an island—New York's Long Island, just east of Manhattan, and born in Brooklyn, whose natives deny they live on Long Island.
Circumnavigating Manhattan, Enthusiasm took me up the Hudson River, down the Harlem River, past Hell Gate, into the East River, and then, keeping Brooklyn to port, to the Statue of Liberty. The culmination was seeing the Brooklyn docks, where my Norwegian grandfather was a ship's pilot and my grandmother fought organized crime for the Waterfront Commission.
The evening after motoring around Manhattan, I bragged about it at a swank party. Our host told me how lucky I was not to have had a cement block dropped on Enthusiasm's deck from one of the bridges across the Harlem River. My secret was taking the cruise at dawn on Sunday, before the block droppers woke up, I guess. Or was it that we named our boat Enthusiasm, which is from the Greek meaning "having god within." We chose that name because I wanted god (if any) with us in our boat when seas ran high.
Of course I avoid high seas despite Enthusiasm's extreme seaworthiness—she can take bigger waves than I can. But then there was the time we left the calm and sunny harbor in Provincetown running west to Boston. As we came out from behind the shadow of Cape Cod, we were hit with howling winds and following seas upwards of a dozen feet high. One after another the monstrous waves loomed over our stern, threatening to broach us. With each passing wave, thanks to god within, Enthusiasm's stern rose up, letting the water pass under us at the last possible second.
Enthusiasm was not our first boat. The one previous was a huge Boston Whaler with dual outboards capable of 50 knots. After a near-death experience involving a granite ledge, I decided that 20 knots was fast enough for me. Today, Enthusiasm's cruising speed is 12 knots. I am in no rush.
Back in her early long-distance cruising days, Enthusiasm didn't have a cage guarding her propeller. It was my job to slalom through the gazillions of lobster pots that decorate Penobscot Bay. Don't tell any of my fisherman neighbors, but I had cutters on my propeller shaft to free it from pot warp. I also carried aboard a wetsuit and mask, in case the cutters failed and the warp had to be slashed off manually in the dark cold sea astern our keel. When we decided we were done with Campobello and Manhattan, and would stay mostly in the West Penobscot, we put a protective cage on the propeller. It costs her a couple of knots. I still keep an eye out for lobster pots, but am more relaxed knowing I have the cage.
Relaxed is not how I would describe me before Enthusiasm got retrofitted with a GPS. Before, we had charts, compass, and LORAN with which to navigate, and I wrote various safe headings by pencil on the paper charts. And I stuck to open water by a wide margin—Maine does not have soft, forgiving sandbars like Long Island's Peconic Bay, only toothy granite ledges. Today Enthusiasm has GPS and two chart plotters, strategic and tactical. I will go anywhere now, confident in being able to avoid individual rocks. If my GPS fails, I have my iPhone as backup, with its GPS and navigation charts. Also, I still have the paper charts, which guests find quaint.
Going anywhere means coves, of which Maine has a billion. There is nothing better than anchoring in a new cove before sunset. Then it's up to the roof to untie the dinghy to explore ashore. Only twice, tangled in the dinghy's painter, have I fallen from Enthusiasm's roof into the cold water far below. Both times I was, as is my practice, wearing my PFD. They say that most drowning victims are drunk and fall off the stern without PFDs while peeing in the night. I greatly improve my odds by wearing my PFD at all times on deck.
Another way of improving your odds is to use radar in the fog. Enthusiasm's system overlays radar images on the GPS chart plotter so you can see traffic among the islands and buoys. My radar has a target tracking system, which I used once on autopilot heading toward Rockland. A huge freighter appeared on the hazy horizon. My radar indicated that the projected closest point of approach between the freighter and Enthusiasm was, holy smokes, five feet. Figuring the freighter's captain was much better at this, I held course on autopilot and watched as the freighter passed a half a mile astern. I imagined my ship's pilot grandfather calmly nudging his helm to bypass my mere gnat of a boat.
Speaking of seafaring relatives, my cousin Dennis has overseen the moorings in Nantucket for 30 years. So moorings are a hobby of mine. I like the idea of getting moorings right, since so much depends on them, a couple of hundred dollars of gear holding a couple of hundred thousand dollars of Enthusiasm against the sea. Enthusiasm's home mooring is in Owls Head. She has another out at Greens Island. I enjoy mooring her after an island commute and rowing the dinghy ashore. I especially like carrying the dinghy and oars at low tide up the long rocky and slippery beach to secure them above high water… not.
Nineteenth-century Cambridge Professor Charles Kingsley wrote "all we need to make us really happy is something to be enthusiastic about." Enthusiasm is my secret to happiness.     
---
Bob Metcalfe is Professor of Innovation at The University of Texas at Austin. He and wife Robyn, a food historian and innovator at UTAustin, spend summers in Owls Head and points downeast.
Share this article:
Digital Edition Available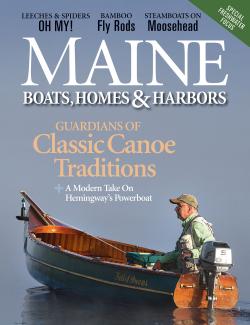 Can't get to the store to buy your magazine? We deliver the stories of Maine's coast right to your inbox. Sign up here for a digital edition.