Letters to the Editor 138
Where are the wheels?
I read with interest Art Paine's article about Mark Fitzgerald's new powerboat designed to sail the Great Loop (November/December 2015 MBH&H). Given the itinerary that Paine describes, including "through downtown Chicago and down the Mississippi," I hope that this specialized boat designed just for this trip has wheels. 
Paula Cronin
Cambridge, MA
Wheels might allow for some shortcuts, but you do not need them on this route. "Loopers" usually go by water from Lake Michigan through the Chicago Ship Canal (which runs through the middle of the city) and to the Des Plaines River and then the Illinois River, which flows into the Mississippi near Grafton, IL. —Ed.
Guatemalan airmail
Not long after I finished reading "Dr. Gould's Flying Nurses" in the November issue of MBH&H, I had the good fortune to visit Antigua, Guatemala. High above that magical colonial city, in a sylvan hillside park, works by "Guatemala's Picasso," the internationally renowned sculptor and artist Efrain Recinos (1928-2011) are nestled among lush foliage. I was particularly struck by this panel. It's one in a series of mosaics Recino created for an international competition, all based on the theme of communication. One depicted smoke signals, another a message drum, a third showed television, and a fourth the ultimate form of communication: the kiss.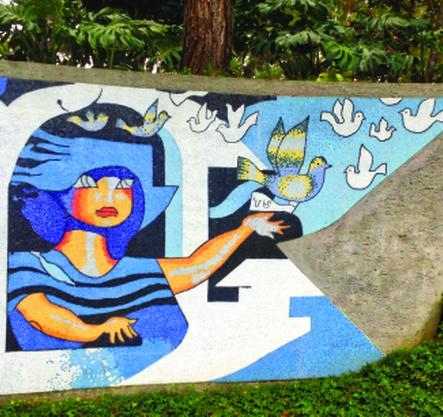 The panel shown here brought to mind Elizabeth Macalaster's story about using carrier pigeons to relay messages from Maine's out-islands, so I thought I'd share a photo. 
Interestingly enough, another panel in the series showed both a cell phone and a satellite, both of which were added during a restoration, not having been in use when the panel was first conceived.
How Dr. Gould would have marveled at those modes of communication, which we take for granted today!
Gretchen Piston Ogden
Camden, ME
It's a shark, not a sea serpent
You reported in the last issue on the 24-foot basking shark stranded at Lubec. This is not the first time such a shark washed ashore downeast. Back in 1868, the Quoddy Tides published an article about a 30-foot-long sea serpent stranded at Eastport. Based on the description, I believe it too was a male basking shark. The old article talks of a serpent with two legs. Actually, they are the two claspers—the sex organ—of a male basking shark. The article also talks of the "popcorn teeth." As this shark is a filter feeder, its teeth are small, round colorless nubbins. The large mouth and gills are as described almost 150 years ago. The big difference is that in 1868 the fish was shot 70 times by musket, whereas this time in Lubec people tried to save the stranded shark by pouring water over its gills.
When the rescue effort failed, the body was used for education. It turns out that a team had been studying these sharks for some time, but had never seen a dead one, so they got a lot of valuable information from this specimen.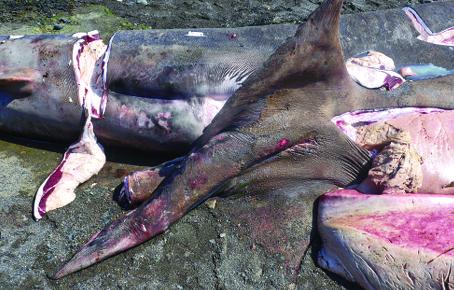 Shown here: a close-up of its two claspers, the other of the shark on the beach with cuts made by researchers.
Davis Pike
Lubec, ME
Disappointed by Whaler photo
I'd love to hear the editor's rationalization for publishing the picture of a dangerously overcrowded Boston Whaler on the Contents Page of the November/ December issue. This is an act of irresponsible journalism and didn't even have the flimsy "Kids don't try this at home!" disclaimer. I would have expected better from a publication pertaining to boating.
Dom Pucci
Bristol, ME
The photo was taken at MBH&H's Boston Whaler Rendezvous, with the Whaler 6' from a dock, 15' from shore, and the engine wasn't running. That said, we should have included a disclaimer. Here it is: Kids, mine included, please don't try this at home.
—Ed.
Loved the Whaler photo
What a great photo of John Hanson and crew in the whaler. It was and is an indestructible and unsinkable vessel just as the ads showed us for years. Whalers have kept many of us safe through many unforeseen situations and taught many of us the basics of boat handling. Simply a great stable platform for fun on the water!
Rob Dwelley
Camden, ME