Fast and Pretty
Ludicrous is the belle of this writer's ball
By Art Paine
I probably would have wanted a Luders 16 anyway, because I love sailboat racing and Luders make up  one of the two major fleets where I live and sail. But in so many ways the angels were with me when I got Ludicrous.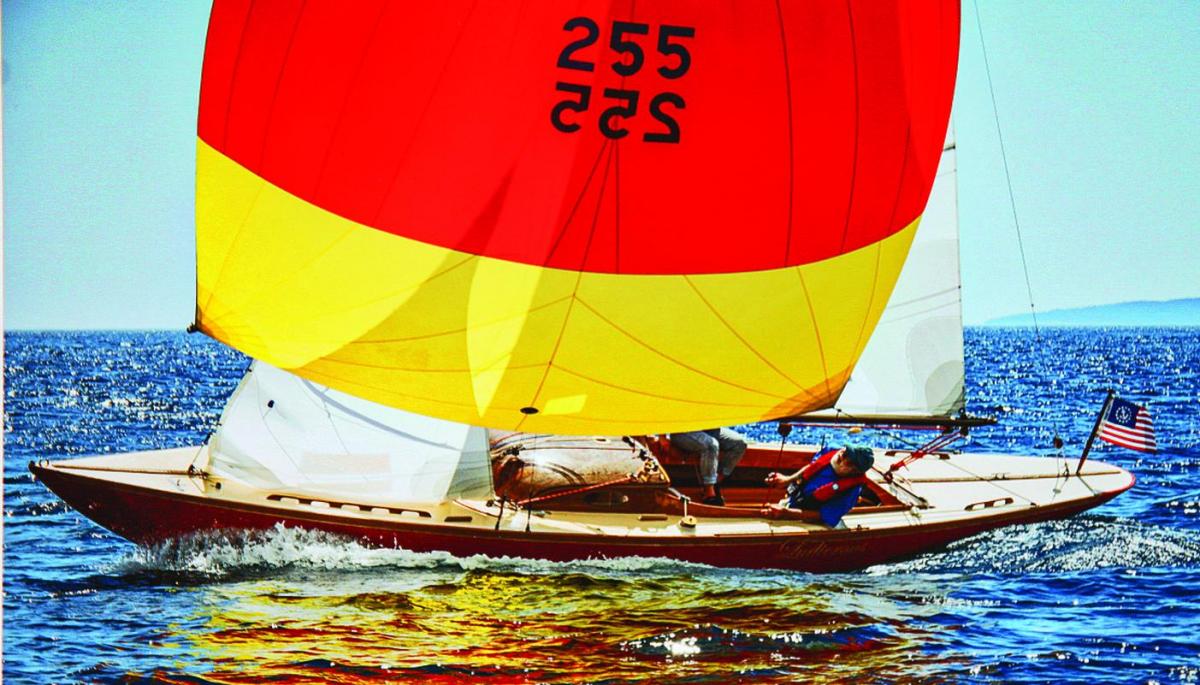 Skipper Art Paine keeps an eye on the spinnaker as he sails his Luders 16, Ludicrous, on a close reach. Photo by Michael Rindler
The Luders 16 is the absolutely perfect boat for me, just as it's a perfect racing boat for the "Great Harbor," which is what the locals call the body of water off Southwest Harbor, where, appropriately enough, the prevailing winds blow from the southwest.
Luders 16s have been in this area for decades, and partly because of that there are about 40 of them actively sailing within sight of Mt. Desert Island. The first eight boats to arrive came into Somes Sound in 1947 on a small ship. Their unusual features included a lifting ring on a keel bolt and a tiny port in the cabin top. This made it possible for a crane to pick each one up by a single hoist and plop them ashore at the shipyard where the John Williams Boat Company now operates. One of these Luders 16s, number 16, was given to a local young lady by her dad, for her sixteenth birthday! It still sails these waters under her command.
The class was designed in the 1930s by AE "Bill" Luders for the Fishers Island Yacht Club in New York. As many as 14 were launched, but most of those were destroyed in the 1938 hurricane and World War II put an end to further production. By 1944 when the class reformed, new construction techniques helped improve the design. These later boats, which were a little longer and had a bit more freeboard than the originals, were built the same way the Brits made their Mosquito bombers, by "hot-molding" veneers of mahogany into plywood. (Nowadays about half the fleet is fiberglass, built by one of a handful of subsequent manufacturers.)
The design is narrow and very long-ended. The waterline is 16'4", with 10 feet of overhang fore and aft. The beam is 5'9". It would be an inexcusable understatement to say that these boats are merely pretty.  
The hull shape is remarkably similar to the other popular class of boats that competes on alternate days upon the Great Harbor, the International One Designs. These two classes are so similar both in hull proportions and in rig that it's difficult to tell one from the other at a distance.
If there's one thing I love more than racing a sailboat, it is working on one. And I love a bargain. So for several years I searched for a wrecked old Luders 16 at a ridiculously low price.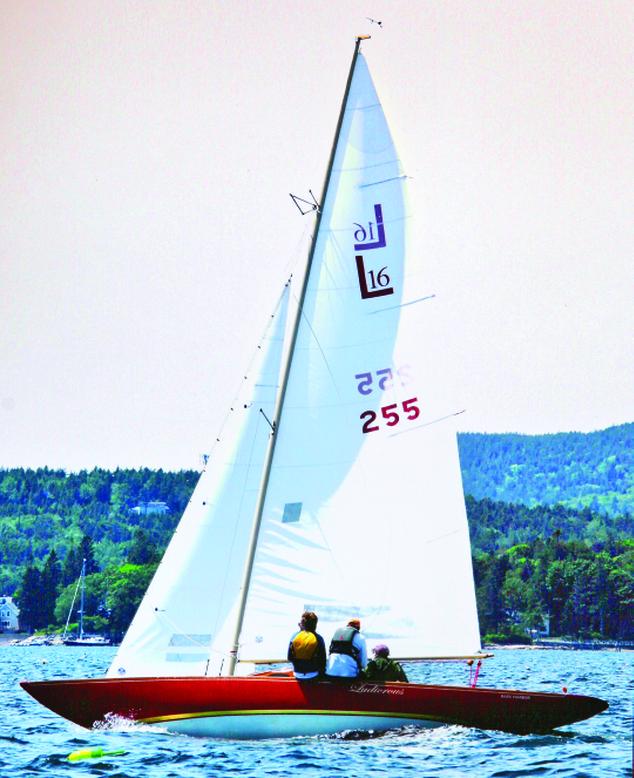 Ludicrous with Paine at the helm racing off Southwest Harbor. Photo by Michael Rindler. When Hurricane Katrina demolished a whole fleet of Luders in New Orleans, thrifty Yankees from this area began going down to retrieve those boats that were declared as total losses by insurance companies. The sparkplug behind this effort was a wonderfully eccentric gentleman from Sorrento named Sturgis Haskins, who was a Renaissance Local or maybe a Full Year Summer Person. Sturge, who died in 2012, could sail like a fiend. He promoted the class and duly beat up all the new buyers on the racecourse.  
For a while Morris Yachts and Ocean House Boat Storage did a fantastic job of professionally rebuilding the worn boats that were rescued from Katrina and other places; the fleet steadily grew. About 17 hit the starting line in the August series last summer and there's a move afoot for a local yard to begin making brand new fiberglass boats.
I got lucky one day while talking with a guy for whom I'd done some favors in days of old. He sold me his severely decrepit fiberglass Luders for about what the trailer underneath it was worth. I went home feeling somewhat sheepish because this still represented the second-most money I'd ever spent for anything, after my house. In order to broach the subject, I asked my wife Carey if I were ever to buy that Luders 16 I've always wanted, what might I name it. Almost instantly she rejoined, "Ludicrous!"  
I still don't know if she was suggesting a name, or responding to the thought of my spending years of time and too much money in order to turn a shipwreck into a tiptop racing machine. But the name stuck, and so did the deal. I applied real gold on her cove stripe and boot top and faux-painted the fiberglass cabin to look exactly like the molded mahogany of the wood boats. 
I'm not the only one who thinks Ludicrous is now the prettiest of all the debutantes at the ball. We sometimes win, too.     
Luders 16 Specifications
    LOA  26' 4"
    LWL  16' 4"
    Beam  5' 9"
    Draft  4'
    Displ.  2,950 lbs.
    Sail Area  207 sq. ft.
---
Contributing Author Art Paine is a boat designer, fine artist, freelance writer, aesthete, and photographer who lives in Bernard, Maine.
Share this article:
2023 Maine Boat & Home Show

Join Us for the Maine Boat & Home Show!
Art, Artisans, Food, Fun & Boats, Boats, Boats
August 11 - 13, 2023 | On the waterfront, Rockland, Maine
Click here to pre-order your tickets.
Show is produced by Maine Boats, Homes & Harbors magazine.