Schooner rebirth, lobster TLC, dreamboats, and the Weather Service tones it down
By The Editors
Lobsters have feelings, too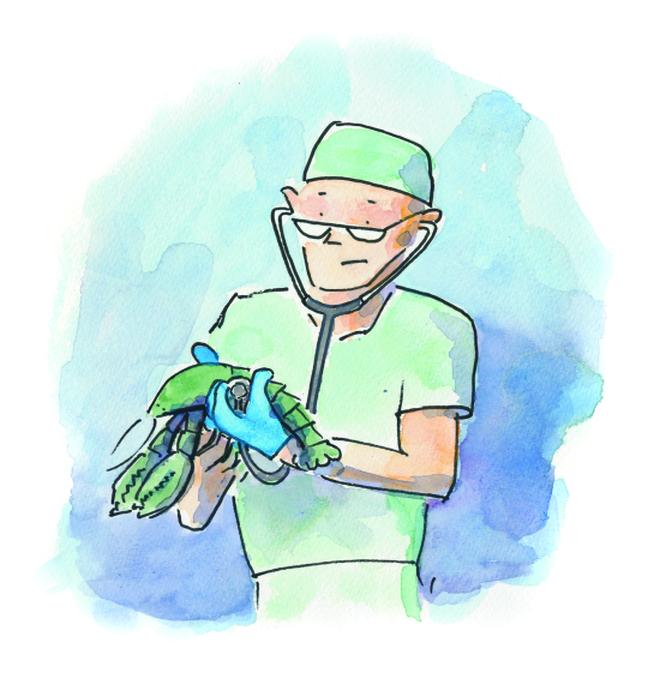 Illustration by Ted Walsh A veterinarian from Canada has been traveling the Maine coast advising lobstermen to take better care of their catch. Jean Lavallée once watched a Canadian lobsterman overstuff a crate with lobsters, put the wooden lid on top and then smash it down with his foot. The resulting crunch of limbs and shells "sounded like a bowl of Rice Krispies," he told a group of Maine lobstermen, according to the Portland Press Herald. Not only did this cause needless death and injury, Lavallée said, it undoubtedly cost the lobsterman some money. Lobsters, it turns out, should be handled with care.
Lavallée noted that as much as 10 percent of the lobster harvested in the United States dies on the way to market, and said that handling based on a better understanding of lobster anatomy and biology would reduce losses and save the industry millions of dollars.
Lobster anatomy is such that a small injury, one that would be relatively benign for most other animals, can be life-threatening. For example, a lobster's nerve cord runs down its belly. Even a small nick can sever the cord, resulting in paralysis and eventual death. Even more strange is the location of a lobster's heart, which is on its back. Not knowing that fact may lead to handling that fails to protect that vital organ, Lavallée said.
Another major cause of premature lobster death is stress. Every step in the harvesting process can cause the release of negative stress hormones. That includes rapid hauling to the surface, removal from traps, packaging, transporting, and storage in holding tanks. 
So, the bottom line is this: treat that lobster as you would your best friend—until you kill and eat it, that is.
---
On to the next generation
A lobsterboat with a long history of plying the waters around the Friendship peninsula will stay in the fishing community thanks to the generosity of its former owner.
Bill Ambrose of North Yarmouth used the boat, named the Caroline, as a pleasure boat during visits to his family's cottage in Friendship, according to a report in the Lincoln County News. When he could no longer use it, he wanted the boat to go back to its original use, so Ambrose gave the boat to
Taylah Reed, a freshman at Medomak Valley High School.
"He said it was mine under two conditions: that I brought him lobsters and [that I] drove the boat by his house so he could see me driving it," Reed told the newspaper.
Unfortunately, Ambrose lost his battle with cancer before he could see Reed at the wheel, but she was able to deliver the promised lobsters.
Though the exact origin of the 27-foot wooden lobsterboat is unknown, it dates back to 1948, and is believed to have been built on North Haven or Vinalhaven. It was rebuilt at Lash Brothers Boat Yard in Friendship in 1986.
Reed renamed the vessel Half Pint. Until now, she and her sternman and stepsister, Olivia Sevon, also a freshman at Medomak Valley High School, had hauled their traps by hand from skiffs and rowboats. 
We hope they are following veterinarian Lavallée's advice and treating the lobsters they catch with gentle respect.
---
Weather Service tones it down 
LISTEN UP! BEGINNING ON MAY 11, NOAA'S NATIONAL WEATHER SERVICE FORECASTS STOPPED YELLING.
New forecast software has allowed the agency to move past the days when weather reports were sent by "the wire" over teleprinters, which only allowed the use of upper-case letters. While the science of weather forecasting advanced greatly over the last century, the means of transmitting the information remained stuck in the past, since many customers still used the old equipment.
Recent software upgrades to the computer system that forecasters use to produce weather predictions made the change possible, although the transition is occurring in phases. Area forecast discussions, public information statements, and regional weather summaries were switched over in Maine in May. Severe weather warnings will transition this summer, with other forecasts and warnings transitioning to the new system through early next year.
Upper-case letters in forecasts will not become obsolete—forecasters will have the option to use all capital letters in weather warnings to emphasize threats during extremely dangerous situations. 
Now if only some unnamed close relatives would follow suit, and stop using all caps in their e-mails…..
---
The Cat pounces back
When the operators of the Nova Star ferry between Portland, Maine, and Yarmouth, Nova Scotia, closed shop last fall, observers wondered whether the water route to Nova Scotia would remain viable. Bay Ferries had won the contract to take over the ferry run, but said it did not have a boat to use. 
Then, Da Da Da Dant Da Da! The U.S. Navy came to the rescue.
The Navy agreed to lease to Bay Ferries a catamaran that had been built for civilian service in Hawaii and then became U.S. Navy surplus property.
The vessel, cleverly named The Cat, is the second iteration of catamaran service offered by Bay Ferries. The first Cat operated from 2006 to 2009, a high-speed replacement of the Scotia Prince, which had operated for about 30 years.
For the past two years, the line was run by the Nova Star. The Nova Scotia government terminated the Nova Star contract last October and the Star's operator has since filed for bankruptcy.
The new run will take just 5.5 hours, about half the time it takes to drive between the two cities. That's also half the time it took the much slower Nova Star to make the crossing. Service was expected to begin in mid-June.
---
Mt. Desert Island boatbuilding history 
Just when you thought it was time to go outside and play, we bring you news of more reading material to keep you inside. MBH&H Contributing Editor Laurie Schreiber has written a new book about boatbuilders. Published by Arcadia Publishing, Boatbuilding on Mount Desert Island features stunning images and stories about people like Chester Clement, who was the first of the lobsteryacht builders, and about Bunker and Ellis, who elevated the concept. People like Henry Hinckley, who started on an old boat-repair wharf and built a world-class brand. People like the members of the Rich family, who produced everything from gleaming yachts to rugged workboats. And people like Sim Davis and Bink Sargent, who were considered the experts for big draggers. They are all in Schreiber's book. Ask for it at your local bookstore.
---
Dreamboat restoration 
Maine Boats, Homes & Harbors Publisher John Hanson visited Six River Marine in North Yarmouth on a recent fine spring day, and came back even more boat-besotted than he was when he left. His current infatuation is a Lake Union Dreamboat being restored in their shop. 
During the late 1920s and 1930s, powerboat designers came up with some beautiful creations: long, fairly lean boats with plumb bows and finely fashioned squarish deckhouses. The Katie Mack was designed by either Ted Geary or Ed Monk, both noted designers from the Seattle area. Her owners fell in love with the 46' Pacific Northwest beauty and had it trucked to Maine from Tacoma, Washington. The folks at Six River Marine spent the winter restoring it. "You could have put your finger through some of the planks," said Scott Conrad of Six River Marine. Not now. Conrad and his partner Chip Miller replanked the boat in Alaskan yellow cedar, and put in a new stem and skeg. When Hanson visited, the team was in the process of final systems installation and painting for an early spring launch. 
---
Ladona arises like a phoenix
Often the process of restoring an old vessel is more like a rebirth than a rebuild. Such was the case with the 82-foot schooner Ladona. 
The stately vessel was re-commissioned May 18 in Rockland after 20 months of "rebuilding," but for the most part she is a new boat with an old and illustrious soul, ready to take on the next 100 years.
Built in 1922 at the Hodgdon yard in East Boothbay as a private yacht, the William Hand-designed vessel was used during World War II as a Coast Guard patrol boat hunting for enemy submarines off New Jersey, New York, and Connecticut. She was then used for fishing and as a training vessel and eventually in 1971 ended up in the Maine Windjammer fleet where she was renamed the Nathaniel Bowditch. 
Jane and Noah Barnes, who took over the schooner Stephen Taber in 2003 from Noah's parents, Capt. Ken and Ellen Barnes, bought the Bowditch in 2014, gave her back her original name Ladona (she was named after a Civil War gunship), and began restoring her.
Some highlights of the rebuild include a new brass wheel cast at the Lunenburg Foundry in Nova Scotia. Although the company no longer specializes in making parts for sailing vessels, the Ladona's new captain, J.R. Braugh, persuaded the foundry to dust off an old mold and cast a shiny new 44-inch wheel stamped with the name Ladona and 1922. Lowe Hardware, of Rockland, Maine, which makes high-end architectural and marine hardware, provided special solid brass door handles.
Along the way, Noah Barnes discovered that Ladona had never been formally recognized for her war work. As part of the recommissioning process, Coast Guard Cmdr. Andrew Meyers was on hand to present the long-overdue American Campaign and WWII Victory medals.
A member of the Maine Windjammer Association, Ladona became available in June for three-to-six-day sailing adventures along the coast. For more information, visit schoonerladona.com. 
If you can't sign up for a cruise but want to tour Ladona, she will be dockside Saturday, Aug. 13, during the Maine Boats, Homes & Harbors Show. The show takes place Aug. 12-14 on the waterfront in Rockland, Maine. For more information about the show: maineboats.com/boatshow.
---
Concierge yacht service
At first blush, Yarmouth, Maine, might seem a strange place to begin a concierge yacht business. After all, Maine has a brief sailing season and one of the oldest and poorest populations in the country.
Yet in the years he spent as the general manager of the Biddeford Pool Yacht Club, Ben Davis kept seeing the same scenario: boat owners who wanted to enjoy being on their boats, but who did not want to do grunt work like cleaning, detailing, making sure that batteries were charged, etc. Other owners needed people to deliver their boats. And still other out-of-towners were having boats built or refitted and needed intermediaries between themselves and the boatyards.
"Everyone had the same issues. And I knew, that with my skill set, I could fix them," Davis said. "I looked around at my peers—all the people that I grew up working with, and knew they could do it too."
In 2012, Davis launched True Course Yachting. His company, based at Lower Falls Landing on the Royal River in Yarmouth, Maine, now serves 250 customers per year. It's focused on the owners of vessels that are 100 feet or less. His target customers are those who don't have full-time crews to deliver and prepare their boats, and who lack the time or interest to do it themselves. Davis
currently has 16 employees and recently opened his first satellite location in Camden, serving Penobscot Bay and the Midcoast. For more information: www.truecourseyachting.com.
---
New Penobscot Bay Race
The folks at Lyman-Morse Wayfarer have partnered with the newly formed U.S. Classic Yacht Owners Association and the Camden Yacht Club to present the Camden Classics Cup July 28-30. Positioned the weekend before the Eggemoggin Reach Regatta, Maine's largest classic yacht race, the CCC promises to draw a classic fleet to the waters of Penobscot Bay and into Camden Harbor. It should prove to be a weekend of great racing and equally memorable festivities. For more info: www.camdenclassicscup.com.
---
"Unsettling" first cruise ship visit
State officials predict a record year in 2016 for visits to the Maine coast by cruise ships. Supporters say that each visit is an economic shot in the arm, with the typical passenger spending an average of $120 in each port. 
Sadly, that was not the case with the first cruise ship to visit Portland this year. More than 200 passengers aboard the cruise liner The Balmoral were sick with the gastrointestinal condition norovirus when the ship docked in April. As a result, those passengers were not allowed off the ship. The U.S. Centers for Disease Control and Prevention reported that 252 of the 919 passengers and 8 of the 520 crew members were stricken. 
Portland is expected to get 77 cruise ship visits and more than 106,000 total passengers between early May and the end of October. Bar Harbor, the state's busiest cruise ship port, is expecting 121 total ship visits this year from 30 different vessels ranging from the 184-foot  Grande Caribe to the 1,142-foot Anthem of the Seas, which alone can carry more than 4,000 passengers per voyage.
Overall, 376 cruise ship visits are projected to bring a total of more than 283,000 passengers spread out among nine Maine ports this year, according to CruiseMaine, the state's cruise ship marketing entity. That passenger count would represent an increase of six percent over the 2015 statewide cruise passenger total.
---
The weather is great; wish you were here
Get out your pen and grab a postcard. The Penobscot Marine Museum is celebrating the postcard this summer with Wish You Were Here: Communicating Maine, which explores 100 years of images that have been used to communicate the unique qualities of Maine to the outside world.  
Postcards were the Facebook and Twitter of their age. An estimated 200  billion postcards were produced and mailed worldwide from the 1890s to the 1920s. One of PMM's major photography collections was produced by Eastern Illustrating and Publishing Company, an early Maine postcard company. 
With photographic postcards, photography, and contemporary art, the Penobscot Marine Museum's exhibit explores images that have been used to communicate "Maine." Also on display will be the museum's gigantic walk-in camera obscura; another show at the museum will celebrate the centennial of Acadia National Park with an exhibit of 50 years of postcards of the park. 
Another show will look at how images that depict a sense of place can change over the years. Guest curator (and MBH&H contributor) Carl Little chose photographs of special places from the museum's collection and artwork by Maine artists that was inspired by these special places. The works will be displayed side by side. 
For more exhibit information: www.penobscotmarinemuseum.org.
---
Washburn & Doughty hopes to expand
East Boothbay boatbuilder Washburn & Doughty hopes to move part of its manufacturing operation to an empty building at Brunswick Landing and create 15 jobs in the process, according to a report in the Portland Press Herald.
To help finance the $1 million cost of retrofitting the building at the former Navy air base, the company and town are applying for a $400,000 Community Development Block Grant. 
The company, which focuses on tugboats, was founded in 1977 by Bruce Washburn and Bruce Doughty, and wants to move part of its steel boat building operation to a 35,295-square-foot building that was once a Navy maintenance facility for vehicles and other ground service equipment. 
Specifically, the company wants its steel-cutting operations, panel stiffening, and part of its structural model construction to be done in Brunswick. That will help free up space for boat sub-assemblies at the East Boothbay yard.
---
All charged up on Swan's Island
Owners of electric cars on Swan's Island no longer have to leave town for "juice." The Harbor Watch Inn on Swan's Island has partnered with Tesla Motors and installed a charging station for electric cars, according to an article in The Working Waterfront.
Tesla offers such hardware to encourage those in the hospitality industry to adopt this emerging technology. Colleen Hyland, the inn's owner, wanted to offer charging service for guests who own electric vehicles. In the summer, the island's year-round population of about 330 people swells to over 1,000 and that's when Hyland hopes to see electric vehicle owners staying at her inn. 
Sounds good to us. Head for Swan's and get charged!
Share this article:
2023 Maine Boat & Home Show

Join Us for the Maine Boat & Home Show!
Art, Artisans, Food, Fun & Boats, Boats, Boats
August 11 - 13, 2023 | On the waterfront, Rockland, Maine
Click here to pre-order your tickets.
Show is produced by Maine Boats, Homes & Harbors magazine.