Perfect Pocket Cruiser
Thumbs-up for the Presto 30
By Ben Emory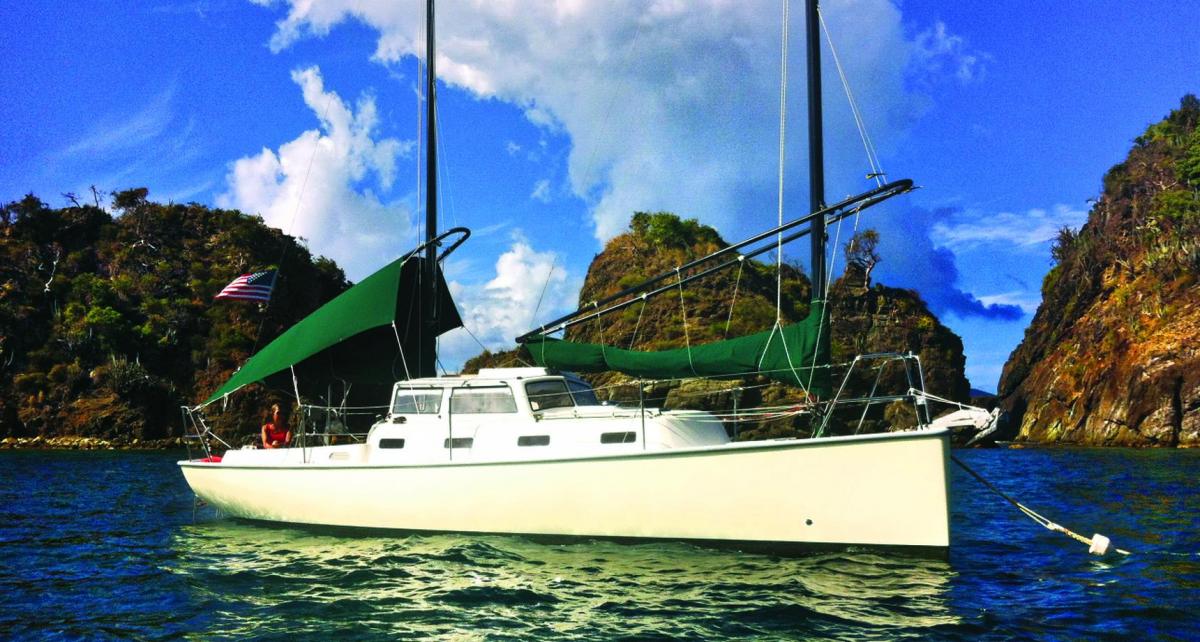 The author and his wife spent four winters sailing their Presto 30, Bobolink, in the Virgin Islands after shipping it there on a transport ship. Photo by Ben Emory.
Although Presto 30s are sadly no longer in production, the nine built in Bucksport by Union River Boat Company between 2009 and 2012 demonstrate inspired design and top-quality construction.
During our four-year ownership of one of these innovative pocket cruisers, we met many people who rowed over in anchorages to ask about the unusual-looking little craft. When we were under way, many passing boaters gave us enthusiastic thumbs-ups.
"We are having a blast with this completely different kind of sailboat," my wife Dianna would tell people.
The Presto 30 is well suited to the 21st-century conditions of busy lives and high marina and labor costs. The boats are low-maintenance, and the ease of raising and lowering the two carbon-fiber masts makes the craft suitable for trailering. Keep one in your backyard and trailer it to favorite sailing locales—as long as your towing vehicle can handle gross trailer weight of about 7,000 pounds.
Our shakedown picnic to Maine Coast Heritage Trust's Marshall Island preserve introduced us to the fun beaching capabilities of a boat on which we later would live comfortably for up to six weeks at a time. On a glorious, sparkling August day and with a rising tide, we glided toward the gently sloping beach in Sand Cove. I raised the centerboard, dropped the stern anchor, and pulled up the retractable rudder. When the water depth looked only to my calves, I stepped down a rope ladder hanging from the bow and carried the bow anchor up the beach. We kept a strain on the stern anchor to keep the boat just floating. The Presto draws less than 18" and does not have a keel. This allowed a type of Maine island landing foreign to me after a lifetime of cruising on deeper-draft yachts. 
Designed by Newport, Rhode Island-based naval architect Rodger Martin, the Presto 30 is modern version of a sharpie.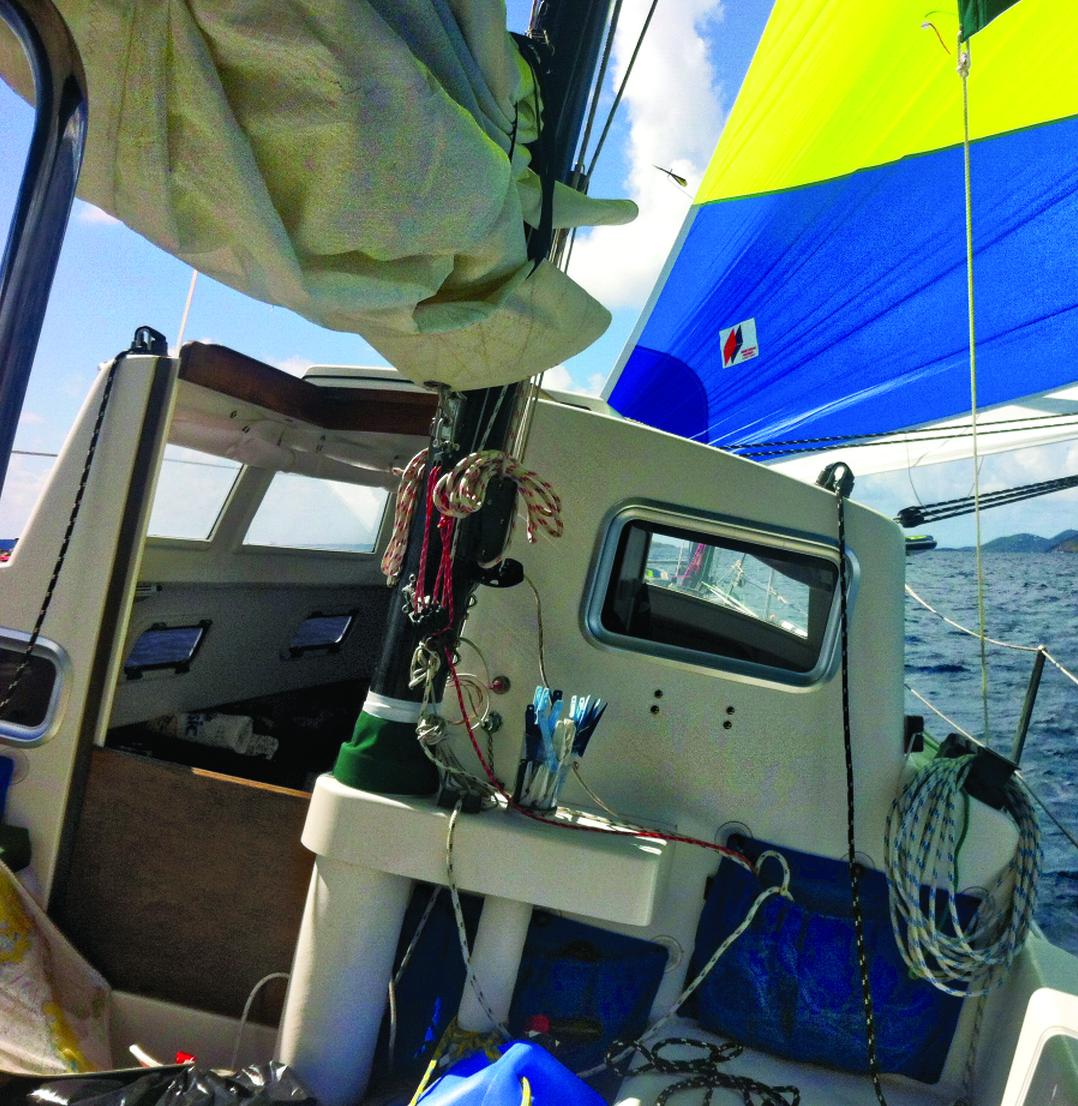 Bobolink was the only Presto 30 built with a pilothouse. Photo by Ben Emory. Back in the mid-1800s, before the days of engines for small boats, a flat-bottomed, relatively narrow craft evolved to work the shallow-water oyster fishery along the Connecticut shore of Long Island Sound. These boats had short masts in order to reduce the possibility of capsizing. They came to be called "sharpies" because of the very sharp shape of their bows. The craft proved so capable and economical that their use spread to other shallow areas along the East Coast.
In south Florida in the 1880s, Commodore Ralph Munroe, founder and original commodore of the Biscayne Bay Yacht Club, designed a series of round-bilged sharpies that he called Presto sharpies. He eliminated the chine—the sharp angle where the nearly horizontal bottom of a flat or V-bottom boat meets the almost vertical side. The rounded bottom represented a major step forward in enhancing the seaworthiness and capabilities of sharpies. 
Fast forward to the early 2000s, when Hurricane Island Outward Bound decided to replace its aging fleet of 30-foot-long heavy double-ended rowing and sailing boats, and invited designers to submit new ideas. Outward Bound's old pulling boats had been a common sight along the Maine coast for years. Totally open, relatively primitive, and certainly slow, these traditional craft could carry up to a dozen students and two instructors on experiential education voyages. 
The winning design was Rodger Martin's up-to-date interpretation of Munroe's round-bilged sharpie. The new boats were built from modern composite materials and with a cat ketch rig (two masts and sails but no jib). They were 30' long and just 8.5' wide—the maximum legal width for towing on the highway without a special permit. Hurricane Island Outward Bound ordered six of what were named Hurricane Island 30s, the first of which was launched in 2007.
Martin adapted that design to come up with the Presto 30, adding a cabin, and enhancing the sailing capability. The result is a fast, fun boat. A Presto 30 with its wishbone rig, small sails, and light sheet loads is simple to sail for an experienced sailor. They have been known to hit 15 knots.
The Union River Boat Company of Bucksport, Maine, was chosen to build the Presto 30s. Interest in the boats came from the Northeast, the Southeast, the Pacific Northwest, and then China, Australia, Brazil, and Europe, but the costs of top-quality construction and customization of each boat, coupled with inadequate marketing capital and the global recession, conspired to end the enterprise. 
Union River went out of business in 2012.
Ours was the first and only Presto 30 built with a pilothouse, which affords standing headroom of 6'2" in the back half of the cabin, including in the galley and in the toilet compartment. With its inboard diesel, enclosed head, propane stove with oven, refrigeration, huge cockpit, and tons of storage space, our Presto 30 was a surprisingly comfortable, featherweight cruising boat weighing only about 5,000 pounds.
We sent it to the Virgin Islands—on its trailer on a roll-on, roll-off transport ship—and spent four winters sailing it there. Other Presto 30s have ventured to New Brunswick's St. John River, Florida and the Bahamas, Narragansett Bay, the Chesapeake, and even San Francisco Bay and the San Juan Islands. One operated in Maine commercially, doing day and overnight charters.
When it came time to sell the boat, we found an eager buyer within a month at almost the asking price. In their quality and performance these boats are a credit to their imaginative designer and to the Maine boatbuilders who crafted them.      
---
Ben Emory is a lifelong sailor who splits his time between Salisbury Cove and Brooklin. When not on the water, he has spent decades actively involved in Maine land conservation.
Share this article:
2023 Maine Boat & Home Show

Join Us for the Maine Boat & Home Show!
Art, Artisans, Food, Fun & Boats, Boats, Boats
August 11 - 13, 2023 | On the waterfront, Rockland, Maine
Click here to pre-order your tickets.
Show is produced by Maine Boats, Homes & Harbors magazine.