Secret Ingredient
Boatbuilders look to Hewes & Company for essential building blocks
By Stephen Rappaport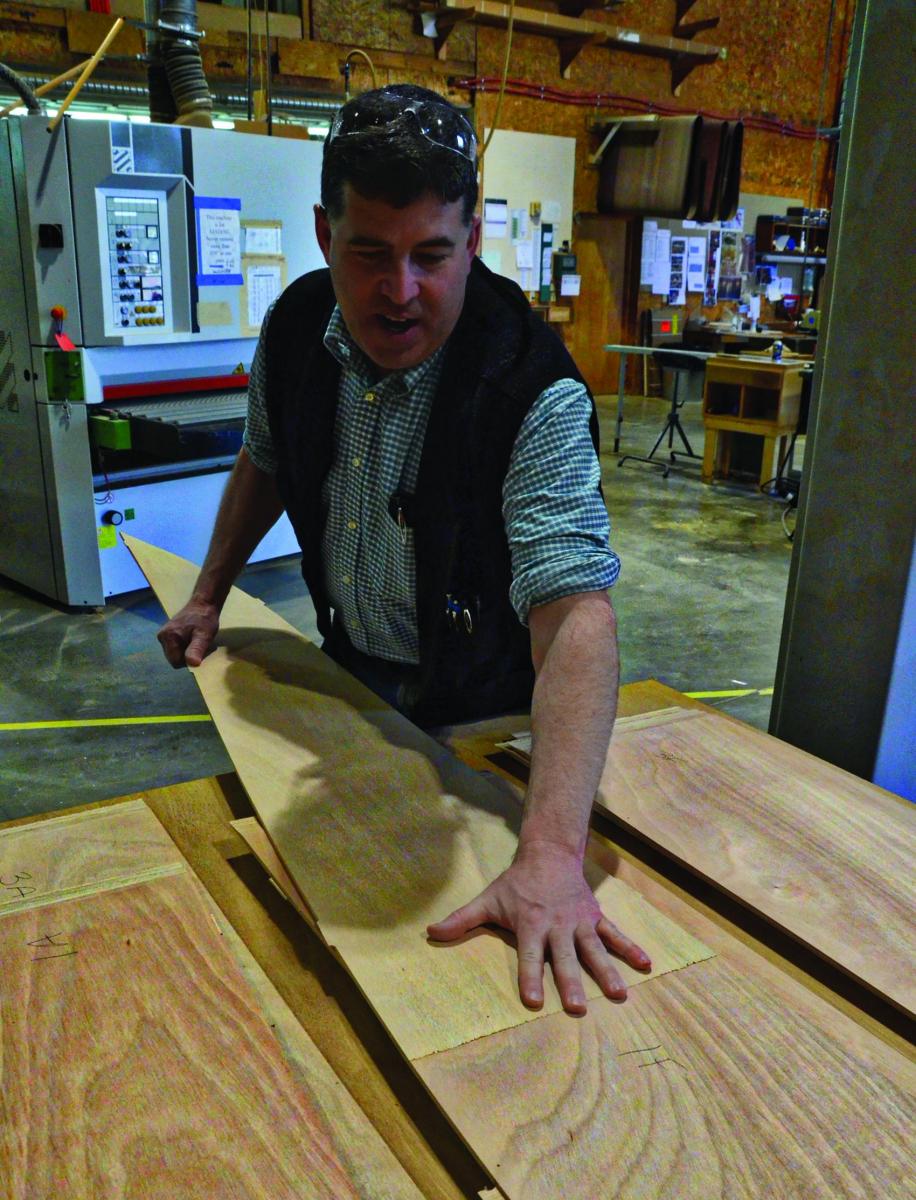 When Gardner Pickering worked as project manager at Morris Yachts he installed interiors built by Hewes & Co. Now he runs the Hewes marine division, supervising a crew that crafts structural elements and fine cabinetry for some of Maine's premiere boatbuilders. Key to the operation is the CNC cutting machine behind Pickering that translates digital files into full size, precisely cut boat parts. Photo by Stephen Rappaport
What do a New York City real estate mogul (no, not that one), the town of Isle au Haut, and yacht designer Doug Zurn have in common? Whether they know it or not, each was involved in a boat project made possible in part by the Maine artisans and computer wizzes from Hewes & Company in Blue Hill.
Isle au Haut's new town-owned ferry Otter was built by Wesmac Custom Boats in Surry. Zurn, the Marblehead-based naval architect who drew the MJM Yachts powerboats for Bob Johnstone (of J/Boats fame,) recently designed a modern underbody for a classic lobsteryacht built by the John Williams Boat Co. And last year, Brooklin Boat Yard launched Foggy, a 74-foot Germán Frers cruiser/racer embellished with exotic details designed by architect Frank Gehry for that other New York real estate mogul, Richard Cohn.
The three boats could hardly be more different: a utilitarian fiberglass ferry; a teak- and mahogany-trimmed weekend motoryacht; a cold-molded sailing yacht with titanium fixtures and hardware, unique twin wheels, and teak-latticed lights in the deck and hull. All three, though, share two common elements: the craftsmanship of their builders and parts fabricated by Hewes & Company's marine division. 
And they're not alone. Over the past decade, Hewes's list of marine clients includes many of Maine's best-known boatbuilders as well as designers from the United States, the United Kingdom, and Europe.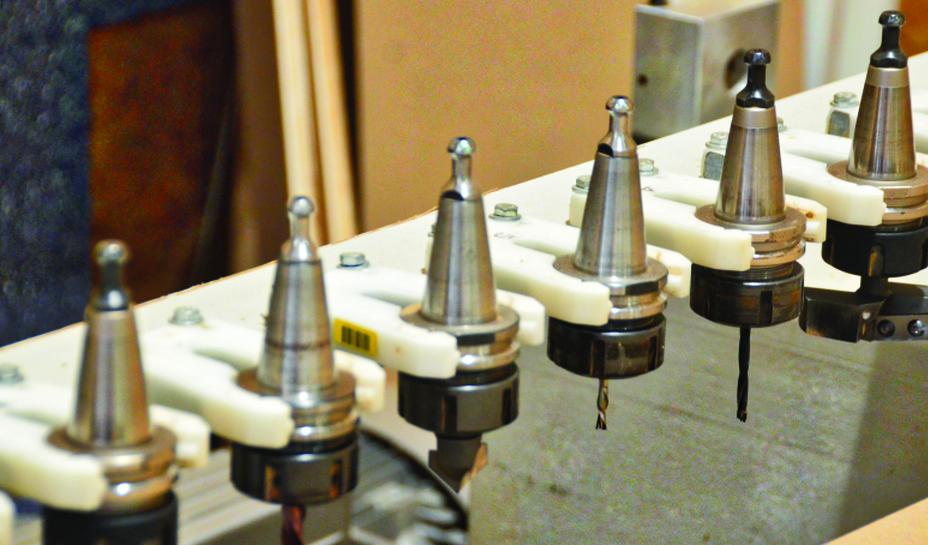 Sharp drills and cutters in myriad sizes and shapes are still the basic tools that make the miracles wrought by advanced CNC cutting machines possible. Photo by Stephen Rappaport Michael Hewes started the company some 40 years ago as a one-man cabinet shop. As word of Hewes's craftsmanship spread, he and his crew found themselves restoring historic coastal houses and building elaborate, architect-designed homes on Maine islands and along the coast. In 1999, the company moved into a 19,500-square-foot shop with room to craft complex cabinetry and architectural components using both traditional methods and an elaborate, digitally controlled CNC (computer numerical control) cutting machine. Before long, the company was in the boat business—sort of.
"I think our first marine work was for Morris Yachts," Hewes said. The company initially milled trim for Morris boats before "morphing into a collaboration on their interiors (primarily for the M-36 daysailer) where we first cut all the ply bulkheads and then ended up assembling a varnished finished product in our shop that they could drop into the boat."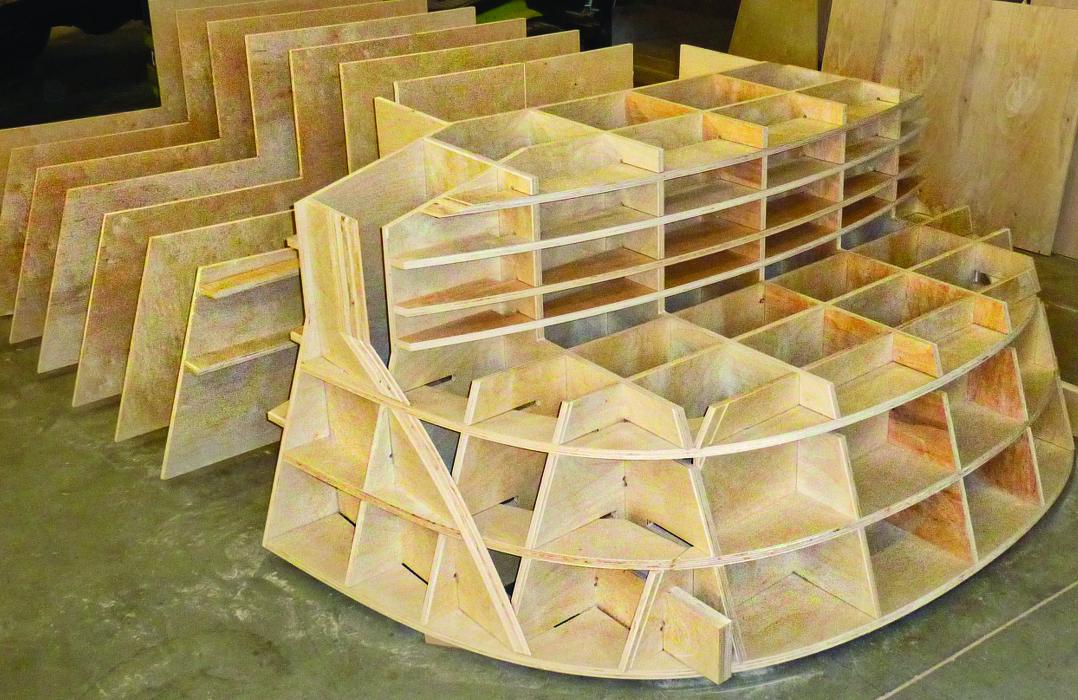 Hewes built this mold—seen here upside down—for the custom cockpit of a sailboat to be built by Rockport Marine. The cockpit will be epoxy laminated from 3mm marine plywood strips, removed from the mold, then painted and finished before it is dropped into place in the hull. Photo courtesy Gardner Pickering
Work dried up when the economy faltered, but the connection yielded several highly skilled carpenters who came over to Hewes from the Mount Desert Island yacht builder. Among them was Gardener Pickering, a former project manager for the Morris daysailer line and now the marine projects manager at Hewes.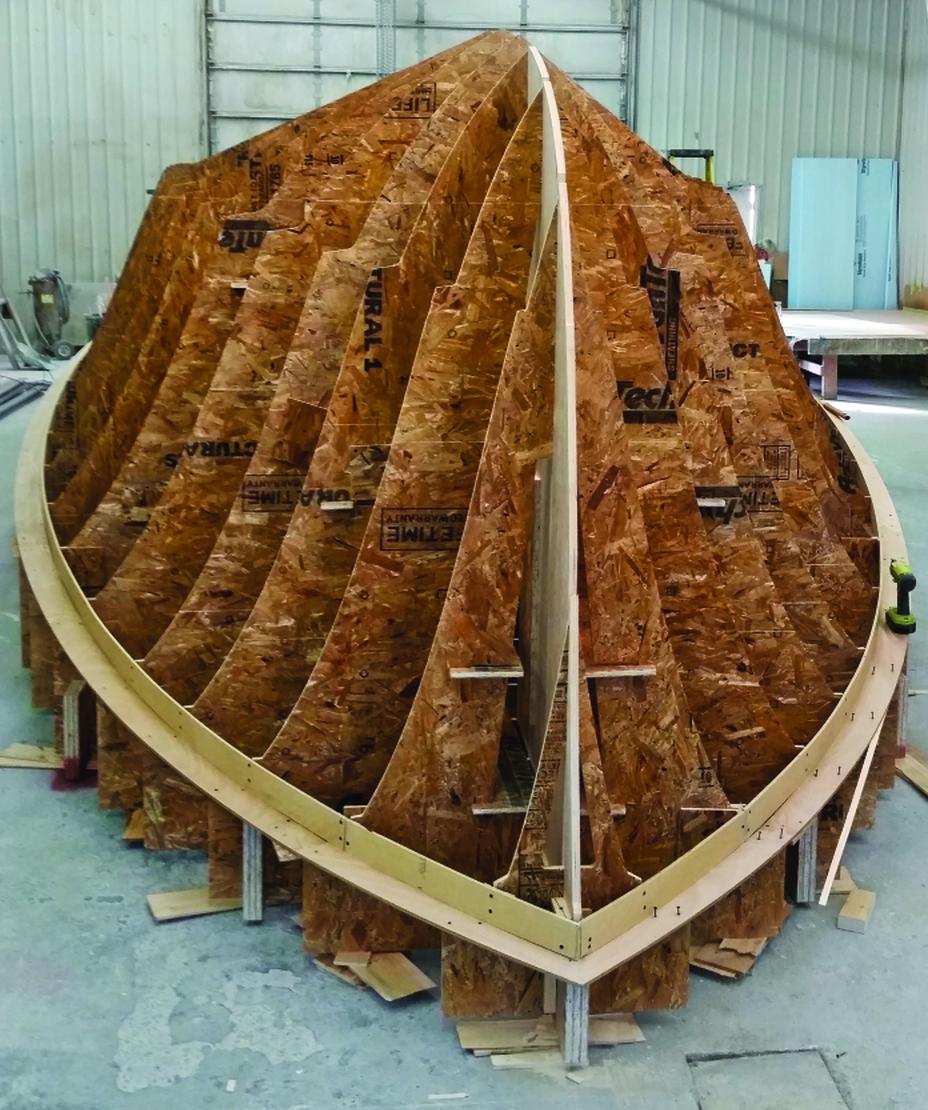 The plug for the new, Doug Zurn-designed 38-foot hull at the John Williams Boat Company. The plug will be "planked" in 1-inch Core-Cell, then fiberglassed, and faired before the structure is taken off the plug, flipped over and fiberglassed on the inside. Photo courtesy Gardner Pickering Those "marine projects" range in size and complexity from ready-to-build plywood kit boats from designers such as Iain Oughtred in Scotland, Francois Vivier in France, and Doug Hylan in Brooklin, to structural bulkheads for the cold-molded Foggy (and for two more boats under construction at Brooklin Boat Yard). They are fabricated using Hewes's CNC (computer numerical control) cutting machine, which turns computer-generated drawings into full-size, three-dimensional boat parts.
"We did an awful lot of work for Foggy," Pickering said, including the molds for the phantasmagorical Gehry-designed teak grates covering the glass hull and deck lights. "Most of it is not visible."
Several months ago, Zurn sent Hewes CAD drawings for the inside skin of the modified deep-V hull he had designed for the Williams 38. Williams Co. production manager Bill Wright and Pickering reviewed the drawings and discussed the boat's interior layout. Then Hewes built a full-size strongback and the set of full-size structural bulkheads that Williams used to build the mold for the new hull.
Hewes works with all kinds of materials—teak, cherry, and mahogany for trim, Alaska yellow cedar for the deadwood used in a sailboat's shallow keel conversion, even Corian for a custom seagoing soap dish. Trim, cabinetry, or whatever can be delivered unfinished, or Hewes will finish paint or varnish it in its spray booth.
Bulkheads and other large structural pieces fabricated from marine plywood are pieced together using meticulously milled locking "puzzle joints." When called for by the designer, kit-boat planking gets the same treatment (or precisely milled scarfs) as required. "There's no forgiveness in plywood," Pickering said.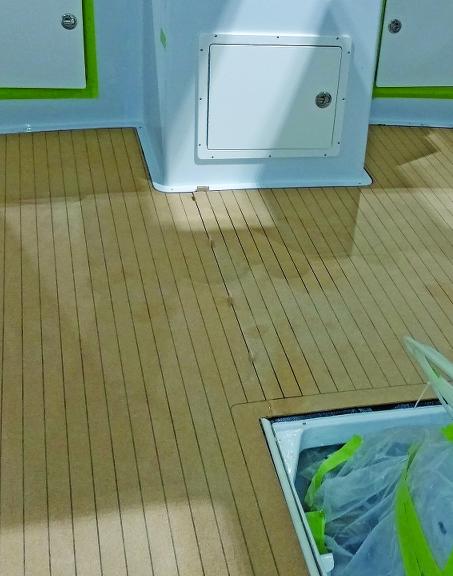 The main cabin sole of the new MaineCat 38 cruising catamaran is fabricated from Marinedeck cork composite precisely shaped and sized by Hewes's CNC cutting machine. Photo courtesy Gardner Pickering Also short on forgiveness is Marinedeck, a cork composite produced in Holland that Hewes markets in the United States and fabricates into durable, easily installed and good looking decks and deck elements for both custom and production boatbuilders.
Earlier this year, Pickering took a camera to the Wesmac shop and photographed the main cabin of the Isle au Haut ferry. The photos, uploaded on his computer, were sent to a company in Holland and "in two minutes I get a CAD drawing back," Pickering said. The CAD file was used to print a full-sized drawing of the cabin sole. At the boat shop, the location of the cutout for the engine hatch and an aesthetically pleasing layout of "stripes" that, on the finished product, look like caulked seams in a planked deck, were added to the template. The CNC machine then cut a finished cork deck that rolled up like a carpet and that the boatyard could "install in an afternoon," Pickering said.
A similar process is used to fabricate Marinedeck ladder treads, and flooring for the head of some small production boats; the CNC machine also cut the teak and holly sole for a custom 46-foot Wesmac sportfisherman.
When Donald Tofias, creator of W-Class yachts, decided to develop a small, shoal-draft classic suitable for skinny waters, he chose Artisan Boatworks of Rockport to build two cold-molded W-22 Class yachts based on a modified Joel White design. Artisan, in turn, chose Hewes to fabricate the deadwood, bulkheads, trim, and other elements.
Hewes & Company still does custom cabinetry and millwork, as well as fine home construction, in addition to the marine work.
"This is a small part of our gross, but I always say it is the most fun part of all," Hewes said of the company's marine work.      
---
Stephen Rappaport is the Waterfront Editor at The Ellsworth American, has lived in Maine for 30 years, and is a lifelong sailor.
For More Information:
Hewes & Company
419 Ellsworth Road, Blue Hill, ME 04614
207-374-2275; www.hewesco.com
Share this article:
2023 Maine Boat & Home Show

Join Us for the Maine Boat & Home Show!
Art, Artisans, Food, Fun & Boats, Boats, Boats
August 11 - 13, 2023 | On the waterfront, Rockland, Maine
Click here to pre-order your tickets.
Show is produced by Maine Boats, Homes & Harbors magazine.