French & Webb: Webfoot
A powerboat with sailboat esthetics
By Gretchen Piston Ogden
Lucky are they who make the transition from sail to power in a Maine-built boat, for here, power- yachts that echo the state's handsome working lobsterboats abound. That proud heritage gives us sturdy boats that are a treat to look at.
Webfoot, French & Webb's new FW39, launched in the spring of 2016 after two years under construction on the waterfront in Belfast, is a gorgeous example. It's a 39' classic: cold-molded with a deep-green hull and satin-finished off-white topsides. The hull form, which grew out of the yard's long experience with traditional boats, is reminiscent of the Maine lobsterboat, in this case topped with a cabin designed by Mark Fitzgerald. According to yard owner Todd French, the hull was a collaborative effort to blend the best of original downeast styling with sailboat esthetics and modern technology.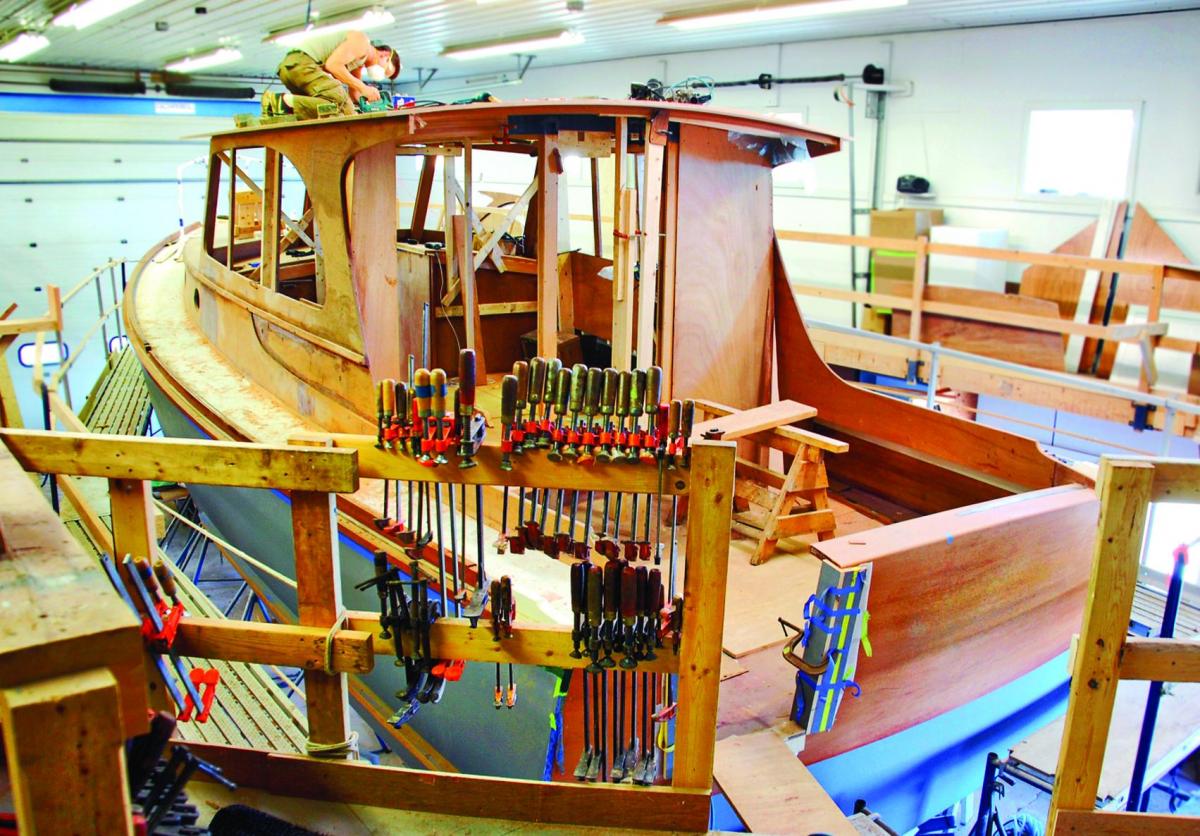 Webfoot's classic heritage and traditional look is evident even at this stage of construction. The transom will be finished bright and complemented by a custom teak swim platform. Photo by Amanda Green
French & Webb has a well-deserved reputation for top-notch sailboat restoration and construction. Most recently, the crew spent the better part of two years on an award-winning rebuild of the 90-year-old New York 40 Marilee. But the company wants to broaden its focus, and that means powerboats. The plan is to make a splash at the winter 2017 boat shows in Florida with Webfoot and a brand-new FW28 sport commuter, a center console go-fast boat (55 mph!) currently under construction.
Handsome as Webfoot is, looks aren't everything. The typical working lobsterboat engine is placed ahead of the main bulkhead, which means that the center of gravity is also forward. Webfoot was specifically designed as a yacht, so its hefty diesel is placed well aft. According to Mark Fitzgerald, this means the boat handles better, especially in a following sea. The hull is about 1 3/8" thick: four vacuum-bagged layers of wood with two layers of E-glass on the outside and Kevlar sandwiched on the bottom for extra lightweight strength.
"This isn't a boat designed to roar around the bay," Todd French said, "although it could certainly take it, strength-wise."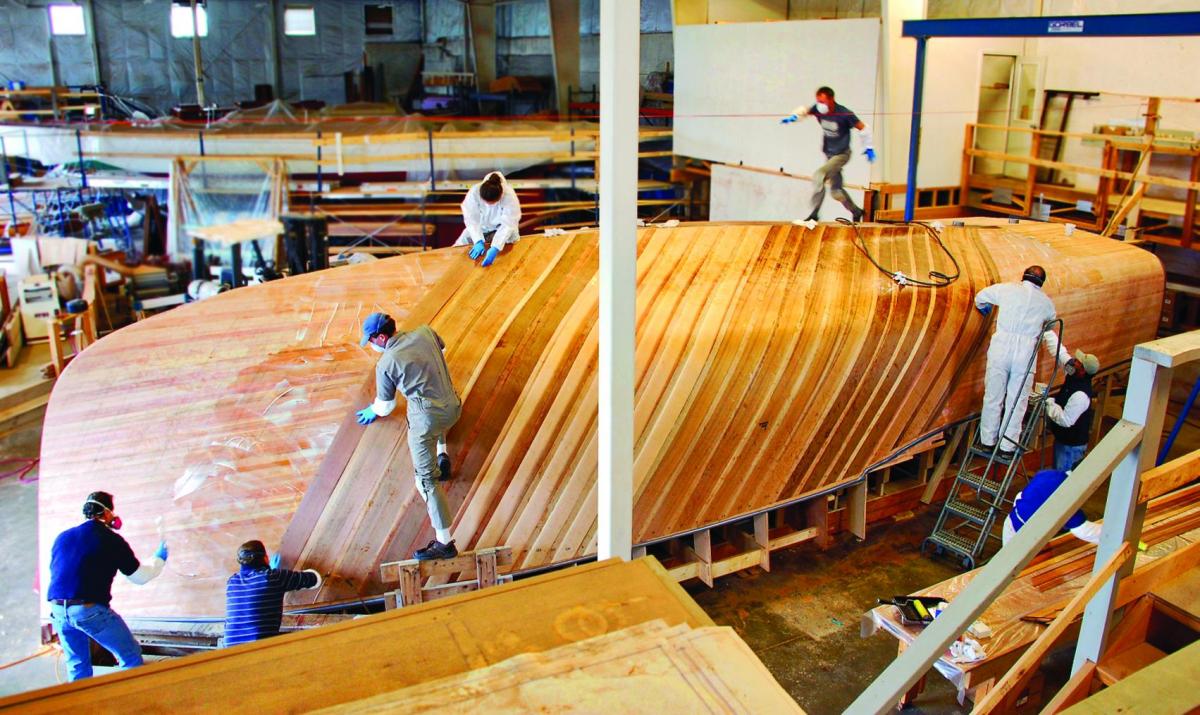 The hull, shown here during layup, is four layers of wood covered by two layers of E-glass. Kevlar was added on the bottom for lightweight strength where it might most be needed. Photo by Amanda Green
That kind of solid handling is important in a pleasure boat. Lifelong sailors transition to power for many reasons; the stability and comfort a powerboat can offer are high on the list. Moving the engine aft also opens up the accommodations for comfort aboard and for entertaining family and friends.
Another reason some sailors transition to power is this: less time spent getting to a destination means more time spent enjoying it. In a sailboat, the journey is a huge part of the experience, but in a powerboat you can have it either way. Take your time and tootle along at cruising speed, or put the hammer down.
Webfoot's 525-hp FPT diesel should make the journey speedy and comfortable, with a top cruising speed in the low 20 knots. It takes sailors awhile to get used to purchasing diesel in large quantities, but a yacht like this helps ease the transition, with a fuel economy of about 10 gallons per hour at a comfortable 15 knots.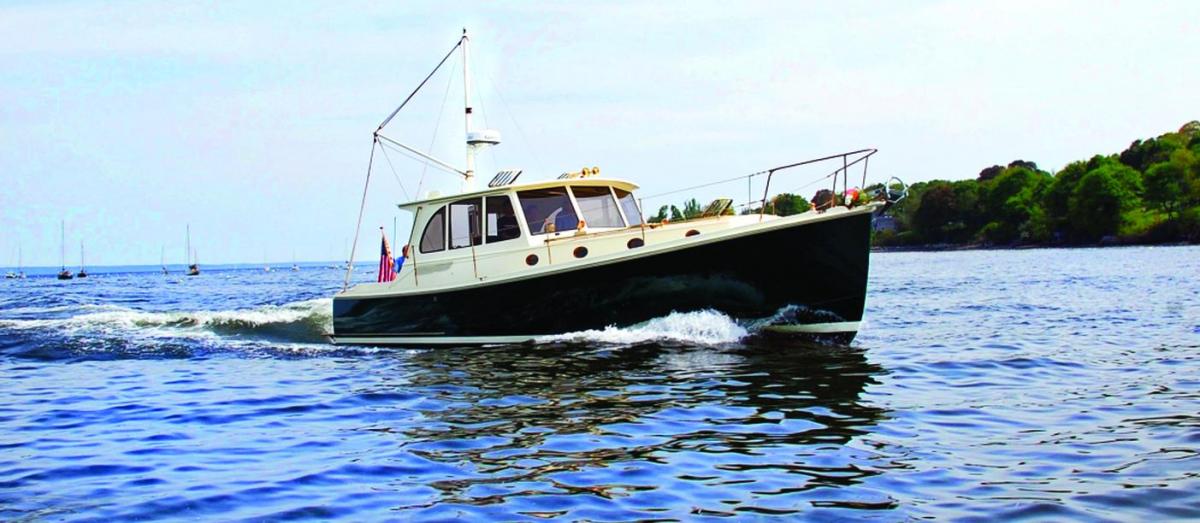 Webfoot's hull form is reminiscent of traditional lobsterboats, but the boat is all yacht. Photo by Amanda Green At any speed, the boat should be a dream to drive. The steering station offers excellent visibility—huge windows and a clear sightline past the bow—and an intuitive layout. Throttle, electronics, dials and gauges, VHF—all are at one's fingertips. The owners had several sailboats before moving to power, and that esthetic is obvious in the purposeful simplicity here. I was struck by the clean layout, a welcome contrast to the multi-screen madness that seems to have overtaken many a yacht of late.
Below the waterline, the traditional choices continue. This is a single-prop boat with a draft of less than four feet. A bow thruster will simplify maneuvers in close quarters.
"Sailorly" touches are found throughout. There's an elegant aged-brass binnacle (taken from one of the owners' previous sailboats and modified to fit), warm brass and bronze hardware everywhere, and a nicely proportioned teak swim platform. There are bronze handrails in strategic places; even the wheel at the external steering station is bronze. Word is that the only stainless-steel fitting on board is for the shore-power plug: they just don't seem to make those in bronze. 
Access forward is via sufficiently wide side decks that are accessed by stepping up from the cockpit with the help of a sturdy grabrail (bronze, of course). Another handrail (this one painted off-white so it "disappears") runs along the cabin just under the coach roof. Bronze stanchions and nice high lifelines lend a feeling of security. Forward, there's ample working space, and of course, the anchor can be deployed from the steering station as well. 
Below, the bright, airy interior is finished Herreshoff-style, with a twist: lots of gleaming off-white painted surfaces set off with walnut trim and doors. The owners' choice of walnut sounds unusual, but the contrast between it and the gleaming painted surfaces is striking. Raised panels on the painted bulkheads add texture, and a tongue-and-groove treatment overhead lends length.
The boat's galley-up arrangement has the cook stationed right behind the helmsman. Across from the galley, the dinette offers comfortable seating and a cozy nap spot. This is the boat's living room, and will get lots of use. The huge windows (with roll-down shades) provide wonderful natural light; big hatches provide plenty of air.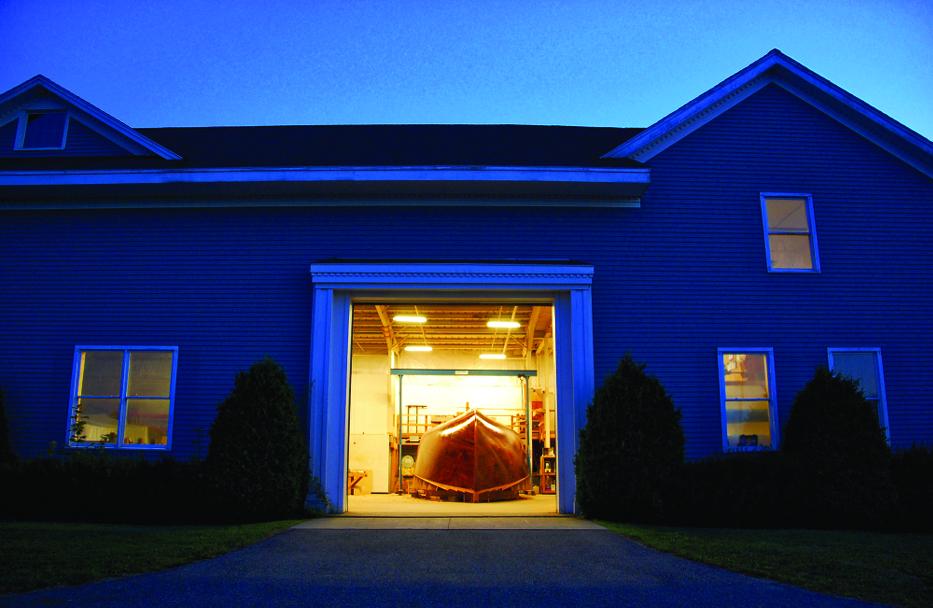 Construction of Webfoot took two years and hundreds of hours of careful handiwork. Here is the hull before it was flipped over. Photo by Amanda Green
Natural ventilation should be excellent below as well, since there are eight operable oval portholes, and ample hatches. The owner's cabin, all the way forward, boasts a massive V-berth, a nice amount of built-in storage, and astounding headroom. Careful thought has been given to the placement of fans and lighting; there's even a tell-tale compass mounted over what I presume to be the captain's side of the berth.
The head, accessed by a sliding door in walnut, is well laid out, with a separate shower compartment. Across the passageway behind a matching slider is the guest cabin, with seven-foot-long upper and lower berths that echo bunk beds. I could just picture the grandkids having a ball in this space. 
Speaking of the grandkids, the owners have family cruising in mind. Webfoot was named after a sailboat they owned when their children were little. Now their children have children, and the beat goes on. Thanks to French & Webb's fine eye for traditional design coupled with their stellar craftsmanship, it will go on in a beautiful way.
---
Gretchen Piston Ogden is a lifelong sailor and this magazine's editor at large.
Webfoot: FW39
Length  39.1'
Breadth  12.9'
Beam  12'11.5"
LOA  38'11.5"
LWL  37'1"
Draft  3'10.5"
Displ.  18,775 lbs.
Depth  6.5'
Power  FPT 4-stroke diesel, 525 hp
Cold-molded construction
Fuel  300 gals.
Water  95 gals.
Builder: 
French & Webb, Inc.
Belfast, ME
207-338-6706; www.frenchwebb.com
Share this article:
2023 Maine Boat & Home Show

Join Us for the Maine Boat & Home Show!
Art, Artisans, Food, Fun & Boats, Boats, Boats
August 11 - 13, 2023 | On the waterfront, Rockland, Maine
Click here to pre-order your tickets.
Show is produced by Maine Boats, Homes & Harbors magazine.