Maine Yacht Center: Great American IV
Very fast, very light, and (sort of) comfortable
By Polly Saltonstall
Competitors in the Vendée Globe sail their hi-tech racing yachts 28,000 miles around the world, nonstop and alone—making the race one of the sailing world's most grueling.
At 66, Rich Wilson was both the oldest competitor and the only American in the race when he set sail in November 2016. He may also have been one of the more comfortable, in a race not known for comfort, thanks to a thorough two-year refit of his boat, Great American IV, by Maine Yacht Center in Portland, Maine.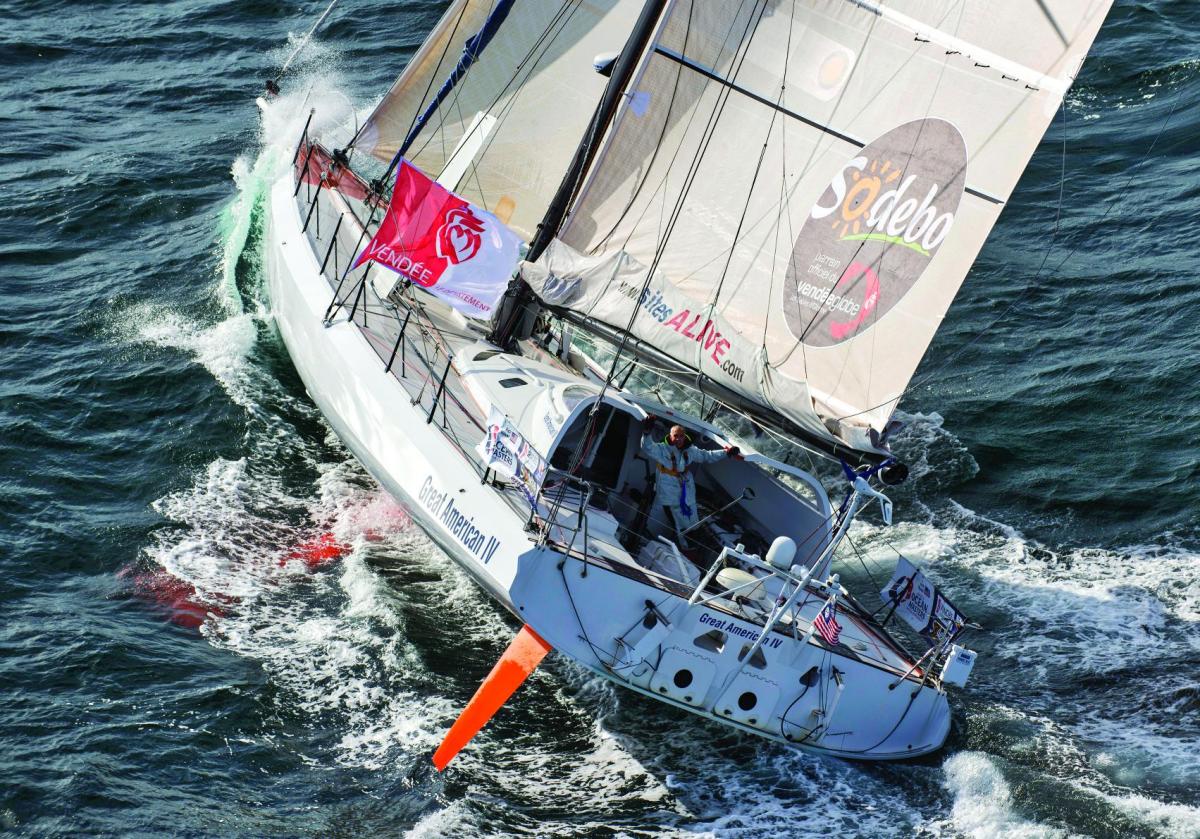 Rich Wilson, seen here in Great American IV's cockpit before the start of the Vendee Globe, was in seventeenth place at press time in mid-December. Photo courtesy Maine Yacht Center
The Vendée Globe, which takes place every four years, is raced in a class known as IMOCA 60, short for International Monohull Open Class Association. Rather than conforming to a fixed design, boats in this class merely must meet certain parameters, such as length, depth, and stability. But while individual boats may look slightly different, they are all typically light and high-powered, with canting keels and large amounts of sail area. 
Maine Yacht Center's general manager, Brian Harris, describes the boats as "Lasers on steroids; very light, very fast with enormous sail-carrying ability."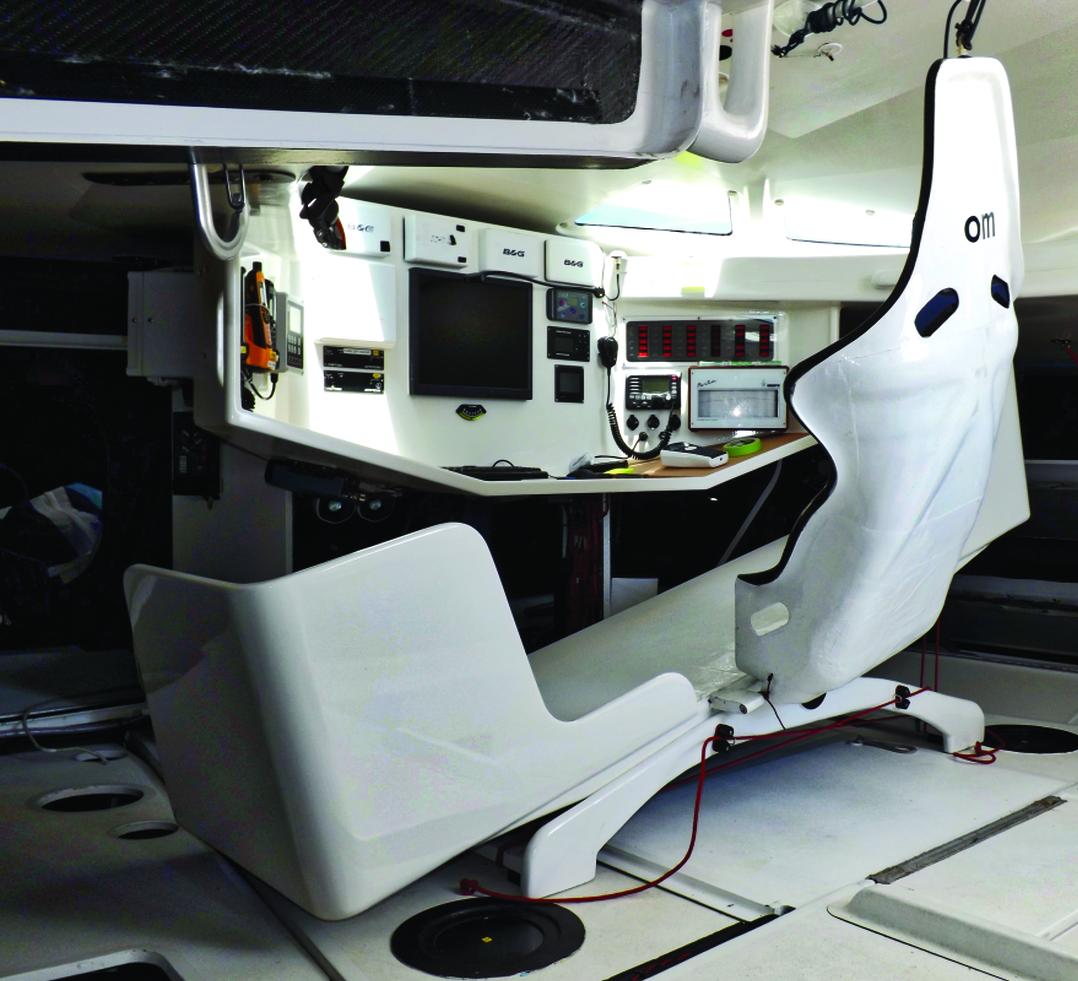 A key part of the refit included this new bunk, which can be adjusted to counter the boat's heel, thus making sleep less stressful. Photo courtesy Maine Yacht Center As the Open 60s have evolved over the years, what minimal comforts they contained—such as bunks, navigation stations, and galleys—were removed to save weight, Harris explained. A key part of Great American IV's refit was adding some comforts back in, such as a nav station and place where Wilson could stand up down below, Harris said. A bunk, a sort of crib that stretches across the vessel, and can be adjusted by block and tackle to counter the heel of the boat, was also added.
"Most racers just sleep on a bean bag below with a laptop in their lap. That wasn't for Rich," Harris said. "It's all about rest. Fatigue is the number one enemy of the long-distance solo sailor. On a good day these guys will get four hours of sleep in 20-minute naps over 24 hours. We wanted to improve the ergonomics to make this more comfortable for Rich, who is the oldest competitor as well as the only American." Wilson also suffers from asthma, which adds yet another wrinkle to his solo quests.
Other work done during the refit included servicing the bearings and hydraulic rams on the canting keel, and servicing the twin dagger boards, twin rudders and steering system; updating the Harken pedestal-driven winch system; inspecting and servicing the carbon mast and all halyard locks, including EC6 standing rigging; and replacing textile backstays and textile anti-torsion headstays. The MYC crew also installed a new electrical system, panels, wiring and electronics, and a new alternative energy charging system including solar, wind, and dual transom-hung hydro generators. Sailing and navigation instruments were also updated, along with computer systems, cameras, and high-bandwidth satellite communication systems.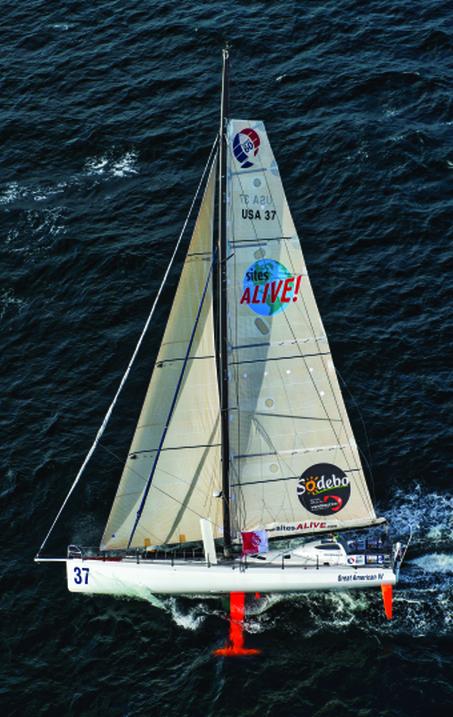 This areal view shows Great American IV's red canting keel. Photo courtesy Maine Yacht Center Wilson, who lives in Marblehead, Massachusetts, sailed in the Vendée Globe in 2008 in Great American III  (also refit at MYC). He endured broken ribs, a facial gash, and compressed vertebrae, and after 120 days of sailing, came in ninth. Only 11 of the 30 boats that started actually completed the race. For the 2016 race, he bought a second-hand Open 60 in France and sailed the boat across the Atlantic to MYC for its refit. Its previous owner sailed it around the world four times and told Wilson that it had gone as fast as 35.7 knots, which is comparable to current America's Cup speeds. 
Broken bones? Wounds? Not enough sleep? Is Wilson crazy? No, explained Harris. He's not in this to win; rather, Wilson's motivation is to engage and educate students around the world. Close to 500,000 students and schools in 45 countries, including China, are participating in his 100-day trip through his foundation SitesALIVE! and website, Harris said.
With degrees from Harvard, MIT, and Harvard Business School, Wilson was a math teacher in the Boston school system before he became a long-distance racer. He believes children learn more from real experiences. 
"Excite a kid with bats, bugs, and snakes in the rainforest, or with gales, flying fish, and dolphins at sea, and they will pay attention, not knowing what will happen next," noted Wilson, in a press release before the race. "Then the science, geography, and math flow freely."
Wilson's site (www.sitesalive.com) is translated into French and Chinese, and includes a daily ship's log and audio podcast, photos, and videos from the boat and an interactive global forum, as well as content and lesson plans for teachers.     
---
Polly Saltonstall is editor in chief of this magazine.
Great American IV 
LOA  60'
LWL  60'
Beam  18'
Draft  14.85'
Mast Height  95.7'
Sail Area  Main 1,883 sq. ft., Jib 1,453 sq. ft. 
Displ.  18,500 lbs.   (This is less than the weight of a J-40)
Refit: 
Maine Yacht Center
Portland, ME
207-842-9000
Share this article:
2023 Maine Boat & Home Show

Join Us for the Maine Boat & Home Show!
Art, Artisans, Food, Fun & Boats, Boats, Boats
August 11 - 13, 2023 | On the waterfront, Rockland, Maine
Click here to pre-order your tickets.
Show is produced by Maine Boats, Homes & Harbors magazine.