Unofficial Boatyard Helpers
By Ken Textor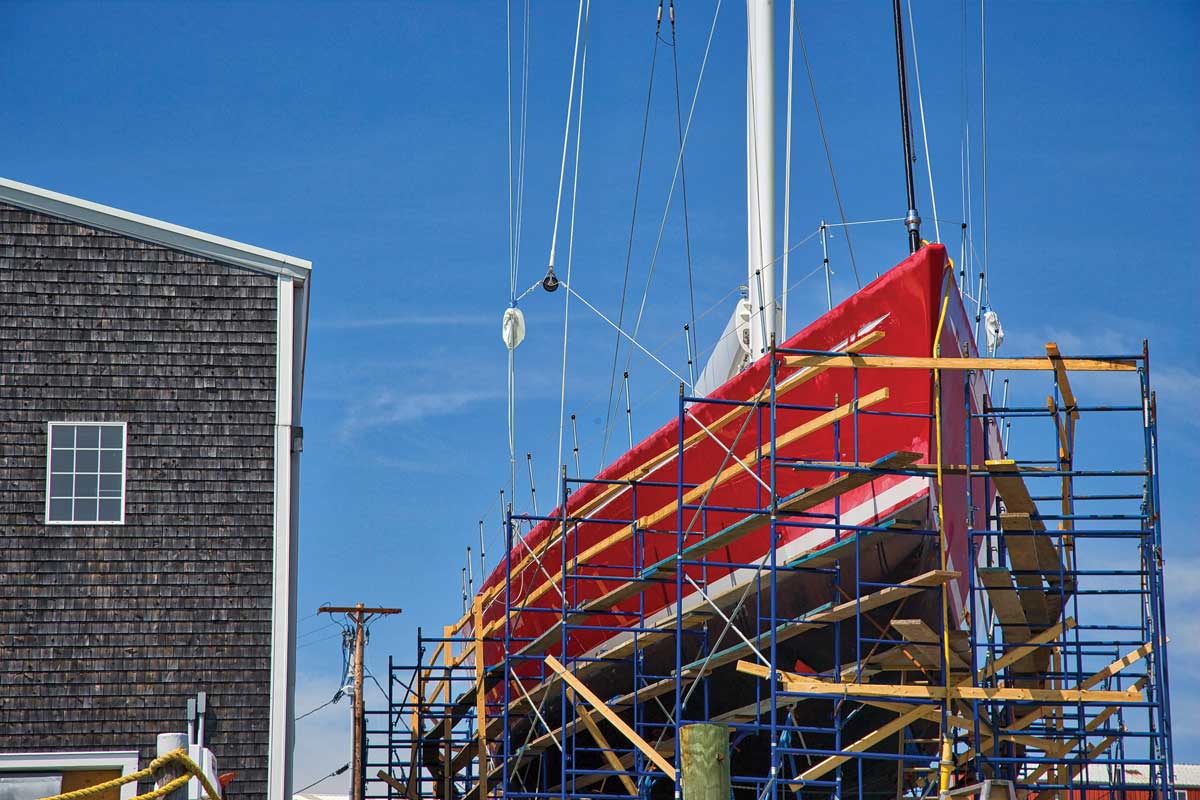 Photograph by Joe Devenney
They generally show up when there is a faint whiff of drying varnish and the muffled buzz of an orbital sander in the air. Under an iron-blue sky with mud underfoot and a chill still in the breeze, boatyard kibitzers appear as reliably as dandelions and robins, offering a mixed blessing at the beginning of the Maine sailing season. 
Our first encounter with a spring boatyard regular was Miles W. Green, who visited us almost daily as we worked at a marina in lower Casco Bay. At the time, my wife and I were rehabbing an aging sloop, which came with a long list of items that needed to be replaced. Fixing the shattered teak rubrail was what first attracted Miles to our corner of the boatyard.
"Teak?" this graying former Merchant Marine exclaimed one morning, steaming cup of coffee in hand. "I don't know where you'd find any teak around here. But oak would do just fine for a rubrail. Just paint it black when you're done and it will stand up finestkind."
It didn't take long to discover that imported teak lumber was running roughly ten times the cost of quality red oak from a nearby Maine sawmill. So we took Green's advice and soon found he had lots more opinions on boats, politics, women, and life in general. We eventually learned to look forward to his morning visits, taking time out from our chores to listen to his often-amusing anecdotes, outlooks, and frustrations.
In a modern boatyard like Lyman-Morse in Thomaston, pictured here, I suspect there are still springtime
kibitzing habitués like Miles. Certainly, a self-deprecating sense of humor helps get one through any complex boat project, big or small. As spring creeps along the coast, winter-weary boat aficionados can always use some hope and humor. Thankfully, some things never change.     
---
Ken Textor is a sailor who has written for numerous boating publications and Joe Devenney is a freelance photographer who works in Maine, New England, and Maritime Canada. They collaborated on The Hidden Coast of Maine: Isles of Shoals to West Quoddy Head.
Share this article:
2023 Maine Boat & Home Show

Join Us for the Maine Boat & Home Show!
Art, Artisans, Food, Fun & Boats, Boats, Boats
August 11 - 13, 2023 | On the waterfront, Rockland, Maine
Click here to pre-order your tickets.
Show is produced by Maine Boats, Homes & Harbors magazine.