Way Back When
Flying Boats
By The Editors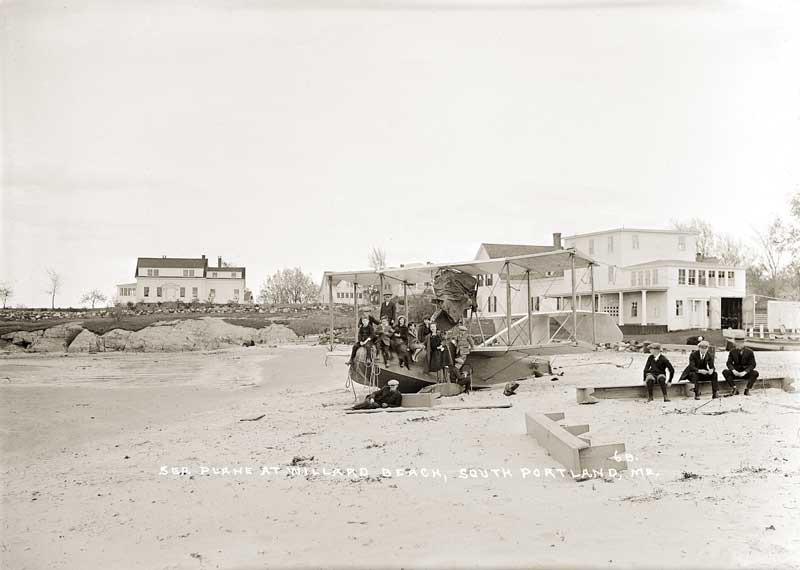 This Curtiss flying boat at Willard's Beach is very likely the Betty V, belonging to Victor Vernon. In the summer of 1914 Vernon brought his newly purchased flying boat (by land) from upstate New York to Portland to give exhibitions and take passengers on short flights from beach resorts. Vernon later wrote that contending with surf—his previous (very brief) experience had been on lakes—was when he really learned how to handle the aircraft.
That summer Atwater Kent—the auto ignition inventor and later a leading radio manufacturer—and his wife were successive passengers aboard the Betty V. On Mr. Kent's ride, after the landing, a wave soaked the engine and killed the spark. Kent immediately attended to the wet magneto, and the engine restarted just before the aircraft drifted onto rocks.
Offered $500 to show up for a 1914 Labor Day gala, Vernon and his mechanic took off from Kennebunk Beach for Bar Harbor. A leaking oil line forced them to land in a cove, where, at the cottage of a prominent Chicago lawyer, they enjoyed a lavish luncheon clambake. Arriving at Bar Harbor, they found a number of Atlantic Fleet warships and the interned German liner Kronprinzessin Cecilie in port. (War having broken out in Europe earlier that year, a number of German liners were interned in still-neutral ports to avoid capture or destruction by the British Royal Navy.)
Vernon gave many summer residents their first flight, and at a high-society party met Navy secretary Josephus Daniels, whom he quoted as saying, "I see little future in flying, and doubt it will play much of a part in war."      
---
Excerpted and reprinted with permission from Maine on Glass: The Early Twentieth Century in Glass Plate Photography, by W. H. Bunting, Kevin Johnson, and Earle G. Shettleworth, Jr., Tilbury House Publishers, 2016.
Share this article:
2023 Maine Boat & Home Show

Join Us for the Maine Boat & Home Show!
Art, Artisans, Food, Fun & Boats, Boats, Boats
August 11 - 13, 2023 | On the waterfront, Rockland, Maine
Click here to pre-order your tickets.
Show is produced by Maine Boats, Homes & Harbors magazine.