Snail whispering, the prodigal schooner, and a message in a bottle
By Polly Saltonstall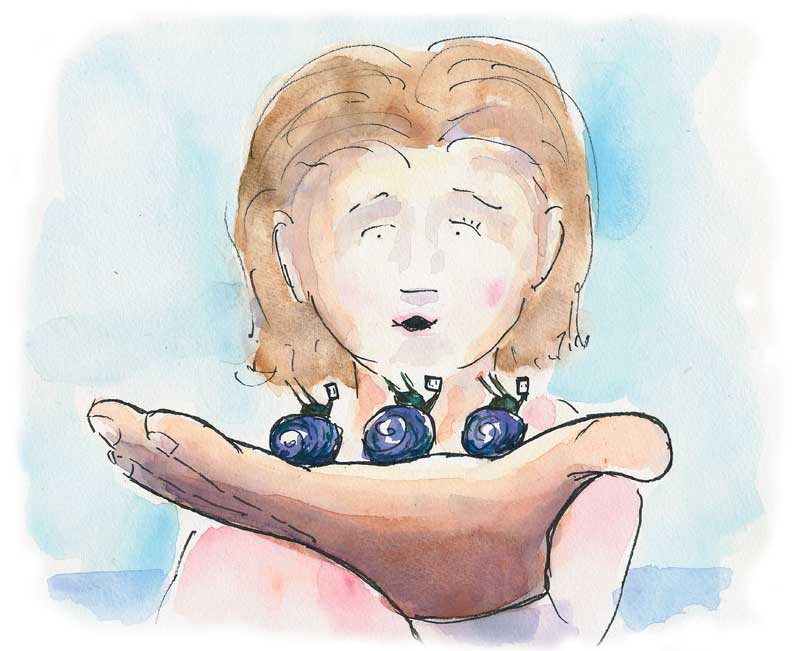 Illustration by Ted Walsh
Calling all snail whisperers
A young lady from Wells, Maine, received 15 minutes of fame recently when she demonstrated "snail whispering" skills on a television talent show for young people, called Little Big Shots. As frequent beachgoers ourselves, we were curious because we had heard that periwinkles could be coaxed from their shells by humming. 
A field trip to the beach in Rockland proved the rumor true. Managing Editor Jennifer McIntosh, who sings with a choir in her spare time, not only lured a marble-sized periwinkle out of its dark brown shell, but also got it to wave its striped tentacles in time to her hum. (See our video listed under Bonus Content at maineboats.com/print/issue-147).
Does the song matter? The tone of voice? Are periwinkles truly that musical, or are they just curious, as a scientist on the West Coast has argued?
Turns out there are not many people in Maine studying periwinkles, and those we did track down didn't know much about the humming thing.
Susan Brawley, a professor in the School of Marine Sciences at the University of Maine who has studied periwinkles, said she learned about snail whispering from her Maine undergraduates on class field trips. "My research on periwinkles didn't include snail whispering," she said. "I can't give you any idea about why it happens." 
She did, however, know quite a bit else about periwinkles. 
Of the three species found along the Maine coast, two are native: Littorina saxatillis, a small periwinkle found in the high intertidal zone, and Littorina obtusata, which is found in the mid-tidal zone. L. obtusata comes in different colors such as yellow and green and plays a beneficial role in the growth of seaweed because these snails gently browse settling larvae and microscopic algae off the surface of seaweed, keeping it clean and allowing it to absorb more nutrients, Brawley said.
The third species, Littorina littorea, is by the far the most common and an incredibly invasive non-native, according to Brawley. These are the bigger, nickel-sized snails in the intertidal zone, often brown in color. Herbivores, they eat young rockweed and other algae, especially small algae in different shapes and colors.
"If we had been on our shore in the late 1700s (before L. littorea arrived), we might have seen a lot more color in the intertidal zone and a lot more different kinds of algae," Brawley said.
She has researched this species, which was first observed along the Gulf of St. Lawrence near Pictou, Nova Scotia, in the 1840s. By the 1890s it was being found on Cape May, NJ, having spread all the way down the East Coast from the Canadian Maritimes (scientists were able to track this precisely because of the Victorian fascination with shell and seaweed collecting). Based on reviews of shipping records and genetic analysis, Brawley speculated that L. littorea most likely arrived with ship ballast from Scotland or Ireland, along with an invasive species of rockweed.
Although scientists worry about the impact of invasive species on native flora and fauna, the common periwinkle has been here a long time, and seems to have made itself thoroughly at home. It's hard to walk on any beach without stepping on hundreds at a time. Getting rid of the intruder at this point might be tough. But wait, we've got an idea and it has something to do with the Pied Piper and music.
---
Two launches, three yards
Most boaters would be thrilled to have a yacht built at one of Maine's finest yards. But what about one that was built at two of them?
Brooklin Boat Yard and Rockport Marine teamed up recently on construction of a custom 91' cold-molded yacht.
The talented crew in Rockport built the hull, which was launched in mid-May. It was towed across Penobscot Bay to Brooklin where the talented crew at BBY will finish work on the flush-deck sloop, which was designed by Bruce Johnson and the Brooklin Boat Yard design office. The boat is scheduled to be delivered in the spring of 2018.
In the same week that Rockport launched the 91-foot hull, Brooklin launched a 49-foot Jim Taylor-designed racer/cruiser sloop. The yard also is working on a new 72-foot yacht designed by the Spanish Botin Partners.
Meanwhile, down in South Bristol at John's Bay Boatbuilding, Peter Kass and his crew launched one of their custom wooden powerboats, an elegant 48-footer destined for pleasure outings. The owners are former sailors who say they are not getting any younger and want to be able to get places a bit faster than they had by sail in the past. Kass has orders for four more boats; his waiting list for a new one has now grown to five years.
---
Historic schooner comes home
The historic schooner Mary E., believed to be the oldest Maine-built wooden fishing schooner still afloat, has returned to the Kennebec River.
The 73-foot, two-masted clipper schooner arrived in late April at the Maine Maritime Museum in Bath. The Mary E. was built in 1906 on the banks of the Kennebec, just upriver on land that is now Bath Iron Works, according to the museum. The Mary E. is believed to be the oldest Bath-built wooden schooner, and the oldest fishing schooner built in Maine, still sailing.
Built by Thomas Hagan, the schooner worked as a fishing vessel and for coastal trade, then as a dragger out of Gloucester, MA. Abandoned in 1960, the Mary E. sank in the harbor at Lynn, MA, during a hurricane on Thanksgiving Day 1963.
In 1964, William R. Donnell II of Bath, whose great-grandfather had been an associate of Hagan, bought the half-sunken vessel for $200, and renovated it before sailing it in Penobscot Bay.
After stints in Boothbay Harbor, New York City, and Key West, Florida, the schooner was bought by Matt Culen in 2006. He began restoring it and used it for river tours from the Connecticut River Museum until 2016 when the Maine Maritime Museum acquired it.
Plans to complete the restoration work this summer on the museum's Bath campus, will give the public the opportunity to witness historic shipbuilding techniques first hand. After the Mary E. is launched in 2018, she will be used for public tours and cruises.
---
Hold that ferry
Many of us have been there: pulling up to the ferry landing just in time to see the boat powering away. Most people, while frustrated, grumpily get in line for the next boat. Not 89-year-old Joseph Hughes of Islesboro. He wanted to catch the 2 p.m. ferry to the island on May 13, according to news reports, but by the time he pulled up, the chain safety gate had been pulled across the ramp and the ferry was leaving its pen. Undeterred, he sped down the ramp in his Ford Ranger truck. Instead of landing on the ferry, though, the front wheels of his truck became stuck over the edge of the upraised ramp, hanging over the water. The ferry, by this time well away from the dock, had to turn back so the crew could lower the ramp onto the ferry deck and get Hughes's truck unstuck. They still did not let him on the ferry, though. Hughes, who was not injured in the incident, had to back up and catch a later boat. 
A drone on the site captured the scene. View it under Bonus Content at  maineboats.com/print/issue-147.
---
New boatyard storage buildings
Hinckley Co. in Southwest Harbor and Great Island Boat Yard in Harpswell both announced plans this spring to build new heated storage buildings.
Hinckley plans to build a new 19,500-square-foot shed on the company's 19-acre yacht service complex on Shore Road in Southwest Harbor. General Manager Tara Regan said the new building will help the company better service its growing customer base. The 78-by-250-foot building, which is intended for the storage and maintenance of boats, is expected to be finished this summer.
Hinckley does all its new boat construction at its facilty in Trenton, and has no plans at this time to resume boatbuilding in Southwest Harbor, Regan said.
Meanwhile in Harpswell, Great Island Boat Yard broke ground this spring on a new 14,400-square-foot structure, which is scheduled to be finished in time for the 2017-18 storage season. The building will feature two, 20-foot overhead doors and will provide fire-protected, heated space for 30 vessels. The building's state-of-the-art interior will include shore power hook-ups, as well as LED fixtures and exterior windows that will give the space the benefit of both natural and artificial lighting. As part of this project, the yard plans to undertake extensive landscaping. 
---
Going outside? Check the "Tickcast"
Summer is here, which means that we need to be extra careful about protecting ourselves against ticks and tick-borne diseases. There were 1,473 cases of Lyme disease reported in Maine in 2016. Other tick-borne infections in Maine include anaplasmosis and babesiosis—in 2016 the number of reported anaplasmosis cases rose to 372 and the number of babesiosis cases rose to 82.
While Lyme disease is considered treatable, the easiest way to avoid it is prevention. The advice we hear the most is to: be careful in potentially tick-infested areas (such as leaf mulch and long grass); wear protective clothing; use an EPA-approved repellant; and perform daily tick checks. Now you can add one more: check the Tickcast. 
What is that you ask? It is a daily predictor of the possibility of deer tick encounters in different regions organized by Nicholas Record, PhD., a senior research scientist at the Bigelow Laboratory for Ocean Sciences in East Boothbay. Record gathered data on ticks submitted to state public health officials over the years (over 20,000 reports), and developed a program that cross-checked location with historical weather information such as temperature, humidity, vegetation, and snow cover. He analyzed it, looking for trends, and then created a formula that enables him to predict, based on weather forecasts, when and where ticks are likely to be most active. His collaborator on the project is Chuck Lubelczyk, a vector ecologist at the Maine Medical Center Research Institute's "tick lab."
The site can be found at seascapemodeling.org/tickcast.html. It's updated regularly to include tick predictions for three days. Site visitors will find a map of New England overlaid with various shades of orange. Red denotes the highest likelihood of a tick encounter; the lighter the shade the less the likelihood of ticks. 
We checked the site in late May and all of New England looked pretty red. Uh oh. Better just stick to the water from now on!
Maybe that's the point of the site: to raise awareness of the need to constantly be on guard against ticks.
Record's regular work involves studying ocean life, but he loves data. And when he kept on finding ticks on his children he was inspired to do his part. 
In addition to ticks, Record also keeps track of jellyfish and whale sightings. So when you escape those bright red tick zones by going out on the water, keep an eye out for marine life. You can email reports to jellyfish@bigelow.org or enter the details at jellyfish.bigelow.org.
---
Our new hero
Boatbuilding innovator Meade Gougeon, aboard his outrigger sail canoe Elderly Care, placed first in his class in the grueling 300-mile Florida Everglades Challenge last March. 
Boat lovers know Meade because in 1969, he and his two brothers, Jan and Joel founded Gougeon Brothers, and were pioneers in the use of epoxies for boat construction. Gougeon makes West System Epoxy, which some of us refer to as "boatbuilder in a can."
Meade is now 78 years old, but he is not letting age slow him down.
The 2017 Everglades Challenge may have been the toughest in 15 years. Gougeon described it as "three days of high winds, headwinds, and rough seas. It was wet and bumpy." More than half of the 108-boat fleet dropped out, with just 51 entrants making it across the finish line ahead of the 8-day time limit.
Gougeon finished first in Class 3-Sailing Canoes. He placed fifth among the singlehanded racers and was 13th to finish overall. He was also the oldest challenger to finish the race. 
Everglades Challenge forbids the use of motors. All race vessels must be either wind or human-powered. Competing boats must be self-sufficient and support crews are not allowed.
The 15' Elderly Care is stabilized with outriggers that can be easily removed and stowed. It features a comfortable chair, which reclines into a bed and has a built-in tent arrangement that provides shelter from the elements and for sleeping.
Gougeon hauled the boat ashore at dusk each night and slept under the boat's tent, getting back in the water around 7 a.m. "The boat is so fast that it allowed me enough time to sleep," he said. "My competitors would pass me in the night, but I'd catch up and pass them in the daytime. At the end of the race, I wasn't sleep deprived like the rest of the finishers."
---
Will a new weir lower costs?
Two Washington County fishermen plan to invest in an ancient technology to combat a new problem—namely, the high cost of lobster bait, according to the weekly Quoddy Tides newspaper.
Scott MacNichol of Perry and Jason Leighton of Edmunds plan to build a weir at Shackford's Cove in Eastport, the first along the coast in a dozen years. Their plan is to catch herring, which is selling for more than $85 for a "tote" unit mostly for use as lobster bait. 
The two men got the idea after noticing that herring came in along the shore in the cove after dark. While weirs once were common along the Maine coast, herring have not come inshore in recent years like they once did. "We don't know if it will work or not," MacNichol told the Quoddy Tides in its April 14 print edition.
The two received a permit to build the weir from the Eastport Planning Board. They must also get a license to catch herring from the Maine Department of Marine Resources.
---
Maritime museums keep history alive
If you read the item above and have forgotten what a weir looks like, head to the Penobscot Marine Museum this summer.
As part of a new exhibit on fisheries, a life-size replica of a weir was built on its Searsport campus so visitors can experience a weir from a fish's perspective. 
The museum's summer show, "The Net Result: Our Evolving Fisheries," uses photos from its National Fisherman collection to illustrate the commercial fishing industry in the post-WWII era. Also on display will be an operational aquaponics system, courtesy of Herring Gut Learning Center. The season will include a celebration of food from coastal Maine on Sept. 9-10, with talks, educational tastings, and a dinner prepared by chef Sam Hayward with the assistance of Ladleah Dunn. 
Bath's Maine Maritime Museum is opening a new permanent exhibit on lighthouses. "Into the Lantern: A Lighthouse Experience," a full-scale replication of the Cape Elizabeth Two Lights lighthouse tower lantern room, allows visitors to see the original second-order Fresnel lens from the east tower at Two Lights, and experience the environment of the lantern room through time-lapsed video projections featuring a panorama of the Gulf of Maine that will change with the weather and seasons. This exhibit is the first of its kind anywhere.
---
Lobster Union expands its reach
The Maine Lobstering Union has voted to spend $4 million to buy a lobster business in a move members hope will give fishermen a bigger share of profits.
The union voted recently to buy the wholesale side of the Trenton Bridge Lobster Pound in Trenton. The Portland Press Herald reports that the pound includes a tank that can hold up to 180,000 pounds of lobsters.
Local 207 President Rocky Alley told the newspaper that the purchase will allow lobstermen to start buying and selling their own lobsters, instead of selling them at the dock to a middleman. Buying the pound will mean more of the profit will stay with fishermen, he said.
The business, which ships live lobsters around the word, has been in manager Warren Pettigrew's family for four generations. Pettigrew said he planned to stay on under the new ownership.
---
The sea is so beautiful…
We hear quite a few stories about bottles that wash up on the beach with messages. This one from the web site Penbay Pilot made us smile.
Rockland residents Will and Christine Clayton and their children, Sophia, 10, and Noah, 9, were visiting Large Green Island, about halfway between Rockland and Matinicus Island last May when they found a green bottle with paper rolled up inside. It was a little girl's crayon drawing and the message: "The sea is so beautiful it makes me feel special."
The message contained an address in Halifax, N.S., and the name Kelsie Stevenson. Christine, who assumed the drawing was not very old, thought she was looking for a little girl her own daughter's age, according to the Pilot's story. But when she found a Kelsie Stevenson on Facebook and reached out to her, she learned the bottle had been floating around for quite a while.
Stevenson had thrown the bottle in the ocean with its message 18 years ago, in 1998, when she was 5. She is now 23.
Sophia told the Pilot that she thought it was amazing how far the bottle had traveled without the message getting wet or ruined. Noah said the coolest part for him was finding Halifax, Nova Scotia, on the map and realizing how close Maine really is to Canada. Halifax is 475 miles from Rockland.
---
Maine On Glass gets first in class
Maine On Glass, co-published by Tilbury House and the Penobscot Marine Museum, has won the 2017 New England Society Book Award for Photography in the Art & Photography category. Careful readers will have noticed that the Way Back When column in this magazine (see page 112) has been featuring images from the book. Maine on Glass pairs historic images from the Penobscot Marine Museum's Eastern Illustrating collection with insightful and entertaining text by Bill Bunting.
---
New Boatyard Dog book hits the street
While we're talking books… Maine Boats, Homes & Harbors has teamed up with the folks at Down East Books to publish an anthology of more than 70 of our Boatyard Dog® columns. It should be available in bookstores near you by the time you read this. You can also get it directly from us (maineboats.com). Our in-house canines have checked it out and given it five paws up. They think it's GRRRReat, and that's fur real. 
---
Over the bar
Sailor, boatbuilder, and innovator Cyrus Hamlin, 98, passed over the bar in March after a brief decline. A self-taught naval architect, he moved to Southwest Harbor in 1939, to work for Hinckley Yachts and Southwest Boat Corp., designing pleasure and commercial vessels. He also supervised the construction of early yawls for the U.S. Naval Academy, according to his obituary in the Portland Press Herald.
After serving in the Army during WWII, Cy struck out on his own to design boats and work as a marine consultant.
His most notable designs include the Amphibicon and Controversy classes, designed in collaboration with Farnum Butler of Mount Desert Yacht Yard; the pulling boats used by Hurricane Island Outward Bound; and the Hudson River Sloop, Clearwater, which gained prominence during the growing environmental movement in the 1960s.
Cy contributed to the development of the Yacht Design Program at the Landing School in Arundel and taught naval architecture from its inception. He also wrote Preliminary Design of Yachts and Ships, a textbook still in use today.     
Share this article:
2023 Maine Boat & Home Show

Join Us for the Maine Boat & Home Show!
Art, Artisans, Food, Fun & Boats, Boats, Boats
August 11 - 13, 2023 | On the waterfront, Rockland, Maine
Click here to pre-order your tickets.
Show is produced by Maine Boats, Homes & Harbors magazine.