Way Back When 147 — Summer Colonies
Photographs From Maine's Past
By The Editors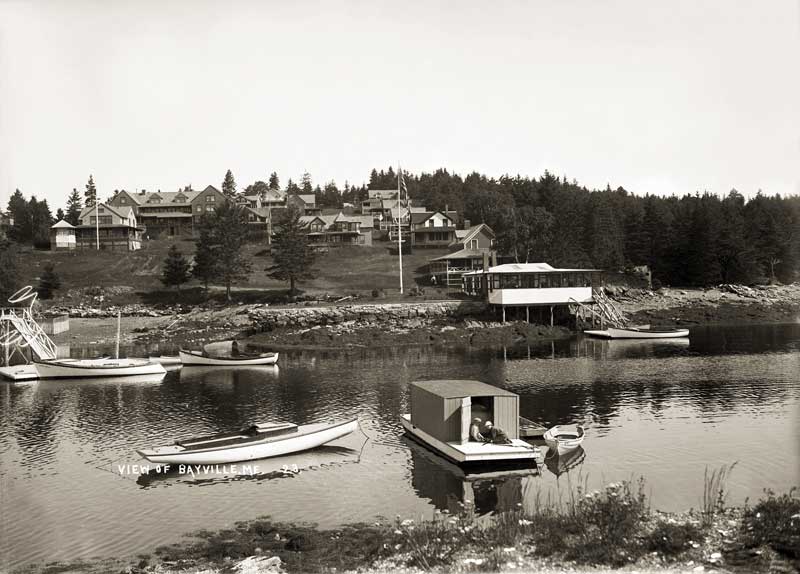 Photo courtesy Penobscot Marine Museum
Bayville in East Boothbay was one of many post-Civil War summer colonies in the region, including Ocean Point, Murray Hill, Paradise Point, Christmas Cove, Squirrel Island, Mouse Island, Isle of Springs, and Capitol Island. Some were developed by—and for—inland Mainers, while Bayville's cottagers came mostly from the Boston area.
Colonies typically sprouted on thin-soiled shore land or islands formerly considered of small value; indeed, Bayville's site was called Hardscrabble. A local, Thomas Boyd, first attempted the alchemy of turning its ledge-rent lots into gold coin in the 1860s, but real development began in the 1880s. By 1904, a hotel was followed by about 35 cottages with seasonal piped water and electricity. In 1905 there were 574 non-resident taxpayers in the towns of Southport, Boothbay Harbor, and Boothbay, leading to agitation by the "summer complaints" regarding their taxation without representation. In 1911, following Squirrel Island's lead, Bayville became an incorporated village within the town of Boothbay.
The large edifice left of center was the hotel. At far left is a glimpse of the seal pen belonging to Captain Angus and Janet McDonald, who for years netted seals and sold them as public attractions all over the East, including Coney Island.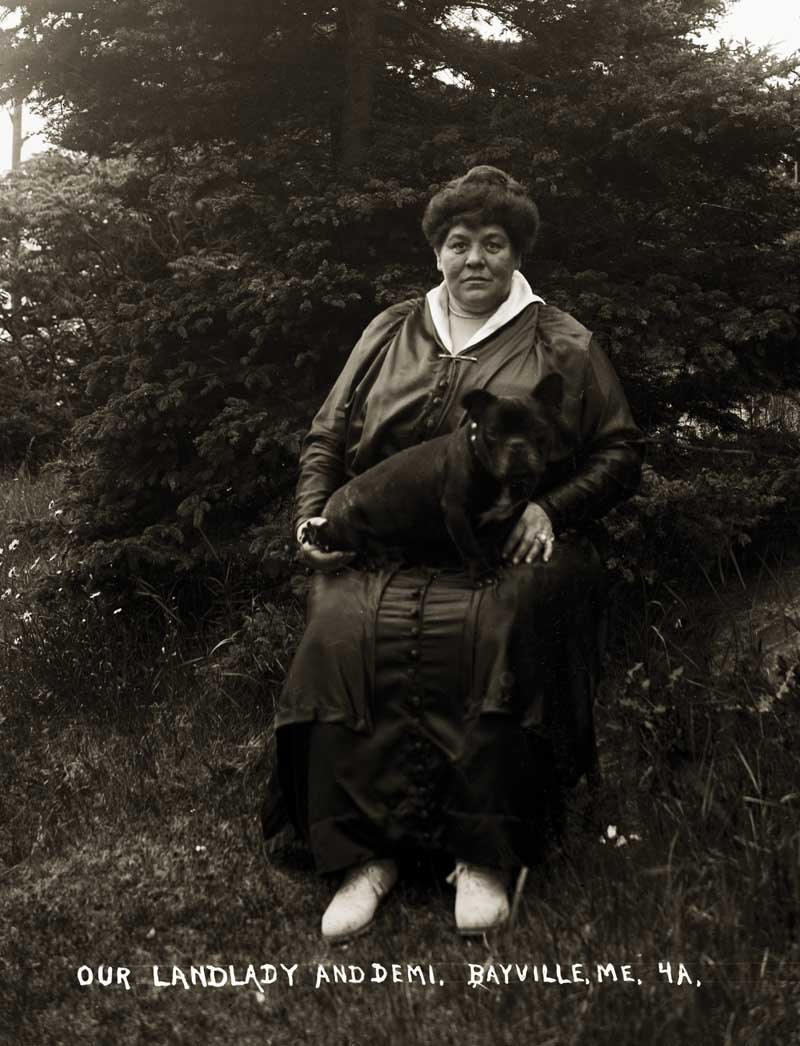 Photo courtesy Penobscot Marine Museum The label on this Bayville image is "Our Landlady and Demi." Presumably "Demi" is the dog. The landlady may have run the hotel, rented a cottage, or both. Few memories are more indelible—or more likely to be embellished— than happy memories from childhood. And few happy childhood memories shine brighter than those of summers in Maine. 
Regarding the complex relationship between natives and those from away, consider the story of the clumsy chore boy of a summer boardinghouse on East Boothbay's Murray Hill. Coming down the back stairs too fast, he tripped and some of the contents of the slop bucket holding the morning's chamber pot offerings splashed onto a row of cooling strawberry pies. Happily, the guests were all out enjoying the splendors of the day, and none witnessed the mishap. The cook, a practical woman, took a damp cloth and dabbed away at the evidence, assuring the distraught boy that, "They'll never know the difference!"
---
Excerpted and reprinted with permission from Maine on Glass: The Early Twentieth Century in Glass Plate Photography, by W.H. Bunting, Kevin Johnson, and Earle Shettleworth, Jr.,Tilbury House Publishers, with the Penobscot Marine Museum, 2016.
Share this article:
2023 Maine Boat & Home Show

Join Us for the Maine Boat & Home Show!
Art, Artisans, Food, Fun & Boats, Boats, Boats
August 11 - 13, 2023 | On the waterfront, Rockland, Maine
Click here to pre-order your tickets.
Show is produced by Maine Boats, Homes & Harbors magazine.