Winter Harbor
On the Not-So-Quiet Side
By Mimi Bigelow Steadman
When we cruised into Winter Harbor a few years ago, I was charmed by the low-key atmosphere of this downeast lobstering harbor, framed by Grindstone Neck and the Schoodic Peninsula. Lying just east of Mt. Desert Island, the area includes the 2,366-acre Schoodic District of Acadia National Park, and I could see why it's called Acadia's quiet side. On a visit this spring, I changed my mind: Winter Harbor isn't that quiet after all.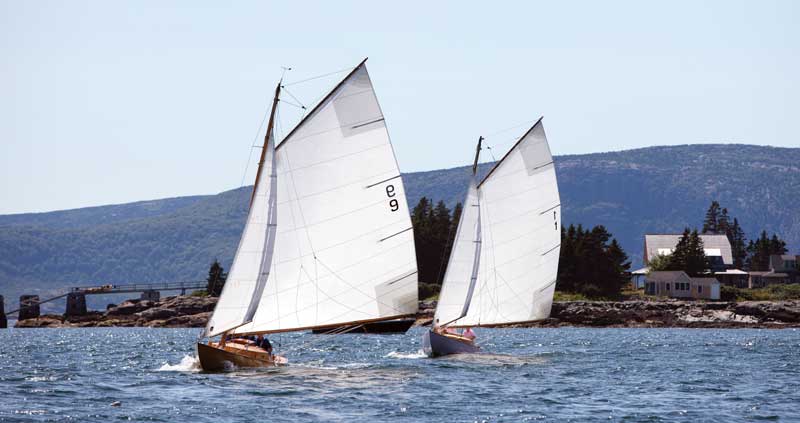 A lively summer tradition, the Winter Harbor 21 knockabouts defy their century-plus age in spirited Saturday-afternoon races. Photo by Alison Langley
Take, for example, the Schoodic Institute. After Winter Harbor's Naval Security Group Activity Base closed in 2002, the institute, together with the national park, established the Schoodic Education and Research Center there, offering workshops and seminars to students, teachers, scientists, and lay naturalists. 
The organization also operates an in-town facility on the site of the old Winter Harbor Marina in Henry Cove. There's a free marine mammal exhibit, and, according to Sheridan Steele, the project's volunteer manager and former Acadia National Park Superintendent, there's more to come. "We're hoping to create an Ocean Discovery Center. We're committed to promoting ocean health and research."
You can rent kayaks and bikes here, the latter providing an easy way to tour Grindstone Neck and see its grand, shingle-style summer "cottages" dating to the 1890s. While you're pedaling around town, check out the Winter Harbor 5 & 10, which stocks just about anything you could possibly need,  and stop by the Littlefield Gallery on Main Street to view works by some of Maine's finest artists.
For a more energetic two-wheeled—or two-footed—adventure, try the trails at Schoodic Woods Campground, which opened last year as Acadia's first new campground in 80 years!
Schoodic Institute's Henry Cove property includes a dock where two water taxis from Mount Desert tie up. In addition to the Bar Harbor Ferry, a second, year-old service operated by Frenchman Bay Research Boating has an exciting dual purpose. "We're the first ferry system in the U.S. to include environmental monitoring," captain/owner Kaitlyn Mullen told me. While making the 8.1-nautical-mile crossing, she and her crew collect data on marine mammals and pelagic birds. "Our passengers observe, point things out, and ask questions," Mullen said. "They're our citizen scientists."
Acadia's Island Explorer buses stop at the dock en route to the park and the loop road that traces Schoodic's dramatically scenic pink-granite shores. It's convenient, free transport for residents and visitors alike, and provides an easy way for those arriving on private yachts to experience the peninsula.
Moorings may be rented from the Schoodic Institute facility, which occasionally has space at its dock, as well. Harbormaster Fred Backman said he can sometimes find a mooring in the inner harbor for visitors. "I've also got a dock where they might be able to tie up," he said. "They can anchor over toward Sand Cove, too."
Another option is the Winter Harbor Yacht Club, whose turreted clubhouse overlooking Sand Cove is open daily, late June through Labor Day. There are a few guest moorings (reservations recommended), and cruisers are welcome to have lunch at the club. You'll dinghy in past the fleet of 111-year-old William Starling Burgess-designed Winter Harbor 21s, their graceful topsides a rainbow of colors. Over the years, a few had gone astray, but members brought them home in time for the club's centennial in 1996. They still strut their stuff in Saturday-afternoon races in July and August.
More beautiful small craft can be seen rounding the marks when the club hosts the Bullseye Nationals. This year's event will be held July 21-23, 2017.
Winter Harbor puts on faster and louder races during the annual Lobster Festival (the 53rd will be held August 12, 2017), when souped-up lobsterboats blast across the water. It's a rollicking good time—and one when it's most definitely not quiet in Winter Harbor. 
---
Contributing Editor Mimi Bigelow Steadman lives on the Damariscotta River in Edgecomb.
Share this article:
2023 Maine Boat & Home Show

Join Us for the Maine Boat & Home Show!
Art, Artisans, Food, Fun & Boats, Boats, Boats
August 11 - 13, 2023 | On the waterfront, Rockland, Maine
Click here to pre-order your tickets.
Show is produced by Maine Boats, Homes & Harbors magazine.