30 Years of Innovation
People, boats and inventions that shaped the coast
By The Editors
The state established a working waterfront protection program in 2005 to ensure the future of wharves and maintain public access to the water. As of 2017, 42 acres and 7,200 linear feet of shoreline had been preserved, supporting 670 fishing vessels and 1,197 fishermen, according to Coastal Enterprises Inc.
---
Maine Island Trail was established in 1988 in large part by Dave Getchell Sr. The first-of-its-kind, 
375-mile water trail connects state-owned islands and private properties by permission, introducing the concept of "user management," whereby the people who enjoy the resources help take care of them.
---
Believed by many to be the world's oldest continuously sailed one-design racing class, the North Haven Dinghy fleet celebrated its 100th anniversary in 1987.
---
Sailors Ted Welles and Glenn Squires started Maine's first high school sailing team on Mt. Desert Island in 1996. Today over 20 high schools in the state offer sailing programs; 11 are affiliated with the New England Schools Sailing Association.
---
The last human lighthouse keeper on Maine's coast, at Portland Head Light, retired in 1989, as the state's 65 lighthouses all became automated. In 1996, the Island Institute's Peter Ralston spearheaded a program to allow the feds to transfer ownership of 36 lighthouses to local groups. In 2015, the Coast Guard began to replace weather-activated horns with horns activated by boaters' VHF radios.
---
A group of boatbuilders started the marketing entity Maine Built Boats in 2005 to strengthen and help market the state's boatyards. Another marine-related group, Maine Marine Trades Association, was founded in 1966.
---
Rockport Marine became a go-to-yard for large plank-on-frame replicas. They included: Adventure, a 53' replica of a 16th century coastal trading vessel (2008); Godspeed, a copy of a vessel that sailed to Jamestown in 1607 (2006); and Lynx, a 76' topsail schooner used to educate students about the war of 1812 (2001).
---
Rhode Island's Donald Tofias brought his love of classic wooden boats to Maine when he worked with Joel White to start a new class of big racing yachts. The first 76' W-Class Wild Horses was built at Brooklin Boat Yard and launched in 1998, followed by White Wings (Rockport Marine), several 46' versions, and, in 2016, two W-22s. 
---
Mainer Kevin Mahaney won a silver medal sailing in the 1992 Olympics in the Soling class and went on to field a Maine-based America's Cup challenge in 1995.
---
Founded in 1984 by Steve Wessel and then-partner Mac Pettegrow, Wesmac Custom Boats of Surry introduced its first hard-chine hybrid downeast-style lobsterboat four years later. The pretty, seaworthy, and efficient design has been so popular that Wesmac has a waiting list and has enlisted other builders to help construct hulls.
---
Hawaiian surfer Laird Hamilton ordered his first paddle for stand-up use in 2002, starting a new fad: stand-up paddleboarding. By 2014, an estimated 2.8 million Americans were participating, and the boards had become a common sight in Maine waters. A Maine company, Tidal Roots, made SUPs out of wood for several years. Grain Surfboards started in 2005 in York, building wooden surfboards and selling kits.
---
The use of computer-driven routers to cut boat parts revolutionized the boatbuilding process by removing the uncertainty of cutting duplicate pieces. Hewes and Company, one of the first big proponents in Maine, introduced CNC services in 2004.
---
USHarbors.com began in 2012, offering daily tides, weather, and harbor guides for 1,200 harbors in 22 states. By 2017, more than 4 million people a year were using the site.
---
Cold-molded wooden boat construction went mainstream, with Maine boatyards, most notably Brooklin Boat Yard, Rockport Marine, French and Webb, and Hodgdon leading the way. The process involves laminating together thin layers of wood veneer or thin planks to create a light, strong, watertight hull.
---
A rarity in the early 1980s, clean and quiet 4-stroke outboard engines proliferated over the following decades. Yamaha introduced its first 4-stroke powerhead in 1984, but only in the smaller horsepower range. The trend took off when Honda released 35-hp and 45-hp 4-stroke models in 1990.
---
The last sardine plant in the state, actually in the whole country, owned by Bumble Bee Foods and located in Prospect Harbor, closed in 2010.
---
Pontoon boats have been one of the state's hottest boat models. In 2017, out of about 120,000 boats registered in the state, 7,708 (6.5%) were pontoons, according to the state, a 60% increase over 2011's pontoon registrations.
---
Sabre Yachts, previously known for its sailboats, launched its first powerboat in 1989 and now offers a line of powerboats ranging from 38' to 66'. The company acquired North End Composites in Rockland in 1995, and began Back Cove Yachts there in 2002. More than 200 people now work at the Rockland plant. 
---
The most expensive ship ever built in Maine, the USS Zumwalt, left Bath Iron Works in 2016 and was delivered to the US Navy. The first of a line of cutting-edge stealth destroyers, it cost about $4 billion. Technology on the 610' by 81' vessel makes it appear the size of a fishing boat on radar screens.
---
In 1988, Portland Yacht Services began the Maine Boatbuilders Show in Portland. Always held in March, the show was moved to the Portland Sports Complex in 2017 after the company sold its former site to developers and moved to a new location at 100 Commercial Street.
---
MBH&H magazine started the Maine Boats, Homes & Harbors Show on the Rockland waterfront in 2003, featuring boats, art, fine furniture, home products, and the World Championship Boatyard Dog® Trials.
---
After several attempts to rezone part of Wayfarer Marine's site as residential, the owners of the long-time Camden yard sold it to Lyman-Morse in 2015, preserving Camden's working waterfront and allowing the Thomaston company to expand.
---
In 2011, Belfast became a world-class boating destination when four boat businesses formed a partnership to buy the derelict Stinson sardine cannery, and created Front Street Shipyard.
---
The O'Hara family, which has run fish- processing plants and other marine-related businesses in Maine since the early 1900s (and in Rockland since the 1950s), opened Journey's End Marina in the 1990s, 
boosting Rockland's transformation to a visitor destination, and the harbor's transition from largely commercial to recreational. 
---
SW Boatworks of Lamoine, founded by Stewart Workman in 2000, bought the classic Calvin Beal and Young Brothers molds and rebooted the lines with huge success in both commercial and pleasure markets. 
---
Maine Yacht Center put Maine on the map for high-tech, ocean-racing yachts when it outfitted Bruce Schwab's Open 60 Ocean Planet to race around the world in 2003. Other Maine Yacht Center projects included rehabbing two Open 60s sailed by Rich Wilson in the grueling Vendée Globe Races of 2008 and 2017.
---
Hodgdon Yachts, which got its start building wooden fishing boats in 1816 in East Boothbay, went high-tech, building Navy stealth boats and expanding to Europe where its luxury limousine tenders were a hit with megayacht owners. In 2014, the company built Comanche, a 100' high-tech ocean racing monohull that set several speed records.
---
Hinckley Company, known for its custom sailboats, introduced the Picnic Boat in 1994. The groundbreaking boat featured jet propulsion, and a JetStick Helm was added in 1998. The company, which was sold by the Hinckley family in 1997, added yards up and down the East Coast. Tara Regan was hired in 2016 as general manager of the Southwest Harbor operation, the first woman to hold that job.
---
GPS was made available for public use in 1989 under the order of then-President Ronald Reagan after a commercial airliner carrying 269 people was shot down after straying into Russian airspace. By 2017, navigation had been changed forever and boaters could navigate using their smartphones.
---
Brooklin Boat Yard put the state on the map in the architectural world in 2015 when it launched a 74' sloop designed by German Frers with major tweaking by world-famous architect Frank Gehry. Named Foggy, the yacht featured Gehry's fantastical curves and hundreds of intricate hull cut-outs.
---
Before cell phones made calling home so simple, the Camden Marine Radio operator helped those at sea connect with loved ones. Boaters could place calls via VHF, and the shoreside operator would connect them to a landline. Anyone listening on Channels 28 or 64 could hear everything, sometimes too much. The business closed in 1999.
---
This list is far from complete. Send your suggestions to editor@maineboats.com for possible inclusion at our website.
Share this article:
Digital Edition Available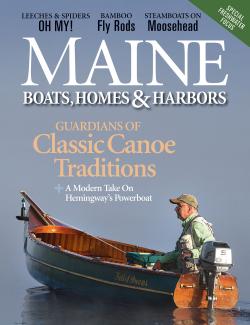 Can't get to the store to buy your magazine? We deliver the stories of Maine's coast right to your inbox. Sign up here for a digital edition.