On the Town Dock — Issue 149
An electric boat, green crabs & more
By Polly Saltonstall
Green crab empanadas anyone?
Invasive green crabs are voracious predators that have posed a serious threat to the state's clam flats. University of Maine food scientists Beth Calder and Denise Skonberg and former graduate student Joseph Galetti have a possible palatable solution, according to a UM release: Turn the ravenous pillagers into minced crabmeat.
One green crab (Carcinus maenas) can devour 40 half-inch clams in a single day, the release notes. Which might be one reason why Maine's soft clam harvest dropped from 9.3 million pounds in 2015 to 7.3 million pounds in 2016. The crabs, which multiply very quickly, also eat mussels and destroy eelgrass beds.
Calder, Skonberg, and Galetti argue that promoting green crab as a viable food source could stimulate a commercial fishery and help clams rebound on Maine mudflats, while providing a nutritious seafood option for locals and tourists.
When Galetti enrolled as a graduate student at UMaine he had a degree in culinary nutrition and knew how to prepare nutritious, tasty food. He applied those skills to green crabmeat as part of his thesis on the mechanical processing of green crab and its potential use in a value-added product. Calder and Skonberg, both associate professors of food science, were his thesis advisors. 
Galetti, who now works for High Liner Foods in New Hampshire, made empanadas using green crab meat. And apparently they were good. More than 60 percent of the consumers who sampled the test empanadas said they would "probably" or "definitely" buy them if they were available in stores.
The crab product could also be used in ravioli, wontons, dips, soups, quiches, and stuffing, the researchers said. 
But green crabs are quite small and picking the meat by hand is not practical on a large scale. The next challenge will be finding a better way to process them. The UM researchers are experimenting with a mechanical means of extracting the meat using a kind of grinder that produces a puree-like product.
Here at MBH&H we love getting samples;  our publisher loves Mexican food, including empanadas. Hint hint.
---
Historic birchbark canoe restored
One of the oldest-known Native American birchbark canoes is now on display at Brunswick's Pejepscot Historical Society after being restored by canoe expert Steve Cayard, according to news reports.
Carbon dating shows the Wabanaki canoe was likely made sometime between 1729 and 1789. Museum records date the canoe to the mid-1700s. 
Cayard told News Center WLBZ2 that the canoe is particularly exciting because even by 18th-century standards, old techniques were used:  "This is one of the few canoes that was built without nails or modern fastenings of any kind."
It's about 19 feet long and displays ancient Native craftsmanship. "Instead of having a chiseled mortise cut for the thwarts, there was just a split made in the inwale and the tenon of the thwart was forced into that," he told news center. "That was probably a pre-contact method and I've only seen one Wabanaki canoe that uses that method of thwart attachment."
"Another old technique," he added "is this stem strip here. It was made with tanned deer skin and this is the only canoe that I have seen that has that."
The canoe was donated to the museum in 1889, after being passed down through generations of a Harpswell sea captain's family; he received the canoe as a gift from a tribe. It hung in a barn behind the museum for the last three decades.
---
Fitz Henry Lane painting in Searsport
Meanwhile, up in Searsport, a marine treasure of another sort was given to the Penobscot Marine Museum: a painting by noted marine artist Fitz Henry Lane of a schooner carrying lumber from Maine to Massachusetts. The work has been in the same family since it was painted in 1850. It was bought by Edward Dyer Peters (1785-1856), whose family began in the lumber business in Ellsworth before starting a lumber wholesale business in Boston. The painting was donated by his descendants.
In the 18th century the lumber trade between Maine and Massachusetts was disorganized. Lumber went south on speculation, fetching whatever the market paid when it arrived. Peters changed this. Born in Blue Hill, Maine, he was a partner in a lumber business in Ellsworth. That city's lumber merchants  sent Peters to Boston sometime about 1811, where he established a wholesale business that maintained an inventory and stabilized prices for Maine dealers.
This painting was likely a commission, with Peters wanting a good painting of the modest lumber schooners of the time, the ships that made his living. The schooner is off what is probably Gloucester's Eastern Point Light. It looks like she has just tacked to a course for Boston with her topsail still needing to be angled around to catch the fresh westerly wind. Lumber is piled high on her deck. The crew works the vessel from the top of the pile and the helmsman relies on a lookout to see forward.
For the last 165 years or so the painting has been in the Peters family. Its donor wanted to share it with the people of Maine. The painting is now on display at the Penobscot Marine Museum. 
---
Hinckley has electric news
The Hinckley Company has unveiled what it is billing as the world's first fully electric luxury powerboat.
At 6,500 pounds, this is the lightest Hinckley yacht ever built. Named Dasher, the first model of the 28.5-foot-long twin-screw center-console runabout was introduced with great fanfare in September. (Dasher also was the name of Hinckley's then groundbreaking first Picnic Boat, which was launched in 1994.)
The new electric boat, which was designed by Michael Peters, features an angular carbon-epoxy hull slathered with what appears to be Hinckley's signature brightwork. Except it's not wood. Rather, it's a molded composite product hand painted to look like teak, but much lighter than real wood—Hinckley calls it "Artisanal Teak." The deck hardware is lightweight titanium.
Power comes from twin 80-hp electric drives manufactured by Torqeedo, with waterproof lithium-ion battery packs lifted from the BMW i3 automobile. Cruising speed is 10 mph with fast cruising at 18-27 mph. The range is 40 miles at cruising speed and 20-25 miles at fast cruising speeds. Hinckley is taking orders now for the new model, with deliveries in summer 2018, Hinckley officials said.
---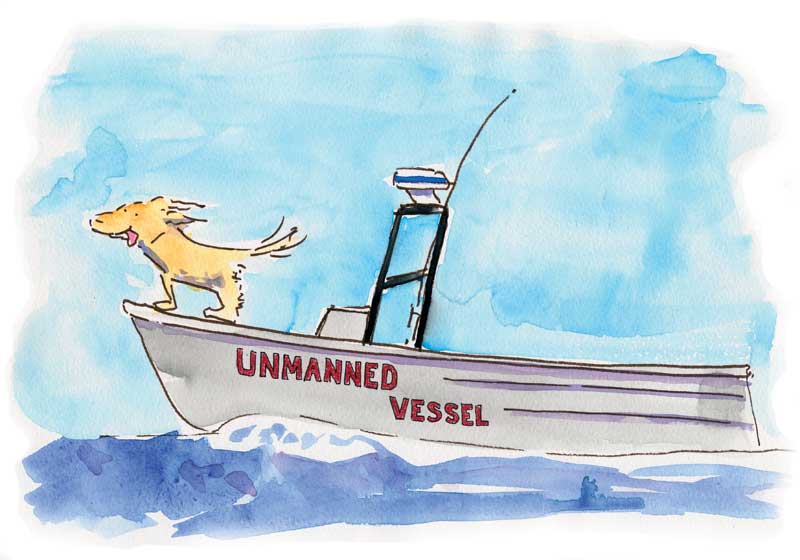 Illustration by Ted Walsh
Here come the self-driving boats
We've been reading quite a bit in recent years about efforts to make cars self-driving. Similar work has been under way with autonomous boats.
Projects include automated ferry boats for Amsterdam canals, cargo ships that can steer themselves through Norwegian fjords, and remote-controlled ships to carry containers across the Atlantic and Pacific, according to a recent news article by the Associated Press, which noted that the first such autonomous ships could be in operation within three years.
One experimental workboat developed by a company called Sea Machines Robotics spent last summer cruising around Boston Harbor. Company leaders told the AP the company hopes to spark a new era of commercial marine innovation that could surpass the development of self-driving cars and trucks.
Perhaps robots are less prone to make mistakes than humans and perhaps that's a good thing in the commercial shipping world. 
As a human, and definitely one who makes many mistakes, I won't be handing over the helm of my knockabout to a robot anytime soon. The squirrels and chipmunks have taken over my garden, and my teenage sons long ago stopped doing what I asked. My boat is my last refuge. I like being the captain of my ship and plan to keep it that way.
---
Maine boatbuilders honored
The industry association Maine Built Boats was honored by Maine Maritime Museum with the 12th annual Mariners Award. Given to an individual or organization that has made extraordinary contributions to Maine's maritime heritage and significantly impacted the state's culture and economy, the award was presented to Maine Built Boats on behalf of all of the state's boatbuilders. 
"We present this award to highlight how important our maritime culture is to the state of Maine, and how this heritage has national significance. The state's boatbuilding industry is strong, and Maine-built boats are recognized for their quality all around the world, because of the collective efforts of boatbuilders, yard owners, suppliers, and all the related trades necessary to the industry," said Amy Lent, the museum's executive director.
---
Cruise ships banned in SWH
Add Southwest Harbor to the list of Maine harbors that want to limit visits by big cruise ships. At an August 17 special town meeting, Southwest Harbor residents approved a 180-day moratorium on cruise ships carrying more than 50 passengers. The vote was unanimous, according to Mainebiz. Supporters of the moratorium cited Bar Harbor as an example of cruise ship overload.
Bar Harbor is Maine's top cruise ship port, with 165 visits scheduled this year, bringing 226,846 passengers—up from 121 visits and 159,515 passengers in 2016, Mainebiz reported. On cruise ship days, the waterfront and downtown are packed with visitors tendered in from ships at anchor. Many hop on buses that head to Acadia National Park; others enjoy the downtown scene and benefit local shops and eateries.
The debate in Southwest Harbor began after a small cruise ship, the 325-foot Pearl Mist, carrying 210 passengers and 65 crewmembers, steamed into Northeast Harbor last summer.
Durlin Lunt, the town manager of Mount Desert, which includes the village of Northeast Harbor, said the Pearl Mist's owners later approached the town about making it a regular port of call. But the proposal did not go over well locally and selectmen voted last year not to allow cruise ships in the future.
The matter took on urgency for Southwest Harbor residents earlier this year when Pearl Seas Cruises approached the town to request a visit in September, due to a similar situation: Bar Harbor was overbooked, Mainebiz reported.
The consensus was that the town lacks adequate infrastructure to handle a huge influx of passengers, that such an influx would overwhelm this small town's neighborly character, and that cruise ships would threaten lobster gear and the recreational boating that packs the harbor with activity spring through fall, according to Mainebiz.
---
Marine industry news
The members of the Maine Windjammer Association presented their Lifetime Appreciation Award to Captain Jim Sharp during the Camden Windjammer Festival in September. Sharp has been part of the schooner world since the 1950s and he was one of the early members of the MWA during the time he owned the Stephen Taber and Adventure. In 2009, Jim and his wife Meg Sharp came out of retirement to renovate the old Snow Shipyard property in Rockland to create the Sail, Power & Steam Museum and Children's Museum.
Pete Saladino has joined the Hinckley Company in the newly created role of Chief Marketing Officer. Based in Portsmouth, Saladino will lead all marketing efforts globally. Saladino spent 13 years marketing Samsung's Galaxy brand of smartphones in the United States and in Asia. Meanwhile, Jay Stockmann has been named Vice President of Hunt Yachts and Morris Yachts. Stockmann's experience in the marine industry includes recent roles as CEO of VETUS-Maxwell USA and Executive Vice President of Lewmar USA.
Lyman-Morse, the custom boatbuilder and service provider with yards in Thomaston and Camden, Maine, and a brokerage office in Newport, Rhode Island, has expanded downeast. Eric Roos will manage the new Lyman-Morse brokerage and project management office at Dysart's Great Harbor Marina in Southwest Harbor. Roos has worked in sales at Hinckley and Morris Yachts. He also runs a yacht management company (Acadia Yacht Management).
The principals of Carbon Craft Inc. announced in September that they have acquired Southport Boats for an undisclosed amount. A new holding company named "Tuxedo Yachts" has been formed to acquire luxury-oriented boat businesses and will initially consist of the Carbon Craft and Southport Boat brands.
---
Shark trackers in Maine
Marine biologists are embarking on the first study dedicated to learning about the habits of great white sharks off the coast of southern Maine, where the scientists say the fishes' population is likely to increase, according to an article in the Portland Press Herald.
University of New England professor James Sulikowski will collaborate with Greg Skomal of the Massachusetts Division of Marine Fisheries to see how often the sharks come near the coast. Receivers were placed off Biddeford last summer. The receivers can detect tagged great whites within a 600-foot radius.
The world's largest predatory fish, great whites can grow to more than 20 feet and 4,000 pounds. They have been protected from harvesting in U.S. waters since 1991. Skomal said the shark population has been rebounding.
Although many supposed sightings of white sharks in Maine are actually sharks of little threat to humans, such as porbeagles and basking sharks, researchers have confirmed great white sharks are in Maine and even in the Canadian Maritimes, Skomal told the newspaper.
Last fall, a 12-foot great white tagged by the research team Ocearch was detected in Cobscook Bay along Lubec and Eastport. The shark eventually headed up to Nova Scotia before sending off a final signal on Nov. 26.
Eventually, Sulikowski hopes to spread additional receivers along the coastline.   
---
Farewell to one of boating's giants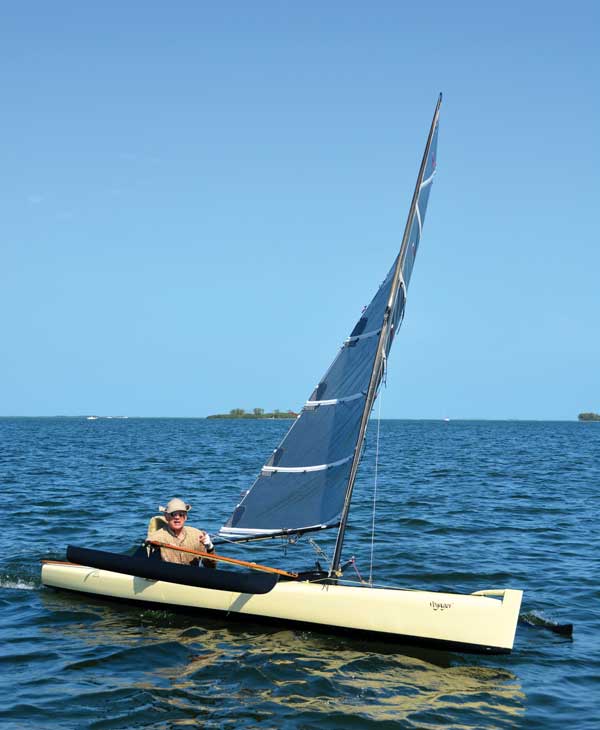 Meade Gougeon on Voyager, which he sailed to victory in the 2014 Everglades Challenge. Courtesy Gougeon Brothers Inc.
Boatbuilding innovator and inspiration Meade Gougeon passed away this summer at age 78, just months after he won one of the most grueling sailboat races in the country—the 300-mile-long Everglades Challenge. He sailed the race in a one-man wooden sailing canoe of his own design and build that he named Elderly Care. This final race summed up so much of his life: a cutting-edge beautiful boat, competition, and a sense of humor. He will be missed.
Meade and his brother Jan, (who predeceased him), forever altered boatbuilding with the introduction of their epoxy resins and ensuing evolutionary technologies surrounding them. The wooden boat renaissance owes so much to these brothers. No one ever will be able to count the many thousands of boatbuilders, home repairers, and sculptors who used the Gougeon WEST SYSTEM brand of epoxies. In my shop, I call it "boatbuilder in a can."
I met Meade at his shop in Bay City, Michigan, in 1976, right after I began working for WoodenBoat magazine. From the beginning he was always quite willing to share what he knew, and—beyond the technological advances—this was the secret to his success. 
Years later, Meade came sailing with me and my wife Polly on her 85-year-old knockabout. Although he was an ice boater and a multihull sailor and was used to going fast, he had a big grin on his face as he sailed upwind with us at five knots. That was classic Meade. He lived his life spreading joy, one boat, and one project, at a time.  —John K. Hanson Jr.
Read more about Meade Gougeon at maineboats.com/gougeon.
Share this article:
2023 Maine Boat & Home Show

Join Us for the Maine Boat & Home Show!
Art, Artisans, Food, Fun & Boats, Boats, Boats
August 11 - 13, 2023 | On the waterfront, Rockland, Maine
Click here to pre-order your tickets.
Show is produced by Maine Boats, Homes & Harbors magazine.