Gamage Shipyard
Historic yard grows for the future
By Laurie Schreiber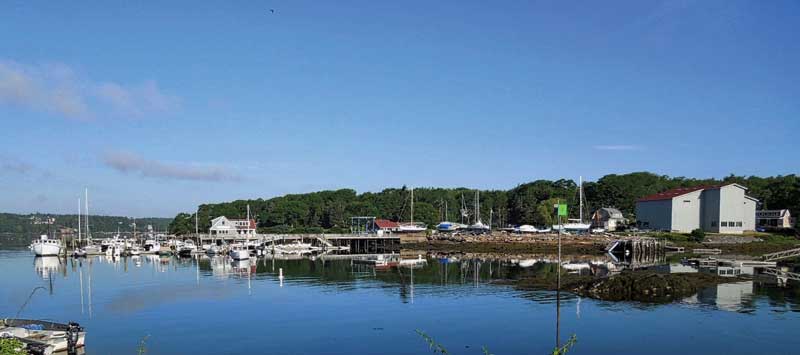 The Gamage Shipyard, which has been building ships at this site on the South Bristol shore for almost 150 years, has been reinvigorated under new ownership. Photo by Laurie Schreiber  
Sitting on a quiet cove on the South Bristol Gut, just off midcoast Maine's beautiful Damariscotta River, is Gamage Shipyard, whose storied history goes back 150 years.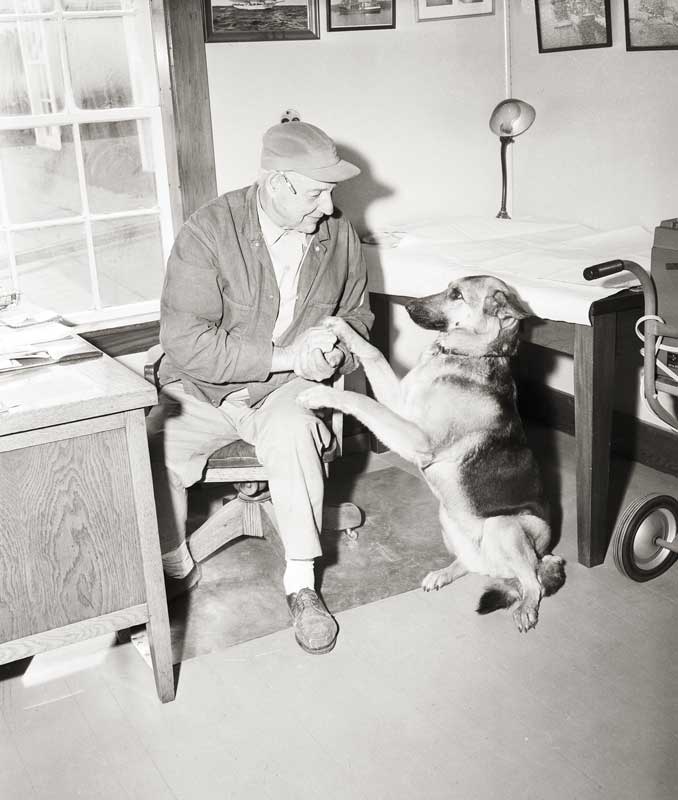 Harvey Gamage, shown here in his office with his constant companion, the dog Lady, carried on a family boatbuilding heritage until his death in 1976. Photo by Everett "Red" Boutilier from the collection of the Penobscot Marine Museum Under brothers Albion and Menzies Gamage, and then Harvey Gamage, the yard produced scores of sturdy vessels of all types, including some of the East Coast's great windjammers. A lull in activity followed Harvey Gamage's death in 1976. But today, the yard is under new ownership, and with investment being made in infrastructure and machinery, it's a hive of activity. More growth is on the horizon, said General Manager Mike Tatro. "We're really bringing this back as a lively yard," he said. 
Albion and Menzies Gamage began building large wooden sailing vessels in the early 1850s, according to a history written by David Andrews for the South Bristol Historical Society in 2002. Over the next 50 years, from 1850 to 1900, the brothers built more than 88 sail- and steam-powered boats, selling them locally and as far away as New York and maritime Canada. 
Menzies Gamage's son Elliot bought the yard in 1911, but there was little activity on the land until 1924, when Elliot's cousin, Harvey Gamage, bought the property, leaving an apprenticeship in an East Boothbay boatyard to set up business for himself. From 1924 to 1976, Harvey oversaw the construction of more than 288 sailboats, powerboats, draggers, scallopers, and windjammers.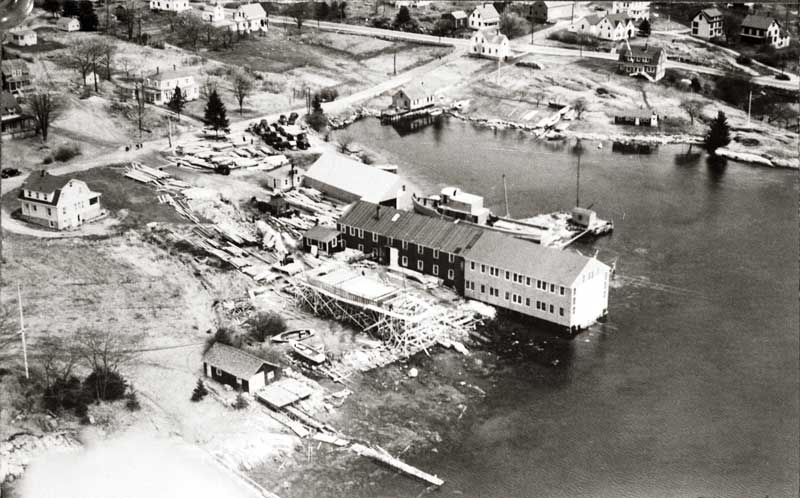 A view of the yard as it looked in the 1940s. Harvey Gamage built two huge construction sheds on the waterfront during World War II, which later fell into disrepair and have been removed. Courtesy Penobscot Marine Museum
During World War II, he added two large sheds on the waterfront to build military vessels. In the last part of his career, he primarily built schooners for the windjammer passenger trade. The first was the 83-foot-long Mary Day, launched in 1960. Others included Shenandoah, the Harvey F. Gamage, Clearwater, Bill of Rights, and Appledore II. At 152 feet, Shenandoah was the longest vessel to come from the yard. He also built the Antarctica research vessel Hero, and a research vessel, Vast Explorer II.
Boatbuilding under the Gamage Shipbuilders, Inc., name continued after Gamage died in 1976. Eight fishing and pleasure boats were launched. Then, in 1981, the yard became a marina owned and managed by Harvey's son Linwood.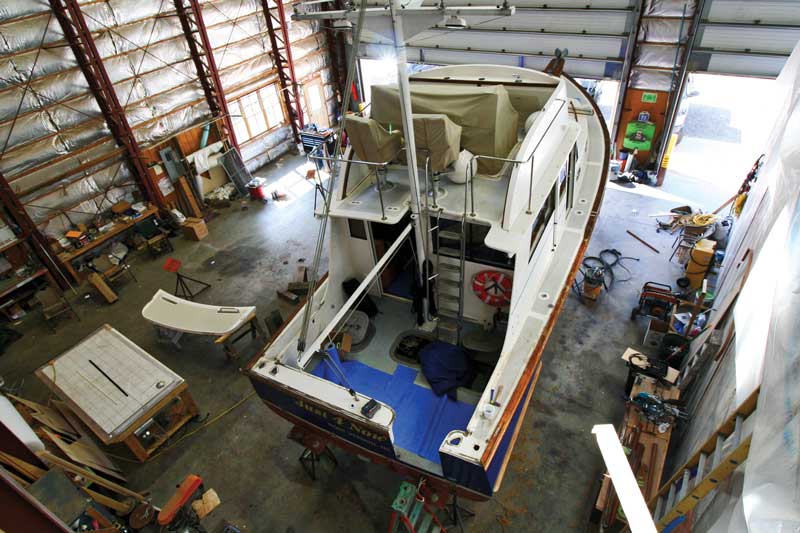 The Northern Bay powerboat Just 4 Now is in for a full, multi-year refit, one of many projects. Photo by Laurie Schreiber
In 2000, Rory Cowan—a longtime summer resident of the peninsula and the founder and CEO of Lionbridge, a Boston-based provider of translation and global content management services—purchased the business. Since then, Cowan has financed various infrastructure improvements, including construction of a new marina and new storage and repair buildings, renovation of Gamage's house into offices, and removal of the large waterfront buildings, which had fallen into disrepair.
"Rory invested heavily in the real estate and the buildings," said Tatro. "Four years ago, the decision was made to bring the yard back to a much more functional full-service yard."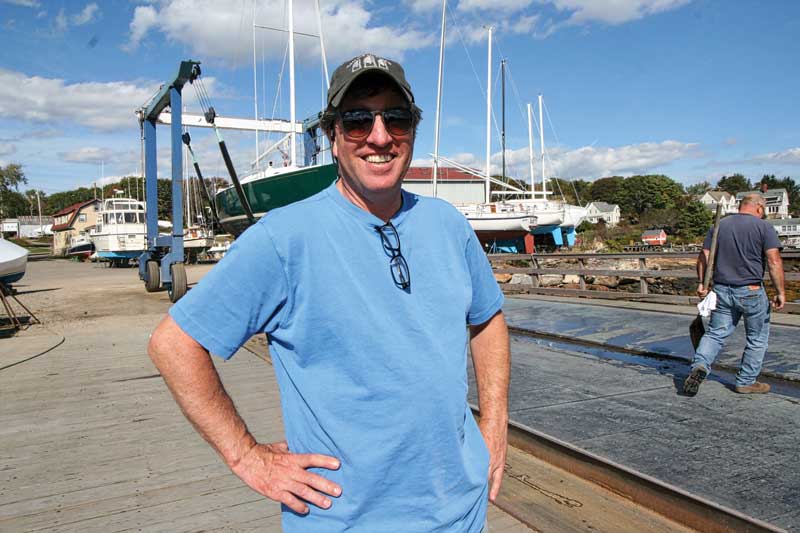 General manager since 2014, Mike Tatro has overseen the yard's expansion and improvements.Photo by Laurie Schreiber
Tatro came on board in 2014. Raised on a Vermont dairy farm, he turned to his second love, boatbuilding, when the bottom fell out of the dairy industry's family-owned sector. After a tour with the Coast Guard, the first place he landed, as it happened, was the Gamage yard. He stayed there a short time, moved on to Islesboro Marine, then ran his own boatshop for about 20 years. That was followed by stints at Lyman-Morse and Front Street Shipyard, before he circled back to Gamage.
"It's been a long, interesting journey," Tatro said.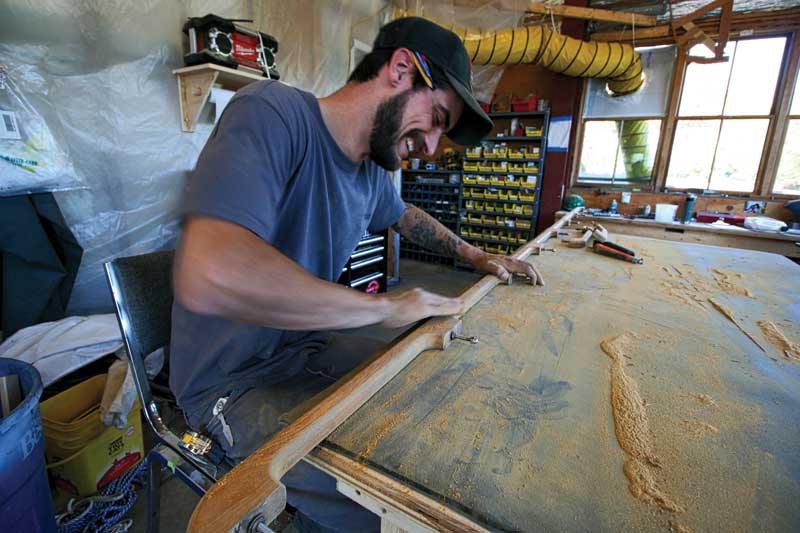 Carpenter Derek Joannides sands a handrail for Just 4 Now. Photo by Laurie Schreiber
On a recent autumn day, the yard was packed with pleasure boats, hauled from the harbor and ready to be decommissioned. The crew helped a subcontractor load a Tiara 31 to be trucked to Florida. A freshly hauled sailboat hung in the straps of the yard's 25-ton Travelift. Inside the cavernous main building, one bay held a freshly Awlgripped Back Cove 30. In the next bay over, Jay Ribeiro, an independent contractor, sanded a spray rail on a Northern Bay named Just 4 Now, which was in for a full, multi-year refit.
Ribeiro said he was lured to the yard by the prospect of doing joinery on a special project that was recently completed—the transformation of a school bus into a high-end motorhome.
"It really showcases our carpentry and systems abilities," Tatro said of the school bus project, citing the use of antique heart pine and geodesic designs throughout. "The gentleman who owns it is very creative, and knew exactly what he wanted."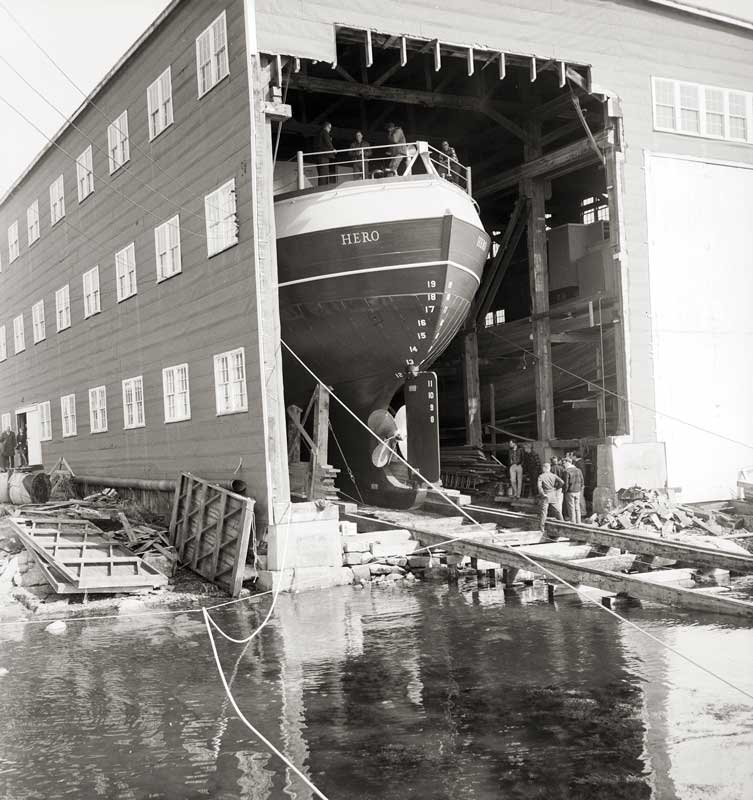 The yard launched Hero, an Arctic research vessel for the American National Science Foundation, in 1968. It was in use until 1984. Several subsequent restoration attempts failed and Hero sank in March 2017. Courtesy Penobscot Marine Museum
Across the street, more work buildings have gone up over the past couple of years to accommodate a growing number of clients, many of them summer residents in the region.
"The grapevine in the boating community is extraordinary," said Tatro. "We've changed what we're doing here, and word is getting out."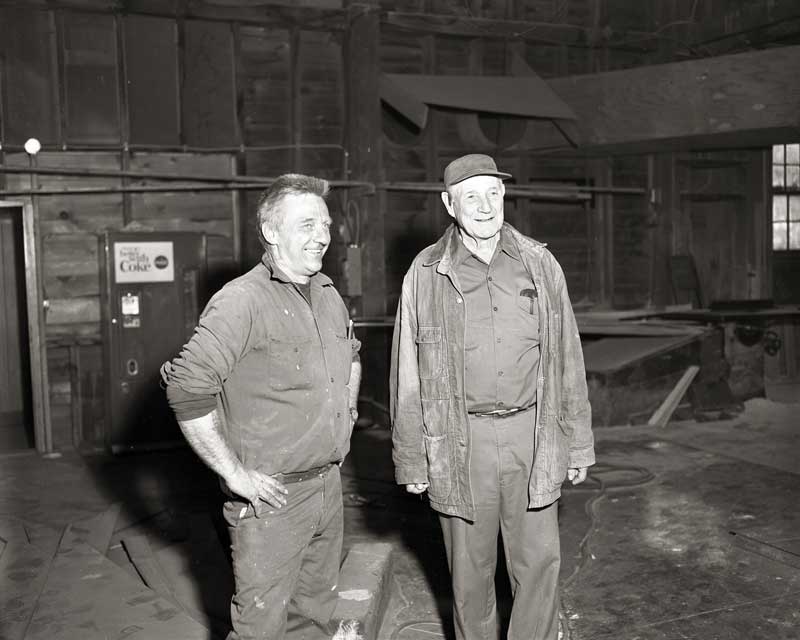 Harvey Gamage, right, with his nephew Ed Gamage, who worked in the yard for a few years before going into the boat business on his own. Photo by Everett "Red" Boutilier from the collection of the Penobscot Marine Museum
More improvements are afoot. The yard recently bought a new crane truck. This winter, plans call for installing a new 60-ton Travelift and expanding the lift's pit. New finger piers will also be installed.
"We're up-scaling," said Tatro. "Part of the reason for the 60-ton lift is to be comfortable in the 40- to 50-foot class, because that's where a lot of refit work happens."
With so much work, Tatro anticipates hiring more people.
"It's just a matter of staffing and getting the right people in place to pull off our projects," he said. "Last winter, I had 17 people employed all year. Three years ago we only had four. That's fair growth. We're sustaining it and we have a barn full of projects. Onward and upward."
---
MBH&H Contributing Editor Laurie Schreiber is also a Mainebiz staff writer and has covered topics in Maine for more than 25 years.
GAMAGE SHIPYARD
6 Gamage Drive, South Bristol, ME 04568
207-644-8181  |  gamageshipyard.com
Share this article:
2023 Maine Boat & Home Show

Join Us for the Maine Boat & Home Show!
Art, Artisans, Food, Fun & Boats, Boats, Boats
August 11 - 13, 2023 | On the waterfront, Rockland, Maine
Click here to pre-order your tickets.
Show is produced by Maine Boats, Homes & Harbors magazine.