Wives, mothers, and skippers
These two love their jobs, and their new boats
By Brian Robbins
PHOTOGRAPHS BY BRIAN ROBBINS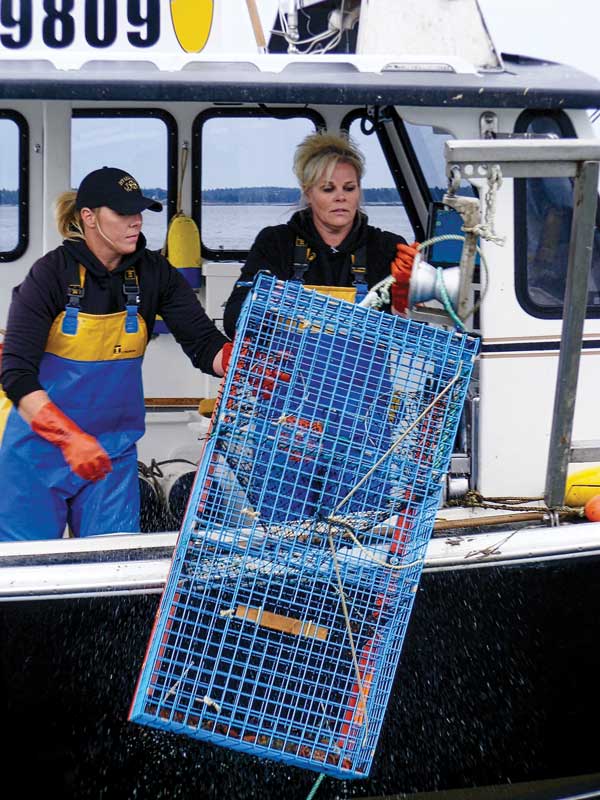 Hilary Oliver (left) and her sister Heather Thompson (right) haul a 4-foot lobster trap aboard Heather's 36' Gold Digger. Both women began their lobstering careers working aboard their father's boat as young girls. Kathy Lymburner and Heather Thompson take their lobstering very seriously, and they can prove it: both upgraded to new boats this year.
"I used to figure when I was 45, I'd be done going lobstering on my own," said Lymburner. "Now I'm turning 48 and I want to be doing it in some capacity as long as I can."
Lymburner, who fishes out of Stonington, Maine, and has been working on the water since childhood, commissioned wooden boat craftsman Peter Buxton (also from Stonington) to build her new lobsterboat. She has been lobstering on her own for about 15 years now and wanted to move up from the 28' fiberglass boat that she had been using.
The new 31'6"x11' Emma G, designed by Buxton, mixes tradition with some modern twists. Buxton described the cedar-planked, white oak-framed hull as a hybrid, combining features of both a classic rounded-bilge, built-down hull and flatter-run, skeg-type designs.
Powered by a 355-hp John Deere, the 31-footer tops out at 27 mph. At 2,200 rpm Lymburner can cruise at 20 mph; hauled back to 2,000, the Emma G still eases along at 16 mph.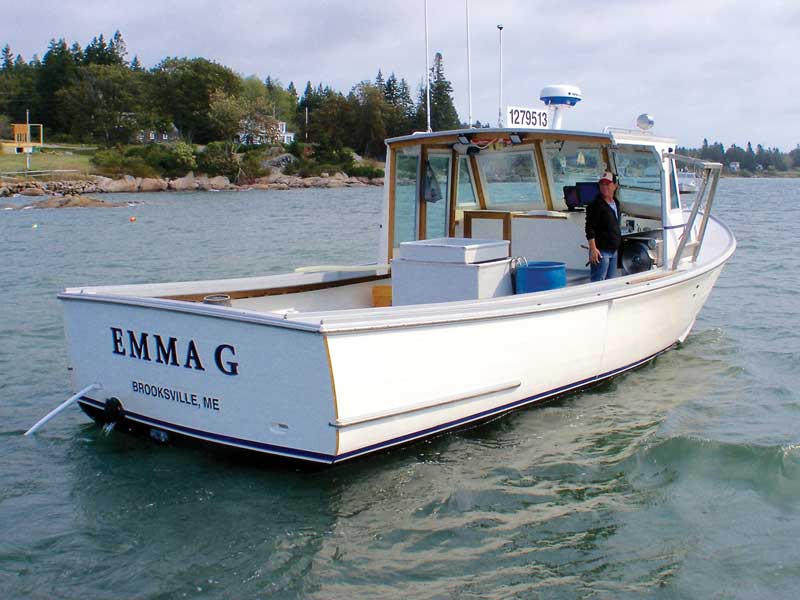 Kathy Lymburner's 31'6" Emma G, a new wooden boat, was designed by boatbuilder Peter Buxton of Stonington, Maine.
Lymburner's size—she's 5'1" tall—was also part of the design. Visibility from the helm is always a concern.
She wanted a hull with enough bow to handle weather, but not so much flare that she'd lose sight of buoys as she approached them. Buxton delivered on all counts, she said. Even at speed, the Emma G maintains a fairly flat sailing attitude. "I'm really happy with that," she said. "Peter laid things out perfectly."
The new 31-footer is not only named for Lymburner's granddaughter, but also is a nod to her childhood years spent lobstering in West Penobscot Bay with her mother and father aboard his wooden Novi boat Elva G.
"That boat was named for my mother," said Lymburner, "and it cruised pretty slowly. In the summer, we'd often stay overnight across the bay in a cove over on North Haven, rather than make the run back in to Stonington every night.  When we'd lay over, I'd spend my evenings fishing off the boat or going in on the shore with a rowboat… maybe do some clamming… always doing something."
She continued, "I don't think that's a bad way for a kid to grow up. There were times when it bothered me that I wasn't around for some of the things that the other kids were doing… but in hindsight, it was a good thing."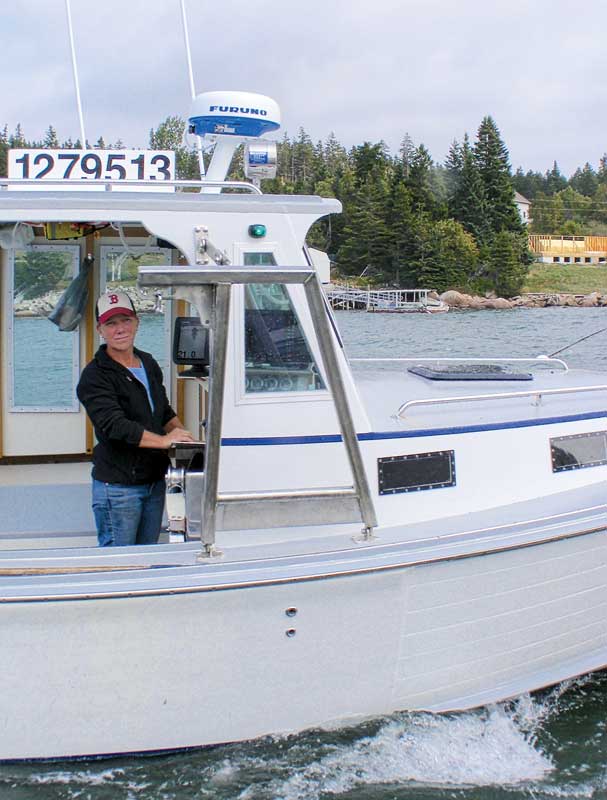 "I want to be doing this in some capacity for as long as I can," said lobsterwoman Kathy Lymburner, who fishes out of Stonington. Heather Thompson would no doubt agree with that. She began her lobstering career fishing with her father the summer that she was 10. She admitted to wanting to be just about anywhere other than aboard her dad's boat at times back then. "What was I going to do?" she added. "He needed me there."
That boat was a 36' wooden Jonesporter named Triple H—for Heather and her sisters, Hilary and Holly. It provided all three women with an education in working on the water early in life.
Thompson worked as a sternman with her father for years, followed by a stint fishing with her husband, Frank, but they came to realize they were better off as husband and wife than captain and crew.
"It takes a special person to work with somebody every day and then go home with them at night," Thompson said. "I finally said, 'All right, I'm going to try this on my own.'"
Which she did, beginning with an 18' outboard and her youngest sister Holly in the stern. Heather said she was "scared to death," but she earned her keep, as well as the respect of the local lobstermen fishing alongside her.
She earned enough money after a couple of seasons to buy her father's 36-footer; four years later, she had a new Crowley Beal 33 (christened Redneck Girl); and this past summer saw the launch of her new Wayne Beal 36 Gold Digger, which she fishes with sister Hilary in the stern.
The 36'x13'3" Gold Digger was clocked just shy of 40 mph at the Winter Harbor lobsterboat races in August; her 675-hp Scania provides an easy 31-mph cruise at 1,800 rpm.
Both sisters have families and have figured out over the years how to strike a balance between running a household and making a living on the water. On top of all that, Hilary coaches volleyball, while Heather devotes time in the winter months to coaching basketball.
Thompson said she loves what she does and enjoys seeing the younger women who are getting into fishing now—and being taken seriously for doing it.
"I think things are changing in a good way," she said. 
---
A former offshore lobsterman, Brian Robbins is senior contributing editor for Commercial Fisheries News.
Share this article:
2023 Maine Boat & Home Show

Join Us for the Maine Boat & Home Show!
Art, Artisans, Food, Fun & Boats, Boats, Boats
August 11 - 13, 2023 | On the waterfront, Rockland, Maine
Click here to pre-order your tickets.
Show is produced by Maine Boats, Homes & Harbors magazine.