East Boothbay
More than Meets the Eye
By Mimi Bigelow Steadman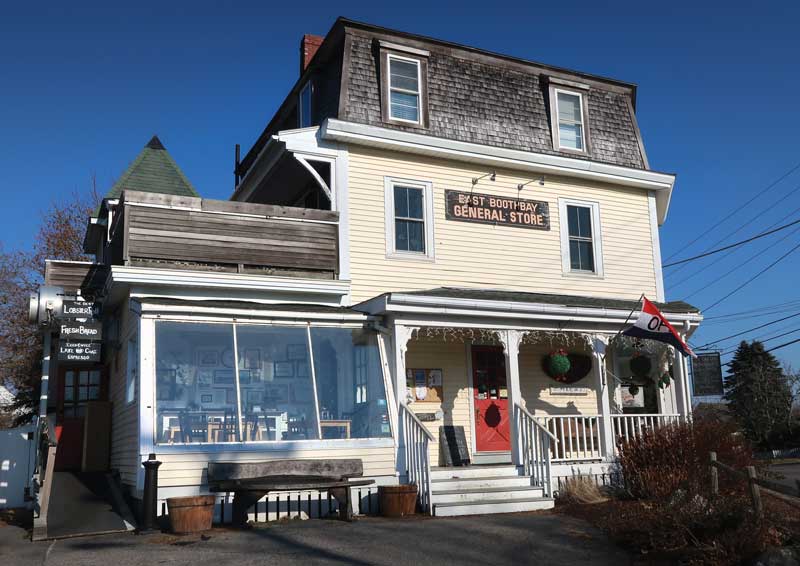 A short walk from the harbor, the General Store has been a community gathering place since 1898. Photo by Mimi Steadman
On a recent chilly morning in East Boothbay, the white-clapboard houses along Route 96 seemed to doze in the pale sunshine. The snug harbor was nearly empty, save for a few fishing boats. Lobsterman's Wharf, a funky eatery perched over the water, was closed up tight. 
The picturesque village, which spans a narrow peninsula between the Damariscotta River and Linekin Bay just east of Boothbay Harbor, appeared to have tucked itself in for a long winter's nap. Looks, however, can be deceiving: Even in deep midwinter, there's a lot going on in this storied boatbuilding community. 
Inside Washburn & Doughty's huge shed at the harbor's southern tip, the latest hulls in an impressive line of 93' steel Z-drive tugboats were taking shape. The 41-year-old company also has built large offshore fishing vessels, ferries, and several dinner-casino boats ranging up to 186'  in length. Executive Vice President Bruce Washburn says plans are now under way for two hybrid tugs with direct-drive diesel engines plus electric motors. 
Next door at Hodgdon Yachts, crews were manufacturing components for several of the company's 21' to 34' "limousine launches," which serve as elegant tenders to luxurious megayachts. Six generations of the Hodgdon family have been building boats in East Boothbay for two centuries, evolving from building with sawn timbers to today's most advanced composites. Among the many feathers in their cap of more than 400 vessels are the 88' schooner Bowdoin, launched in 1921 for Arctic explorer Donald B. MacMillan and now the Maine State vessel; the stunning, 154' ketch Asolare (ex-Scheherazade); and Comanche, the 100' speed demon that set a new transatlantic record in 2016, averaging 21 knots in a crossing of less than six days.
For owners of more traditional boats, a little barn above the harbor has become something of a Mecca. In a light-filled loft, master sailmaker Nathaniel Wilson has spent more than four decades hand-cutting, building, and repairing sails for tall ships, magnificent restorations and replicas, Maine windjammers, and uncounted smaller craft. 
Winter weather keeps all these activities indoors, but the arrival of warmer days sparks a quickened pace in and alongside the harbor. Cruisers who venture a couple of miles up the Damariscotta find docks, moorings, and a chandlery at Ocean Point Marina; at Lobsterman's Wharf, diners return to the umbrella-topped deck. Nearby, the East Boothbay General Store extends its hours, puts lobster rolls back on the menu, and welcomes visitors charmed by this old-fashioned gathering spot.
Sailors approaching from the west may opt to pick up a mooring on the Linekin Bay side of the peninsula, at P.E. Luke Boatyard. In addition to being a service yard, the longstanding family business is known for its feathering sailboat propellers, cabin stoves, and storm anchors. 
If you're here between mid-July and mid-August, consider attending one of the free, Tuesday-evening "Café Sci" talks at Bigelow Laboratory for Ocean Sciences. Hidden away on a rolling campus overlooking the Damariscotta River, this world-class research institute may be East Boothbay's most impressive enterprise. Focusing on microscopic marine life and its profound impact on the climate and the planet's overall health, Bigelow's scientists conduct important investigations in the Gulf of Maine and all of the world's oceans. What they learn builds vital environmental knowledge and helps generate practical applications and educational programs. Though not usually accessible to the public, the facility's one-day open house in July provides a fascinating peek inside, along with demonstrations and hands-on activities (www.bigelow.org).
A cutting-edge scientific institute, internationally recognized boatbuilders, and a sailmaker to some of the most beautiful yachts, all in tiny East Boothbay? In this quaint little hamlet, still waters run deep indeed.    
---
Contributing Editor Mimi Bigelow Steadman lives on the Damariscotta River in Edgecomb.
Share this article:
2023 Maine Boat & Home Show

Join Us for the Maine Boat & Home Show!
Art, Artisans, Food, Fun & Boats, Boats, Boats
August 11 - 13, 2023 | On the waterfront, Rockland, Maine
Click here to pre-order your tickets.
Show is produced by Maine Boats, Homes & Harbors magazine.