On the Town Dock — Issue 151
The great floating shed, beach skating, and copious boatyard news
By Polly Saltonstall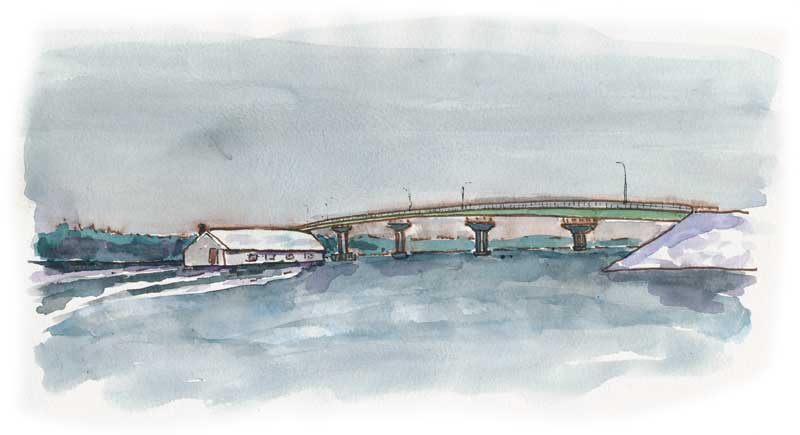 Illustration by Ted Walsh
Lubec shed emigrates to Canada
A big storm, high tides, and a deteriorating historic wooden structure sparked a minor kerfuffle between Maine and Canada when the old building was blown across the border.
A January 4 blizzard with extreme high winds came at the same time as an extreme high tide, and lifted the old McCurdy's Smokehouse brining shed off its pilings in Lubec, and washed it through the Lubec Narrows, under the bridge between Maine and Canada's Campobello Island where it beached itself on Canadian soil.
The shed is among five McCurdy's buildings on the National Register of Historic Places. McCurdy's has historic value as the last traditional smoked-herring facility in the United States. Lubec Landmarks, a nonprofit that has worked for almost 25 years to preserve the smokehouse buildings, lined up a contractor to collect the remains off the beach, but was stymied by Canadian officials citing salvage claims by Canadians, said Lubec Landmarks president Rachel Rubeor.
Comments referring to Canadians with chainsaws cutting off bits of the shed as "vandals" exacerbated the situation.
In the end, the cross-border dispute was resolved, the necessary permits were issued, and two contractors, a Canadian and an American, removed the shed's remains from Campobello's Fox Farm Beach and returned them to Lubec, Rubeor said. The next step was to sift through the rubble and determine what could be salvaged and used to build a replica of the shed, she added.
Despite the loss of the historic building, Rubeor remained upbeat. After all, she noted the shed could have hit the bridge pilings during its impromptu voyage and the parts washed out to sea.
"The fact that it navigated itself through the bridge, looking about as regal as the Queen Mary made me very happy," she said. "And now I can sleep at night during storms without worrying anymore whether a storm will destroy the shed."
And, Rubeor added one more nice outcome: Canadian Prime Minister Justin Trudeau "has offered big hugs to everybody in Lubec for all the trouble this caused."
---
Killing lobsters kindly in Switzerland
Anyone who's ever cooked live lobsters has heard the debates over how best to kill them. Some people swear by hypnotizing them before boiling, others just dump them in the pot and wince and cover their ears until the rustling noises stop.
The latter method is now no longer okay in Switzerland. Inspired by animal rights activists, that county's Federal Council adopted a new measure last winter stipulating that lobsters must be knocked out either by electric shock or "mechanical destruction" of the brain before boiling. 
The news got us wondering: can lobsters even feel pain?
They can sense their environment, according to Bob Bayer, executive director of the University of Maine's Lobster Institute, but they don't have a complex enough nervous system to process pain. Boiling them is likely to be more traumatic for the cook than the lobster, he said. For the squeamish, he recommended placing lobsters in the freezer first to numb them, or putting them in a bucket of tap water, which also kills them.
People for the Ethical Treatment of Animals, which has done exposes on how lobsters are killed, applauded Switzerland's new ban on boiling lobsters alive, noting in a statement that "when plunged into scalding-hot water, crustaceans writhed wildly and scraped at the sides of the pot in a desperate attempt to escape. So to anyone in a civilized society, this legislation makes sense." But, the animal rights organization added that a far preferable option was to simply avoid eating lobsters in the first place. 
Tell that to the organizers of the annual Maine Lobster Festival. Last we heard, the event is still on for Aug. 1-5 in Rockland; and we're pretty sure most of the lobsters cooked up for festival goers will have been boiled or steamed. 
---
Beach skating?
You know it's been cold when you can skate not at the beach, but on it.
During a stretch of zero-degree weather in December, a couple out for a stroll along York's Long Sands Beach came upon a young man skating in gentle circles on sheets of ice coating the sand. They shot some video and posted it on social media, where it quickly went viral. According to The York Weekly, the skater was York High School senior Grant Long, whose mother said he received the ice skates a day earlier for his 18th birthday.
"I think he felt this was something like a birthday bonus," mother Jill Bauman told the newspaper. "He is something of an old soul, so he mentioned that he would definitely be writing this one in his journal!"
---
Tree traps off to their next home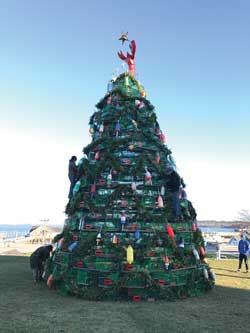 Rockland's lobster trap Christmas tree draws national attention every year as a creative holiday display. What many people may not know is that the tree also ends up providing lucky lobstermen with a whole bunch of new gear. Every year raffle tickets are sold with the prize being the traps used to build the tree. One of the two winners this year was Gordon "Skip" Connell, 59. He had the choice to take 50 traps or $2,250 in cash and he chose the traps. The other winner was Donald Schwab, of Port Clyde, who chose to take the cash, according to the PenBay Pilot.
The Lobster Trap Tree has been called "The Most New England Christmas Tree" in the nation. It took 15 volunteers several days to first build the structure with more than 155 traps on the tree, and then decorate it with approximately 2,500 lights, more than 100 authentic lobster buoys, and a giant lobster and star at the very top.
---
Boothbay Harbor Shipyard sale
Rhode Island-based Bristol Marine has acquired the Boothbay Harbor Shipyard. Located at the head of Boothbay Harbor, the yard will be renamed The Shipyard in Boothbay Harbor.
The seller was Terry McClinch, who owned the Boothbay Harbor Shipyard for about 10 years.
Andy Tyska, president of Bristol Marine, said the yard's 16 employees will be kept on, including Eric Graves, who will continue to oversee operations as vice president of the historic shipyard. "Our business is growing. We've been very active in establishing workforce development programs in Rhode Island and Massachusetts," Tyska said. "Our goal is to provide opportunities for those who want to work in good-paying year-round jobs in the marine trades."
Tyska founded Bristol Marine in Bristol, Rhode Island, in 1998. In 2012, he purchased the former J&J Marine Fabricating, Inc. in Somerset, Massachusetts. The company has also acquired commercial real estate in the Bristol area, much of which has become home to more than 30 marine-related businesses employing over 300 people.
 "We're also finding that more and more of our customer base is exploring New England in total. Having a recognizable brand available in Maine for our customers in Rhode Island and Massachusetts will help leverage accessibility," 
---
New name, same boatyard
Ellery Brown, the "associate" at the yard formerly known as D.N. Hylan and Associates, has taken on more of a leadership position and the firm has been renamed Hylan & Brown Boatbuilders. Brown joined the yard as a partner in 2012. "Since that time my responsibilities as well as my ownership of the company have grown to the point that Doug thought we ought to put my name on the shingle, too," Brown said. "I'm honored to be associated with all the great work that Doug and this shop have turned out over the past 20 years. I look forward to continuing and building upon the great reputation for quality, honesty and creativity that Doug has worked so hard to build."
Hylan has transitioned to part time in the past couple years, taking the time to realize some long-term goals with his wife Jean, including a cruise to the Bahamas last winter, and construction of a new home behind the shop on Benjamin River, Brown said.
Hylan continues to turn out custom design work and supply the shop with detailed construction drawings for new builds and restorations.
---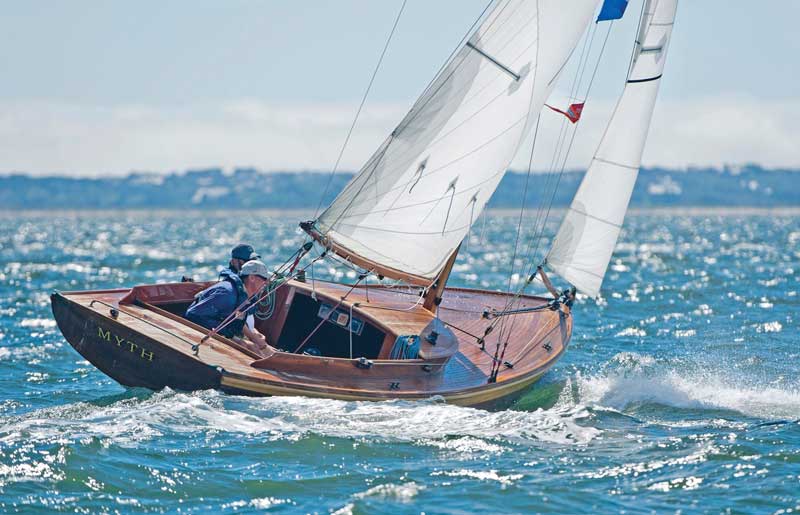 BBY to build Alerion Class Sloops
Brooklin Boat Yard of Brooklin, Maine, has joined forces with the Sanford Boat Company to be the licensed builder for Alerion Class Sloops. The 26-foot sloop is a cold-molded wood reproduction of Nathanael Herreshoff's personal sailboat, Alerion, that Sanford has been building for 40 years.
Brooklin Boat Yard owner Steve White said he hopes to build four of the cold-molded sloops a year, launching the first boat sometime in 2018. 
The Alerion Class Sloop should not be confused with fiberglass sloops built by Alerion Yachts. That company was bought last fall by Peter Johnstone, the founder and former owner of the Gunboat Company. Under Johnstone's leadership, the company's boats will be built by Randy Borges in North Kingstown, Rhode Island. Plans call for building eight Alerions in 2018. The model line-up consists of the Alerion Express 20, 28, 30, 33, and 41.
---
From oil container to boat storage
Ben Davis, the owner of True Course Yachting, has found a new concept for yacht storage. He has been filling an 80-foot-tall cylindrical oil container in South Portland with luxury yachts. Davis plans to stack about 100 portable storage containers in and around the tank, part of his bid to compete against PODS and U-Haul self-storage containers with his new business, Portland Container Co., according to an article in the Portland Press Herald. 
Setting his business in an unused oil tank is just an "extreme" example of industrial reuse, like apartments in vacant mills or shipping containers converted into homes, offices, or shops.
The tank is virtually impenetrable and its proximity to an active tank farm means there is a constant presence of law enforcement and Homeland Security officers, Davis said.
---
New model at Hodgdon 
Hodgdon Tenders, the superyacht tender division of Hodgdon, is building a mini version of its highly successful Venetian limousine tender. The 6.5 meter vessel (21'4") currently is the smallest member of the Venetian line, which ranges from 6.5 to 12 meters. 
Designed by Michael Peters Yacht Design of Sarasota, Florida, the 6.5 meter Mini Venetian Limousine Tender includes many of the features that can be seen in Hodgdon's larger tenders. 
Incorporated into the design is a glass lifting roof, which allows natural light to enter the cabin, full headroom height, and 360-degree visibility. The luxury cabin with climate control allows comfortable seating for up to eight guests. The tender, which will be powered by a Volvo D3-220 diesel engine, can accommodate safe boarding from both the aft deck and forward cockpit. 
---
A new era for the Pulsifer Hampton 
The baton has been passed at Richard Pulsifer Boatbuilders in Brunswick. Richard Pulsifer, who has been building the same version of an elegant 22' wooden Hampton launch for over 30 years has handed the business over to boatbuilder John Lenz in Topsham. Lenz has worked with Pulsifer since 1997 and had already taken over maintenance for many Pulsifer Hamptons.
Pulsifer finished his last boat, hull No. 113, for a Belfast-based customer in August. 
"I'm 78 and it just took so long to build the last one because of aches and pains and less agility," he said. "John Lenz who has worked with me for years has taken over. And I will be standing by if he needs extra hands."
Lenz's partner Sam Cook owns and operates Cathance Marine Canvas, and has made canvas dodgers for the Pulsifer Hamptons for about years. 
Boat-show goers might remember Pulsifer as the guy who always seemed to have a friendly corgi dog, or two, or three, as a mascot. That aspect of the business will change slightly, as Lenz has a black Lab named Max.
Pulsifer began building boats in the 1970s in his waterfront shop on Mere Point. "We had this old Hampton and tinkered it up with an old one-cylinder engine and used it as a young family puttering around Casco Bay," he said. "A friend thought it would be a great boat and said, 'let's build one.' And so we set out to do that." 
He never waivered from the one design, not even varying colors or engines. Every Pulsifer Hampton has a cream bottom, white topsides, and a green canvas cover. "Many of the early owners are still owners," Pulsifer said. "This is most gratifying to me that the boats are doing for them now exactly what they did in the beginning."
Lenz said he doesn't plan to change such a tried and true design, but he is willing to work with potential owners on customizations such as bigger engines or different hull colors.
---
Salmon farm swims into Belfast
Nordic Aquafarms, headquartered in Norway and one of the premier international developers of land-based aquaculture, has signed agreements to purchase 40 acres on the outskirts of Belfast, where it will build one of the world's largest land-based salmon farms, according to a January news release from the Belfast Area Chamber of Commerce.
The company plans to construct a land-based salmon operation with a 33,000 ton annual production capacity, in several phases. The initial phase will involve an investment of $150 million and is expected to employee 60 people when completed in the next two years. When fully built out, the facility will represent a total capital investment of between $450 million and $500 million. The end-to-end operation will include hatcheries and fish processing, the release stated. Construction is expected to start in 2019, with operations commencing in 2020. 
---
Is it possible to stockpile ferry tickets?
If it is, then now might be the time to buy up a bunch to your favorite Maine island.
Ticket prices for out-of-staters headed to midcoast islands by ferry could shoot up as much as $7 per trip if the state adopts a new pricing structure. Prices for locals also would go up, under to the new plan.
The Maine State Ferry Service announced plans last winter to increase ticket prices to cover costs, and to change how passengers are charged, by eliminating a system that prices tickets depending on where they are bought, and instead charge Maine residents a lower rate than people from out of state.
Many island residents have complained that the proposed structure treats summer residents like second-class citizens. The new rules would apply to ferries traveling to North Haven, Vinalhaven, Frenchboro, Islesboro, Swan's Island, and Matinicus.
The proposed price increase would vary depending on the island. A round trip to Islesboro, the most-traveled ferry, which now costs $10 if bought on the mainland and $5.50 if bought on the island, will go to $14 for out-of-state residents and $7 for Maine residents. Mainland passage to Vinalhaven, North Haven, and Swan's Island would increase from $17.50 to $19 for non-residents and $9.75 to $12 for residents. Frenchboro rates would increase from $11.25 to $19 for out-of-state residents and $11.25 to $12 for state residents.
If the increase is approved by the state transportation commissioner, the new prices would take effect March 28.     
Share this article:
2023 Maine Boat & Home Show

Join Us for the Maine Boat & Home Show!
Art, Artisans, Food, Fun & Boats, Boats, Boats
August 11 - 13, 2023 | On the waterfront, Rockland, Maine
Click here to pre-order your tickets.
Show is produced by Maine Boats, Homes & Harbors magazine.