A Lifelong Boatbuilder
At 98, Paul Chapman might finally be ready to retire
By Polly Saltonstall
Photographs by Polly Saltonstall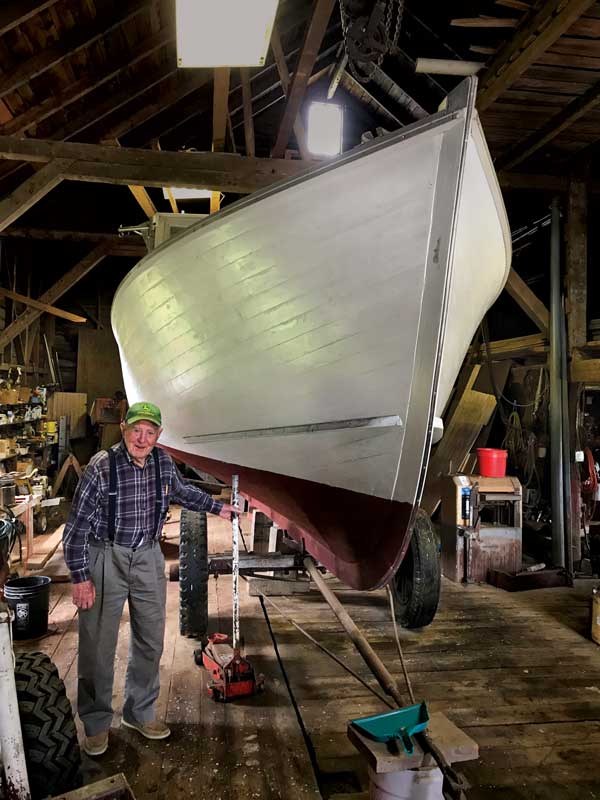 It took Paul Chapman a year to build this 37-foot wooden lobsterboat, here, in the old barn behind his house.
Paul Chapman needs a special magnifying system to read the history books stacked on his desk, and sometimes he uses a walker to get around, but as far as he's concerned the minor inconveniences of old age are no reason to stop working.
Tucked inside the red barn behind his South Thomaston home sits the 98-year-old craftsman's most recent creation: a 37-foot-long, 10-foot-wide, wooden lobsterboat.
Completed in 2011, this is the last of some 18 boats he's built over the course of the last 65 years. The as-yet-unnamed vessel is for sale.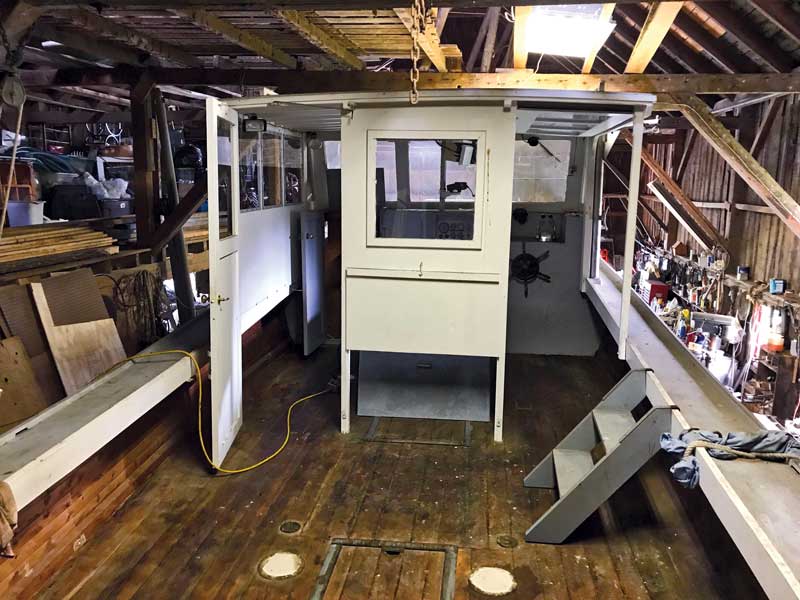 The cabin and deck of Chapman's boat.
Perched on a small, wheeled trailer, the white-painted hull dominates the 200-year-old barn. Its cabintop rests just inches below carved beams. It looks like it might not fit out the door—something that clearly has happened before with previous projects if the repairs around the doorframe are any indication.
Built in cedar-over-oak planking, this boat features a traditional cabin and an austere galley down below. Chapman has installed a second-hand Caterpillar diesel engine, winching it up and into the hull by himself. It might need some tuning, he admitted. But Chapman doesn't let details like that sidetrack him. He's focused, which is why he worked alone on this project, as well as his previous boats.
"It's the only way to go," he said with a twinkle in his sharp eyes and a tip of his grimy green John Deere cap. "You get people to help and they just get in the way."
He's a bit apologetic that the boat construction took him as long as a year to complete, never mind that a project like this would take most people far longer and require many more hands on the job.
"I didn't work on it all day, every day," he said ruefully.
He doesn't like talking about himself. During this interview, his granddaughter Lisa Elliot and his friend and admirer Ty Babb frequently interjected to mention accomplishments that he wouldn't. He's the oldest resident in South Thomaston, for example, but when the town awarded the coveted gold cane to someone else who was younger Chapman never said anything. He didn't want to upset anyone, Elliot explained.
When she was young, Elliot remembers watching Chapman come home after a day working in someone else's boatshop and then head out after dark to tackle his own projects in his unheated barn. "You just have to keep working in order to keep warm," Chapman interjected.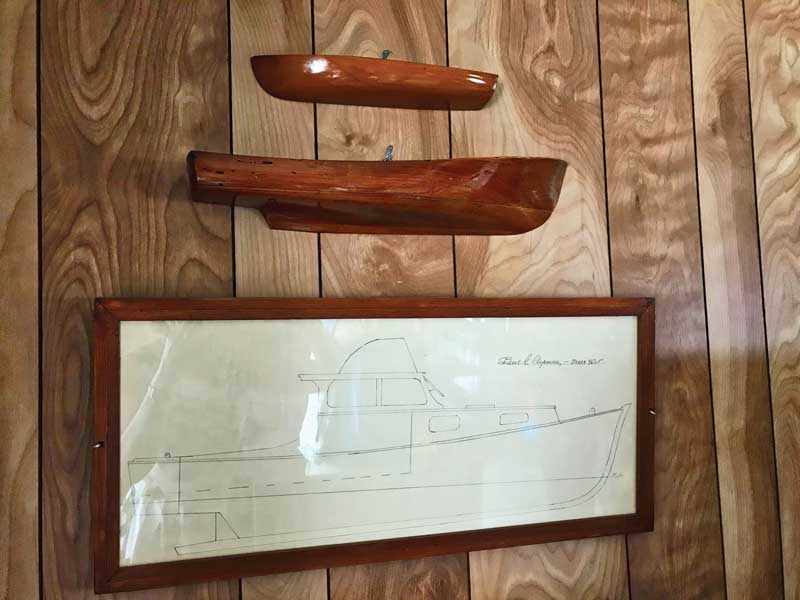 Chapman designs his boats by carving half models, liked these, which hang on a wall in his house.
He designed all his boats—some of which can still be seen fishing in local waters—using the traditional method of carving a half model and then transferring the lines using a slide rule and dividers.
"I picture in my mind how it's going to look, the shape I want," he said. "I figure a nice-looking model will come out okay as a boat."
The son of an engineer on the Maine Central Railroad, Chapman inherited his father's technical know-how, inventing tools and machines to make his work easier. A graduate of Rockland High School, he's been a boatbuilder all his life—except for during World War II when he served in the 101st Airborne Division. He worked at Bath Iron Works, and shipyards in Camden and Rockland, before going out on his own as a traveling boat repairman.
Chapman has listed the boat for sale with Lyman-Morse Brokerage. Sitting down to rest on the seat of a vintage red Farmall tractor parked in front of his boat, he conceded that this most likely is his last big project.
At least that's what he says now. Who knows what the future holds? "I have to do something to keep busy," he said with a sly smile.  
---
Polly Saltonstall is editor of this magazine.
Share this article:
2023 Maine Boat & Home Show

Join Us for the Maine Boat & Home Show!
Art, Artisans, Food, Fun & Boats, Boats, Boats
August 11 - 13, 2023 | On the waterfront, Rockland, Maine
Click here to pre-order your tickets.
Show is produced by Maine Boats, Homes & Harbors magazine.