On the Town Dock — Issue 154
Boat birthday, a rabid otter, and missing buoys!
By Polly Saltonstall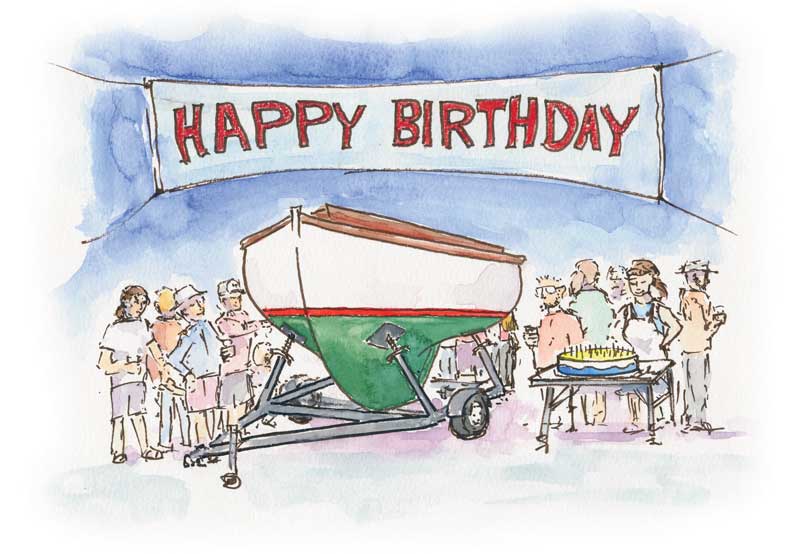 Illustration by Ted Walsh
A party for Petunia
He's known worldwide for his fine yacht designs, but when it comes to his own boat, naval architect Chuck Paine prefers a Herreshoff 12½ named Petunia that he has owned for more than 40 years. He loves this little boat so much that he gave her a special birthday party this summer.
"The Herreshoff 12½ is the most wonderful design ever drawn by anyone at any time," explained Paine. "She's a wonderful boat. She's kept me alive all these years."
Built in 1937 by the Herreshoff Manufacturing Co., Petunia is Hull No. 1405. She was named Bassinet when Paine bought her from a man on North Haven in 1972 and sailed her with his wife, Debbie, home to Pleasant Point Gut across Penobscot Bay, beating into a 20-knot wind and bailing the whole way. He restored the boat, and gave her a new name ending in the feminine "ia" because, Paine explained, "all boats are female. They are love objects for men."
When Petunia turned 75, Paine gave her a lavish birthday party, inviting friends and admirers to celebrate under a tent on the waterfront. He wanted to do it again last year for her 80th, but family obligations kept him on the road so he postponed the party until this summer.
It might seem a little strange to go through all that effort for a wooden 16' daysailer, but as Paine repeatedly emphasized, Petunia is no ordinary boat. The more he explained why, the more eloquent he became, using language a man might use about a woman he lusted after. I'd include more here, but it made me blush. You'll just have to use your imagination.
---
Who's taking the buoy bells?
Meanwhile the Coast Guard is worried about "belles" of a different sort. Crews have identified at least seven instances of the noise-making devices having been stolen from bell buoys over the past year.
As of mid-June Coast Guard crews charged with maintaining aids to navigation identified at least seven instances where bells have been removed over the previous six months, said Lt. Matthew Odom, Coast Guard Sector Northern New England's waterways management division chief.
These bells play a vital role in the safe passage of ships and mariners.
"We know that all the buoys are important for safe navigation and these sound signals are vital to navigators especially in times of reduced visibility," he said. "This is concerning to us."
The thefts were first noticed by the crew on a buoy tender in the Penobscot Bay region. They determined that the bells, which can weigh anywhere from 250-400 lbs. and are attached by heavy bolts, were intentionally removed. The most likely scenario is that the high-dollar devices are being stolen and sold to nautical novelty shops or scrap metal yards.
Tampering with aids to navigation is a federal offense and can lead to fines up to $25,000 per day or up to one year in prison. Anyone with information leading to a conviction is eligible to receive up to one half of the fine imposed.
Odom said the buoys missing sound devices included the following:
Bell FT at the entrance to the Fox Island Thorofare, which is used by the North Haven ferry among other mariners
Lighted Gong PB, at the entrance to West Penobscot Bay, and used primarily by deep-water commercial vessels
Eagle Island Gong 3A, between Eagle and Deer Island
Porcupine Ledge Bell No. 3, also between Eagle and Deer islands
Little Breaking Ledge Lighted Gong No. 1, which is 5 miles east of Jonesport and marks a hazardous ledge
Long Ledge Lighted Gong Buoy No. 1, just Southwest of Great Cranberry Island
Wheeler Rocks Bell Buoy 1W, which is about a ½ mile north of Metinic
Anyone with information about the missing sound-signaling devices was urged to contact the Sector Northern New England command center at 207-767-0303.
---
Otterly amazing
At first the children playing on the public beach in Rockland, Maine, thought the freshwater otter chasing them around just wanted to play. But when an adult on the beach started taking photos, it charged across the beach and bit her on the ankle and foot. Police and members of the Maine Marine Patrol were eventually able to capture the animal, which they shot so that it could be tested for rabies. And indeed, it did test positive.
The adult who was bitten was visiting the midcoast on an RV trip from Myrtle Beach, South Carolina. "I always thought otters were friendly," she told the Courier-Gazette in an interview the next day. State officials said it was the first documented case of a rabid otter in Maine since the state started tracking rabies cases in 1994.
---
Keeping track of underwater action
About 145 lbs. of high-tech equipment has been submerged in Sebago Lake's lower bay, where it is sending out real-time data for researchers studying the massive water body. Sebago provides drinking water to about 15 percent of Mainers.
The new monitoring buoy, a joint project between the Portland Water District and Saint Joseph's College in Standish, has sensors that transmit data on the lake's temperature, dissolved oxygen, chlorophyll (a measure of algae), pH and water clarity, according to an article in the Lakes Region Newspaper. The data, which is available online, is updated every 15 minutes.
The water district has been taking monthly samples for decades in order to better understand the health of the lake, including how it is affected by different sorts of weather.
Although the buoy was officially launched in May, it was deployed for a test last fall, which coincided with a late-October windstorm. The buoy data showed how the storm caused the various layers of water within the lake to mix—a seasonal process known as lake turnover that redistributes nutrients. Information about lake temperature could also be useful to anglers.
The roughly $45,000 buoy was paid for in part by a grant through the U.S. Geological Survey, the newspaper reported. Its deepest sensor measures dissolved oxygen at a depth of 145 feet. This type of buoy technology is already being used by the Lakes Environmental Association to monitor Long Lake and Highland Lake in Bridgton.
---
New life & name for an old schooner
Adam and Katie McKinlay have taken the helm of one of Rockland's historic schooners, which they have restored and renamed. They bought the 99-foot Isaac H. Evans in November 2017 from Brenda Thomas, according to an article in the Bangor Daily News.
The McKinlays renamed the schooner the Boyd N. Sheppard, which was the vessel's original name. The two are no strangers to the commercial sailing world. Adam McKinlay, 39, began working on the schooner Heritage in 1997 and has held every job except captain since then. Katie McKinlay, 42, who will captain the Boyd N. Sheppard, raced and sailed tall ships in the Great Lakes. She moved to Maine in 2008 to work on the schooner Victory Chimes, which is where she met Adam. The couple, who were married in 2013, also worked for Outward Bound's Hurricane Island sailing program.
The Sheppard was built as an oyster freighter in Mauricetown, New Jersey, in 1886. Later renamed the Isaac H. Evans, the vessel became a Maine windjammer in 1971 when Capts. Douglas and Linda Lee acquired it and restored the vessel, which has since been based at the North End Shipyard.
---
Turnover at the top
Meanwhile, in addition to turnover within the fleet, the Maine Windjammer Association, North America's oldest fleet of commercial sailing vessels, saw some changes at the top. The organization kicked off the 2018 sailing season by presenting its Lifetime Appreciation Award to Meg Maiden, who served as executive director for 30 years before stepping down this year. She passed the wheel to two new people who will succeed her in managing the association's activities.
Alisa Meggison, the association's webmaster for the past six years, will also assume the ED's administrative responsibilities. PR and marketing professional, Marti Mayne, will take on the media, events, and content management.
---
Lobstermen help with island cleanup
Sundays are the only days off for Maine's lobstermen, but on Sunday, June 10, a number of the Tenants Harbor Fisherman's Co-op members got back into their boats to take more than 100 volunteers out to various islands to clean up the trash, debris, and broken gear that accumulated on the shoreline, according to an article in the online PenBay Pilot.
Luke's Lobster, a restaurant in Tenants Harbor, joined forces with United By Blue, an outdoor brand focused on ocean conservation based in Philadelphia, to organize the event.
The cleanup crew went to Criehaven and Ellwell Island. They were assisted by members of Maine Island Trail Association, Maine Coast Heritage Trust, George's River Land Trust, and Gulf of Maine Lobster Foundation.
This is the third annual clean-up, sponsored by the Tenants Harbor Fisherman's Co-op, and each year, the event focuses on a different island. Merritt Carey, general manager of Luke's Lobster and a board member of the Tenants Harbor Fisherman's Co-op said: "We picked Criehaven this year because two of our lobstermen fish that territory. And even though it's not close by (it's at least an hour by boat just to get there) we wanted to focus on an offshore island this year."
The amount of trash bags, broken gear, Styrofoam, plastic junk, and debris that came back on the boats was enough to fill up a 30-foot dumpster.
---
Caterpillars prompt a road alert
Those of us who live year-round in Maine are used to black ice warnings, but the concept of slippery road surfaces caused by thousands of caterpillars is a new one.
So many tent caterpillars—Malacosoma disstria for the science-minded among you—were congregating along a 2-mile stretch of Blue Hill's Minds Road last spring that they created a driving hazard, according to the Bangor Daily News. The state posted a traffic advisory warning motorists of slippery conditions.
"This is a low-level infestation now that is starting in Blue Hill," Dave Struble, entomologist with the Maine Forest Service, told the newspaper. "These things are cyclical, and this sounds like a classic infestation."
Struble said this is the second year the caterpillars have been observed in large numbers in Blue Hill. "We mapped them in a 70-acre area last year," he said.
The infestation reminded some of a major tent caterpillar infestation in northern Maine in the late 1970s and early 1980s. Some people claimed they had to hose down entire sides of homes covered with the caterpillars. Others  used snow shovels to fill barrels with them as they crawled across driveways.
Struble told the newspaper that tent caterpillars were first spotted in eastern Quebec. By 1979, roughly 20,000 acres of woodland in the St. John Valley was infested. By 1982, they had reached their peak population density infesting around 800,000 acres in northern Maine. As state biologists debated ways to control the infestation, another insect came to the rescue: the Government Fly, which is a parasite on tent caterpillars. In early summer, the flies emerge from their larval stage underground and seek out tent caterpillar cocoons on which they lay their eggs. After hatching, the fly larvae bore into the caterpillar cocoons and feed on the pupating insects inside, eventually killing them.
When tent caterpillars are on the move in large numbers, it can be an impressive site, Struble said. The caterpillars have vision in which everything looks as if it is in silhouette and they are particularly attracted to any silhouette that looks tall and thin.
"To them, any vertical profiles that look like trees would be a food source," he said. "So they will crawl up to it and if it's not something to eat they just crawl up and over and keep moving."
He recalled standing in a parking lot full of the caterpillars and as he talked to another person, the entire mass started moving in their direction.
For all their numbers, the caterpillars did little lasting damage, Struble said. "They really do not kill too many trees," he said.
---
Hinckley unveils the Sou'wester 53
Hinckley has added a new model to its Sou'wester line of cruising yachts. The new Sou'wester 53 was produced in collaboration with Tripp Design Naval Architecture, and is designed to deliver modern, family sailing.
Built in carbon epoxy, the Sou'wester 53 features a modern performance hull with the latest keel stem and bulb shape. The 8'3" draft will provide for lively performance while enabling visits to harbors and coves where yachts of similar performance could not ordinarily venture, according to a company press release.
The Sou'wester 53 is 52'4" long with a beam of 14'3" and a displacement of 30,000 lbs. The helm station is raised for views over the pilothouse and a full view of the sail plan.
The Sou'wester 53 can either sail or motor at over 10 knots. 
---
Bar Harbor buys a ferry terminal
Aiming to reduce downtown traffic, Bar Harbor residents have voted to buy a former ferry terminal for $3.5 million.
Plans call for turning the former Bay Ferries Limited site off Route 3 into a multi-use marina and cruise ship docking area, according to an article in the Bangor Daily News. The hope is that the marina will reduce crowding in the harbor and downtown, about a mile away, and create more recreational opportunities for residents.
---
From Maine to the New Yorker
We take life in Maine for granted. It's where many of us have chosen to live and it's a lifestyle that this magazine celebrates. Apparently to outsiders our world looks more exotic than we thought. Flipping through a recent issue of the New Yorker Magazine we were flabbergasted to see a real estate advertisement from MBH&H excerpted as one of their editorial fillers.
Entitled "Life in Maine," the excerpt cited land for sale on Vinalhaven with tidal frontage, two septic sites, and great clamming.
We were thrilled to see our magazine cited in such an illustrious place but the New Yorker editors neglected to include a phone number in case anyone was actually interested in moving out of the Big Apple for the good life downeast.
The listing was from Jaret & Cohn Realtor Wes Reed. It was still available at press time, and in the event that it has sold by the time you call, we're sure he can find you something else like it. He can be reached at 207-863-2554. 
Share this article:
2023 Maine Boat & Home Show

Join Us for the Maine Boat & Home Show!
Art, Artisans, Food, Fun & Boats, Boats, Boats
August 11 - 13, 2023 | On the waterfront, Rockland, Maine
Click here to pre-order your tickets.
Show is produced by Maine Boats, Homes & Harbors magazine.