New Murals Bring Life to Old Walls
Paintings add color to Maine's public art movement
By Ann Dodds Costello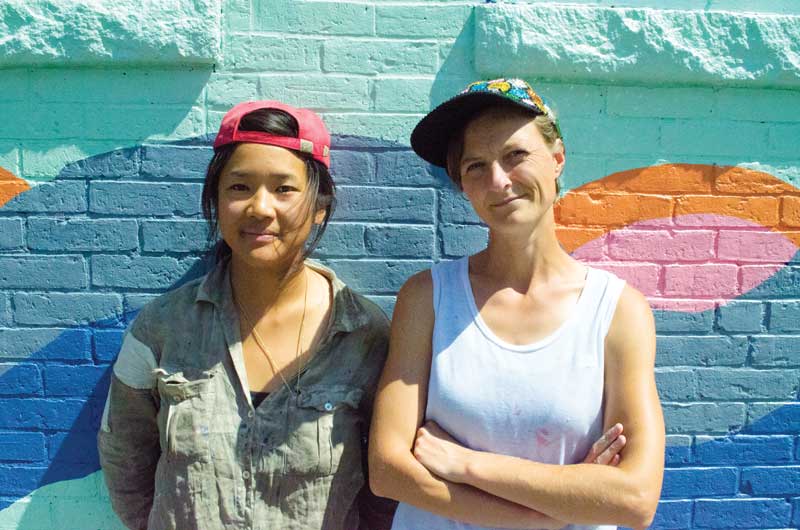 Canadian-based artist Melissa Luk (left) and Rockland-based artist and educator Alexis Iammarino (right), collaborated on the design of one of Rockland's murals. Iammarino has a master's degree in community arts and is one of a new generation of artists bringing this way of approaching art to Maine. Photo courtesy Alexis Iammarino
A careful observer might have noticed large, colorful murals appearing on the exterior walls of old buildings throughout Maine in recent years. These huge paintings take up entire sides of warehouses and older brick buildings in downtown and industrial areas. The mysterious murals appear to be intricately planned, professionally executed, bright, colorful, and—almost always—very joyful. 
As inclusion has become a mantra, community art has become a specialty in college arts departments—even becoming a profession. Public art and mural organizations have sprung up in many Maine communities, including Portland, Rockland, Brunswick, Augusta, and Waterville. And more business owners have joined art museum educational staffers, such as those at Rockland's Farnsworth Art Museum, in the knowledge that involving the community in outdoor, public art projects is a low-cost, high-impact way of beautifying a neighborhood and increasing foot traffic.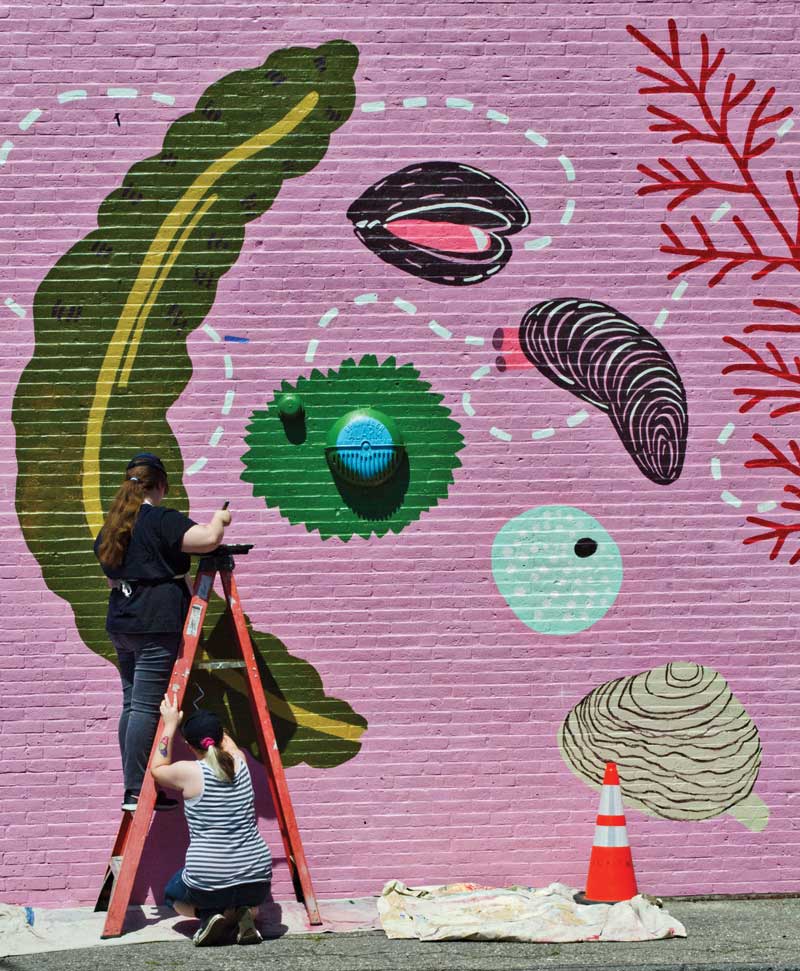 A detail from the Water Town Mural in Rockland, which features coastal creatures and scenes and involved 42 volunteers. Photo courtesy Alexis Iammarino It doesn't hurt for artists to be displayed on such a grand scale, either. School children and local volunteers are often involved in the painting, and that creates local "ownership" of the projects and an introduction to the world of art outside what many consider stuffier, institutional settings. 
Julie Horn, Executive Director of the Maine Arts Commission, said community art as a profession—backed up by academic studies, programs, degrees—has grown in popularity over the past 20 years. It has created a new generation of art practitioners.
"Artists recently migrating to Maine come with these new concepts, which are often counter to Maine's history of what an 'artist' is or does—i.e. (the traditional) preference for isolation to concentrate on developing one's own personal techniques," Horn said.
In a kind of snowball effect, she noted, business owners have begun to see what relatively inexpensive murals can do to boost local morale and to beautify their buildings. They have begun to step up to the plate and have reached out to local artists, to create outdoor murals for their buildings.
Creative Portland's Executive Director, Dinah Minot, cited property owner Jim Brady, who wanted a muralist to decorate the massive wall at a newly purchased building on Exchange Street, overlooking Tommy's Park. The new mural would replace a deteriorating trompe l'oeil mural that had decorated the side of the building since 1985, but has since been removed.
"We have so much cultural diversity in Portland, and more business owners try to engage with artists in sidewalk art," Minot said.
In other parts of Portland, there has been a flurry of outdoor mural creation, largely—but not entirely—due to the efforts of the Portland Mural Initiative. Founded by husband-and-wife artists, Tessa O'Brien and Will Sears, the group found grant money and then coordinated the completion of six large and colorful murals in Portland and one in Kittery, each showcasing the work of an individual artist. They are intended for the community to enjoy, especially for runners and walkers on the East Bayside Trail, where five buildings feature full-wall murals that face the trail.
One of those muralists, Thomaston-based artist Greta Van Campen recalled her experience painting a mural of a Maine coastal scene on the back of Portland Power Yoga on the East Bayside Trail. "I did some planning for it while I was an artist in residence at Brush Creek Ranch in Wyoming in 2015," she said. "I came up with a few options for Tessa and Will to get approved by the building owners before starting. Once approved, I finalized the design, and then met Tessa and Will in front of the biggest and most overwhelming canvas I'd ever seen." 
The group bought gallons and gallons of paint and then she worked on the mural for about a month between June and July 2015. "Some days, there were other people (Will, Tessa, and a few other volunteers) to help with the painting," Van Campen said. "It was a great learning experience."
This mural on Oak Street in Rockland is enhanced by shifting shadows and sunlight, and reflections from cars parked nearby. Photo by Polly Saltonstall
Other mural projects have had even more community involvement in the planning and execution, including some in Rockland, which has branded itself as "The Art Capital of Maine." The Oak Street Mural was painted in 2015, and the Water Town Mural—on the side and in back of the Grasshopper Shop on School Street—was completed in 2017. 
Rockland-based artist and educator Alexis Iammarino organized a small army of volunteer painters to produce the murals. She has also supervised the creation of indoor murals in public buildings and schools in Rockland. 
The Water Town Mural, which depicts marine and coastal creatures and scenes, involved 42 volunteers; another 44 volunteers worked on the geometric Oak Street Mural. In both cases, the volunteers ranged in age from the very young to the elderly. For the students involved, there was a learning element—the transfer of stencils, how to create a grid on the wall, and more.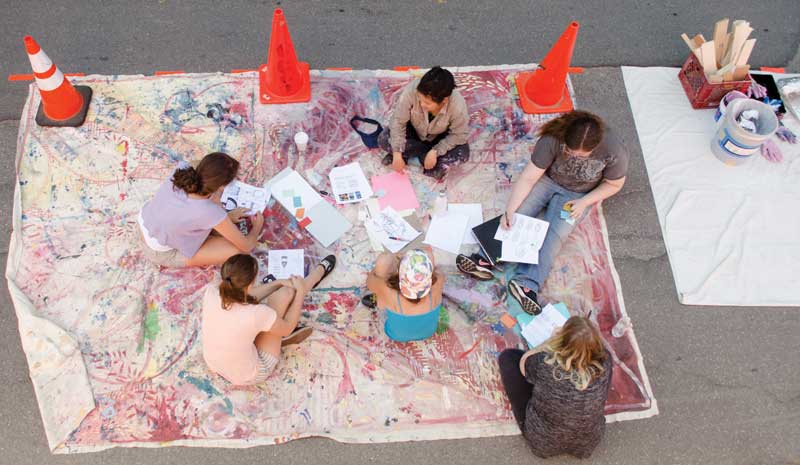 Student artists drafting a Water Town Mural panel. Photo courtesy Alexis Iammarino
Iammarino, who has lived in Rockland for six years and who holds a Master's Degree in Community Arts from Maryland Institute College of Art, is among the new generation of artists bringing this way of approaching art to Maine. She calls herself "an interdisciplinary artist with a community-based practice," and is arguably the midcoast face of community art. She teaches at or is involved in six arts or community organizations. Staff at the Farnsworth Art Museum helped win grant funding, including from the National Endowment for the Arts, for the two murals that are located on side streets off of the city's Main Street. In addition, the building owners had to agree to the use of their walls, pay for prepping and repairing the walls, and, of course, agree to the design.
Iammarino collaborated with Jessie Unterhalter and Katy Truhn, two muralists from Baltimore, on the design of the Oak Street mural, and with Canadian artist, Melissa Luk, in designing and executing the Water Town Mural. The long-distance collaboration involved using  Google Hangouts and other technology. 
It takes these high-tech skills, but also low-tech skills like volunteer-wrangling, and lots of patience, to actually produce a community-based, high-quality, public mural, according to those involved. Many of the student and adult volunteers came from various after-school or adult education programs supervised by Iammarino. 
On the back wall of Hamilton Marine in Rockland, facing a public parking lot and the front of the new Center for Maine Contemporary Art, is another new public mural created by Belfast-based artist and Unity College art professor, Ben Potter. Hamilton Marine gave him the go-ahead in 2017, and Potter was able to paint the mural, Current, depicting patterns of foam on water, in three days. This came about as part of his residency at CMCA, funded by the Ellis-Beauregard Foundation, a Maine-based foundation which supports artists.
In Augusta, plans last summer called for five new outdoor murals, of which three had have been completed, said Michael Hall, Executive Director of the Augusta Downtown Alliance. One of those, finished last summer, was designed and painted by Portland Mural Initiative's co-founder, Will Sears. All five murals were funded by the Downtown Alliance, so no further grants were needed, in contrast to the funding process in Portland and in Rockland.
Social media has added to the popularity of these huge outdoor "canvases." An artist or a passerby can "post a photo, and within 24 hours, have the mural seen by thousands of people," said O'Brien. "One can quickly connect via social media to a global art community, and to opportunities that were once out of reach."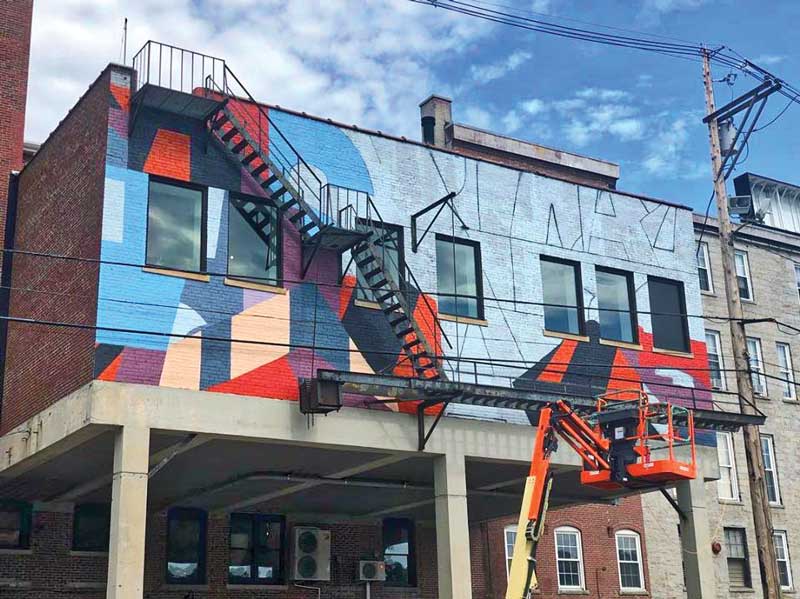 One of five new outdoor murals planned for Augusta was designed and implemented by Portland Mural Initiative co-founder Will Sears. Photos courtesy Augusta Downtown Alliance (2)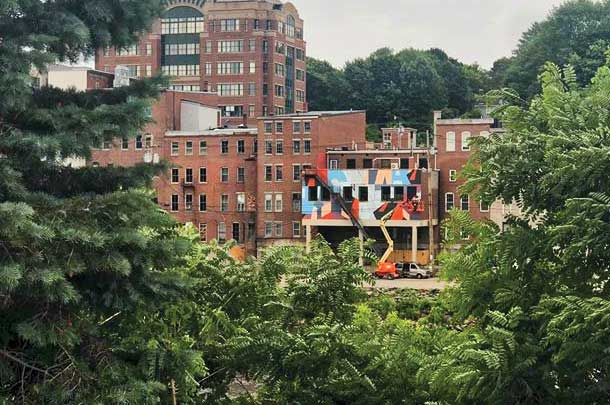 In Rockland, one sure sign of the community's support for the paint-on-outdoor-walls projects is that as of last summer they had remained free of graffiti. And in Portland, "The graffiti community has been extremely respectful of the murals," said Sears and O'Brien. "We feel very grateful that the community members have been wonderful stewards to the murals."
Vas Prabhu, Director of Education at the Farnsworth Art Museum, noted that artists now call her to say they want to be involved in the next mural. "Artists recognize the importance of engaging people of all ages in creating public art," she said. 
These new murals on old walls cost comparatively little to produce, but have long-lasting and positive effects for the volunteers who work on them, the artists whose work is so publicly displayed, and for the countless bystanders who are uplifted, engaged, and entertained. The business owners who sponsors the walls also benefit.
It turns out that the concept of painting new murals on old walls is one of those win-win situations we all like to hear about.
---
Ann Dodds Costello lives in Los Angeles and Owls Head. She is the author of Smart Women: The Search for America's Historic All-Women Study Clubs.
Watch a video about the creation of the Water Town Mural HERE 
Share this article:
2023 Maine Boat & Home Show

Join Us for the Maine Boat & Home Show!
Art, Artisans, Food, Fun & Boats, Boats, Boats
August 11 - 13, 2023 | On the waterfront, Rockland, Maine
Click here to pre-order your tickets.
Show is produced by Maine Boats, Homes & Harbors magazine.