Boatyard Profile: Strouts Point Wharf
A 218 Year Tradition of Wooden Boats
By Ted Hugger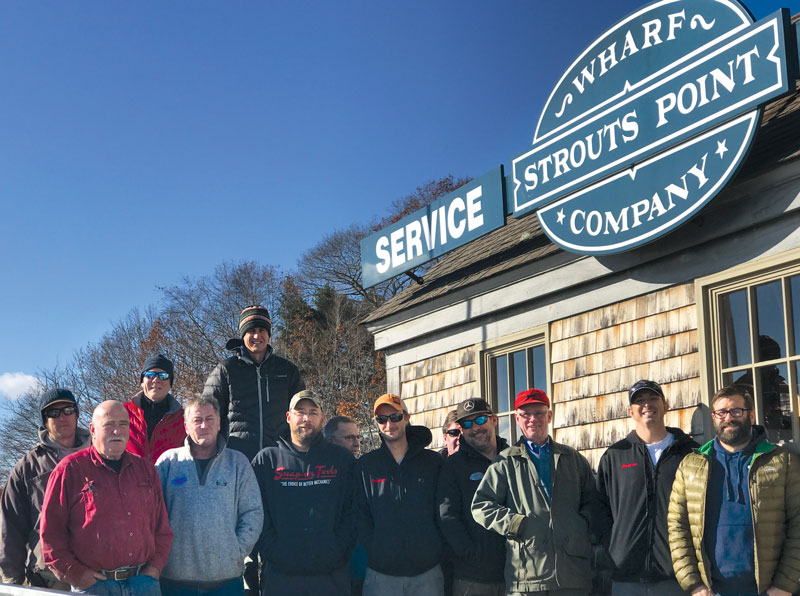 Some of the yard's 18 full-time employees gather outside the service dock building. Photo by Polly Saltonstall
The origin of the name Strouts Point is now lost in pre-1800s obscurity, but the location's legacy of wooden ships and boats spans the centuries, as strong today as it was in 1800. Strouts Point Wharf Company continues the tradition under the leadership of Cym Hughes. Located in South Freeport on the Harraseeket River in the northern corner of Casco Bay, the yard specializes in wooden boat builds and repairs, as well as maintaining more than 100 marina slips.
The earliest Strouts Point property deed cites Benjamin Parker Jr. as the owner. In 1800, Parker sold his interest to Micah and Joseph Stockbridge. Two years later, they sold the property to Alexander Motely, a Portland mariner. Motely built a new wharf and store on the site. According to the Freeport Historical Society, Motely and shareholders then sold the property to Joshua Waite, who sold the parcel a year later to the newly formed Strouts Point Wharf Company.
Led by resident Jacob Lincoln and Freeport merchant and trader Samuel Holbrook, the new company constructed a wharf building that served a variety of maritime commerce for 177 years, until it became the home of the Casco Yacht Club. One of Strouts Point's prominent tenants was the Porter Yard, builder of the famous War of 1812 privateer, Dash.
In the 1830s, Rufus Soule leased the yard and began three decades of boatbuilding. An amazing array of vessels—including fishing boats, barks, ships, five-masted schooners, Coast Guard rum-chasers, and Ferris-type steamers for World War I action—came off the ways during the Soule years.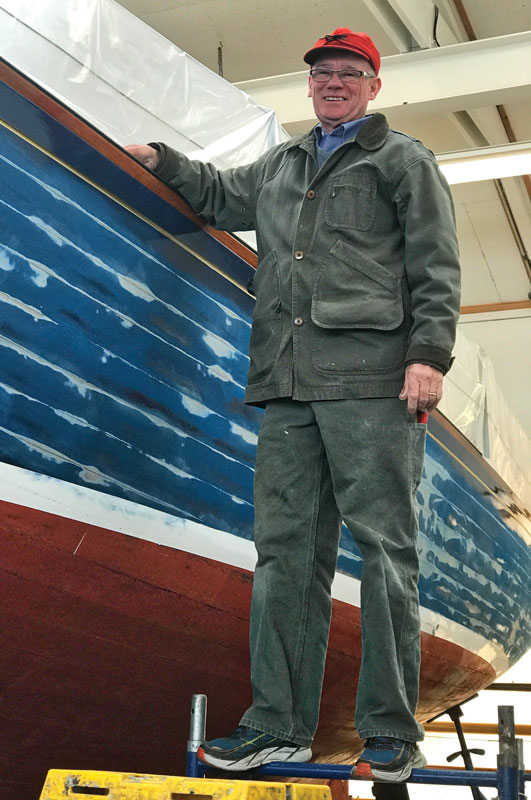 Yard manager Cym Hughes stands next to a New York 30 undergoing winter maintenance. Photo by Polly Saltonstall Fast forward to 1986, when Richard "Ted" Wengren took over his family's yard and set about continuing its maritime service to area commercial and pleasure boaters. In 1996, Wengren brought boatbuilder Cym Hughes on board to guide the company's further development.
When Hughes arrived on the scene, there wasn't much to the yard—the only large building wasn't even heated. "So, we insulated the storage building, put fans in, installed lighting, and opened the doors for wooden boat business," said Hughes.
In his first year the team took on one or two boat projects, said Hughes. "The second year, we were doing eight or nine boats and adding to our crew as we grew—fabulous woodworkers, painters, technicians."
Today, Strouts Point Wharf boasts 18 full-time employees, with another 10 people joining the team for the busy summer months as dock staff. The combination of a reputation for exceptional service work, a location in one of the best-protected harbors on the coast, and 110 slips and 15 moorings makes the yard a beehive of activity.
Hughes estimated that approximately 40 percent of the yard's customers are wooden boat owners. All but one boat in the yard's sprawling heated building are wood.
The backbone of the business is a core group of returning customers who lavish their boats with care. Hughes cited the 39'10"″Concordia Streamer as an example of an owner's long-term commitment to his boat.  "Last year, we re-covered Streamer's cabintop, installed all new hatches and sliders, took some rot out of the port and starboard sheer planks, and replaced a large chunk of the toe rail," he said.
Another long-term boat under Strouts' care is Gemma, a 37' Gorbon Express Cruiser, built in Turkey. "We've just put Gemma in the shop, and we're about to replace a rotten cockpit sole, Awlgrip the deck, varnish the brightwork, and do some mechanical work," Hughes said. "Our returning customers typically invest in annual projects that run from $25,000 to $50,000. In some cases, projects have run as high as $185,000. Everybody says the wooden boat business is going to die—but we've never had more wooden boats."
Hughes said his customers appreciate the quality of their wooden boats. "We call our customers 'patrons of the arts' because that's exactly what these incredible boats are: pieces of art. Their owners are preserving a valuable piece of history," he said. "As our customers age, it becomes a question of whether or not their children will share the same passion for these venerable wooden boats once they pass into their care."
Fortunately, Hughes reported, many of the second and third generations share the family commitment and continue investing in the family boats.
Two yards are better than one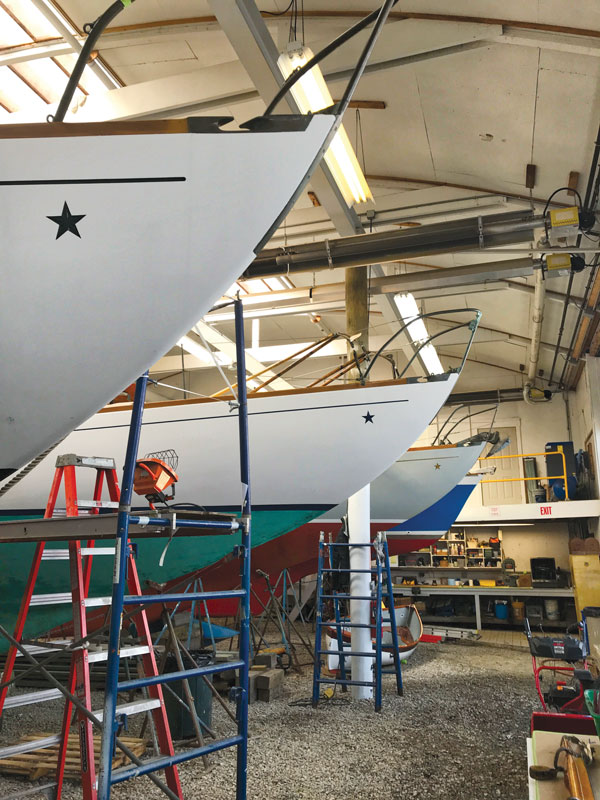 Strouts Point Wharf has done quite a bit of work on wooden Concordias over the years and currently has six boats in its care (including the three shown here) that were built by the South Dartmouth boat company. The blue boat in the back is a Controversy designed by Mt. Desert Yacht Yard. Photo by Polly Saltonstall In 2016, Ted Wengren sold Strouts Point Wharf to next-door-neighbor Brewer South Freeport Marine. "When John Brewer first came to look at Strouts, he decided he really liked what we do, he loved the wooden boat thing, he loved the feel of the yard," Hughes explained.
Both companies share the same high-end customer base and a passionate commitment to quality work and value. But Brewer's is larger and more fiberglass-boat-oriented, while Strouts is more of a boutique facility serving wooden boats. This could have been another example of an iconic Maine boatyard being lost to acquisition and development, but that has not been the case.
"Strouts retains its name and its autonomy," Hughes said. "That's why I wanted to get involved with Brewer's, because John didn't want the yard to change in any way. It's a well-oiled machine that works really well."
The new ownership structure has benefitted both yards—the old "the whole is greater than the sum of its parts," phenomenon. The two yards can share resources—equipment and talent—when necessary. "We help each other out. We use our crane to haul their big sticks. They took our hydraulic trailer because they handle bigger boats. It's a dream made in heaven—if one of us is missing something, we just go ask the other," Hughes explained.
The relationship seems to be working well. Hughes said Strouts has more wooden boats than ever and Brewer's also has close to 30 more boats in its care than last winter. "So, I don't know if we're good luck for Brewer's, or if Brewer's is good luck for us. But business is booming, so we must be doing something right!"
Hughes doesn't envision big growth or expansion, though. "I think it's important to be able to do really good, quality work, and at the same time, maintain personal contact with our customers," he said.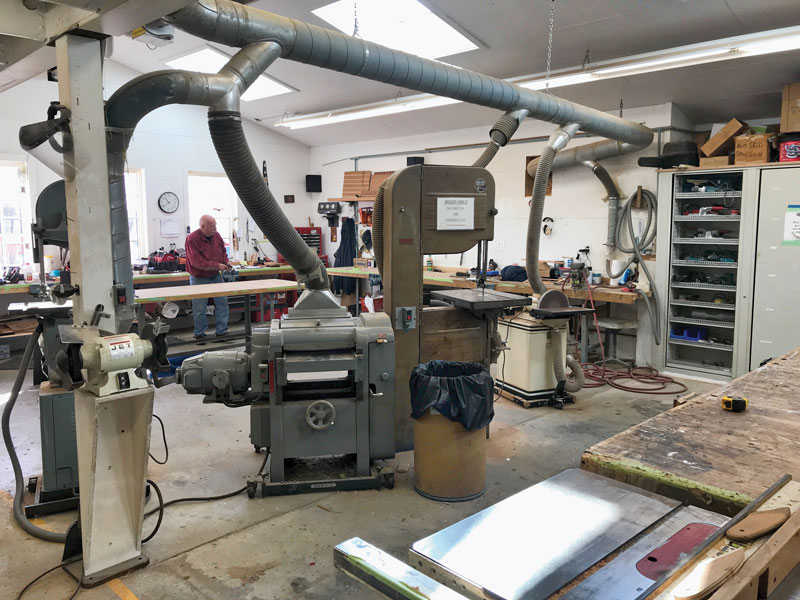 Strouts Point Wharf's woodworking shop has recently been expanded. The yard has so much maintenance work that it does not have the capacity to take on new builds, according to Cym Hughes. Photo by Polly Saltonstall
A great environment for wooden boats
Hughes has continued to improve the Strouts Point facilities. Recently, he doubled the size of the yard's woodworking shop, built a clean room for varnish and paint work, and installed a solar array to minimize utility costs. Yard equipment includes a 25-ton Travelift and a 15-ton rough-terrain crane. On his wish list is a 50-ton Travelift so the yard can tackle some bigger projects.
The heated storage/work building is a wooden boat owner's dream. Infrared heaters suspended from the 18-foot ceilings heat the objects in the building, but not the air, Hughes explained. "It's keeping our air temperature around 50 degrees, it warms the decks, and it's probably 40 degrees on the crushed stone floors." Soaker hoses running through the building maintain a relative humidity of 70 percent.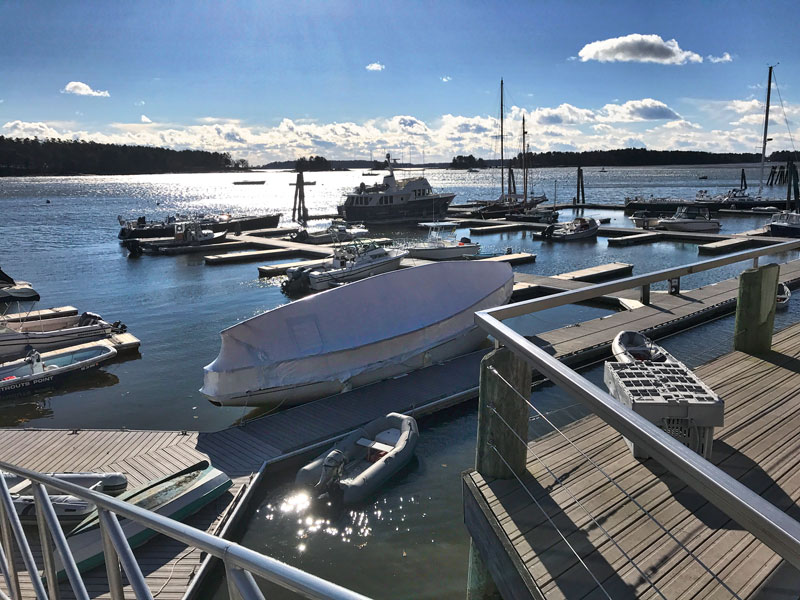 A view of the docks on a blustery November day. Typically, half a dozen yachts spend the winter in the water there. Photo by Polly Saltonstall
Winter-season, in-water storage is one area that Hughes would like to grow. The yard typically has around a half-dozen boats on the docks, such as regular winter tenant the 1933 William Hand, a 63-foot motorsailer. With a little modification, he believes Strouts could accommodate as many as 40 in-water storage boats. "It works here because the water in the harbor is relatively still and very well protected," Hughes said.
A crystal ball might tell you what the next 218 years will bring to historic Strouts Point on the Harraseeket River. If Cym Hughes has anything to do with it, you can bet that the sweet smell of cedar shavings and drying varnish will still fill the air.   
---
Ted Hugger owns and operates the Cod Cove Inn in Edgecomb and the Cedar Crest Inn in Camden with his wife Jill. They keep their wooden trawler, Seguin, in Southport.
For more information: 
Strouts Point Wharf Company
South Freeport, ME
207-865-3899
Share this article:
2023 Maine Boat & Home Show

Join Us for the Maine Boat & Home Show!
Art, Artisans, Food, Fun & Boats, Boats, Boats
August 11 - 13, 2023 | On the waterfront, Rockland, Maine
Click here to pre-order your tickets.
Show is produced by Maine Boats, Homes & Harbors magazine.