The Art of Lynn Karlin
Of Purple Podded Peas and Profiles
By Carl Little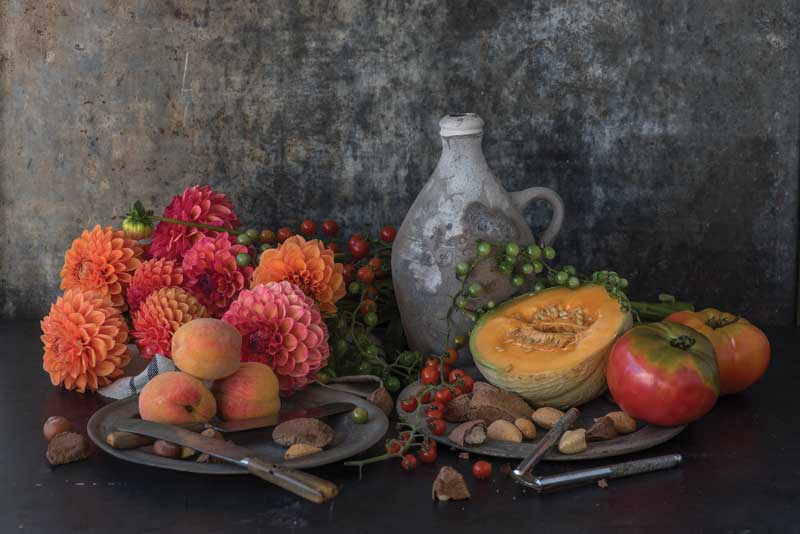 Lynn Karlin, Still Life with Melon, 2018, digital print from "The Still Life Series." Karlin combines dahlias, peaches, tomatoes, nuts, and a melon with various props, including a jug made by Jeff Butler from Pottery Farm in Thorndike, Maine.
Two weeks into her job as the first female photographer on the staff of Women's Wear Daily in New York City, Lynn Karlin was on assignment in midtown Manhattan taking shots for a fashion feature. Taking a break in a burger joint, she spied Jackie Onassis at the counter reading Rolling Stone. She slipped around behind the counter and took a number of shots before Onassis asked that she stop.
Returning to the office, Karlin told the editors about her encounter with one of the most coveted photo subjects at the time (the mid-1970s) and her shots received front-page placement in the next day's edition.
Karlin's life in photography these days is less heady than back then, but no less rewarding and engaging. Ensconced in her snug home overlooking the Passagassawaukeag River in Belfast, Maine, the award-winning photographer has become known in recent years for fine art still lifes, remarkable studies of a wide range of fruits and vegetables that often recall masterworks of 17th-century Dutch painters.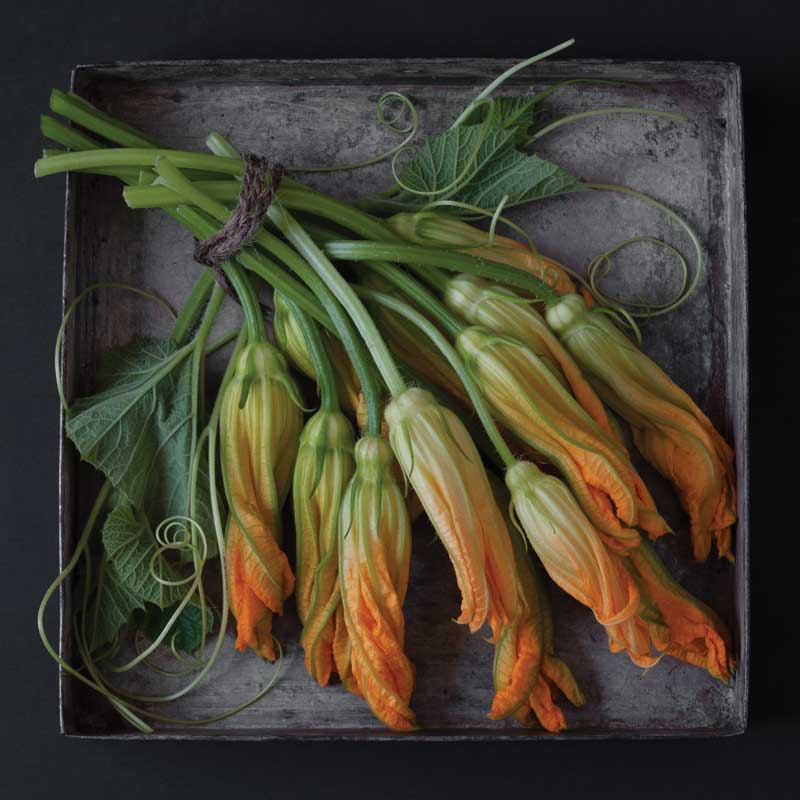 Squash Blossoms, 2014, digital image from "The Tray Series." Blossoms from Chase's Daily in Belfast are arranged on an antique metal tray.
Set on pedestals or arranged on trays against black backgrounds, clusters of radiant radishes, garlic stems spiking the air, squash blossoms lovingly laid out—whatever the variety—are brilliantly composed by shape and color and what one might call esprit de cornucopia. Karlin is especially fond of the out-of-the-ordinary: watermelon radishes, Hakurei turnips, Chioggia beets, Oriental eggplants. Among the most remarkable: the richly chartreuse Romanesco cauliflower with its fractal structure.
Karlin's prop room includes a clutch of pedestals, shapely carved vintage pieces of wood and concrete upon which she balances her vegetables, sometimes resorting to a nail to keep them in place. There are also dishes, egg beaters, silverware and the like purchased at local flea and antiques markets.      
The seasons drive Karlin's selection—and what's available in town at Chase's Daily and the Belfast Farmers' Market. She envisions her inventory expanding with the year-round United Farmers Market of Maine, recently established in a former window factory on Spring Street. "I eat in season and I photograph in season," she said.
Before focusing on the plant still lifes and fine art photography, Karlin was known for her editorial work photographing gardens, food, and interiors. She co-authored several books on Maine gardens and shot for a number of major national magazines. Karlin's photographs have won awards in Paris, London, and elsewhere, taking home prizes in still life, and in portraiture, which she took up a few years ago.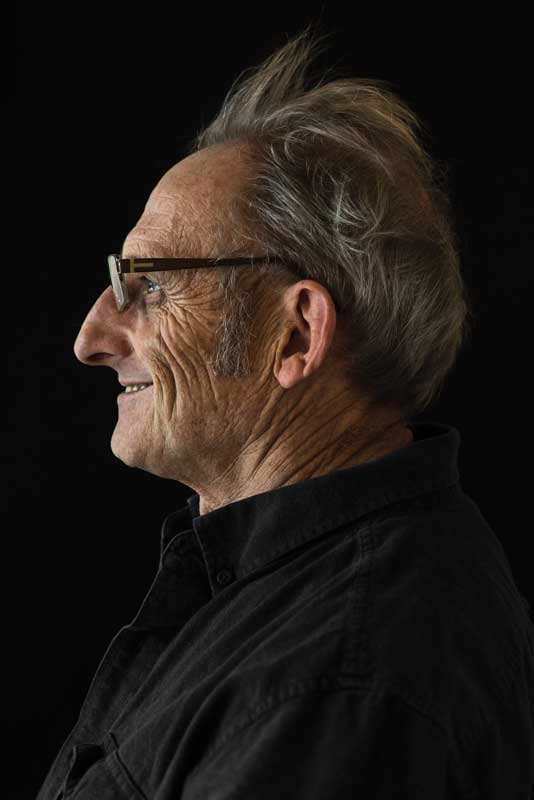 Eric Hopkins, 2017, digital image from "Still Lives: Stories in Profile." This portrait captures the celebrated Maine painter in profile. Her first subject for her profile portrait series was Paul Bergmann, a tousled haired songwriter and lead singer for a band called the Fair Moans. He was working at Chase's Daily at the time and accepted her invitation to pose. Over two-plus years she has photographed nearly 50 individuals, among them artist Eric Hopkins, Liberty Graphics founder Tom Opper, and former Belfast poet laureate Jacob Fricke.
Karlin first called the series "Facescapes" because she thought she would have everyone lie down on their backs  so that their profiles became landscapes. When that didn't pan out, she changed the title to "Still Lives: Stories in Profiles" with the idea that faces tell tales. She started with men, but intends to do a series of women. She takes all the photos in her studio, with the subjects seated on a stool before a black background.
Karlin showed three of the profile pieces in the Maine Museum of Photographic Arts show "Contemporary Portraiture" at the Glickman Library at USM last year, but she'd like to have a whole show of them at some point.
Early days in New York
Karlin was born in Bayside, in Queens, New York. She carried a camera from around age 10 and took photographs through her years at Bayside High School. Her mother, Florence Karlin, would drive her around to take shots of the Bronx-Whitestone Bridge, the railroad tracks, and other city scenes.
The young camera artist was using a Yashica Mat twin lens reflex camera, but switched to a Leica when she enrolled at Pratt Institute in 1966, majoring in advertising. Wanting to stay in New York, after graduation she waitressed at night and took her portfolio around during the day. Some of her first photos appeared in New York magazine, including a picture of her father, Sy Karlin, who was a charter-boat captain out of Freeport, Long Island.
In 1975, Karlin was hired by Women's Wear Daily. With a Nikon in hand, she ran around the city day and night, covering celebrity events, theater openings, movie premieres and the like. She photographed a who's who of cultural icons, including playwright Joseph Heller, polio vaccine discoverer Jonas Salk, writers Truman Capote and George Plimpton, and politicians Nelson Rockefeller and New York City Mayor John Lindsay. There were many actors along the way, including Sean Connery, Cary Grant, Liza Minnelli, and Tony Curtis and his wife Leslie, who now shows Karlin's work at her shop Leslie Curtis Designs in Camden, Maine.
A scrapbook of clips sends her down memory lane. Looking at a photo of the tall ships parade in New York Harbor during the 1976 bicentennial, Karlin remembers climbing to the top of a ship's mast to get a shot. She turned down an offer from a sailor to carry her camera until halfway up, at which point she said, "Take it!"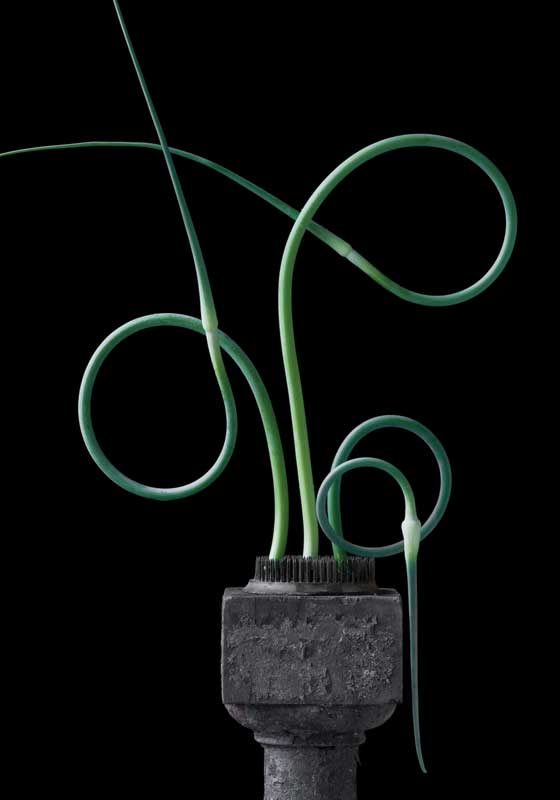 Garlic Scapes #3, 2011, digital image from "The Pedestal Series." Curling garlic stalks, called scapes, are held in place by a florist's frog.
Drawn to Maine by back-to- the-landers
In 1972 her parents gave her a trip to Israel to work for a month on a kibbutz. Karlin liked the experience so much she returned the following year to pick apples, pears, and plums on a farm in the northern part of the country. In a curious twist, that sojourn led her to Maine. One of her kibbutz friends, a young man from Holland, contacted her more than a decade later to invite her to join him on a trip to Maine to visit a friend of his mother's, Helen Nearing.
Karlin bought her first car, an old Dodge Dart, and headed for Harborside, Maine. She had read Helen and Scott Nearing's books on living the good life and had a compelling desire to move to the country. She had had a good run in the Big Apple, but was looking for a change.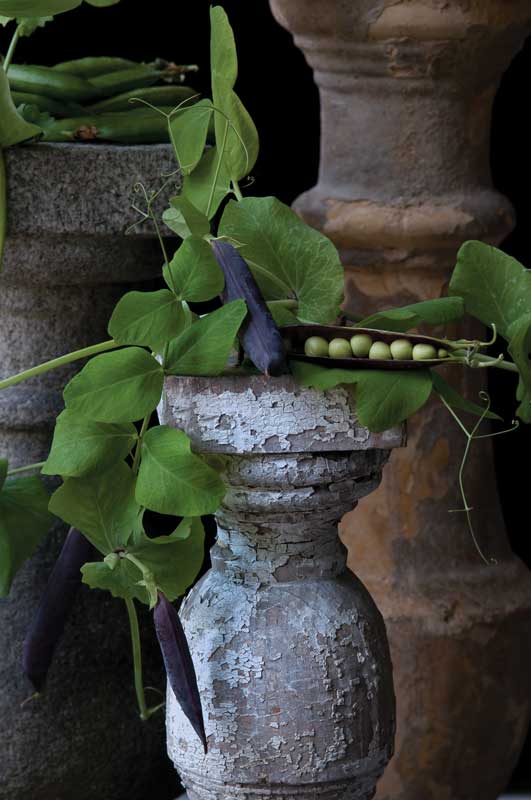 Purple Podded Peas, 2010, digital image from "The Pedestal Series." Karlin is a formidable colorist, here combining purples, grays, and greens.
Arriving early, Karlin and her friend followed a sign for vegetables for sale and went up the driveway next door to the Nearings. At the top of the drive stood Stanley Joseph, who would become Karlin's husband. The following year she left New York for good and became a farmer—and a photographer of gardens. Crisscrossing Maine, she specialized in gardens, interiors and food, selling her images to a wide range of publications, including Country Living, Coastal Living, Gourmet, Garden Design, and House Beautiful. She also produced several books, including the classic Maine Farm: A Year of Country Life (Random House, 1991) about her life with Joseph on the farm that he bought from the Nearings.
Eventually Karlin and Joseph split up. She left the farm and moved to Belfast in 1991. She had learned to fly and wanted to be near the airport—and the Belfast Co-op. "This is a good place to live," she said. Over the years she and her long-time partner, musician Barry Way, transformed what was a cabin into a sunlit abode with studios for photography and music. "It doesn't matter where you are," Karlin said, "you can create whatever you want."
While continuing to take occasional magazine assignments, Karlin is happiest when arranging purple podded peas or a bouquet of statuesque mushrooms on a pedestal—or studying the profile of one of her portrait subjects. She is fully engaged—in her art, her life, and her community. 
---
Carl Little's most recent book is Philip Frey: Here and Now. He contributed an essay to Nature Observed: The Landscapes of Joseph Fiore.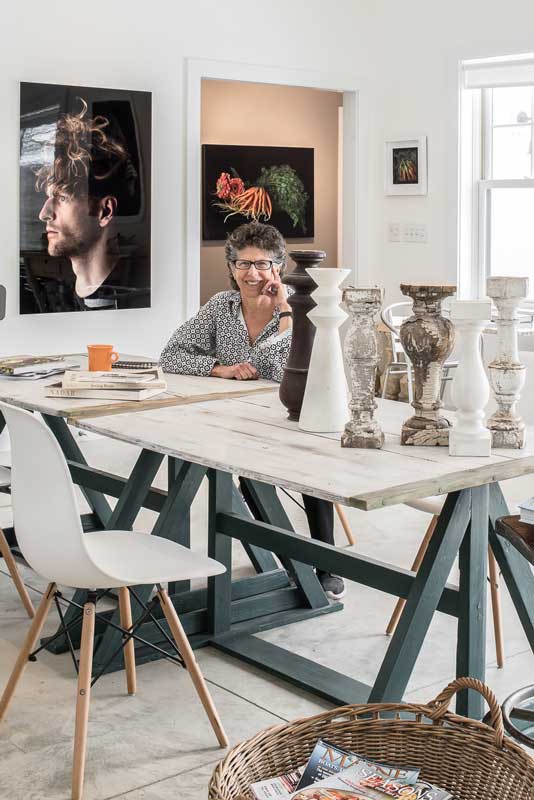 Karlin poses with some of her pedestals in her sunlit Belfast studio in this 2019 self portrait. That's her portrait of Paul Bergmann on the wall, the first in her profile series. Karlin is represented by Leslie Curtis Designs in Camden, Maine Farmland Trust Gallery in Belfast, Juxtapose in Bar Harbor, and the Kingman Gallery in Deer Isle, where her work will be on display July 2 through August 4 in a show titled "Making the Ordinary Extraordinary" featuring both still lifes and portraits. Find more information and images at www.lynnkarlinphoto.com.
Share this article:
2023 Maine Boat & Home Show

Join Us for the Maine Boat & Home Show!
Art, Artisans, Food, Fun & Boats, Boats, Boats
August 11 - 13, 2023 | On the waterfront, Rockland, Maine
Click here to pre-order your tickets.
Show is produced by Maine Boats, Homes & Harbors magazine.