Letters to the Editor - Issue 158
By The Editors
More marine research
I loved reading your article, "Research Along Maine's Long Wild Edge," on the history of marine science in Maine (MBHH March/April 2019). Not only did I learn about the early years, but it brought back wonderful memories of people like Clarice and Charlie Yentsch and Spencer Apollonio.
I want to make sure that you don't miss the research that Friends of Casco Bay is doing. You can find our data at cascobay.org under the section Our Work/Science, which includes data from our continuous monitoring station in Yarmouth and our 26-year data set (still growing) from seasonal sampling throughout Casco Bay.
Mary M. Cerullo, Associate Director
Friends of Casco Bay
---
Safer at sea
Thank you for the coverage of our lifejacket project. We had a great response at this year's Maine Fishermen's Forum, with incredible interest in the lifejackets and in the lifejacket vans.
We learned from a captain that his sternman is alive today thanks to the flotation bibs we provided. In February, the sternman was hauling a rope that snapped and he pitched overboard. The captain saw him fall in and was able to quickly turn the boat and retrieve him, but the water was so cold that in the short time it took them to reach him he was no longer able to use his arms and legs to swim. The captain told me several times that the Stormline Flotation Bibs we gave him saved his crewman's life, and that he wears the bibs every day now.
We are so happy to hear this kind of good news. Thank you so much for all your help and support.
Rebecca Weil, Northeast Center for Occupational Health and Safety
---
Magnetic gyrations
Thank you for Ken Textor's interesting article on Dave Witherill's Pathfinder Compass Service (Jan/Feb 2019). I am endlessly fascinated by navigation, both at sea and on land. In addition to finding my position and proper course, I use the same methods to identify distant islands, headlands, and mountains.
In advance of arriving at a known location, I calculate the magnetic bearing to a place I wish to identify by sight using either a map, chart, or Google Earth. FYI, the unlabeled bearing value provided by Google Earth in the "ruler function" is a true bearing. Then, using a known standing location, I look through my binoculars and voila, place identified!
Using the above method, I studied the area in and around the mouth of the Kennebec, i.e. Popham Beach, Sewall Beach, and Small Point. I have not yet done so from Seguin Light. But sure enough, a local magnetic disturbance there is very real and significant. My nautical chart, in an obscure footnote, states the possible presence of one emanating from Eddington Rock. My numbers show the same local field disturbance at the above three locations, on the order of a full eight degrees. The mariner should keep this possibility in mind when choosing a location for compass testing.
The best way to test a ship's compass is to determine a number of magnetic bearings from one identifiable location to another. Preferably spread all the way around the points of the compass. You will likely have to employ several testing locations in order to get the full range. Then, once at sea, align the stern of your ship with one waypoint in the set, and steer the vessel at the second waypoint in the set. Observe and record your compass reading. Once you have completed a group, you'll see how accurate your compass is, and if there is a pattern in the errors. Often you will find more error on a particular axis. If you're not satisfied with the result, give Pathfinder a call and they will set you on your proper course.
Richard Papetti
Brunswick, ME
---
Liberty Ship remnants
The South Portland article by Mimi Bigelow Steadman was excellent, but there is one piece of additional information that your readers might be interested in. Liberty ships, when built on inclined slipways, required labor skilled enough to make vertical structural parts on an angle so they would be upright when the ship was in the water. A decision was made to build dry docks so some ships could be built on the level using less-skilled labor. The internal part of the Spring Point Marina is the remains of the approximate half dozen such docks. The outer ends have been removed as well as the dividers, except one, between them. The remaining one is the walkway out to the dock house and as of a couple of years ago steel rails were visible for rail cars to carry steel out and for a traveling crane used in construction.
Marina expansion has pushed floating docks out past the end of the original dry docks. It is interesting to note that the high iron content interlocking sheet piling forming the sides of the basin has lasted three-quarters of a century.
Bob Calves  (via email)
---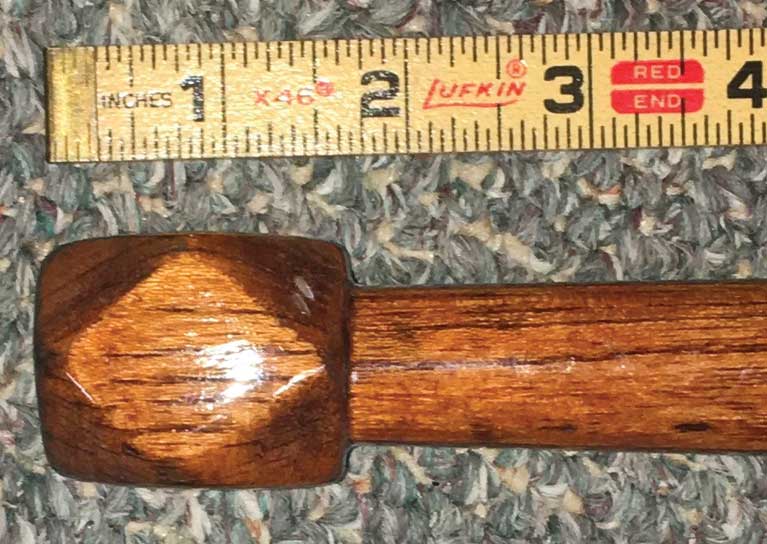 An old friend, and tiller patterns
It was great to see the Nevins sloop Polly refurbished and starring on the cover of the Jan/Feb issue. I was a yard monkey in the seventies at the Goudy & Stevens boatyard in East Boothbay. Polly was one of the boats there for at least one spring, and she was a beauty. Years later I saw her again in Sam Slaymaker's Rockland facility waiting to be adopted anew by a dedicated owner. I lost track of her after that and suppose that's when she went to the field off Route One where Peter Gallant found and rescued her.
I  enjoyed Art Paine's article about the new Gil Smith catboat under construction at Artisan Boatworks. He writes that the tiller decoration of Smith's catboats had the only diamond shape patterns of any builder. Crosby's Wianno Seniors also sported such a decorative knob, although admittedly not as elongated. Here is an example.
Dave Tew  (via email)
Share this article:
2023 Maine Boat & Home Show

Join Us for the Maine Boat & Home Show!
Art, Artisans, Food, Fun & Boats, Boats, Boats
August 11 - 13, 2023 | On the waterfront, Rockland, Maine
Click here to pre-order your tickets.
Show is produced by Maine Boats, Homes & Harbors magazine.