Hinckley Company: Sport Boat 40c
By Polly Saltonstall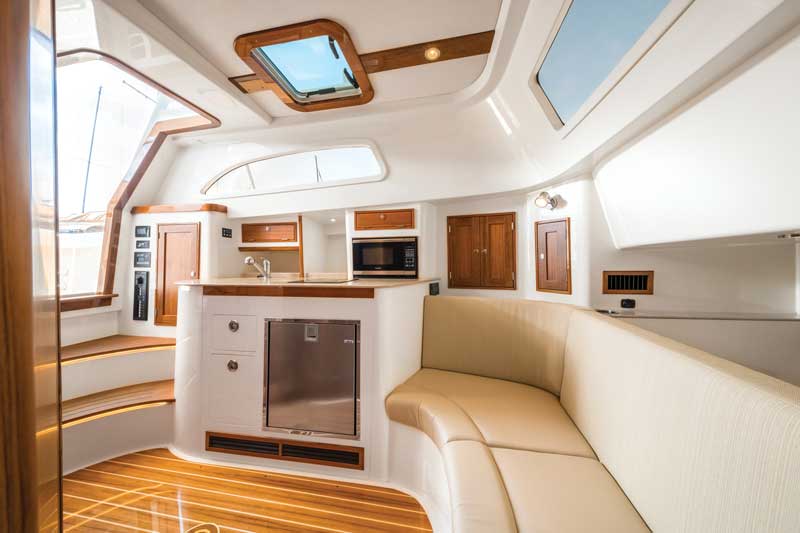 Below deck the Sport Boat features an air conditioned cabin with a refrigerator, a cappuccino machine, cooktop and microwave, as well as seating that converts into a queen-sized berth. Image courtesy Hinckley Company
The Hinckley Company has been on a roll in the past few years, adding one new boat model after another all while retooling and upgrading its yards and boatbuilding facilities.
The most recent addition to the company's fleet is the Sport Boat 40c, a center-console outboard-powered boat launched in August last year. Built at the company's plant in Trenton, Maine, the boat is a beneficiary of Hinckley's investment in new technology, as well as recent rapid improvements in outboard engines.
The 42-foot sport boat was a response to consumer demand, said Hinckley's chief marketing officer Pete Saladino. "Consumers are changing how they use their boats and where they use them and what they use them for," he said. The next yacht in the new line, an express version called the Sport Boat 40x, will launch this summer.
When Hinckley bought Morris Yachts a few years ago, the company also acquired the Morris production facility, which was near Hinckley's site in Trenton. The Morris buildings have been retooled as an advanced composite center, Saladino said, including a building-sized oven, where epoxy-infused carbon hulls up to 85 feet long can be hardened.
The sport boats, as well as the rest of the Hinckley lines, are built of epoxy-infused carbon with an integrated primary bond between hull and stringers for a stiffer, stronger, and more durable hull. An inner layer of carbon fiber is laid bow to stern with a companion outer layer of Kevlar for puncture resistance. The cloth is laid up dry into the hull mold which allows fibers to be aligned to the computer-designed load paths. The structural grid is also dry-laid up inside the mold and then everything is infused with epoxy at once to form a chemically bonded structure of incredible strength and durability, Saladino explained.
"Our confidence in this approach is why we are unique among production and semi-custom builders in guaranteeing our hulls and decks for life," Saladino said. "No one else in this industry is building carbon epoxy in the way we can. It allows for excellent performance and a beautiful ride. It's a big change that we're excited about and it's really helped us with our workforce and our team in Maine."
Hinckley now employs 275 people at its facilities in Maine, which include the service division in Southwest Harbor, where a new 20,000-square-foot heated storage building has ramped up capacity.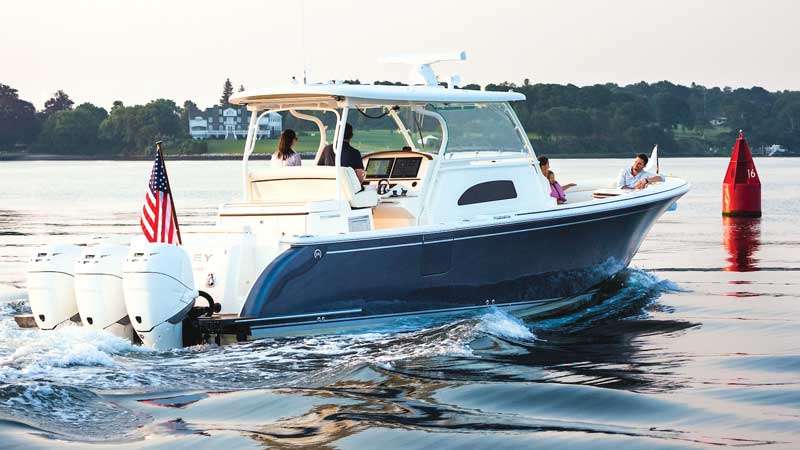 Triple 300-hp outboards are standard. Hinckley added the outboard-powered boat to its line in response to consumer demand. Image courtesy Hinckley Company
The new 40c incorporates some of the innovations first introduced in 2017 in Hinckley's electric launch Dasher, including the concept of synthetic "artisanal" teak. In Dasher, a carbon composite was hand-painted to look like wood. Since then, Hinckley has come up with a process to print wood colors into a fiberglass laminate that is installed over the molded composite toe rail and other exterior accents. Saladino calls this "wash and wear format," since the imitation wood makes the boat much easier to maintain, especially in hot, sunny climates that would otherwise wreak havoc on varnish and real teak.
"This is a way for the accent to be beautifully present but also able to handle different climates," he said.
The only real wood on the boat is in the interior accommodations.
Powered by triple Mercury Verado 300-horsepower four-stroke outboards, the 40c can hit 50 knots with the throttle full forward. The interior accommodations include a galley equipped with a refrigerator, cappuccino machine, cook-top, and microwave, a full head and a U-shaped settee with seating for three that converts into a queen-sized berth.
The sport boat's deep-V underbody is from the drawing board of the Ray Hunt Design studio.
The new models have proven to be extremely popular. Saladino declined to say how many had been sold so far, noting only, "We are building as many new center-console sport boats right now as new Picnic Boat 40s." 
---
Polly Saltonstall is editor of this magazine.
Hinckley Sport Boat 40c
LOA:  42' 7"
Beam:  12' 5"
Draft (hull / prop):  2' 4" / 3' 1"
Displ. 19,000 lbs.
Fuel Capacity:  450 U.S. gallons
Water Capacity:  50 U.S. gallons
Top Speed: 58 mph with optional power
Builder:
Hinckley Yachts
130 Shore Road
Southwest Harbor, ME
207-244-5531
www.hinckleyyachts.com
Share this article:
Digital Edition Available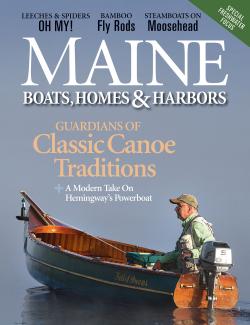 Can't get to the store to buy your magazine? We deliver the stories of Maine's coast right to your inbox. Sign up here for a digital edition.