Awanadjo Almanack - Issue 160
Welcome Downeast The Town, the Bays, the Mountains
By Rob McCall
"Even if something is left undone, everyone must take time to sit still and watch the leaves turn."     —Elizabeth Livesay
Dear Friends:
As September begins, there are many wild fruits coming into their own out there. Clinging close to the ground are lingonberries—also known as partridge berries, bearberries, or cowberries; the plant keeps its shiny green leaves all winter, and tolerates temperatures down to minus 40 degrees Fahrenheit. Its round red berries are high in vitamin C and often made into jams and jellies. Next are the blueberries, which need no further description except to say that a handful of wild blueberries gathered on a high, open barren on a warm, late summer day is truly divine. Wild raspberries are coming in, too, with their sweet flavor and those little seeds they leave between your teeth to crunch later. The serviceberries, also called shadbush or Juneberries, can grow from 8 to 30 feet, and yield berries that look like blueberries, but are not so sweet. Nevertheless, they are serviceable. Also, growing between field and forest are two kinds of wild cherry: black cherry, which grows to tree-size, and choke cherry, a tall shrub which bears bright red cherries good for jams and jellies.
Along sandy saltwater beaches in Maine, you may be fortunate enough to come upon beach plum, a shrub up to 10 feet high that bears small, purple plums that make a fine jam, or can be good eaten out of hand if you don't mind the slightly bitter taste. There is plentiful wild fruit on all sides.
---
Natural events, September
A visit to Monhegan
Monhegan is an island about 10 miles offshore to which your commentator makes an annual pilgrimage. It's maybe a mile and a half long and less than a mile wide, and when you step off the mail boat and set foot on the dock you get the feeling that the island is a sort of Ark, a microcosm of the world.  All the world's troubles and triumphs, joys and sorrows are experienced there in that small place.
The year-round population is around 65, making it one of the smallest towns in Maine, but there are a school, a post office, a fire department, a church and several stores, not to mention two old-fashioned inns. In the summer, Monhegan gets very busy and tourism provides most of the island's income. There are no paved roads on the island and no cars. There are some old pick-up trucks that islanders use for work and hauling luggage to and from the boats, and there are increasing numbers of golf carts and ATVs. After the tourist season is over, lobster season begins. On Trap Day, many in town gather to load traps onto boats, and tough Monhegan fishermen haul those traps through the winter months.
Islanders know that their resources are not limitless, so they earnestly protect their fishing grounds. Fresh water collects in a natural reservoir called the Meadow, and after a long hot summer, water is limited and islanders work together to conserve it. At the same time, wildfire can be a threat to the island as a good part of it is covered by mature spruce and fir forests with many blow-downs and standing dead trees. Islanders work together to protect against fire, too. In season, the island's beautiful flower gardens are worth the trip, and in recent years vegetable gardens have been expanding into available space in town. Produce from these gardens feeds year-rounders and summer people alike. Proceeds from a farm stand help to improve and maintain the gardens.
On a sunny day the scene is reminiscent of a painting by Peter Brueghel the Elder with walkers on the dusty streets, wheelbarrows and carts being pushed among ancient houses with lovely gardens, and the sounds of laughter and voices all over town.
---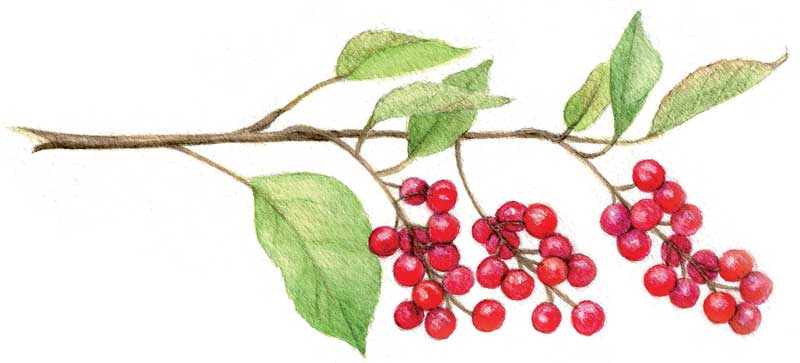 Illustration by Candice Hutchison
Field and forest report
Like much of Maine, Monhegan's land was mostly devoted to agriculture and pasture until about 100 years ago, so the forests are second growth, aging, and susceptible to disease. Dwarf mistletoe has wreaked havoc on spruce trees on the southern end of the island. In cleared areas there are a number of invasive species—including bittersweet, barberry, knotweed, and black swallowwort. Offsetting this is an abundance of wild apples, raspberries and blackberries, to add some sweet to the sour, and cider pressing was under way this past week during my visit.
---
Rank opinion
Scarce water and fuel, too much traffic, declining fish stocks, and invasive species are problems faced by this tiny island along with much of the rest of the world. On Monhegan, water is rigorously conserved, solar panels crown many buildings, vehicles and lobsterboats are limited, and organized efforts are made to combat invasive species. Strife and disagreement cannot always be avoided, but these islanders have learned that small groups of people who know each other and recognize their dependence on nature and each other can effectively work out even their thorniest problems together.
---
Natural events, October
As often happens about now, the fall rains have come. It's refreshing to see the fields arrayed in green again and hear water trickling in brooks and streams, if only for a while. Tattered remains of tropical storms promise more to come. There are few things more exhilarating than frolicking in a warm and much-needed rain shower, getting soaked to the skin while the ground groans with pleasure, its thirst quenched at last. We know, of course, that this is a fleeting pleasure because we have seen a little frost the last few mornings and now that the Full Harvest Moon has passed, we can be sure that there will be more brisk, crunchy sunrises ahead. Jack Frost is a magician who gradually puts the whole countryside into a deep sleep with successive strokes of his magic wand.
---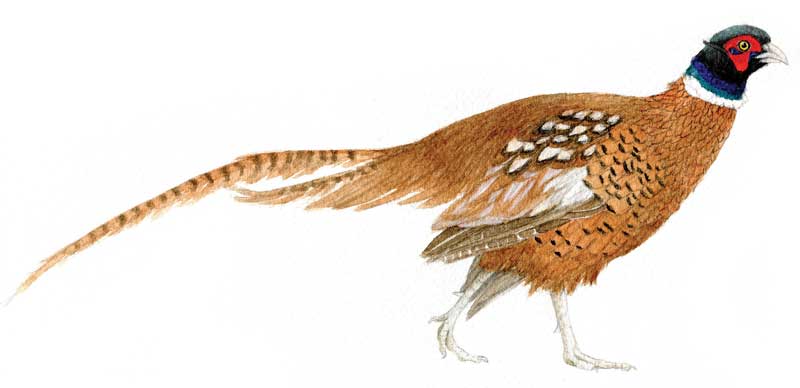 Illustration by Candice Hutchison
Field and forest report
Hunting season for wild turkey, ruffed grouse, bobwhite, pheasant, gray squirrel and snowshoe hare begins in October. Blaze orange punctuates the landscape. After holding sway for a couple of months, Queen Anne's lace, yellow hawkweed, and goldenrod suddenly give way to the asters of many sizes, with brass button centers and frilly petals in shades of white to lavender to purple.
Rank opinion
As has been said here now and again, we need to get out more. Our sense of smell was fashioned to savor the scents of weather and creature, grass and tree, fire and flower. Our ears were made to hear bird and animal calls, rush of water, rumble of thunder. Our eyes evolved to scan rolling hills, jutting mountains, soft colors, and foraging beasts moving over the land.
Our bodies were formed to walk, to run, to climb, to dig and to build in the open air. Our souls were born to sense the sacred in every star, planet, leaf, cloud and creature.
---
Natural events II
The almanacs for 2020 are out, notably for us the Farmer's Almanac published in Lewiston, Maine, and the Old Farmer's Almanac published in Dublin, New Hampshire. The Farmer's Almanac routinely has some interesting folklore about how to predict the coming winter from such things as the thickness of onion or apple skins, the number of nuts or pinecones under the trees, or how high in the tree the squirrels are building their nests. It's a humbling thought, really, that presumably intelligent humans would need to consult squirrels or walnuts to predict next winter's weather. But then again, as a species a little more humility wouldn't kill us. There are few books you can buy for the price of these two almanacs that will keep you connected to the natural world and be so useful and entertaining throughout the year.
---
Seedpods to carry around with you
From Donald Jeffrey Hayes: "May hills lean toward you, hills and windswept mountains, and trees be happy that have seen you pass."
From Ella Wheeler Wilcox: "With every deed you are sowing a seed, though the harvest you may not see."
---
That's the Almanack for this time. But don't take it from us—we're no experts. Go out and see for yourself.
Yr. mst. humble & obd'nt servant,
Rob McCall.  
---
Rob McCall splits his time between way downeast on Moose Island and Brooklin, Maine. This almanack is excerpted from his weekly radio show, which can be heard on WERU FM (89.9 in Blue Hill, 99.9 in Bangor) and streamed live via www.weru.org. Tell Rob what you went out and saw for yourself at awanadjoalmanack@gmail.com.
Share this article:
Digital Edition Available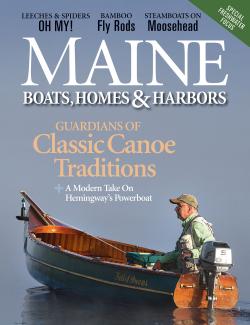 Can't get to the store to buy your magazine? We deliver the stories of Maine's coast right to your inbox. Sign up here for a digital edition.