Maine's Maiden Factor
Spreading a message of empowerment aboard a vintage yacht racer
By Todd Nelson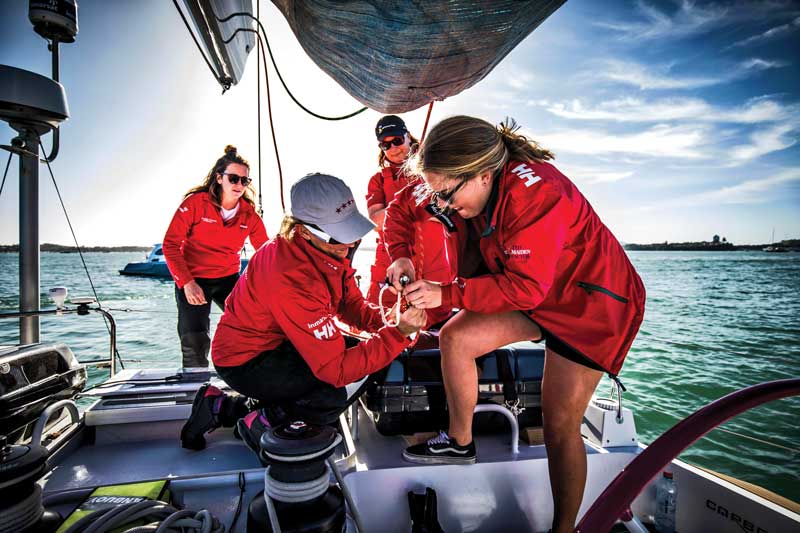 Courtney Koos (on the right) and her Maiden crew mates wrangle equipment. "I have always found sailing empowering. No two days are identical; every day is a school day. Success requires drive and determination to improve," Koos said. Photo courtesy Maiden Factor
Courtney Koos started ocean sailing strapped into a car seat.
"We were just babies when my parents took my sister and me sailing bundled in our car seats, secured in the sailboat cockpit," she recalled. "I remember it flooding. Madi and I were mostly submerged on the leeward bench. They scurried to get us out of the water."
That was in Castine harbor, the small town on Penobscot Bay where Courtney and younger sister, Madison, grew up. Today, Courtney is part of an all-woman crew sailing a vintage racing yacht around the world, and promoting education for girls.
Castine, with hundreds of years of seagoing tradition, is home to Maine Maritime Academy. Courtney's father, Doug Koos, is a graduate and former merchant mariner. Her mother, Karen Calder Koos, is a realtor there.
The first boat Courtney Koos skippered was a wooden peapod with a green, white, and gold hull, varnished spars, and red sails. It was built for the Koos sisters by their great-grandfather. "It was an elegant little boat. I miss its simplicity," said Koos. Soon she was sailing competitively at Castine Yacht Club, then George Stevens Academy, and eventually Bowdoin College, captain of every team.
"Having had a strong dinghy-sailing background prepares you for bigger boat sailing—coastal or offshore," she said. "I'm grateful for summers spent racing (sometimes sinking) turnabouts in Castine."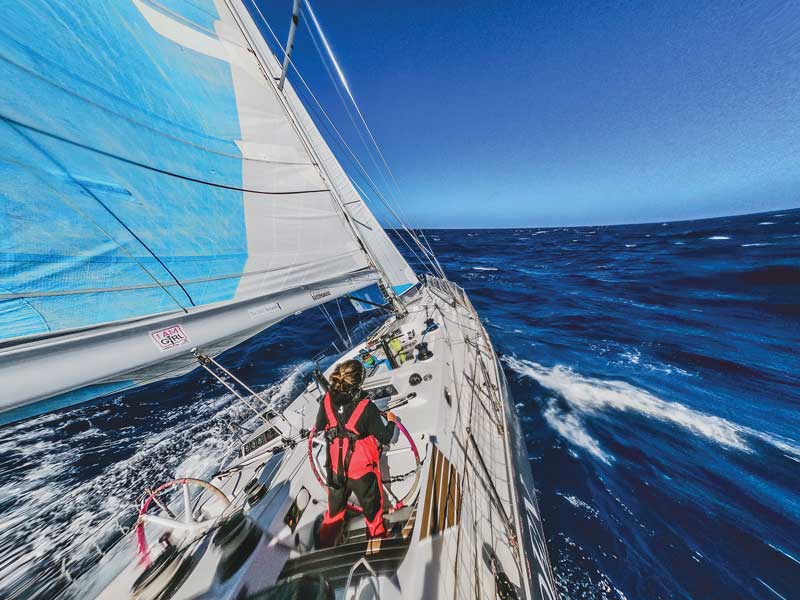 Koos, shown here at the helm, said that when she looks out at the open sea, there's nothing to indicate what century it is. It's the same view that sailors were seeing hundreds of years ago. Photo courtesy Maiden Factor
Greater waters, bigger boats, and more responsibility followed: Penobscot Bay, the Atlantic, Mediterranean, and Caribbean; Spartan (bosun), Wild Horses (captain), Race Horse (captain). Koos raced classic yachts like Blackfish, Sapphire III, The Blue Peter, and Marama. In 2017, she was "Under 30 Sailor of the Year" at Panerai/Antigua Classic Yacht Regatta. She's now 24.
"I have always found sailing empowering. No two days are identical; every day is a school day," said Koos. "Success requires drive and determination to improve. In the past three years, I've sailed professionally in 24 countries. It shapes my world view."
And there's a romance to sailing. "Looking out at the open sea, there's nothing to indicate what century it is," said Koos. It's the view of "what sailors were seeing hundreds of years ago." 
Below decks can be similar. "One classic boat I've raced on is a time machine: manual water pumps, a vintage dictograph, and Lagavulin on the rocks," she said. It's a simpler life, marked by enjoying the company of fellow crewmembers and appreciating the beauty of the ocean.
When I communicated with Koos last June, she was sailing north at 9 knots toward Honolulu out of Auckland on the fourth leg of an around-the-world voyage aboard Maiden—not a time machine. She said she was "sorting" the generator, satellite communications, and galley, in her role as a permanent crew member of the legendary yacht on its epic new mission.
Maiden has had several storied lives.

Maiden will circumnavigate the world in 29 stages, with guest crew, skippers, and "mile-building" sailors. All women. Male guests allowed. Photo courtesy Maiden Factor
The 58-foot aluminum boat was designed in 1979 by Bruce Farr for the Swiss Ocean Racing Club. Originally named Disque D'Or 3, she finished fourth in the 1981 Whitbread Round the World Race. In 1986, renamed Stabilio Boss, the boat competed again in the Whitbread, where she was observed for the first time by current owner Tracy Edwards, who was a cook at the time aboard another Whitbread contender. The boat, renamed Prestige, idled in Capetown until 1987, when Edwards mortgaged her house to pay for her salvage. Prestige was shipped to England—"a wreck with a pedigree." Edwards assembled an all-female crew, and by 1989, the boat, now called Maiden, had again joined the Whitbread starting line, this time with Edwards at the helm of an all-woman crew.
Edwards finished second overall in her class, after an arduous, perilous, and legendary race. In 1990, she was made an MBE. The boat languished again, but neither Edwards nor Maiden were quite done. In 2018, Edwards imagined a new challenge: sharing the message of empowerment of women and girls through education. Also, that year Edwards and her sailing saga were the subject of Sony Pictures Classic's documentary, Maiden.
In December of 2018, Courtney Koos was racing on Spartan in the Mediterranean. Friends and former crewmates who had applied for crew positions on Maiden alerted her to the opportunity as they awaited interviews. It was serendipity.
"I was offered the leg from Malta to Sri Lanka, then Sri Lanka to Australia," said Koos. "I sat on Spartan crying, thrilled. After I arrived on board, Tracy Edwards inquired about my commitments on the back end of the trip; whether I would be interested in staying." A dream came true.
The first Maiden leg was from the United Kingdom, through the Suez Canal, to Freemantle, followed by Sydney, Auckland, and on to Honolulu. Next, the itinerary calls for stops in Vancouver, then Seattle, San Francisco, and Punta Arenas, Uruguay, via Cape Horn. Then Antigua, the Eastern Seaboard of the United States, London, the Middle East, Singapore, China, Japan, and finishing in San Francisco. Around the world in 29 stages, with guest crew, skippers, and "mile-building" sailors. All women. Male guests allowed.
In each port of call, Maiden crewmembers visit schools and give boat tours to students, sharing the message of possibility and empowerment.
"I always find it remarkable how perceptive they are about injustice and equality," said Koos of their audiences. They are "outraged to learn that not all kids go to school, and eager to advocate for those less fortunate."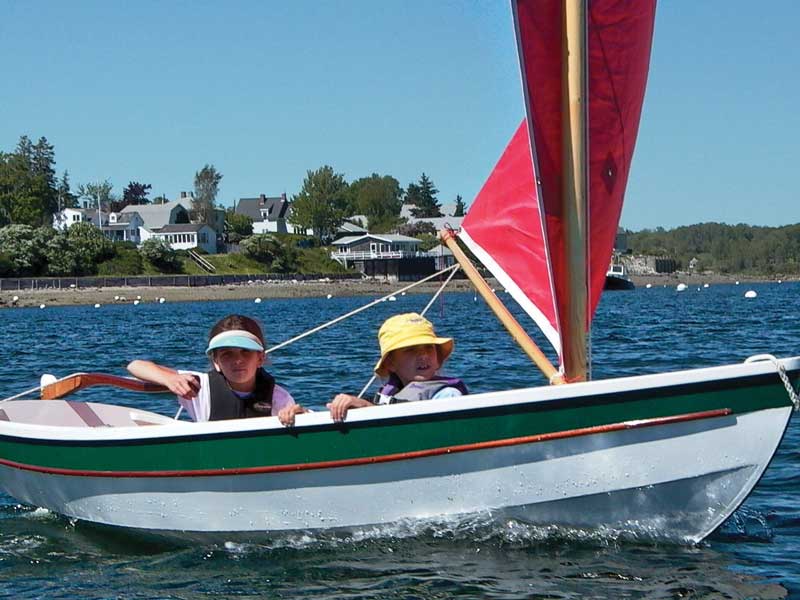 Courtney and Madison Koos sail Castine harbor in their first boat: a wooden peapod that was built for them by their great-grandfather. Photo by Karen Calder Koos
Koos embodies the message. She is an expert sailor and teacher, accomplished in all technical aspects of modern sailboats. She also is skilled in political communications, policy, and international relations. A 2016 graduate of Bowdoin College, where she majored in government, economics, and Asian studies, her first post-graduate job was in Washington, D.C., working in U.S. Sen. John McCain's senate office, and as a research assistant and communications consultant for U.S. Ambassador Kurt Volker, executive director of the McCain Institute. In 2016 and 2017, Koos was a strategic consultant and researcher for Mary Kate Cary, former speech-writer for President George H.W. Bush. And she continued racing yachts, all over the world.
Her Washington experiences inform her role on Maiden. "Senator and Mrs. McCain's defense of human dignity and fundamental human freedoms taught me about civic responsibilities—now more than ever," she said. "We need to rise above the current state of our democracy, stand up for what is right, defend the ideals that we consider intrinsically American."
Empowerment for girls comes from equal access to education. "To have the opportunity to share this message from port to port aboard Maiden—a boat crewed by women who inspired me and blazed the trail for the next generation of women in sailing—is humbling and surreal," said Koos.
And how does Castine look from the deck of Maiden today? "It looks small. But there is nothing better than sailing into Castine Harbor."  
---
Todd R. Nelson, a former school teacher and principal, is a writer in Penobscot, Maine.
For More Information 
You can track Maiden's current voyage at: www.themaidenfactor.org
Share this article:
2023 Maine Boat & Home Show

Join Us for the Maine Boat & Home Show!
Art, Artisans, Food, Fun & Boats, Boats, Boats
August 11 - 13, 2023 | On the waterfront, Rockland, Maine
Click here to pre-order your tickets.
Show is produced by Maine Boats, Homes & Harbors magazine.