Christmas 1960: Getting by With Less
A Letter from the Farm
By Ronald Joseph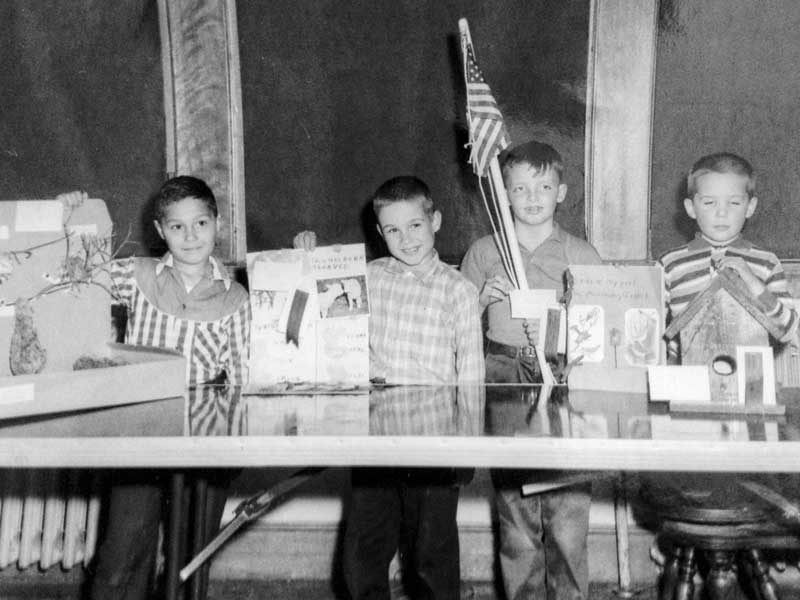 The author, Ron Joseph (at left), proudly displays his bird nest collection, which won a blue ribbon at his third grade science fair. He is wearing his beloved cowboy shirt. Joseph family photo courtesy the author
The boat was missing. In its wake was a gaping hole in the snowbank where the aluminum Starcraft 18-footer had been parked for the winter. "Mom!" I yelled, after a sprint from the school bus stop, "Where's our boat and trailer?" Unable to face me, she answered, "Your father sold it to pay bills."
It was early December, 1960. My father, a welder unemployed since October, had earlier sold our RCA Victor radio phonograph set, four summer Jeep tires, and a 1948 Indian sidecar motorcycle.
At eight, I wasn't too young to appreciate the gravity of scraping by. Selling the boat eased our financial strain. It also created a void in our lives, prompting my twin brother to wonder aloud how we'd fish for white perch and mackerel—favorite family pastimes.
In my hometown of Oakland, Maine, unemployment from the closure of several axe- and scythe-manufacturing mills had caused a spike in school children qualifying for free lunch. With many pupils facing a grim Christmas, school administrators arranged a special holiday party. Cafeteria cooks and volunteers served an elegant roast turkey dinner in the town's high school gymnasium, transformed into a festive banquet hall with balsam fir wreaths, potted poinsettias, strings of flashing Christmas lights, and a decorated Christmas tree taller than the basketball rims. Seated at a piano, Mrs. Caswell played "Silent Night" and "O Come All Ye Faithful" as Mount Merici Academy's all-girls' choir, wearing starched white blouses and dark pleated skirts, sang so beautifully many children sprang from their seats and applauded before the first carol ended. 
At a long table covered with floral print cloth, a boy named Herman sat awestruck next to me. "I never seen nothin' this pretty," he said, "and reckon I won't never again." Herman lived down by the town dump in a tarpaper shack with a rusted Chevy truck hood as a front door awning. Regardless of how difficult Christmas would be for my family, at least we lived in a home with central heat, electricity, and indoor plumbing.
Weeks earlier, teachers had paired children and asked each to bring a small gift to exchange. Matched with Herman, I gave him wool mittens and a hat my mother had knitted; he gave me a painted wooden chickadee. "My brother Ormand whittled the chickadee," he said, "after studyin' a dead one in our hen house."
On Christmas Eve, the chickadee enchanted Uncle John, who had arrived at our home bearing wrapped gifts for my three siblings and me. His generosity caused Father to cry openly for the first time I'd ever seen. Six decades later I've forgotten my uncle's gifts, but dad's words endure: "I'll make it up to you kids next year." Shortly before bedtime, my two brothers, sister, and I opened one gift apiece from our parents. I unwrapped what would become my favorite present—a cowboy shirt. The top item on my Christmas list, the shirt was a hand-me-down from cousin Kenny. I loved the shirt, especially knowing Mother's regret that she couldn't buy me a new one. Years after mom's death I kept the shirt on a hanger in a closet as a reminder of her devotion to family and her lifelong motto: "Use it up, wear it out, make it do, or do without."
Children of the Great Depression, my parents had learned to cope with lean Christmases. Father told us that as a child, he had walked the railroad tracks each winter morning collecting coal spilled from passing trains. "Santa was good to me on Christmas morning in 1930," he said with a wry smile. "I carried home an apple box overflowing with coal." The fuel helped heat his Lebanese parents' apartment in Waterville's Head of Falls, a working class immigrant neighborhood crowded with tenements, textile mills, and a noisy railroad yard.
Mother shared her stories of growing up poor on a Maine farm without electricity or indoor plumbing. "We raised our own food—vegetables, apples, pears, hogs, chickens, sheep, and dairy cows," she would recall. "When the Depression hit, we fared better than town folks. But life was hard for everyone."
On Christmas morning 1960, a poorly wrapped, ruby-red gift under our tree was a mystery to everyone but me. My four-year-old sister Gale's buckle galoshes were cracked and too large, but new boots exceeded the Christmas budget. I had withdrawn $8 from a shoebox under my bed—nearly a week's worth of wages earned picking strawberries and vegetables at Penny Hill Farm—and purchased Mary Jane boots for Gale. I had enough money to tuck a Raggedy Ann doll in one boot and a Raggedy Andy in the other.
Notwithstanding the scarcity of presents, a jubilant midday family hockey game was played on a nearby sawmill pond. Wearing antique figure skates and oversized pants stuffed with pillows for padding, mom played goalie with a barn broom.
Late that afternoon, nursing a bruised, swollen forearm caused by an errant puck, Mother served a Christmas feast of canned sweet corn, fluffy mashed potatoes, overcooked Brussels sprouts, pickled beets, yeast rolls, and two venison mincemeat pies. The venison was a gift from dad's friend Walter, who'd shot the deer illegally and donated it to my parents. My siblings and I devoured the meal like a litter of hungry wolf pups.
Of all my Christmas presents, though, one defied wrapping. Mother's love of backyard birds was a gift she unintentionally gave me. It seemed like divine intervention—given her endless sacrifices—when, on Christmas day, central Maine's first documented cardinal visited our bird feeder.
She was so smitten by the brilliant red cardinal that during one winter supper my father teased her about having a new boyfriend. Laughter erupted at the table when my confused baby sister asked, "Mommy's boyfriend is a bird?"
Life was hard for us during the winter of 1960-61, but that Christmas had been the exception rather than the norm. Months later my parents sang and danced in the kitchen in celebration of news that dad had landed a stable welding job. My parents kept their promise that future Christmases would be better. By 1965, they had even saved enough money to purchase a Lund fishing boat to replace the one sold five years earlier.  
---
Writer Ron Joseph lives in central Maine. With his mother's encouragement, he became a wildlife biologist specializing in migratory bird conservation.
Share this article:
2023 Maine Boat & Home Show

Join Us for the Maine Boat & Home Show!
Art, Artisans, Food, Fun & Boats, Boats, Boats
August 11 - 13, 2023 | On the waterfront, Rockland, Maine
Click here to pre-order your tickets.
Show is produced by Maine Boats, Homes & Harbors magazine.