Lured Cross-Country by a Classic Riva
Off the Drawing Board
By Art Paine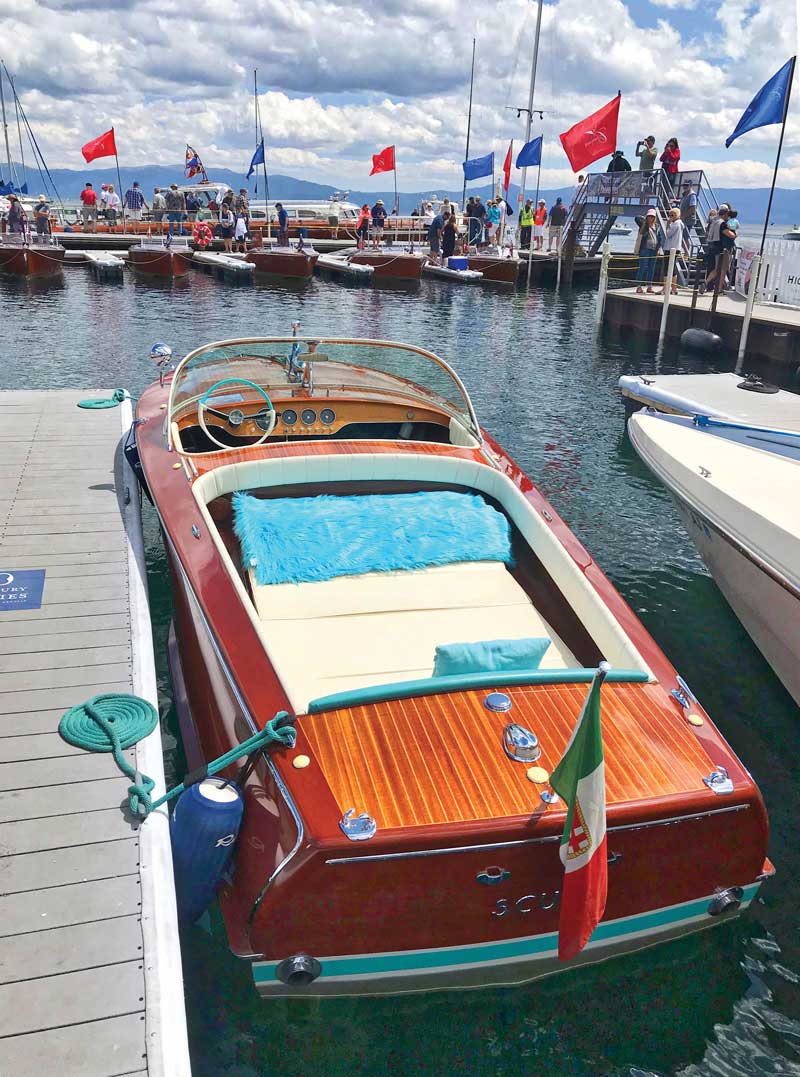 This classic Riva Super Florida was one of many gorgeously restored wooden runabouts on display at the Lake Tahoe Concours d'Elegance Wooden Boat Show. Photo by Art Paine Sometimes yacht restoration requires going the extra mile. Recently a Riva powerboat restoration prompted me to travel 3,500 miles to attend the Lake Tahoe Concours d'Elegance Wooden Boat Show.
It all began at Jim Elk's Spar and Boat Shop on Mount Desert Island, where I am employed part-time. Word came that we'd been hired to re-plank a mahogany runabout. Not just any runabout, but a Riva.
Jim Elk and I were excited about the privilege, and challenge, of working on a classic powerboat. While we are predominantly sailboat people, we love working with wood—especially pretty wood. When the boat arrived one snowy day on a trailer, we surveyed her and quickly realized the job would be daunting. The first challenge was handled by the boat's owner, who located full-length mahogany boards, wide and clear and beautiful, to clad the topsides. But when we began removing the skins (the semi-intact sides and bottom), it became clear that we faced a lot more than re-planking. The ribs, chines, and sheer clamps all needed replacement.
We also encountered an important constraint not normally factored into yacht restoration. Classic runabouts are often displayed, judged, and awarded prizes based on authenticity, by how nearly identical they appear to their original condition. In America, such judging has taken place for more than 57 years at mid-summer shows such as Lake Tahoe's Concours d'Elegance. Our 1959 Riva Super Florida needed to end up sound and seaworthy, while also looking like it had just emerged from a factory in Northern Italy after the close of World War II.
This Riva's chines were in rough shape—a chine is a length of wood to which both the sides and the bottom are fastened. Elk has encountered, and overcome, many challenging situations in his boat restoration career, but these boats were not designed for easy rebuilding. The original full-length mahogany chine was twisted and likely steamed into place, and then notches were cut for each frame. Adding confoundedness, every fourth frame was notched a little differently. Many lively discussions ensued as to how to replicate this process. The owner, himself a seasoned yachtsman and woodworker, weighed in. Elk decided to get on the phone and seek outside advice. After several hits and misses, he kept hearing about some guy named Rudi up on Lake Tahoe. It was generally held that if anyone could do the impossible with a Riva chine, this was the magician who could do the job.
The boat's owner went back home to New York. Elk and I and several helpers came up with a way to take a single big square section of mahogany, run thin saws through it lengthwise, goop it up with epoxy, then hold it loosely with metal hose clamps and distress it into position—all of this frustrating process accompanied by commentary not fit to print. Once the glue hardened we thought we'd achieved an unlikely success.
But when the owner heard about our use of epoxy, he voiced concerns. He believed that judges might look askance at epoxy, since it didn't look like the hide, casein, and resorcinol glues used when the boat was built. He thought that 3M's 5200 Marine Adhesive might've been a better choice. Springtime work pressed itself upon us, and this project was set aside for later consideration.
But by then I had gained redoubled affection for the Riva mystique. I've always loved runabouts, "gold cup" racers, and Gatsby-era speedboats, and designers and designs like Gar Wood and Hacker and Chris Craft. But I especially appreciate Italian marine design. The Riva family of Lake Iseo, Italy, who built boats for over eight generations, produced classic wooden lake-racers that looked great and attained cult status. The looks factor often represents the enduring element of a boat design, beyond fleeting wins on the race course. Proof of this statement may be exemplified by the extreme value of antique varnished Riva runabouts.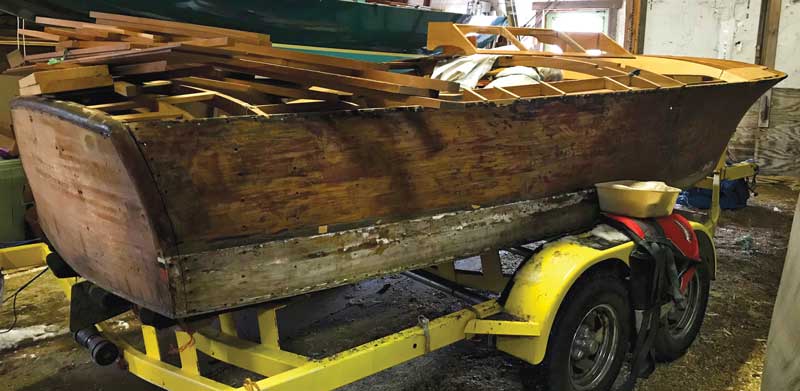 The 1956 Riva Super Florida at Elk Spar and Boat Shop was in rough shape when it arrived at the shop for a restoration. Photo by Art Paine
As for the Riva Super Florida, I had heard stories that the padded area aft was specifically configured to display Brigitte Bardot in her pneumatic youth. Peter Sellers, who lived next door to Bardot in Florida, was featured in a movie scene in which he drove a Riva Aquarama. He later purchased a Riva Junior for himself, inspired perhaps by watching Bardot in her Super Florida.
The Riva family, and corporation, took everything magical about vintage powerboats and slathered it with sexy Italian style, to the point where the brand is resplendent in all the chic watering places in the world—Biarritz and Cannes and Lake Como in Europe are thick with Rivas, as is Lake Tahoe in the United States.
But with the exception of our basket case, I'd never seen a real one in the flesh. So I decided to go to the boat show in Lake Tahoe, which took place in early August, to see fully restored Rivas in their element.
I flew to San Jose, and was met by a friend who loves anything pretty and fast. He met me driving a muscular Porsche, and next day we headed off in his alternate, more immense Porsche to the west shore of Lake Tahoe, venue of the Concours d'Elegance.
There I found boatbuilder, designer, and varnisher heaven. Fifty or more gorgeous brown thunder craft gleamed in the high-mountain sunshine. Most engine cover hatches were open, revealing massive power plants with chromed intake manifolds, banks of carburetors, shiny valve covers with names like Packard and Allison, Kermath, and Chris Craft. Not a diesel in the fleet. It seems that achieving explosive speed requires sticking with bombastic, explosive gasoline. Many of the boats, some between 60 and 80 years old, appeared as-new.
For me, the Rivas stole the show. They stood out from the sea of brown varnish with their rich pastel and cream-tone upholstery and a matching colored plastic on their art-deco steering wheels. I talked boatbuilding with anyone who would engage. Actually, I spent much of my time listening. Experts told me that a majority of these Rivas had been restored by Rudi—Greg S. Rudiloff—of Auburn, California. Soon enough, a friendly looking tall guy tapped me on the shoulder and asked, "You the guy from Elk's shop in Maine?"
Rudiloff and I talked about the virtues of epoxy, about using white spruce rather than maple or even holly for the deck splines, about thinning out two coats of Captain's varnish and then building up with Epifanes. We agreed on almost everything.
I returned home with even more admiration for the Riva mystique, and also for Rudiloff's work. As for the Riva in Elk's shop, the project remains on hold. But I know now, having seen a perfectly restored example, that one day this gorgeous boat will hold her own with the best of the best.  
---
Contributing Author Art Paine is a boat designer, fine artist, freelance writer, aesthete, and photographer who lives in Bernard, Maine.
For More Information:
Elk Spar & Boat Shop
Bar Harbor, ME
207-288-9045
Share this article:
Digital Edition Available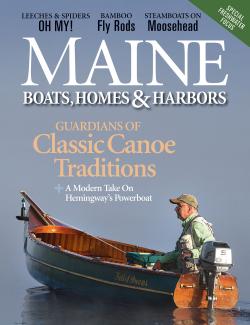 Can't get to the store to buy your magazine? We deliver the stories of Maine's coast right to your inbox. Sign up here for a digital edition.