Bridges Point Boat Company
A second wind for the classic Bridges Point 24
By Laurie Schreiber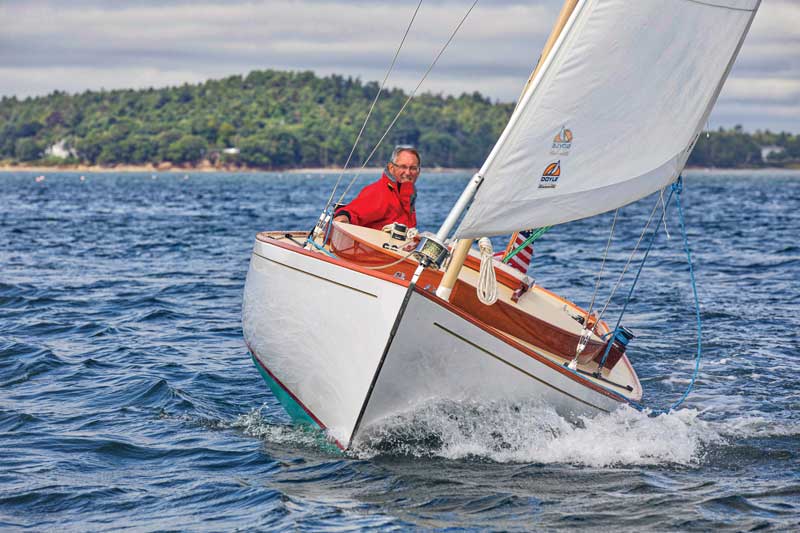 Bill Wright sails Bridges Point 24 hull No. 83, Red's Dream, in September, in Frenchman Bay north of the Porcupines. He has restarted production of the classic Joel White-designed daysailer. Photo by Billy Black
When long-time boatbuilder Bill Wright first sailed the sloop-rigged Bridges Point 24, he fell in love with its shapely, traditional lines and easy, stable, yet spirited handling.
And no wonder. The BP24 was designed by a legend in the boatbuilding world: Joel White of Brooklin, Maine. White designed the boat in 1984 for Wade Dow, who owned Bridges Point Boatyard in Brooklin and was looking for a fiberglass daysailer he could put into production to fill the off-season when he wasn't lobstering.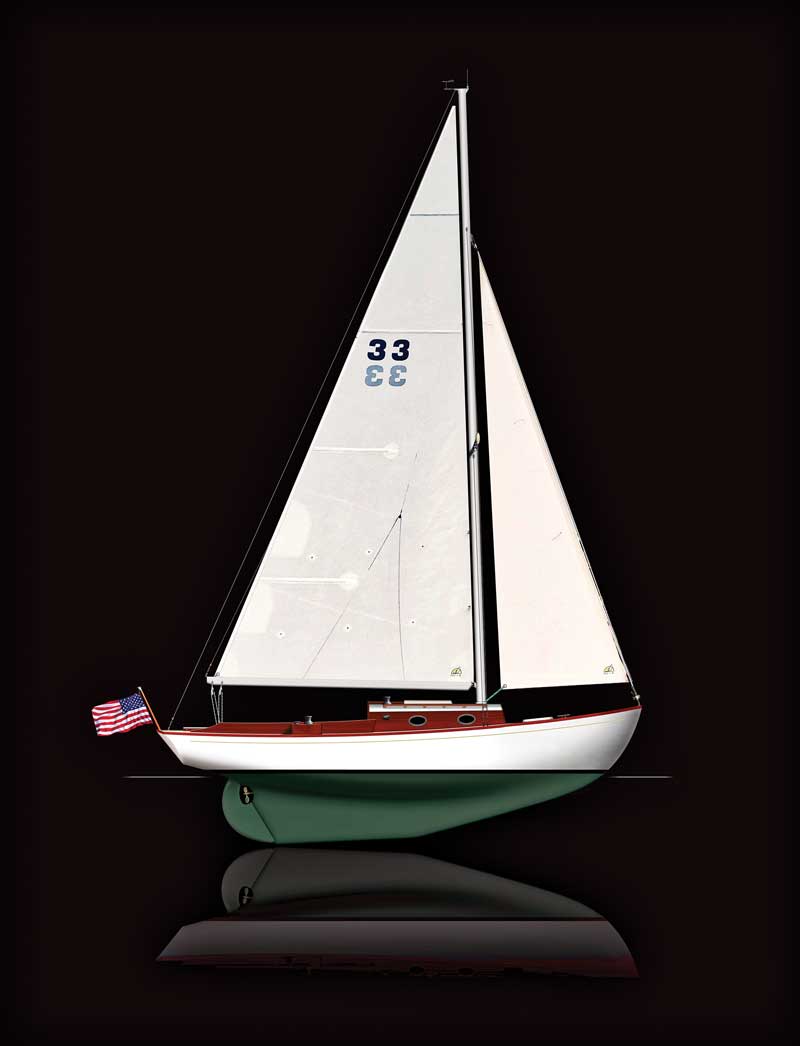 Rendering by Jim Ewing, courtesy Bridges Point White loosely based the design on Nathanael Herreshoff's 1912 classic, the 26-foot Alerion. The new design debuted several years later at the Newport International Boat Show in Rhode Island.
With his son and two other builders, Dow kept the design in production for 25 years, producing more than 80 Bridges Point 24s. He stepped back from production and put the molds into storage in 2008. In 2012, John "Jock" Williams of the John Williams Boat Company, in Hall Quarry, Maine, turned down the opportunity to buy the molds. That's when Wright, who was working for Williams at the time, stepped in. He had built a BP24 in 2002 and admired its elegant lines. His parents, who owned one, urged him to take over building a boat that had brought them so much pleasure. So Wright and his father bought Dow's molds and Wright built hull No. 83, with Dow offering guidance.
Several years later, Wright opened shop as the Bridges Point Boat Company in Bernard, Maine. He now has a second hull—hull No. 84— in production and has happily positioned himself as the "go-to guy" for this much-beloved class.
"They're just beautiful boats," he said. "It's a traditional full-keel boat with a graceful sheerline that offers a lot of great benefits—stability, ease of sailing, not so many strings to pull. I want to see it keep going and I think there's a market."
Originally from Cape Cod, Wright has been sailing since he was a child. As a young adult, he owned an oyster farm in southern Maine, cruised the coast from Kittery to St. Andrews, New Brunswick, with his wife, and completed the apprenticeship program for traditional boatbuilding at the Maine Maritime Museum in Bath.
Looking around for boatbuilding jobs, he landed on Mount Desert Island, where he started as a line carpenter at the Hinckley Company and eventually went to work for Williams, starting as a carpenter and advancing to project manager.
He decided to strike out on his own after 17 years with Williams. "This opportunity presented itself and it seemed like good timing," he said of the BP24.
Wright's vision is to retain the BP24's classic feel while employing modern materials and equipment to simplify the build process, reduce costs and, ultimately, make the model accessible to more boaters.
Responsive and safe, the sailboat is ideal for single-handing, family overnights, friendly racing, and even novice sailors. The large cockpit and 3/4 fractional sloop rig make it comfortable and easy to sail, while the full keel provides stability.
"It's a fast little boat, and it doesn't take much wind to move it along," he said.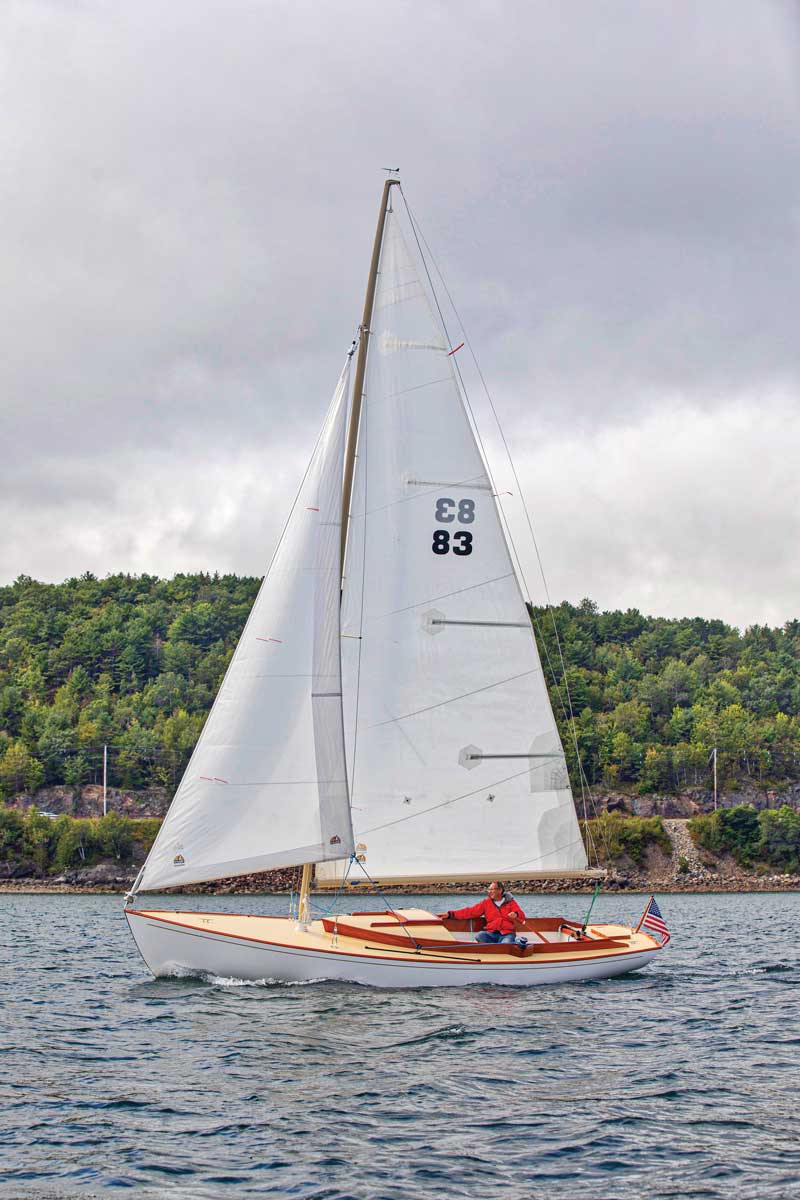 The Bridges Point 24 wins kudos for its stability and and ease of sailing. Photo by Billy Black
Wright completed hull No. 83 last year. Named Red's Dream in honor of his father, whose nickname was Red, he debuted it at the Newport International Boat Show in September 2018. At last August's Maine Boat & Home Show in Rockland, Red's Dream attracted the attention of two couples from Spruce Head, Maine. The couples currently own a 20-foot daysailer but were looking for something more substantial, with more room below. After a sea trial, they decided to commission a BP24 together.
"They said, when they saw the boat, it just blew them away," Wright reported. In fact, that reaction led to hull No. 84's name, Blue Me Away.
Contractors who are working with Wright include: Kevin Briggs and Wayne Fontaine at John Williams Boat Co. on lay-up; rigging by Indalo Marine; Miller & Sons Marine Finishes for paint and varnish work; electronics from Kramp Electronics; cushions by Garnett Johnson; and the exterior canvas from Black Pearl Canvas.
Red's Dream is a daysailer version of the design and includes varnished mahogany cabinsides and trim, and electric propulsion that provides four to five hours of running time at 3½ to 5 knots. Blue Me Away will have a cuddy cabin and a diesel engine.
Wright had a chance to experience just how well the design performs when he sailed Red's Dream from Mount Desert Island to Rockland for the show. A storm brought sheets of rain and wind that blew 20 to 25 knots from the southeast pretty much throughout the 10-hour trip.
"I was very impressed with how the boat performed," he said. "I put a reef in coming out of Southwest Harbor and sailed under the mainsail alone for quite a bit of the trip. I felt perfectly safe. It was very easy to sail. It balanced nicely and I didn't feel overwhelmed."
The BP24 has also made for a great race class over the years, he noted. Many remain in the Brooklin/Deer Isle area.
"They have a rendezvous usually every year," he added. "They used to do regattas and it would be nice to get that up and going again."  
---
MBH&H Contributing Editor Laurie Schreiber has covered topics in Maine for more than 25 years.
Bridges Point 24
LOA:  24'
LWL:  18' 8" 
Beam:  7' 9"
Draft:  3' 5" 
Displ:  3,944 lbs.
Sail area:  278 sq. ft.
Builder:
Bridges Point Boat Company
Bernard, ME; 207-664-9094
Share this article:
2023 Maine Boat & Home Show

Join Us for the Maine Boat & Home Show!
Art, Artisans, Food, Fun & Boats, Boats, Boats
August 11 - 13, 2023 | On the waterfront, Rockland, Maine
Click here to pre-order your tickets.
Show is produced by Maine Boats, Homes & Harbors magazine.