MJM: 53z Rides the Boomer Wave
By Ted Hugger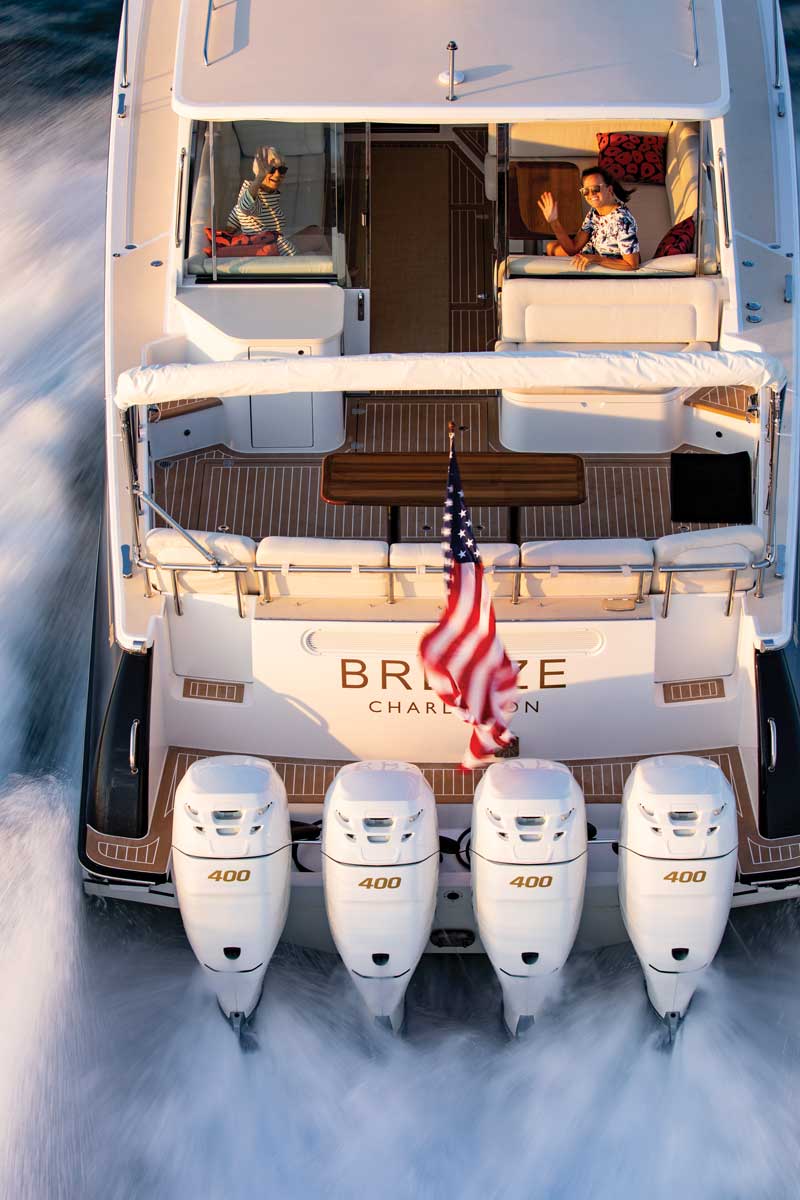 With four 400-horsepower Verado outboards on the stern, the MJM 53z is capable of speeding along at 51 mph. Photo courtesy MJM
The year was 2015, and the MJM company was exploring ways to bring new buyers to its brand. "I realized that eighty percent of our buyers were coming out of center consoles…and all of a sudden, a light bulb went on," recalled Bob Johnstone, founder and former CEO of MJM Yachts. "The same phenomena had happened in the seventies when a large percentage of boomers were in their mid-to-late twenties and discovered sailing—the industry was selling 100,000 small beach-boats a year."
Eventually, those boomer boaters decided that while they loved sailing, they wanted to spend extended time onboard with family and friends, and they started to migrate to larger sailboats… boats that would offer a combination of comfort and performance. Sailboats like Johnston's legendary J/24.
The center console market, just like the beach sailboat market of the 1970s, has shifted its preference to powerboats that offer a measure of both space and comfort, while not compromising on a center console's exhilarating performance, Johnstone said. Enter MJM's first "outboard cruising yacht" in 2017, the MJM 35z, a twin-outboard platform that set the stage for MJM's flagship, the 53z.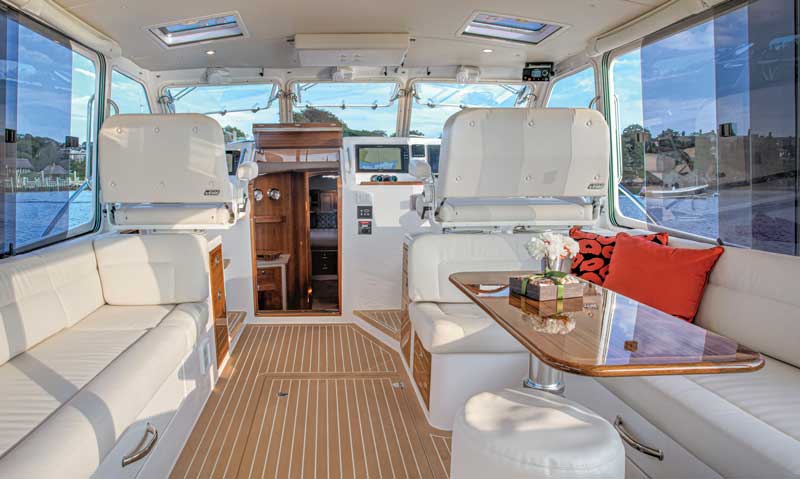 The pilothouse is open and airy. Photo courtesy MJM
Designed by Doug Zurn and built by Boston BoatWorks, the standard MJM 53z comes equipped with quad Mercury 350-hp Verado outboards. If that configuration doesn't make your pulse race fast enough, there's an option for quad Mercury 400-hp racing motors. Yet all of this performance and speed is delivered in a cruiser's package that offers a double-cabin, dual master-suite interior, impeccable fit and finish, and state of the art systems—the makings of a great high-performance family cruiser.
The MJM 53z earned the prestigious award for Best New Powerboat Over 35 Feet at the Newport International Boat Show, an honor that's easy to understand when touring the boat. Floating-dock-level doors open inward for safe, easy docking access to the cockpit. Port and starboard transom doors provide access to the swim platform. Walking forward from the transom to the helm, you'll notice the flush-deck layout, eliminating the nuisance of cumbersome steps up to the bridge deck.
The pilothouse offers a 360-degree view through electric forward-opening windshields and big opening side windows. At the helm, it's conversation quiet. One is hard-pressed to know that just a few feet away, 1,200 horsepower of outboards are hard at work.
While there is no wood or varnish on the 53z's exterior, you'll find plenty down below. Entering the cabin, the full galley is located on the port side. Adjacent to the galley is a guest cabin. But this is no ordinary guest cabin, it's a second master suite, complete with an upholstered easy chair, built-in storage space, and a private head and shower featuring 6'5" of glass-walled headroom. The "master suite" is forward, equally as spacious and well-appointed as the second master, also with its own en suite head and shower.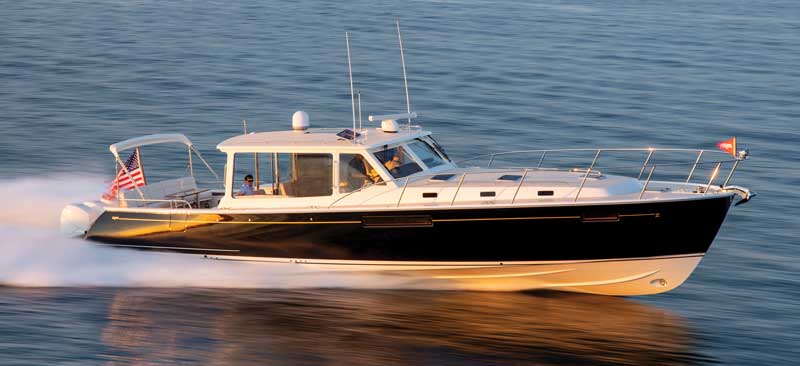 The new MJM 53z combines the looks of a classic downeast lobsterboat, with the sheer of an Elco PT boat, and the sightlines of a Matthews cruiser. Photo courtesy MJM
Performance is the cornerstone of the 53z. Offshore, the quad power package moves the boat effortlessly at a low-30s cruise, with 51-mph possible with the Verado 400 racing engine option. The ride is smooth and seakindly, thanks to an advanced epoxy composite hull and deck structure. While the boat's shape, speed and power give it stability, the 53z's optional Seakeeper gyro stabilizer dampens 93 percent of any roll, even at the dock.
Around the docks, a digital joystick eliminates the worry of maneuvering in tight quarters—finger-tip docking, if you will. The yacht's Skyhook system combines GPS, electronic compass, and joystick to automatically control shifting, throttling and steering to maintain heading and position—in short, Skyhook will hold the 53z in position next to the dock while you leisurely step off the boat to secure her lines.
"A purist would certainly frown on outboards on a 53-foot express cruiser," Johnstone said, "but her classic lines make up for it. The 53z is a conglomeration of my favorite boats from the past. Remove the starboard corner post, hang a crane and you have a Maine lobsterboat. The bow sections are like a Carolina sportfish with reserve buoyancy forward to deal with steep seas. Doug Zurn calls it a power horn sheer, reminiscent of a WWII Elco PT boat; while she has the tumble-home of an Adirondack runabout, and the sightlines of an old Matthews cruiser."
Johnstone, who recently handed over the reins of the company to his son Peter,  is convinced that the MJM outboard express cruisers address the needs of aging boomers, providing a boat that they can run themselves, while still being a step up from a center console. As one yacht broker commented after a four-day run from Maine to Rhode Island on the MJM 53z, "This boat is a serious beast!"  
---
Ted Hugger owns and operates the Cod Cove Inn in Edgecomb and the Cedar Crest Inn in Camden with his wife Jill.
MJM 53z
LOA:  56' 3"
LOD:  53'
Beam: 15'
Air Height w/Radar: 10' 7"
Draft, drives up:  27"
Draft, drives down:  35"
Standard Power: Quad Mercury 350-hp Verados
Designer:
Zurn Yacht Design
Builder:
MJM Yachts
info@mjmyachts.com; www.mjmyachts.com
Share this article:
2023 Maine Boat & Home Show

Join Us for the Maine Boat & Home Show!
Art, Artisans, Food, Fun & Boats, Boats, Boats
August 11 - 13, 2023 | On the waterfront, Rockland, Maine
Click here to pre-order your tickets.
Show is produced by Maine Boats, Homes & Harbors magazine.