Bohndell Sails
A 150-year-old institution sails into the future
By Laurie Schreiber
Photographs by Alison Langley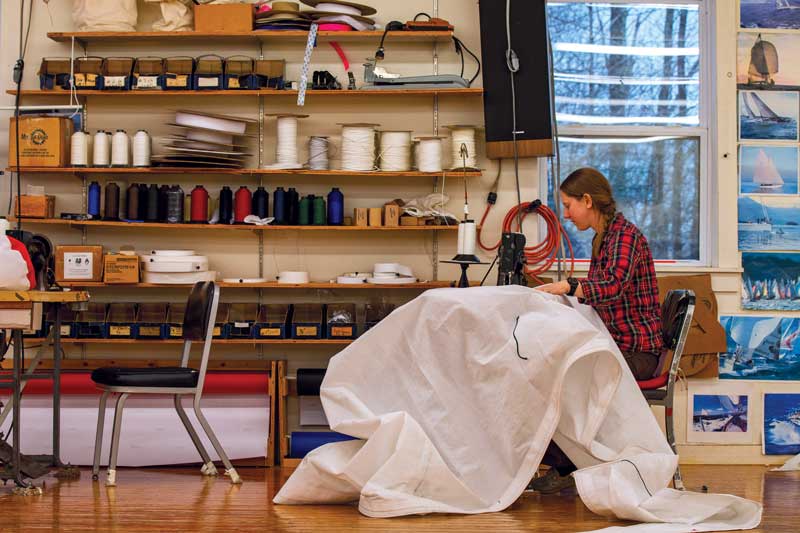 Robin Chace Payson repairs a sail using a Singer zig zag sewing machine that dates back to 1954, one of a couple of vintage Singers still in use in the Bohndell sail loft.
Making sails is not a skill you can learn from an online tutorial. "It's not the type of thing you can Google," said Robin Chace Payson. "It's like any other old-school craft: It's handed down. Traditionally, someone trained in a sail loft is an apprentice. They're here to learn the craft."
Payson is operations manager at Bohndell Sails, a 150-year-old sail loft in Rockport, Maine, that's been owned by only two families:  the Bohndells for more than a century, and Payson's parents, Robert and Susan Chace, who bought the loft in 1980.
When the Chaces received a buy-out offer several years ago, after nearly 40 years of running the business, Payson was adamantly opposed. Instead, she left behind her previous career as a ski coach, returned home, and is now running the business full time.
"Bohndell Sails has been around a long time," she said. "Even though we're not Bohndell lineage, it sure feels that way. I told my parents, 'This can't leave our family.' There's so much pride involved."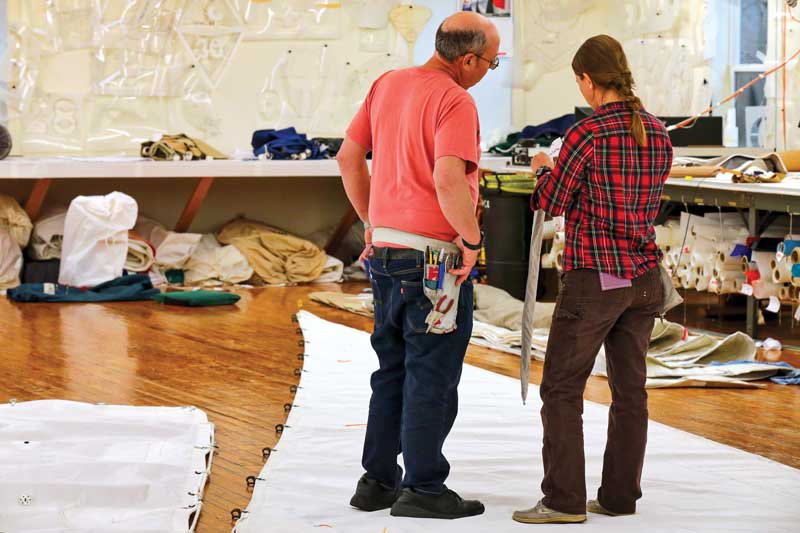 Payson and long-time employee Vince Bemis confer on the best way to repair a tiller cover. "We do this a lot," said Payson. "There's a fair amount of idea sharing that takes place in this loft. On any given day any one of us can come up with the right answer or approach but often it's Vince's experience that provides the best guidance. He's just about seen it all."
E.S. Bohndell & Company was a venerable loft founded in 1870 as a rigging shop in Thomaston; exactly where is lost to history. Not long after, it moved to a location on Route 1 in nearby Rockport.
In the early 1970s, Robert Chace, originally from Vermont, went to work for the founder's grandson, Henry Bohndell. Chace spent the next decade mastering the craft in an era when the geometry behind the complex aerodynamics of heavy canvas and wooden masts was still accomplished by eye and experience.
Both Susan and Bob Chace were enthusiastic sailors and skiers. Eventually, they began thinking about moving out west to teach skiing. But Henry Bohndell had other ideas for the couple. In 1979, ready to retire, Bohndell persuaded the Chaces to stay and buy the business.
Payson recalled the operation, which was on the upper floor of a barn.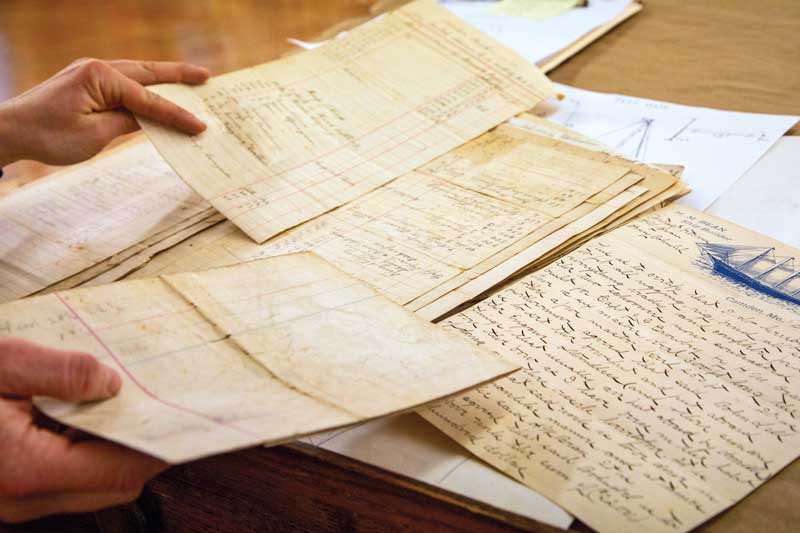 The stationery with the schooner is a contract between Bohndell's and the H.M. Bean Ship Yard of Camden, Maine, dated February 10, 1900. The contract was to rig, bend the sails, and have "everything ready and compete for sea," for two schooners, one a 300-foot six-master for Capt. J.G. Crowley, the other a 250-foot five master. Bohndell was to be paid $2,200 for the work.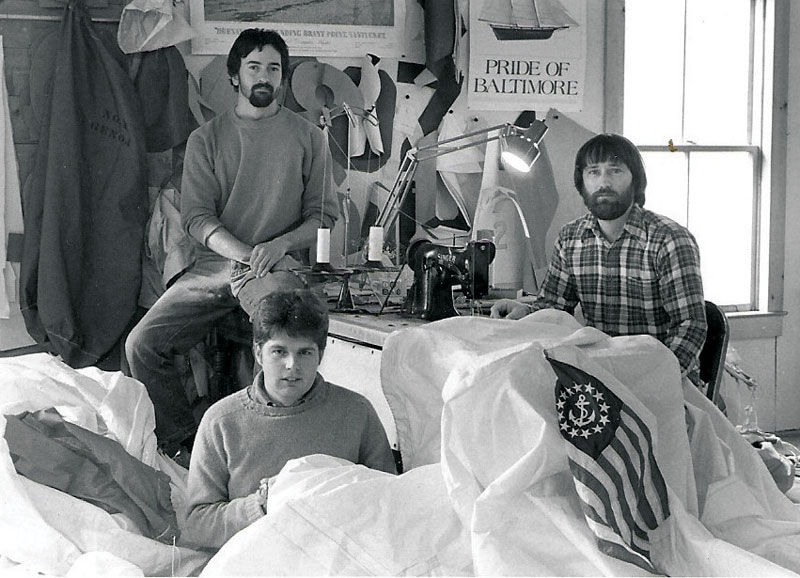 Payson's father Bob Chace (on the right) sits at a sewing machine in 1978 at the original Bohndell sail loft location, across Route 1 from the current building. Courtesy Bohndell Sails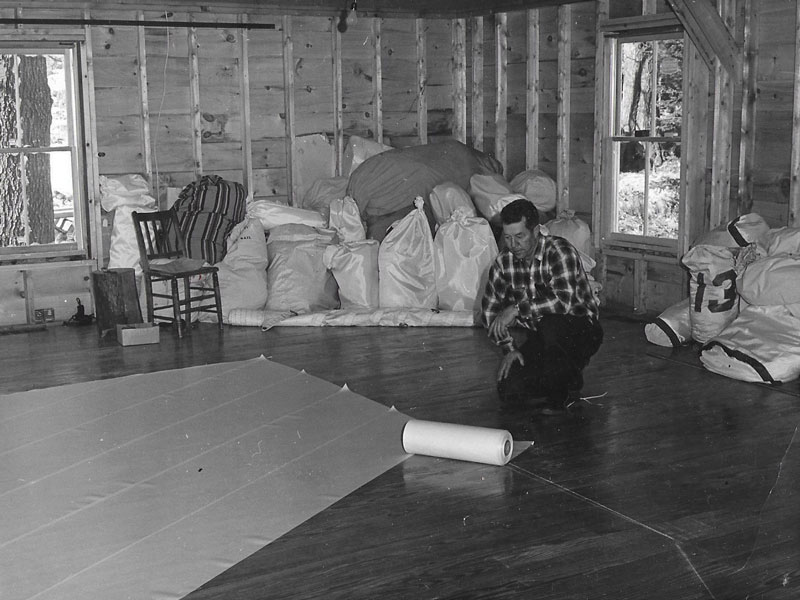 Henry Bohndell, whose grandfather started the business, rolls out fabric for a floor-layout design. This is how all sails were made before the advent of computers and plotters. Courtesy Bohndell Sails
"There was a steep, narrow staircase to get up to the loft floor," she said. "It was really tough to move big heavy sails up and down."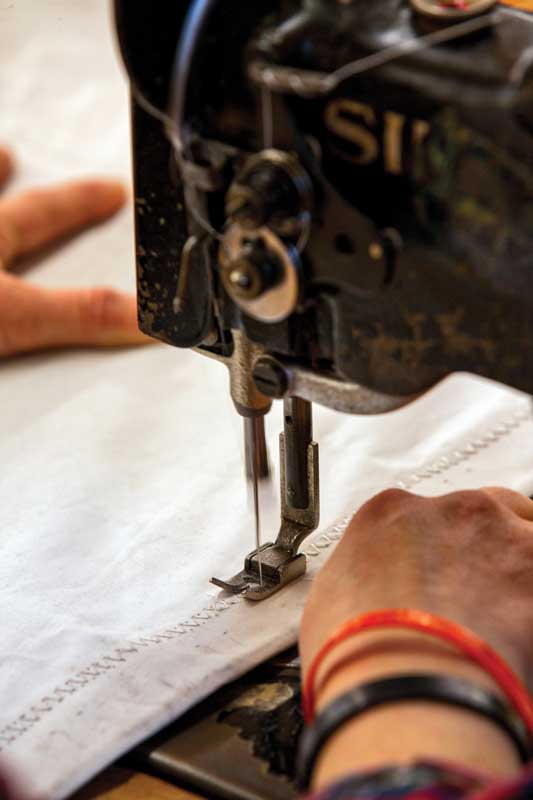 While the sail loft has more modern equipment, the old Singer sewing machine is still used for repairs and other work. A major job during Bob Chace's time was the mainsail made for the gaff-rigged schooner Adventure. The 2,000-square-foot sail was so big that it had to be laid out in the gymnasium of the town's elementary school, the only place large enough for the work. As the largest mainsail used on a U.S. sailing ship, the project involved stitching 500 lbs. of canvas.
In 1994, the Chaces built the current facility, across the street from the barn. It incorporates purpose-built features, such as a meticulously level loft floor with a polyurethane finish that's frequently swept and vacuumed to keep it spotless. Downstairs, there's a custom-designed sail-washing system, custom-built storage, and a rigging shop. An elevator means no more lugging heavy sails up and down stairs.
Payson was born into the business.
"My parents have owned Bohndell longer than I've been around," she said. "My first six months as a baby, I was in the loft every single day."
The family lived close by, so as she got older, she'd get off the school bus and hang out in the shop.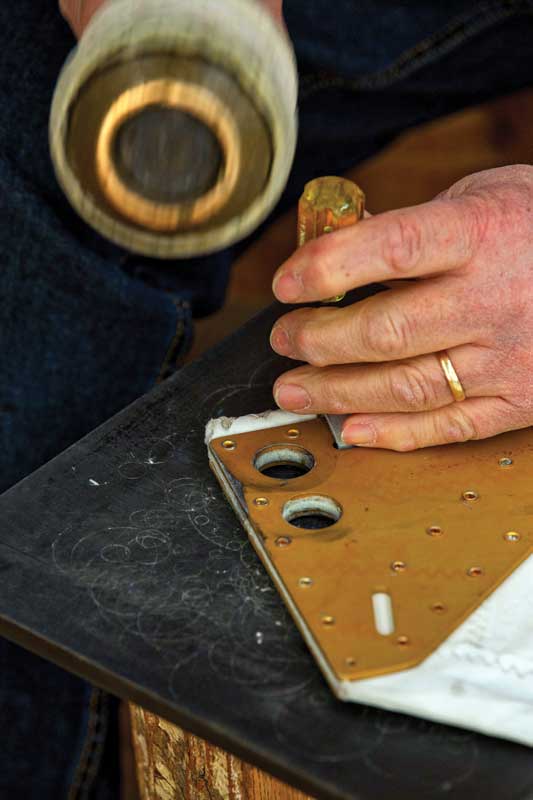 Repairing the headboard of a sail. "As a little kid, they'd keep me entertained by setting grommets on a piece of scrap," she said with a laugh. "Through high school, I worked here in the summer."
Even when she went off on her own as a ski coach, she'd still return and pitch in during vacations. One thing she always enjoyed was seeing customers return, year after year and generation after generation. She felt a great deal of pride in being part of a business that was an institution on the Maine coast and a go-to for many sailors and boatyards.
Growing up around the business, Payson pretty much learned how to make sails and run operations by osmosis.
She and Head Sailmaker Vince Bemis, who has been with Bohndell for 35 years, explain the complexities of the craft, which must take into account ideas such as the differences in air pressure across a large curved surface that's sewn from numerous panels. Once upon a time, those problems were solved through long experience and a good eye. These days, computer-aided design considerably speeds the process. But once the panels are drawn, they're still cut and sewn the old-fashioned way—with shears and a sewing machine.
"It's a balance between automation and handwork," said Payson. "It's a lot more complicated than one might realize. Even some of the boat owners who are ordering these sails from us have no idea what goes into making them."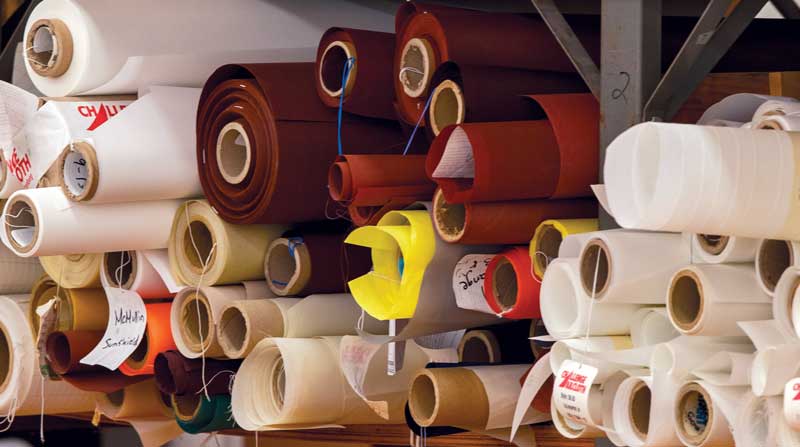 Remnants of sail cloth are never discarded because small pieces can be used for future repairs. The brown shade of tanbark, for example, varies greatly between fabric lots. Keeping the old rolls makes matching the color for repairs much easier.
Several years ago, when her parents received the buyout offer, Payson shifted gears. "When my parents told me, I said, 'What do you mean? What about the customers? These people I've known my whole life?'" she recalled. "It was a very real feeling. There's a reputation to uphold. It was a reality check for myself."
So Payson returned home and took over operations. Bob Chace still swings by for visits and Susan Chace continues to handle the books. Bemis remains essential to the company's success.
"Vince has been here six months longer than I've been alive," Payson said. "He knows everything about this business."
Bemis takes pride in his handiwork.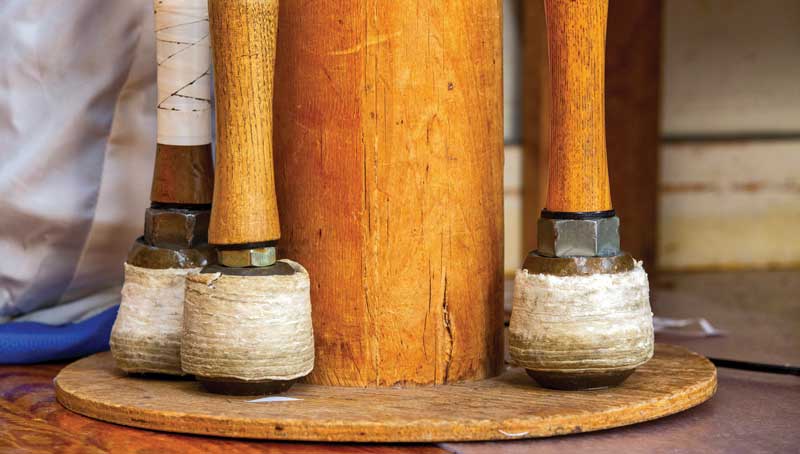 Rawhide mallets such as these in all different sizes and weights are used daily. They provide more surface area than a hammer for setting grommets and hardware on sail covers, and so on, Payson said.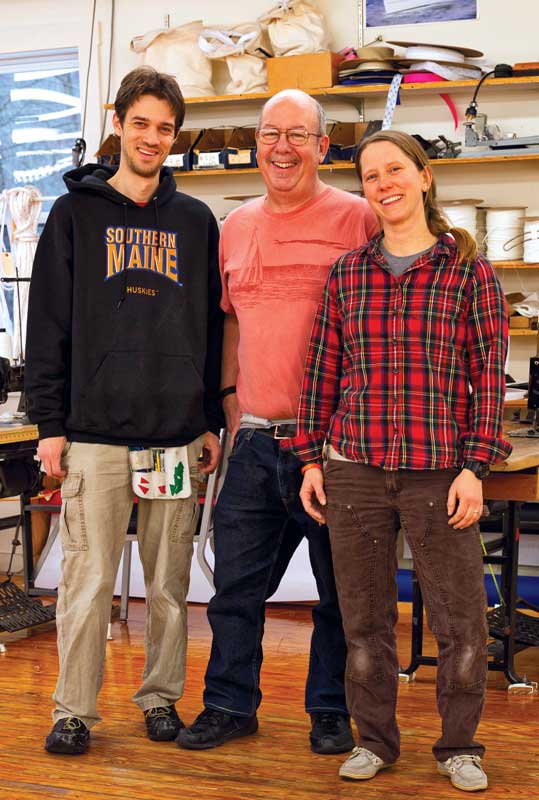 Sail loft apprentice Will Shaw-Chapman (on the left, with Bemis and Payson) has worked at Bonhdell's for about five years. "Every time I go sailing, I see my sails out there," he said. "That's one of the best parts about being in this business. The clients come in here and they're friends. To see them on the water enjoying something that I built is pretty special."
Added Payson, "It's just so special to be part of such an old business that's never closed its doors."  
---
MBH&H Contributing Editor Laurie Schreiber is also a Mainebiz staff writer and has covered topics in Maine for more than 25 years.
E.S. Bohndell Sails & Rigging
198 Commercial St.
Rockport, ME
207-236-3549
Share this article:
2023 Maine Boat & Home Show

Join Us for the Maine Boat & Home Show!
Art, Artisans, Food, Fun & Boats, Boats, Boats
August 11 - 13, 2023 | On the waterfront, Rockland, Maine
Click here to pre-order your tickets.
Show is produced by Maine Boats, Homes & Harbors magazine.