Maine's oldest known ship "photo"
By The Editors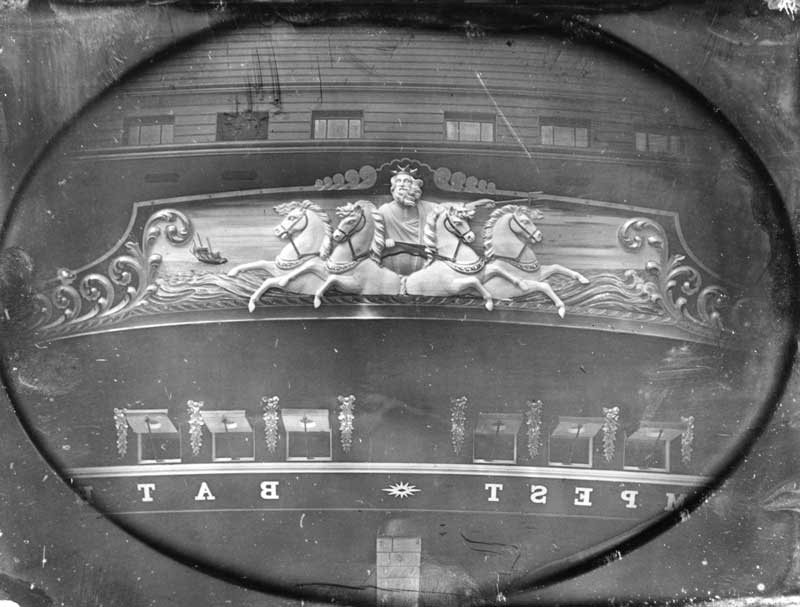 Unknown photographer (possibly J.W.C. Morrison of Bath, Maine), 73⁄8" x 93⁄8", 1849 72.54, Maine Maritime Museum, Gift of Loyall F. Sewall
Louis J. M. Daguerre is given principal credit for inventing the first commercially successful photographic process in 1839. Ten years later a Bath area photographer produced this full plate daguerreotype of the exquisite carving on the stern of the ship Tempest, which had just been built in nearby Brunswick for Bath owners, David and Lincoln Patten. Looking closely, the cabin widows can be seen, as well as parts of the ship's name and homeport. The letters are reversed because of the process: this is the actual metal plate that was in the camera, so you are looking at the back of the image.
When the Patten brothers built the Tempest in 1849 to carry passengers and cotton, they spared no expense in her lavishly carved stern board. It depicts Neptune the Sea God flanked by horses which represent the four winds, according to Maine State Historian Earle Shettleworth. "The curve of the ocean waves is amplified in the florid scrolls that frame this tour de force of nautical art," he added.
Harold M. Sewall acquired this rare image and his grandson, Loyall F. Sewall donated it to the Maine Maritime Museum in 1972. Other than the rarity of a full-plate daguerreotype (most are much smaller), this is the oldest original photograph in the museum collection, and may be the oldest photograph anywhere of an identified Maine ship.
This summer, Maine Maritime Museum will celebrate Maine's bicentennial with a special exhibit—We Lead: Maritime Pioneers, Past & Present. On view from May 9-November 1, 2020, this collaborative exhibit will present Maine's maritime heritage through the eyes of its modern leaders, chosen by partner organizations. These leaders will choose an object from the museum's collection that they feel best represents their field. Their story and their object will be featured in the exhibit, which will be arranged along inspirational themes related to Maine's pioneering spirit. 
Share this article:
Digital Edition Available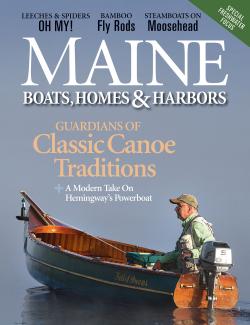 Can't get to the store to buy your magazine? We deliver the stories of Maine's coast right to your inbox. Sign up here for a digital edition.