York
A Harbor Filled With History
By Mimi Bigelow Steadman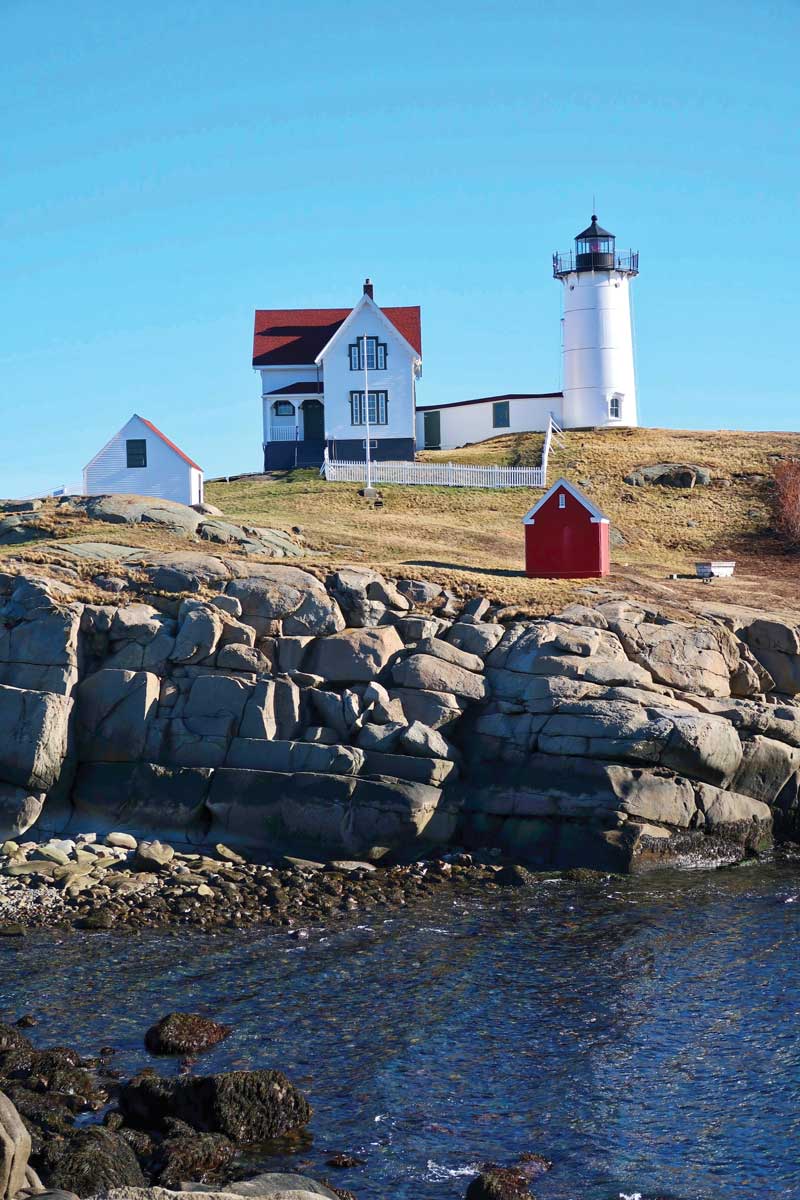 Nubble Light was built in 1897 to warn ships away from treacherous nearby shoals. The bark Isidore sank here with all souls aboard in 1842; some say its ghost still sails these waters. Photo by Mimi Steadman Standing beside the Old Gaol on a grassy hillock in the heart of York Village, I tried to picture this southern Maine hamlet before the American Revolution, when it served as capital of the Province of Massachusetts Bay. All around me were antique structures, including the gambrel-roofed, red clapboard-and-stone jail, built around 1720 on the site of an even earlier prison. A National Historic Landmark, the building is one of nine properties owned by the Old York Historical Society.
On that sunny but wintry day, I imagined townsfolk going about their business three centuries ago, bidding each other good morning as they passed. And I reflected on what brought prosperity to this colonial outpost: the shipping trade. With that in mind, I drove to the edge of the York River and another historical society treasure.
A small red-clapboard building dating from the 1740s, the Donnell-Hancock Warehouse conjures up images of those days of seaborne trade. Schooners once tied up at multiple wharves along here to load lumber bound for the West Indies and unload sugar from the islands. Enhancing the allure of this last remaining warehouse is the fact that Declaration of Independence signer John Hancock was a part owner.
About a mile down river, York Harbor is a welcoming haven for today's cruising vessels just as it was for the schooners of yore. Shielded by Stage Neck (named for the "stages" on which cod fishermen dried their catch), it's the most protected port between Kittery and Portland. Navigating the swift tidal currents at the entrance, however, can be challenging.
"You need to be a bit proficient—and have a good engine," advised Annie Gray, longtime yacht broker who's lived in York since her teens. "The harbor is what drew me here," she said. "Plus, York offers such natural diversity." Gray mentioned the recreational resources of Mt. Agamenticus's trails, York's broad beaches, and the river's kayaking and canoeing waters.
"York is one of the oldest summer colonies," Gray continued. Beginning in the late 1800s, affluent families arrived here by train from Baltimore, Washington, and other East Coast cities. "They established a social club and called it the reading room. But it wasn't full of books," she added, laughing. "It was full of liquor."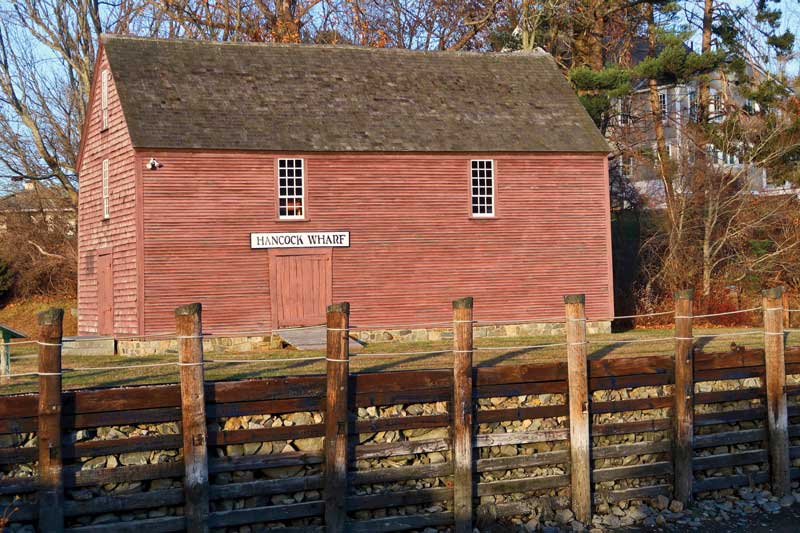 Donnell-Hancock Wharf is an evocative relic from the days when the York River bustled with cargo-carrying schooners. Photo by Mimi Steadman
After a warming bowl of lobster-corn chowder in the Ship's Cellar Pub at York Harbor Inn, I drove past grand homes built during that Gilded Era to the village of York Beach, where it was the height of dog season on the mile-long arc of Long Sands Beach. While canines are permitted here only in the early morning and evening during the summer, they're allowed all day long the rest of the year. Pups of various shapes and sizes bounded past me to meet and sniff one another. Catching up, their owners also exchanged greetings. Farther along, on Short Sands Beach, the only sounds were the whoosh of the wind and the squeak of a swing in the adjacent playground. The Fun-O-Rama arcade was shuttered. So was The Goldenrod shop, where they've been making saltwater taffy kisses since 1896.
Between the beaches, Cape Neddick's pudgy arm reaches into the ocean. Just beyond its tip, Nubble (or Cape Neddick) Light clings to an islet called the Nubble. Joining a clutch of sightseers looking across a narrow channel at the picture-postcard scene, I remembered hearing that the lighthouse had been among several images of world landmarks—including China's Great Wall and the Taj Mahal—sent into space aboard the Voyager II in 1977. I couldn't help wondering what York's colonial residents, and even those bygone summer rusticators, would make of that.
---
Contributing Editor Mimi Bigelow Steadman lives on the Damariscotta River in Edgecomb.
If You Go to York
Hike & Paddle
A waterfront stroll from York Harbor along Fisherman's Walk leads to the Wiggly Bridge—the world's smallest suspension bridge—and Steedman Woods Nature Preserve, whose wooded, 17-acre peninsula is outlined by an easy path. The Donnell-Hancock Warehouse is a short distance farther upriver. The Mt. Agamenticus Conservation Region encompasses some 10,000 forested acres, including the 692-foot-tall mountain. There are opportunities for hiking, biking, and snowshoeing (horseback riders and ATVers are welcome on a few trails). Kids love the preserve's StoryWalk, which features segments of a children's book posted at 24 reading stations. Paddlers can launch their craft into the York River at several points; contact the harbormaster for details.
Shopping
Taste the sweetness of success at Stonewall Kitchen's handsome, rambling complex on Route 1. Founders Jonathan King and Jim Stott began selling their jams and preserves at local farmers' markets in 1991. Today, the company has 10 retail stores and wholesales its line of products—jams, sauces, condiments, and more—in over 40 countries. The York headquarters includes a café, shop, and cooking school.
Dining
York Harbor offers several exceptional dining choices, all with an emphasis on fresh seafood. The classic York Harbor Inn serves sandwiches, soups, and entrées in its 1637 Restaurant upstairs and the Ship's Cellar Pub down below. Shearwater at Stage Neck Inn combines ocean views with appealing menus throughout the day. Dockside Restaurant specializes in updated, authentic New England fare. Its more casual deck is a favorite place to watch harbor activity. While a few York Beach restaurants offer fine dining, it's more the place for fried seafood, lobster rolls and dinners, and pizza. In Cape Neddick, Clay Hill Farm features dining in a secluded rural setting. Don't miss the lobster bisque.
On the Water
Cruising boats may pick up one of a handful of town-owned transient moorings. Contact Harbormaster Drew Donovan (207-363-0433) for reservations. Anchoring is not permitted in the harbor. Donnell's Marina has a few slips for visiting boats up to 80 feet. York Harbor Marine offers fuel, showers, and a laundromat. While the Agamenticus Yacht Club does not have guest moorings, dinghy
tie-ups are allowed at their dock.
Share this article:
2023 Maine Boat & Home Show

Join Us for the Maine Boat & Home Show!
Art, Artisans, Food, Fun & Boats, Boats, Boats
August 11 - 13, 2023 | On the waterfront, Rockland, Maine
Click here to pre-order your tickets.
Show is produced by Maine Boats, Homes & Harbors magazine.