Dresden
A Well-Kept Secret
By Mimi Bigelow Steadman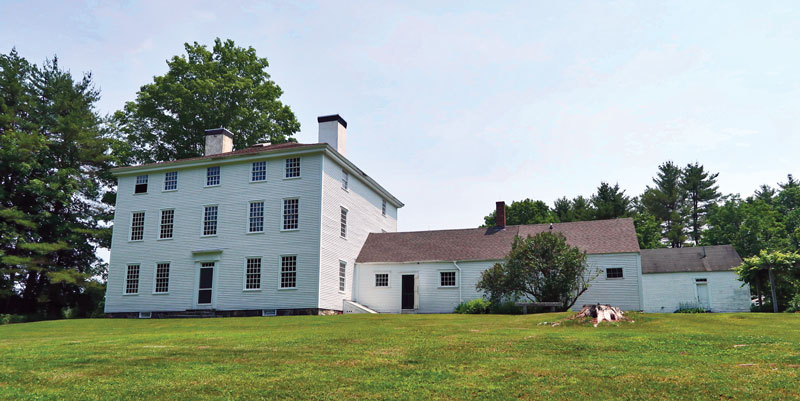 Pownalborough Court House is Dresden's hidden jewel. Now a museum, it played an important role in Maine's colonial-era history. Photo by Mimi B. Steadman Located beside the mighty Kennebec River just a handful of miles inland from Wiscasset village, Dresden pulls me back time and again to its meadows, woods, high blueberry barrens, and fields of market crops.
Accomplished glass artists Terrill Waldman and Charlie Jenkins share my affection for this often-overlooked town. When they moved here from California in 2006, the couple's friends asked, "Dresden? Where's that?" These days, Waldman has a succinct response: "Shhhh."
Ironically, Dresden is far more of a secret today than when it was founded as Pownalborough in 1760. The original shiretown of Lincoln County—when the county stretched all the way to Canada!—it served as the seat of government for the entire Maine District of Massachusetts. The imposing, Federal-style Pownalborough Court House, built in 1761 on a bluff overlooking the Kennebec, transports me to those colonial days. It's said the massive, three-story framework was erected from rugged pine beams in just three days. Now a museum, it's as sturdy as ever.
When I visited last spring, docent Ed Kavanagh explained that in addition to its official capacity, the handsome, white-clapboard building served as the magistrate's residence. Visitors on legal business arrived through the front door and went straight upstairs to the courtroom. I entered the back door, first touring the family's ground-floor parlor, dining room, and kitchen, as well as a room furnished to demonstrate its original use as a tavern.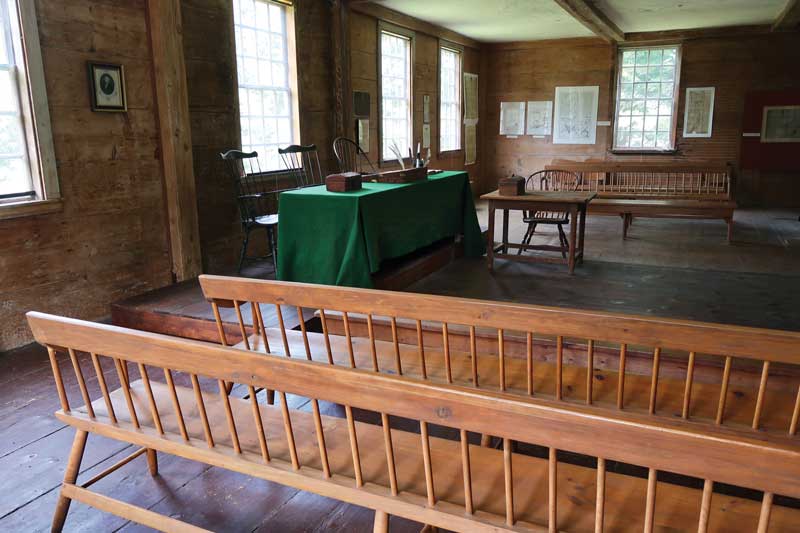 As a young lawyer, future President John Adams participated in trials in the upstairs courtroom. Photo by Mimi B. Steadman
Upstairs are several bedrooms as well as the courtroom, set up as if a hearing were about to begin. "John Adams and Benedict Arnold both attended trials here," Kavanagh told me. "Adams rode on horseback all the way from Braintree, Massachusetts. He was too cheap to sail."
Outside, I walked the grassy grounds and gardens. Above me, bald eagles glided high over the Kennebec, their sharp cries piercing the stillness.
A second river, the Eastern, diagonally bisects Dresden as it flows southwestward into the larger waterway. At the tip of a peninsula formed where the rivers meet, Goranson Farm spreads across more than 60 acres. Now managed by the family's second and third generations, who employ everything from draft horses to solar power, the sizable enterprise sells its organic produce at multiple farmers markets. At their roadside stand, I scooped up a pint of just-picked strawberries, a bouquet of black Tuscan kale, and asparagus as thick as my thumb and followed the directions on a hand-lettered sign: "Add up your purchases. Leave money in the birdhouse." Next to the sign were a rustic birdhouse, a small calculator, and a basket of cash for making change. I remembered an old-fashioned Maine Maple Sunday here, when a lively country band played as children danced and people sampled ice cream drizzled with maple syrup and bought jugs of the liquid gold. It was Dresden at its most charming.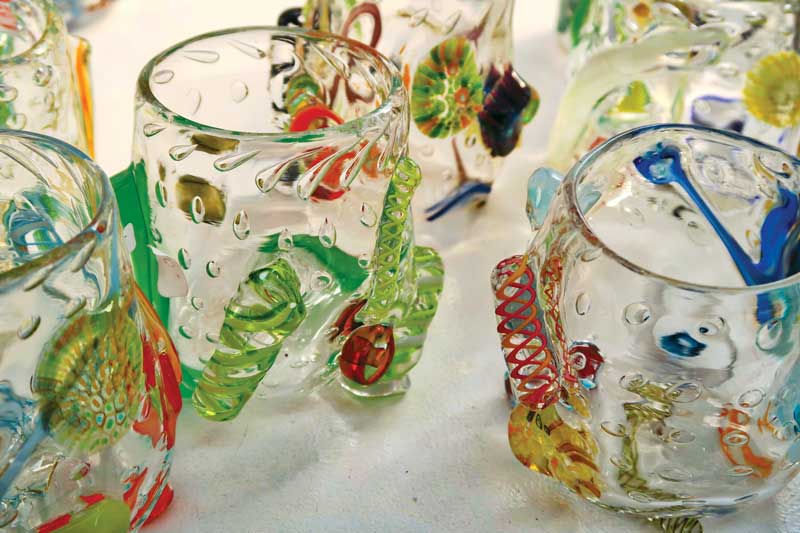 Tandem Glass is known for its hand-blown glass, such as this lively and colorful drinkware. Photo by Mimi B. Steadman
A few miles away across the Eastern River, I stopped at Waldman and Jenkins' Tandem Glass gallery and studio. Sunshine poured through the handsome barn's many windows and skylights, illuminating beautifully wrought drinking glasses, pitchers, and other pieces swirled and shot with vibrant color. As Waldman showed me around, she opened the door to the kiln. Twelve-hundred-degree heat blasted from the glowing orange interior.
"We don't make glass in the summer," she said. "It's just too hot." But the gallery is open year-round, welcoming curious first-time visitors as well as returning collectors of the couple's stunning work.
Waldman told me she's originally from Detroit. "I loved the big-city vibe there and in California. But Dresden has spoiled me. I just like being here." This timeless hamlet, traced by rivers and graced by quiet countryside, is special indeed. 
---
Contributing Editor Mimi Bigelow Steadman lives on the Damariscotta River in Edgecomb.
If You Go to Dresden
Shopping
Terrill Waldman and Charlie Jenkins welcome visitors to Tandem Glass year-round. Stop by their gallery and studio when they're blowing glass (fall through spring), to witness the choreographed collaboration that goes into every piece. The roadside stand at Goranson Farm offers fresh produce and maple syrup from 9 a.m. to 6 p.m. every day. The farm is also a regular vendor at farmers markets in Bath, Boothbay, Damariscotta, and Portland.
Dining
Here's the Scoop dishes up amply filled cones of ice cream and soft serve daily throughout the warmer months. Locals cross the bridge to Richmond and The Old Goat, a popular pub just up Main Street from the river. A menu featuring pizza, paninis, quesadillas, and salads is complemented by an extensive selection of beers, many on draft.
Hike, Paddle, and Explore History
The Pownalborough Courthouse is open weekends Memorial Day to Columbus Day, plus Tuesday through Friday in July and August ($5 adults). Across the road, 150 wooded acres are threaded with hiking trails; one path is wheelchair accessible. In the middle of the Kennebec River just off Dresden's shore, Swan Island is a gem of a preserve with seven miles of hiking trails, a dirt road for biking, picnic sites, and a campground. Incorporated as the town of Perkins in 1847, it once boasted around 100 residents. The community was abandoned in 1936, though a few homes still stand. Listed on the National Register of Historic Places, Swan Island is today a state wildlife management area. From June through late October, a small boat ferries visitors to the island from the town dock in Richmond, just across the bridge from Dresden (reservations required). Paddlers arriving from both Dresden and Richmond are welcome to pull their craft ashore, but they may not tie up at the island docks. Canoes and kayaks are also available for rent. The Eastern River is also a pleasant place to paddle or do some fishing.
Share this article:
2023 Maine Boat & Home Show

Join Us for the Maine Boat & Home Show!
Art, Artisans, Food, Fun & Boats, Boats, Boats
August 11 - 13, 2023 | On the waterfront, Rockland, Maine
Click here to pre-order your tickets.
Show is produced by Maine Boats, Homes & Harbors magazine.