A Vintage Knockabout Design Finds New Life
By Art Paine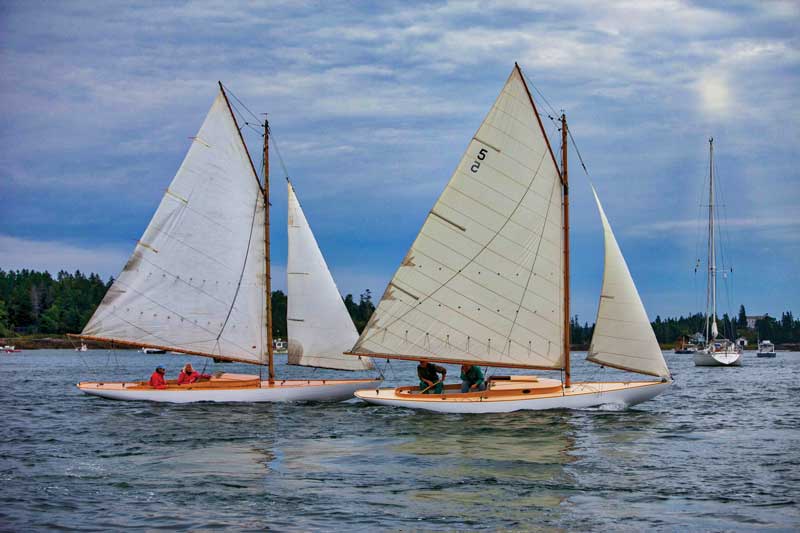 The only known original Camden Class sloop still sailing belongs to a family on North Haven. It is shown here, on the left, racing in the 100th anniversary celebration for the Dark Harbor 17.5s in 2010 in the Fox Island Thorofare. The boat on the right is a new Dark Harbor 17.5 that was built by Artisan Boatworks. Note the smaller cabin on the Camden Class, as well as the longer fore and stern decks. Photo by Barry A. Hyman
The Camden Class,  designed in 1915 by B.B. Crowninshield, is a variation from a time when so-called knockabouts were all the rage. It could be argued that these and Crowninshield's other elegant but simple dayboats represent the foundation of the one-design concept.
Only four of the Camden Class boats were built back in the day, and the design, which was intended as a racing fleet for the Camden Yacht Club, was supplanted at the club by the Haj boats. But the elegant design has had many admirers, including a man who started to build one on his own and has since handed the project off to Alec Brainerd's Artisan Boatworks of Rockport, Maine.
The boat nearing completion in Brainerd's shop was begun 15 years ago in Birmingham, Alabama. The builder, Dr. Marc Starer, had recently moved there from New England. "The people there were great, but otherwise I was homesick," he said. "I missed the seacoast, and sailing. I thought what I needed was a nautical project." A subscriber to WoodenBoat, he perused the boat plans they offered for amateur builders, and noted designs for three Crowninshield knockabouts: the Dark Harbor 17.5, the Dark Harbor 12.5, and the Camden Class 17.  He chose the Camden Class because he "particularly loved its looks."
As with many a backyard boat project, this one dragged on for a number of years. Starer returned to Massachusetts, towing the half-finished boat with his U-Haul. Eventually he decided the partially built hull either needed to be scrapped or rescued by a new builder.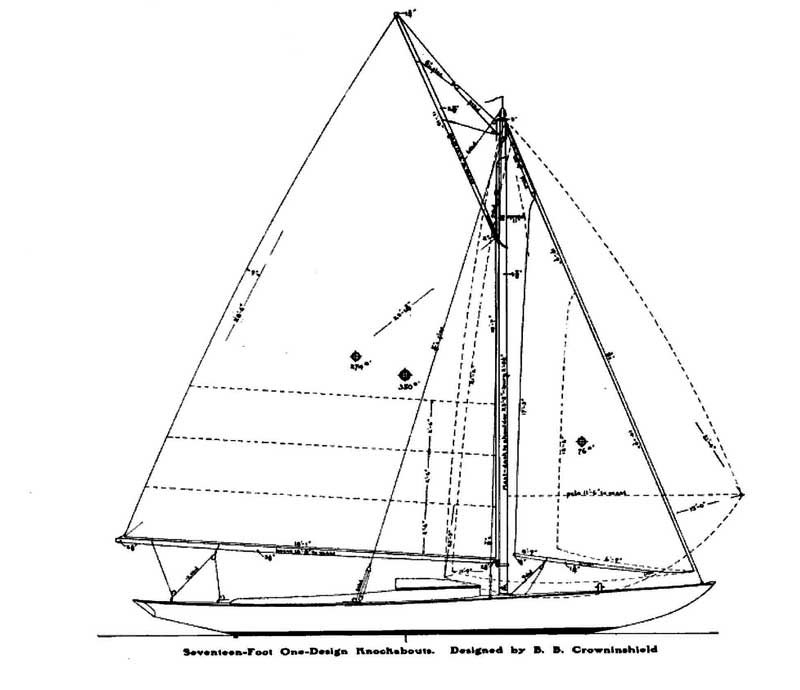 The Camden Class sloop is shorter on the water but longer overall and beamier than the Dark Harbor 17.5.
Enter Brainerd. Starer met him at a boat show where Brainerd was standing in front of another turn-of-the-century wooden daysailer design—a Watch Hill 15 built at Artisan—and the two got into a conversation. Brainerd revealed that back in his youth, when he was first thinking about becoming a boatbuilder, he, too, favored the Camden knockabout as an ideal first boat to build.  He had seen the ads for plans in the back of WoodenBoat. Why did he fixate on that design? He liked its looks.
When he started out as a boatbuilder, one of Brainerd's first orders was for a Dark Harbor 17.5. He rebuilt a couple more, and has since branched out into repair and maintenance, as well as specializing in building classic wooden boats. But he never lost his desire to build a Camden Class knockabout. Starer, realizing that he'd found his builder, moved his project from western Massachusetts to West Rockport, Maine.
So what exactly is a knockabout?
Prior to around 1890, yachtsmen raced unique individual designs, each man using his pocketbook to try to vanquish all comers. It was common knowledge that longer boats had the advantage for speed, so in order to make the sport more fair, boats were grouped by size, usually based on waterline length. These boats were low, with flattish sections, hard bilges, and prominent overhangs. Going all-out to win cash prizes and private wagers, they tended to be crewed by heavyweights. Their oversized gaff rigs required short bowsprits, and, in some instances, boomkins to anchor the main sheet.
By the advent of the 20th century, yacht clubs were springing up in privileged enclaves along the Eastern seaboard, including in Maine. Within these various clubs, members began to realize that afternoon races would be more fair, and the boats less costly, if they sailed identical boats, kind of like the Model Ts coming off Ford's new assembly lines. Yacht historian Maynard Bray argues that this "early desire for equal boats was much more about getting a bargain than it was about fair racing."
Many clubs concentrated their efforts on compact, versatile boats, good for training or racing, with shelter allowing for two persons to camp overnight. These were the stipulations that defined a "knockabout."
Members of clubs along the East Coast were ordering this style boat—low-sided, long-ended, and gaff-rigged but without a bowsprit, sporting a "self-tacking" club-footed jib and a short, humped cabin—in batches. Notable designers included Starling Burgess, Nathanael Herreshoff, Clinton Crane, and Bowdoin Bradlee Crowninshield. Crowninshield was prolific. His output ranged from Gloucester fishing and racing schooners to the America's Cup contender Independence, and the astounding, nearly 400-foot-long, seven-masted schooner Thomas W. Lawson.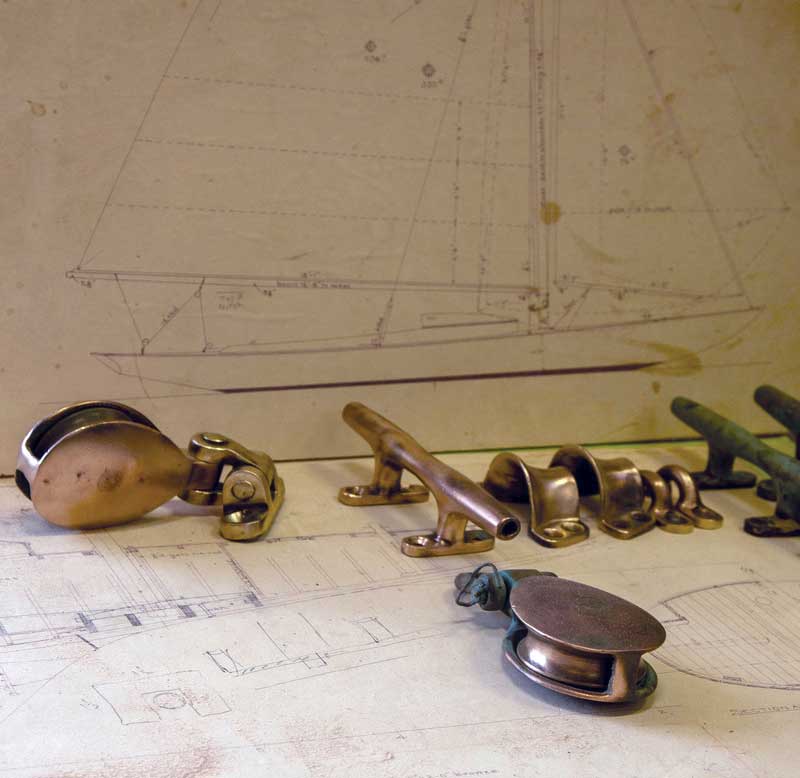 Bronze blocks and fittings for the Camden Class at Artisan Boatworks. Photo by Alison Langley
In 1908 Crowninshield was commissioned by the Manchester (Massachusetts) Yacht Club to design a true "one-design" class. (It was his design number 381.) He had the good sense to head to Maine to seek a boatbuilding yard with deep experience and hard-nosed cost control. Rice Brothers, of East Boothbay, Maine, built a first batch of 12 boats for $500 each, and they were so popular that more followed. Eventually many more of these 17.5-foot waterline boats were built for several different yacht clubs; oftentimes named after their home harbor. The design is now commonly known as the Dark Harbor 17.5. Crowninshield made small changes to the design between clubs, but all the boats were equally fast and attractive. Examples were scattered from Islesboro to North Haven and Bar Harbor.  How could the startup Camden Yacht Club fail to take notice?
Founded in 1906, the Camden Yacht Club was looking around for a suitable racing class. William J. Curtis and his family spearheaded the idea of a new knockabout fleet. His son William, Jr. conspired with Crowninshield to come up with something different by more than just small details from the ubiquitous 17.5 waterline knockabouts already racing. The design they came up with in 1915, the Camden Class, was a half-foot shorter on the waterline, six inches beamier, and had longer overhangs that extended the overall length from 25'10" to 28'3". Most noticeably, the sail area was increased by 40 square feet. The price charged by Hodgdon Brothers in East Boothbay was $770 per boat, including five full sail bags.
Four Camden Class knockabouts were built, and a 1916 edition of The Rudder magazine claimed they were "very successful." There is no evidence that this group ever raced against the Dark Harbor knockabouts. However, at the 100th anniversary knockabout rendezvous at North Haven a few years back, the one surviving Camden Class sloop, now owned by the Cabot family on North Haven, competed against the other 17s. It did not win—but it was clearly not geared up for racing.
By the 1930s, the Camden Yacht Club switched gears and voted to acquire a fleet of European-designed and -built Haj boats. The four gaff-rigged knockabouts disappeared, with the exception of the Cabots' boat and a basket-case aptly named Gone Away that is now in repose behind a Rockport boatshop.
All this brings us back to the Camden knockabout under construction at Artisan Boatworks. Brainerd has found places where Starer's hull didn't perfectly comply with the blueprints, but generally it was a credible start. Since the boat has been in the Artisan shop, the sheer and deck have been beautifully faired under the uncompromising eye of a pro, and the steam-bent cabin sides and coaming are beyond lovely. The cabintop beams were just beginning to be installed when I visited this spring. The boat will have a comfortable deep cockpit, which is a contrast with the Dark Harbors, most of which have shallow self-bailing cockpits.
I found it fascinating that the line of the stem seems to have been purposefully designed by Crowninshield with a slight bend so as to shorten the waterline. One might think this was intended to minimize the rating. It could also have been a result of Crowinshield's experiments with concepts intended to minimize wetted surface, according to Maynard Bray.
The new Camden Class knockabout, to be named Starship, is scheduled to be launched this summer in Camden. Perhaps some of the Dark Harbor 17.5's will be around to race it. 
No matter the result, it won't be a case of one boat winning and one boat losing. It will be a case of two of the most perfect knockabouts in the world sharing the same space and time. 
---
Contributing Author Art Paine is a boat designer, fine artist, freelance writer, aesthete, and photographer who lives in Bernard, Maine.
Camden Class
LOA: 28' 3"
LWL: 17'
Beam: 6' 9"
Draft: 4' 3"
Sail Area: 350 sq. ft.
Displ: 3,743 lbs.
Designer:
B.B. Crowninshield
Builder:
Artisan Boatworks
416 Main St., Rockport, ME
207-236-4231
www.artisanboatworks.com
Share this article:
2023 Maine Boat & Home Show

Join Us for the Maine Boat & Home Show!
Art, Artisans, Food, Fun & Boats, Boats, Boats
August 11 - 13, 2023 | On the waterfront, Rockland, Maine
Click here to pre-order your tickets.
Show is produced by Maine Boats, Homes & Harbors magazine.