A Family Business
Committed to Customers
By Bill Mayher
Photos by Benjamin Mendlowitz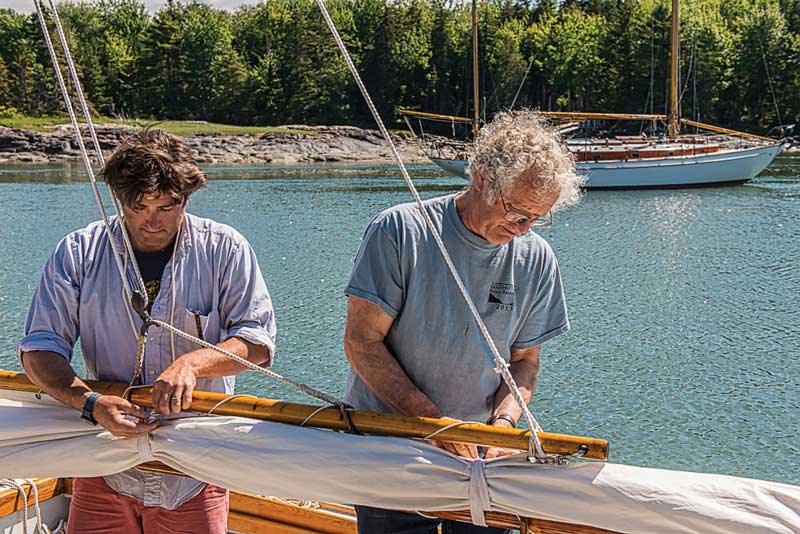 Sam Vaughan left a corporate job in New York City to come home and work with his father, Bob Vaughan, at the family yard. Here they are bending sails on one of the vintage Dark Harbor 17s in the yard's care.
One of the reasons that wooden boats continue to flourish along the Maine coast is the number of yards that specialize in their care. One of these is Seal Cove Boatyard in Brooksville. Since 1936, it has been operated by members of the Vaughan family, first by Hal Vaughan, then by his son Bob, and more recently by Bob in combination with his son, Sam. It's a family business, proud of its traditions and committed to its customers, many of whom have stored boats at the yard for generations.
Hal started the business around the corner at Seal Cove when the summer camp he ran needed a place to store its boats. He took on many other boats during the WWII years for extended storage, and soon the boys' camp became a boatyard. In 1954, he moved everything to Horseshoe Creek because it offered better shelter from southerly storms and a lot more space—about 60 acres, five of which are covered by the boatyard. The yard has been there ever since.
Since the new location was a mile from Bangor Hydro Electric power, electricity was supplied by a generator and there was no inside storage. But Hal managed to make the enterprise cover its costs by building 30 triple-keeled Shark Cruisers and a few Farnum Butler-designed Controversy sloops, and storing something in the neighborhood of 40 boats.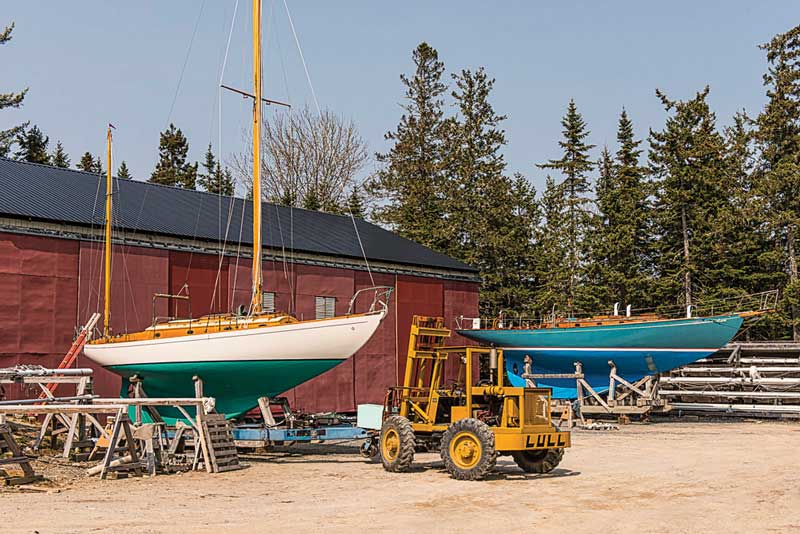 A wooden Concordia sits in a trailer outside in preparation for launching.
After college and law school, instead of taking his law degree off to Boston or New York, Hal's son Bob found himself back home on Horseshoe Creek. By this time his father was in bad shape with a severe case of early-onset dementia that Bob says was caused by mercury poisoning from painting boats with a bottom paint called Marblehead Green, which contained mercury. With his father ailing, there was little else to do but take over the yard or close it. Something compelled Bob to take it over. Instead of feeling put-upon and gritting things out for the duration, he decided to turn the business into something he liked doing day-to-day. That engagement has made all the difference in the success of the enterprise.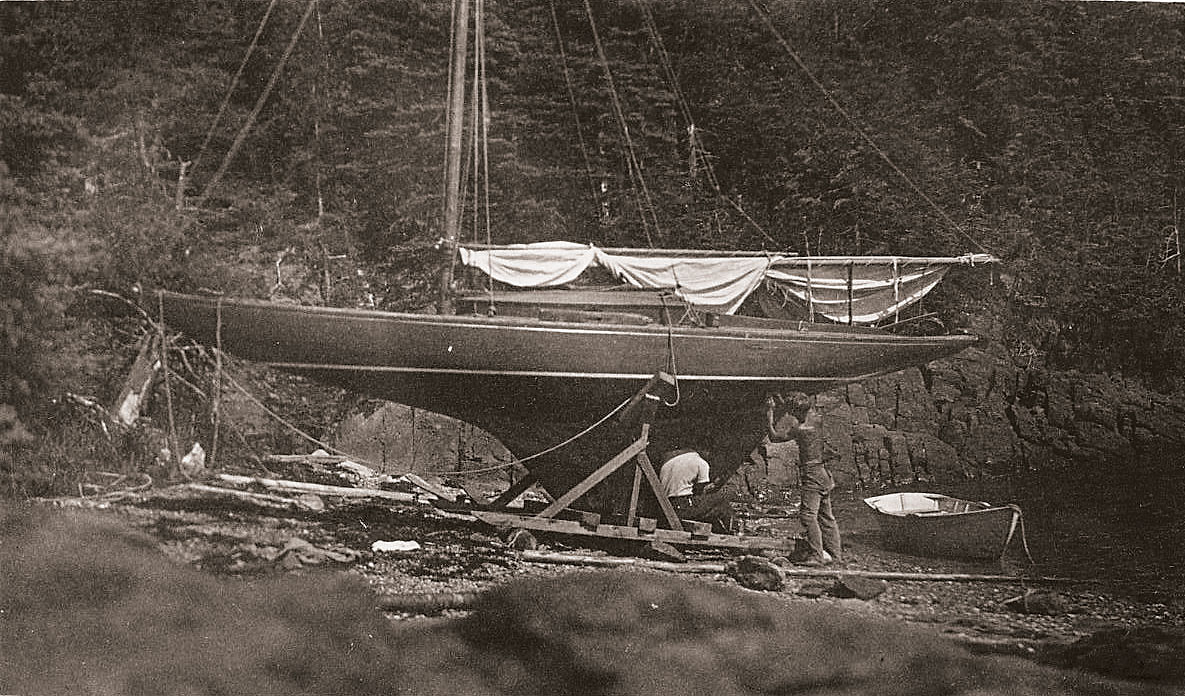 A Dark Harbor 17 had just been hauled up on the beach at the yard's original location in this early photo. Back then the yard did not have a real marine railway. Photo courtesy Bob Vaughn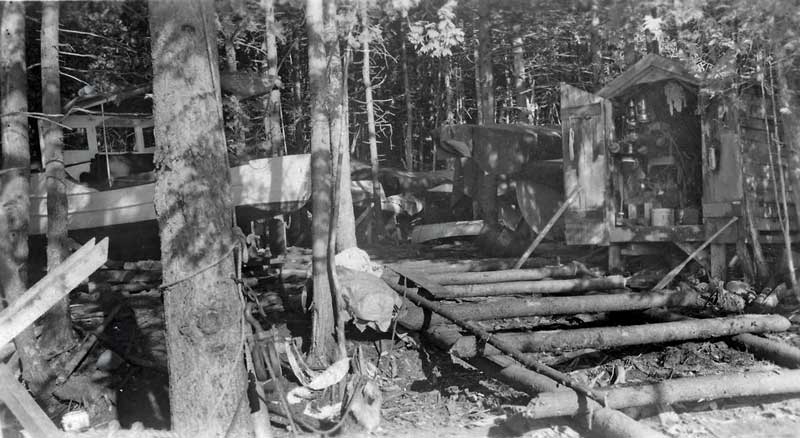 Hal Vaughan started the yard in Seal Cove when he needed to store boats from a summer camp that he ran. The yard grew during World War II when summer families needed extended storage for their boats. Photo courtesy Bob Vaughn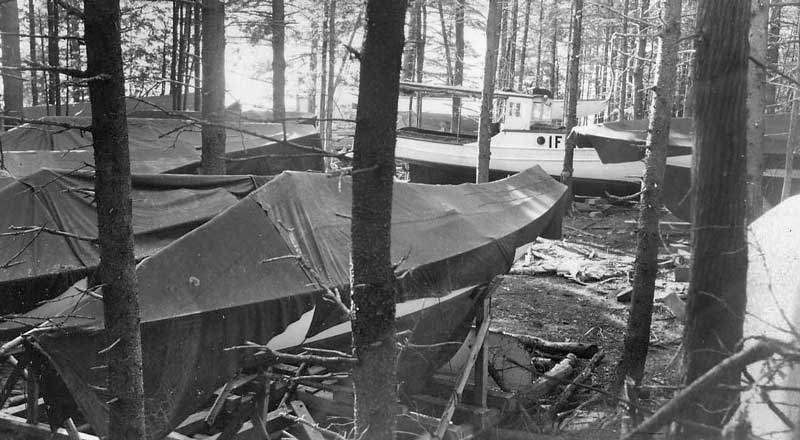 The yard featured a rough log skidway and boats were stored under canvas covers among the trees. Photo courtesy Bob Vaughn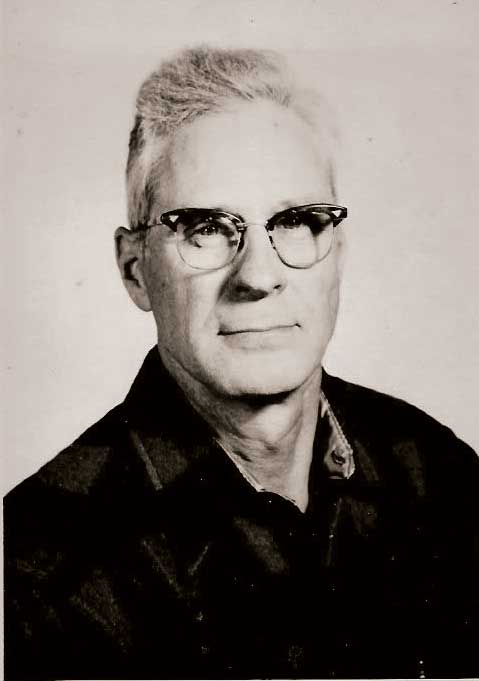 Hal Vaughn in the 1950s. Photo courtesy Bob Vaughn Another key factor in the yard's success is Bob Vaughan's obsession with efficiency. Instead of moving boats around with a hydraulic trailer and then standing them up on jack stands, as is the norm at yards all over Maine, at Seal Cove when a boat is hauled it is set down on its own custom-made cradle where it stays until it is relaunched in the spring. Boat and cradle are moved together on a hydraulic trailer with lifting beams and set down on blocks. With no jack stands to wrestle with, boats can be moved smoothly from storage shed to paint shop and back again to storage. With this system in place, Bob claims his crew can move a 40-foot boat from a staging area to the yard's marine railway to be launched in just over 15 minutes.
Furthermore, instead of being vulnerable to wind and frost as jack stands can be in the rugged winter climate of Maine, cradles provide unitized support throughout the seasons. Finally, avoiding Travelift launching also removes the risk of sling abrasion to recently painted hulls. The only catch with using cradles is that a boatyard needs plenty of room to store them when not in use. Luckily Seal Cove has a large back lot to serve this purpose. The yard stores about 220 boats ranging from 14 to 57 feet, about a third of them wooden. About half those boats are stored inside in one of the yard's eight big storage sheds. The storage fleet includes an impressive 36 Ensign one-designs. When Bucks Harbor hosted a national Ensign championship some years ago, Bob notes with pride that the local fleet was named as the best maintained.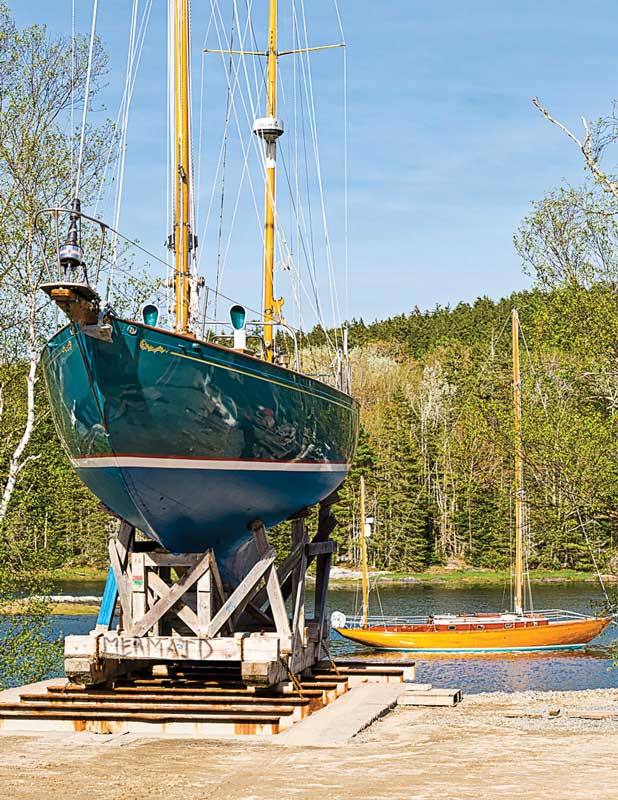 Poised on her custom cradle, the S&S yawl Mermaid—showing off a gilt cove stripe and custom topside color—is ready to slide down the ways for another season. Seal Cove hauls and stores boats in wooden cradles, which allows the yard to move the boats around without wrestling with jack stands. Photo by Benjamin Mendlowitz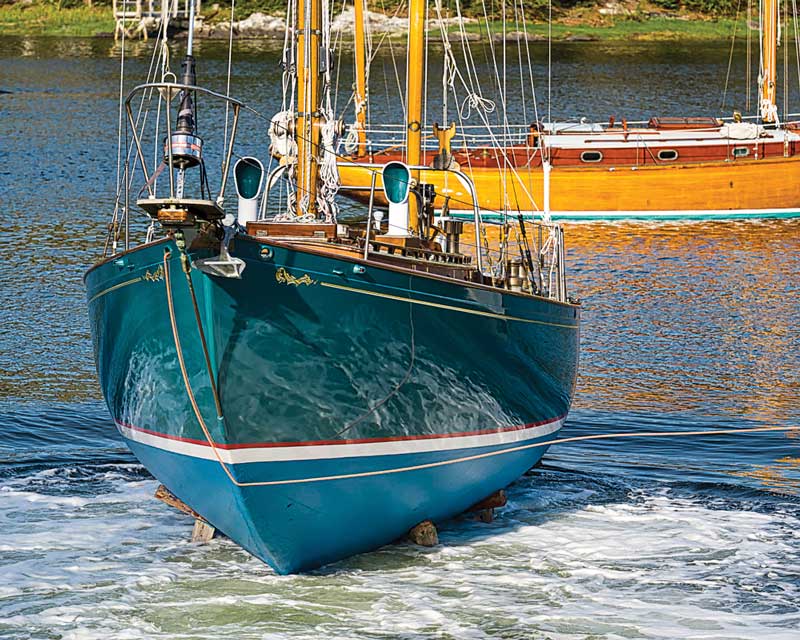 Mermaid is safely launched, the old-fashioned way, on a marine railway, her paint unscathed by contact with the sling of a Travelift. Photo by Benjamin Mendlowitz
In order to achieve outstanding cosmetic results the Vaughans have a temperature- and humidity-controlled paint shop, which limits dust and cuts drying time. The original shop, which was built in the 1980s, was replaced with a larger one in 2017. The yard also has a large mechanical shop where the crew fabricates accessories like bow rollers, bow pulpits, fuel tanks, and even aluminum dock ramps. The yard has about 20 employees.
Beyond these  factors, the personal qualities that Bob and Sam Vaughan bring to the picture are what define the Seal Cove yard. They are brainy guys who love to figure out original solutions. For example, they have devised a way of replacing the horn timber in a Concordia yawl without removing any planks, or even cracking a seam.
The yard's web site has an example of this careful approach. "Our fiberglass restoration and refinishing facility overhauls basic structure as well as applying state-of-the-art primers and topcoats. Choice of the right product has much to do with the success of the project over time. The 65' work bay is hot water heated and humidified. There are many different formulas of coatings available. One may be harder than another, one may be more easily repaired and maintained, yet another may be more suitable for application over softer surfaces. Ask us about the selection process."
The care and thoughtfulness with which they approach wooden boat maintenance is equally compelling, and the boats that they launch each spring are beautiful. They put it this way: "As a wooden boat ages the relationship of its parts change. To renew as original may not restore original strength and integrity." So the repairs they undertake must not only achieve aesthetic goals they must also assure that the vessel is structurally sound.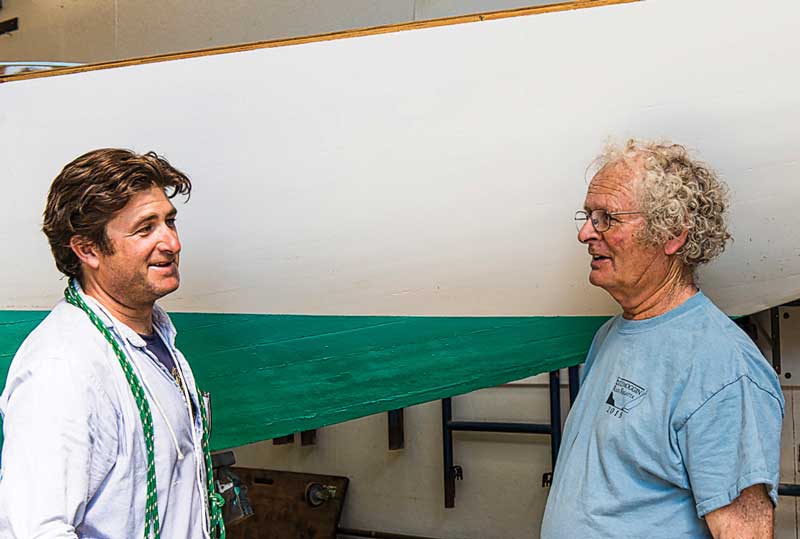 Sam Vaughan and his father run the yard in partnership. Bob Vaughan says he has found that Sam is good at things he would rather not do, leaving him to do the work that he enjoys the most. Photo by Benjamin Mendlowitz
Besides maintaining boats for customers, for many years the Vaughans have taken care of several vintage boats for their own use. One of these is an 1896 Lawley Knockabout, Aspenet, that has been in the family on and off since 1921. Another is Desperate Lark, a 1903 Herreshoff Bar Harbor 31. At 48'10" on deck, she is one of the noblest boats seen sailing each year in the Eggemoggin Reach Regatta.
This loyalty to their own boats demonstrates a deep commitment to the preservation of timeless classics. If it weren't for Seal Cove Boatyard, and a handful of other yards sharing the same convictions, vintage wooden boats might have largely disappeared.
Finally, when asked what provides the Vaughans with satisfaction beyond the boats themselves, Bob and Sam mention the relationships they have built with customers, some of whom are second or even third generation. Creating such a business—where boats and people find a comfortable balance—meets the criteria Bob looked for when he took over the yard from his father so many years ago. 
---
Bill Mayher lives in Brooklin, Maine, and is one of the founders of the maritime web site offcenterharbor.com.
For more information:
Seal Cove Boatyard
124 Horseshoe Cove Road
Harborside, ME
207-326-4422
Share this article:
2023 Maine Boat & Home Show

Join Us for the Maine Boat & Home Show!
Art, Artisans, Food, Fun & Boats, Boats, Boats
August 11 - 13, 2023 | On the waterfront, Rockland, Maine
Click here to pre-order your tickets.
Show is produced by Maine Boats, Homes & Harbors magazine.