Ellis 28
Unusual take on a small sportfishing boat
By David R. Getchell, Jr.
Photos courtesy Shane Ellis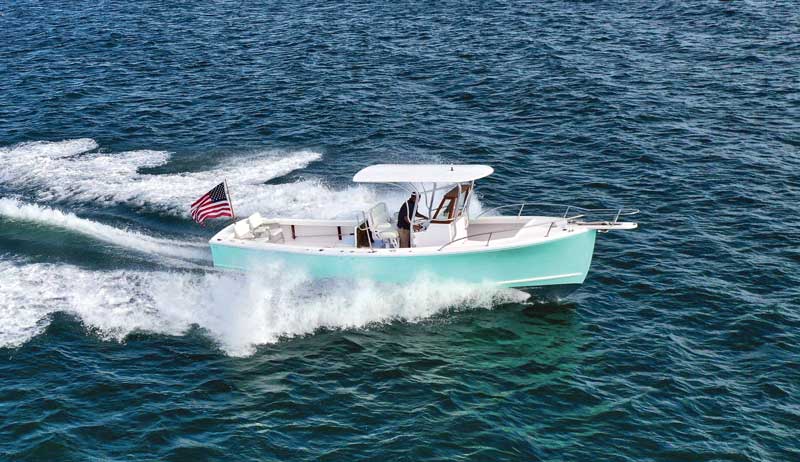 The new boat's owner specified as little wood trim as possible to simplify maintenance.
The boat world has about as many niches as there are blades of grass on a lawn. If boatbuilders and marketers discern some new opening for a successful design, they tend to split that niche into increasingly fragmented sub-categories, to the point where the various product offerings seem quite similar.
For instance, the production boat world has honed in on the ideal small- to midsize sportfishing boat as an outboard-powered center console with a fast deep-V hull. There's any number of variations on this formula, and sometimes the variations are so subtle that it can be hard to tell them apart without seeing what brand logos are emblazoned on the sides.
That's definitely not a problem with the Ellis 28 Open Fisherman. Here, a knowledgeable owner turned to a long-time Maine custom builder to get a 28-foot boat with looks and features distinctive enough that no one could confuse it with anything else. This small/midsize sportfishing boat breaks from convention in many ways, entirely because that's how the owner and the builder wanted it to be.
First, it's not a deep-V hull. It's based on the Ellis 28, a semi-displacement full-keel design with roots in the commercial lobstering world. The fairly flat lines aft give it a good turn of speed without requiring massive horsepower. The full keel lends seakindly handling and low-speed maneuverability that many deep-V boats can only dream about. The keel also protects the shaft, prop, and rudder from groundings or debris impacts, and helps fend off pesky lobster gear. The boat's modest freeboard and low sides minimize windage and ease the challenge of fighting and landing big fish from a smaller boat. The soft chines smooth out the ride in a chop and also help the boat sit quietly at the dock or mooring.
Next, it's not powered by a phalanx of big V8 outboards, but by a single Yanmar turbo-diesel inboard rated at 250 horsepower. Admittedly this is a rare setup for a sportfish boat these days, however the owner wanted easy access around the stern to avoid having to maneuver a hard-fighting fish around the obstruction of outboard engines. The protruding engine box, often a bane of space utilization in a low-freeboard hull, has been converted to an asset, as it provides a seating station for both the helm and the aft-facing fish-fighting chair; its narrow width leaves the side decks clear to walk a hooked fish aft from the forward casting platform. Numerous deck hatches offer access to tankage and under-deck systems.
The open top deck assembly includes some unusual features requested by the owner. The console is mounted farther forward than what's become the expected norm, which helps keep the cockpit open aft. The flat floors and engine box are heavily insulated to minimize noise. "At the dock, you can hardly even tell if it's running," said builder Shane Ellis. Access to the engine and onboard systems under the box is eased by hydraulic struts, similar to the ones holding up the hatchback of a car.
The tubular-aluminum-framed T-top was built by Cumberland Ironworks, an OEM supplier to several other builders of sportfishing boats. There is a double-wide supportive Stidd seat at the helm, and an ingenious folding wooden chair, based on an old Bunker & Ellis design, sits atop the rear of the engine box. Two cushy folding chairs sit aft for passengers on a picnic outing; they can then be folded up and stowed to clear the decks for fishing action. Multiple rod holders line the rails.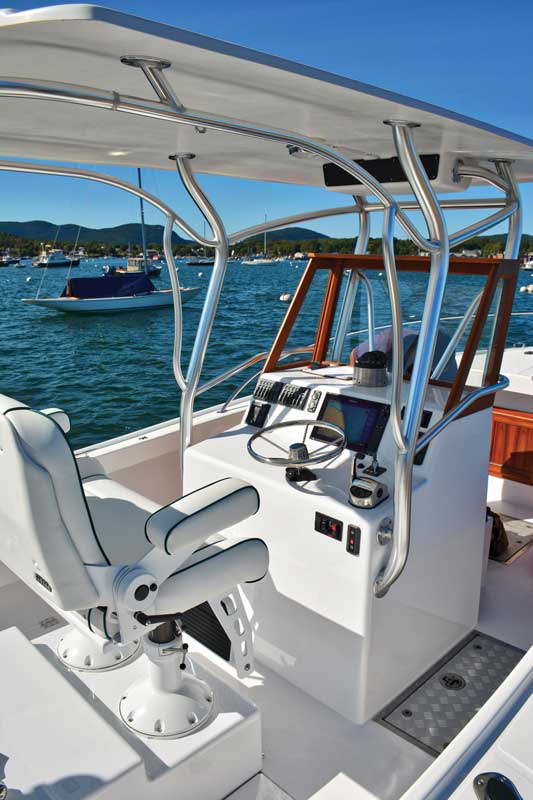 The center console hides a head underneath.
Perhaps the most distinctive touch topsides is the forward-raked custom teak windshield evocative of a classic 1970s Boston Whaler. Another break from prevailing norms is the bright Seafoam Green paint scheme, a refreshing taste of the Caribbean compared to the somber dark blues and deep greens typical of many downeast-style boats.
This vessel straddles the line between being a "big small boat" and a "small big boat," with features of both. It's small enough to manage singlehanded, and big enough to handle boisterous weather. It was envisioned as a capable day-cruiser for a couple who love to fish. From all appearances, it's right on target. If the stripers and bluefish weighed in with up or down votes on some piscine social media, I'd wager you'd see a whole lot of comments along the lines of "blues say thumbs down," and "stripers dislike."   
---
Dave Getchell is the former Associate Publisher of this magazine. He's now devoted to pursuing all manner of interesting boats.
---
Ellis 28 Open Fisherman
LOA: 28' 4"
Max beam: 9' 4"
Draft: 3'
Displ.: 8,000 lbs. (estimate)
Power: Yanmar 4LV250 turbo-diesel, 250 hp
Builder:
Ellis Boat Company
Share this article:
2023 Maine Boat & Home Show

Join Us for the Maine Boat & Home Show!
Art, Artisans, Food, Fun & Boats, Boats, Boats
August 11 - 13, 2023 | On the waterfront, Rockland, Maine
Click here to pre-order your tickets.
Show is produced by Maine Boats, Homes & Harbors magazine.