A Sturdy Maine Schooner
The Lewis R. French celebrates 150 years of sailing
By Polly Saltonstall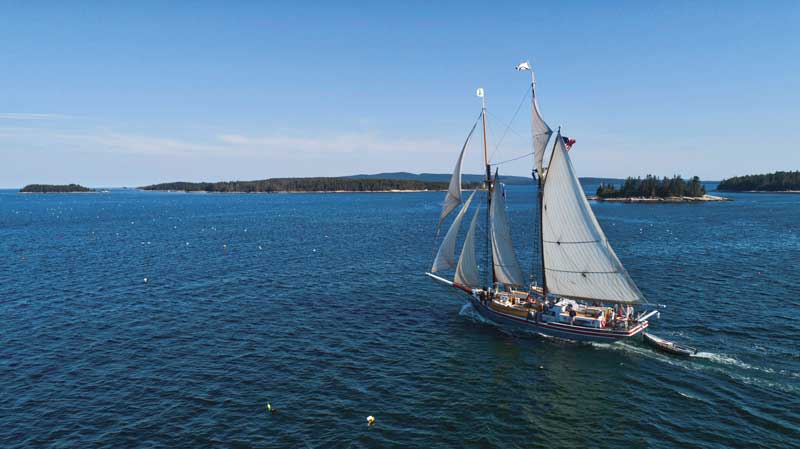 In addition to being the country's oldest two-masted schooner, the Lewis R. French is also the oldest Maine-built schooner still sailing in Maine. Photo by Ben Keller courtesy Garth Wells
When she was built and launched in 1871, the 64'7" Lewis R. French was unremarkable, just one among many small coasting schooners hauling freight from one Maine port to another. But a century and a half later she has survived, and that makes her special.
A National Historic Landmark, the Lewis R. French turned 150 this April. She is the oldest two-masted schooner in the country, and the oldest Maine-built schooner still sailing, and calling Maine home.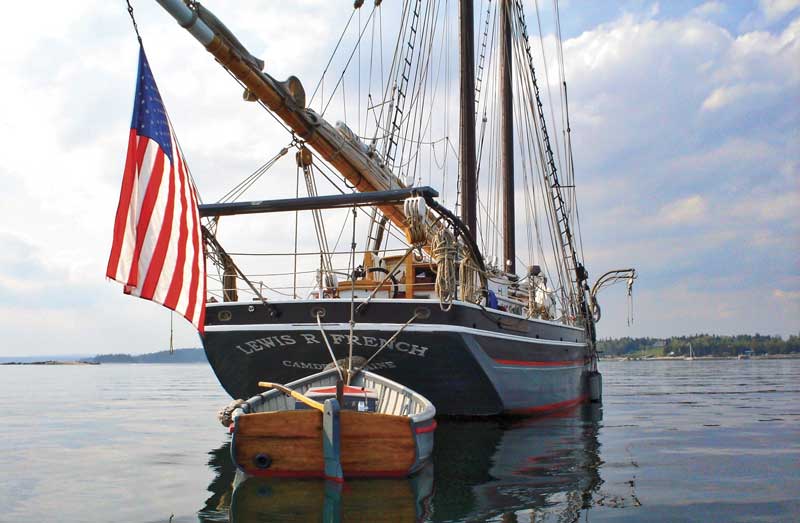 The Lewis R. French does not have an engine. When necessary the schooner can be pushed along by this powerful yawl boat. Photo Ccourtesy Garth Wells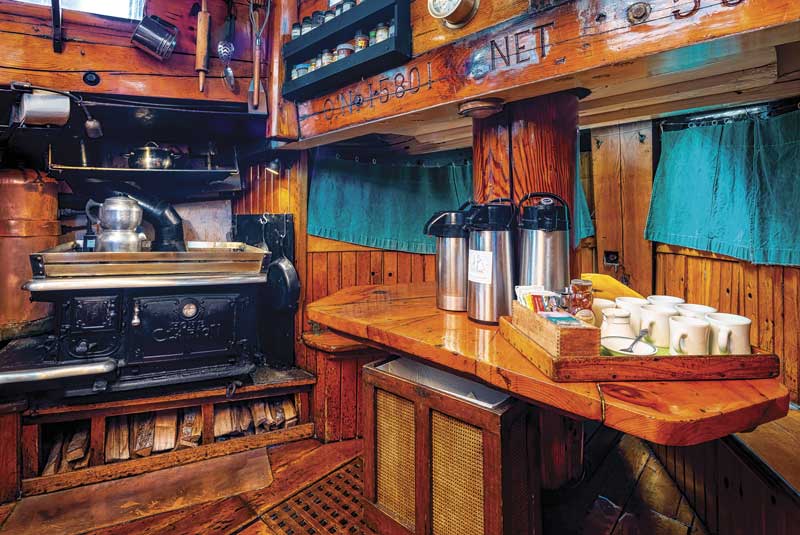 Cooking on board the French is done on this vintage wood stove. Photo by Sarah Szwajkos
Built to haul cargo such as grains, flour, fish, and even timber, for the past 50 years the small schooner has carried people as part of Penobscot Bay's windjammer fleet. Captain Garth Wells and his wife, Jenny Tobin, have owned and operated the vessel since 2004, cooking meals for passengers on a wood-burning stove and travelling under sail alone, as the schooner does not have an engine. The French, which can be pushed along by a yawl boat when necessary, carries up to 20 guests each week on overnight cruises out of Camden Harbor. Like most other Maine windjammers, Wells and Tobin were forced to cancel all the French's trips last summer as a result of COVID shut downs. But passengers from the last 30 years came together and contributed $46,000 to the vessel's operations through a GoFundMe campaign, helping make it possible for her to sail again this year and celebrate her 150-year milestone.
"I'm so touched to know that the experience on the French has been so meaningful for so many people," Wells said. "She's an amazing boat with an amazing history."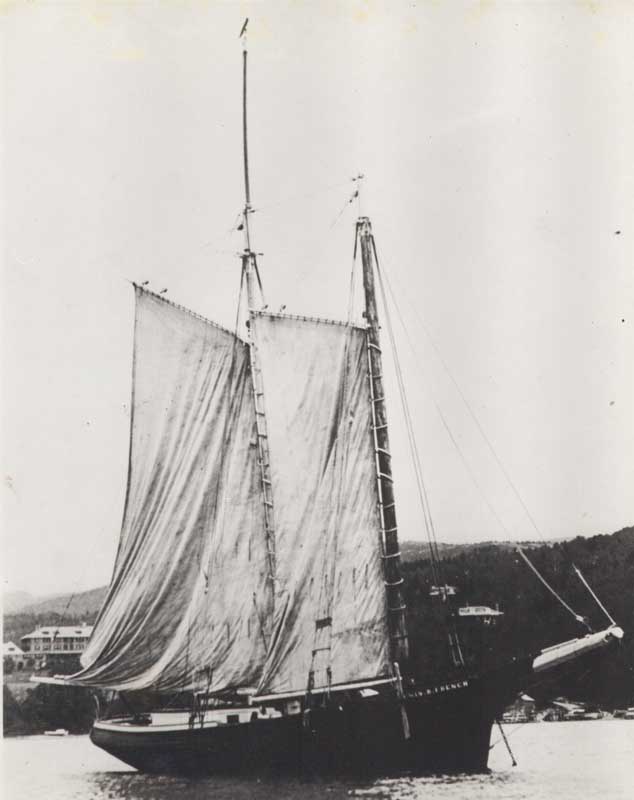 At one point in her career, the schooner was owned by a freight company on Mt. Desert Island and one summer had the contract to haul garbarge from the Asticou Inn. Here is the vessel at anchor with the sails up in Northeast Harbor.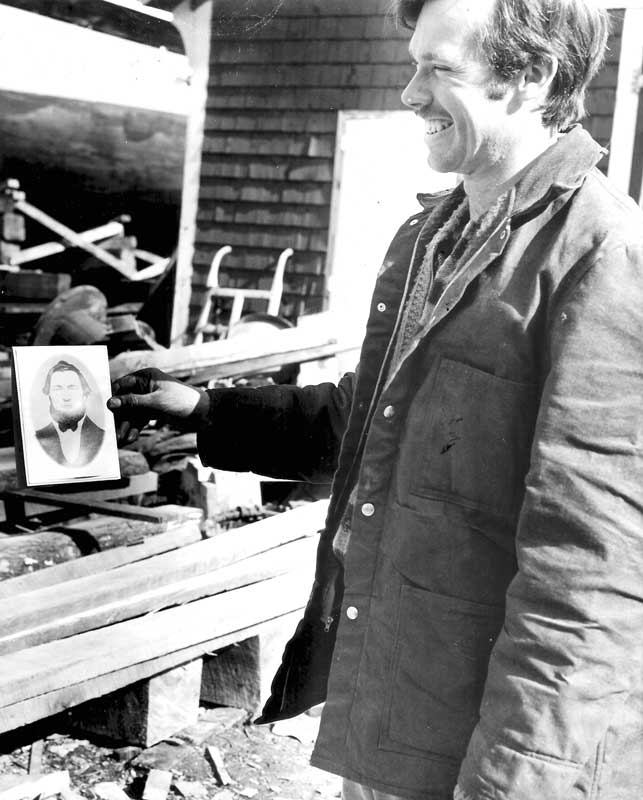 John Foss holds a photo of the schooner's namesake Lewis R. French in this photo, which was taken in the 1970s. Photo courtesy Garth Wells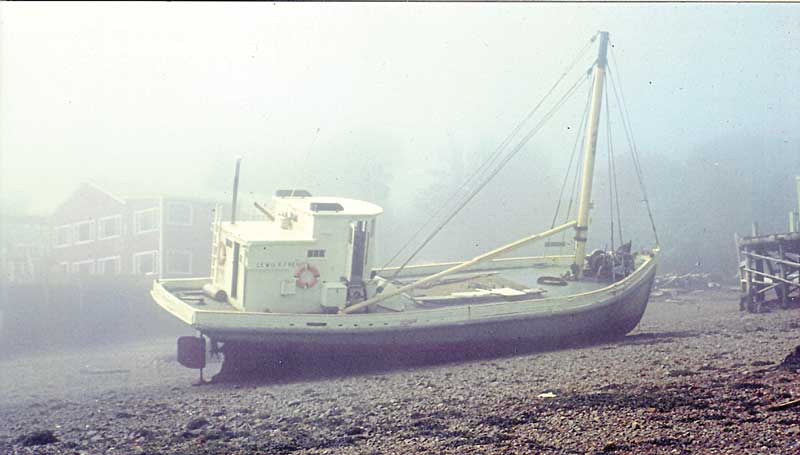 When Foss found the vessel in Lubec, she was hauled up on the beach. A mast had been removed and pilothouse added when the schooner was converted to a powerboat, but Foss could see that the schooner's bones were good. Photos courtesy Garth Wells
The Lewis R. French was built by three brothers who worked as carpenters for the A & M Gamage Shipyard in South Bristol. French family legend holds that they named the vessel after their father because of a maritime tradition requiring the namesake of a vessel to contribute a set of signal flags. Her entry into the coasting trade is documented as April 28, 1871 in the Waldoboro Custom House—the date's important, because the Stephen Tabor, another Penobscot Bay windjammer, also was built in 1871, but it's younger than the French by five months.
The two-masted topsail schooner's first cargo was a load of bricks from a brickyard up the Damariscotta River, said John Foss, who rescued the French in 1973 from Lubec and rebuilt her for the windjammer trade.
"She was just like every other little schooner in the early 1900s. Not of particular interest," Foss said. Old newspaper clippings record cargos of flour and corn, and herring. The vessel sailed out of Rockland for a time, and then as flagship for a Bar Harbor freight company on Mt. Desert Island, Foss said. One summer she had the contract to haul garbage from the Asticou Inn; another summer she hauled sand to build a private beach—it was all washed away in a late summer storm, he said. She carried pulp to paper mills, and hauled freight for a time for a firm on Vinalhaven. In 1934, she sailed downeast to Lubec where she spent the next four decades hauling sardine cannery supplies, including huge rolls of tin for the cans. All but one mast was cut away, a pilothouse was added, and an engine was installed to fit her out for the cannery work. That's where Foss found her.
She was in good enough shape to get back to Rockland where, with his partners in the North End Shipyard, Doug and Linda Lee, Foss spent three years rebuilding the French as closely as possible to what she would have looked like new, with frames of red oak and hackmatack, and white pine and oak planks. Almost exactly, that is. He didn't realize until too late in the process that the French originally carried a huge centerboard.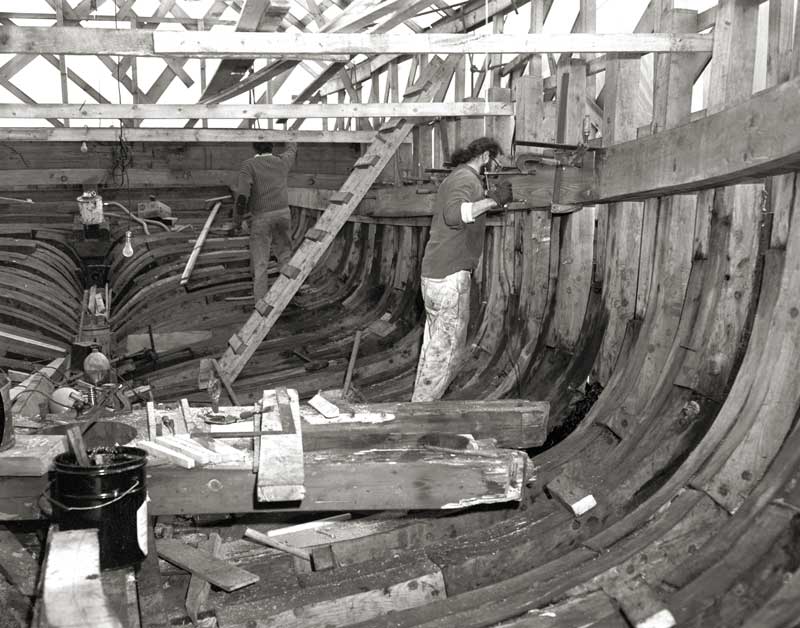 John Foss and his partners in the North End Shipyard, Doug and Linda Lee, spent three years rebuilding the Lewis R. French for service in the Maine windjammer fleet. Photos courtesy Penobscot Marine Museum Red Boutilier Collection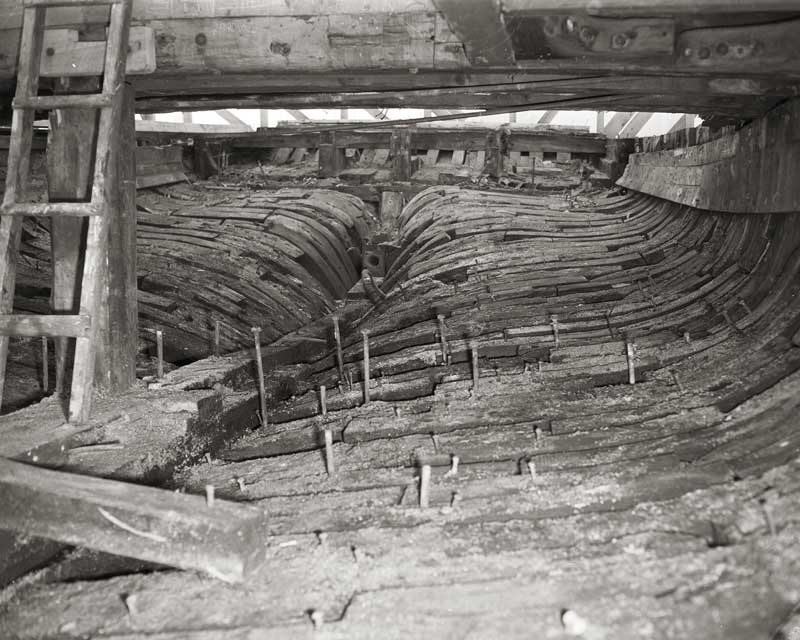 "As a result, I don't think she turns as fast," he said. "But she meets modern stability requirements, which she would not have when she was new." The French also is now fastened with metal spikes, not her original wooden trunnels (pegs).
Foss sailed the French in the windjammer fleet until 1986 when he sold her to Dan Pease, who was running the boat when Wells got his first windjammer job on her as a summer hand in 1998. Wells quickly became hooked on the Maine sailing life and decided to buy his own schooner. When he asked Pease for advice, Pease offered to sell him the French.
"I was incredibly lucky that the two previous owners were Dan and John," Wells said. "They kept the boat in good shape."
Wells met Tobin when she was working as a hand on another windjammer, berthed nearby in Camden Harbor. The two married in 2007 and have two young sons, who accompany their parents on the windjammer's cruises.
"The neatest thing about this boat is that it has been working along the coast for 150 years, just quietly making a living while changing with the times—50 years of carrying cargo under sail, 50 years of carrying cargo under power, and now 50 years of windjamming. It's a neat little history," said Wells.  
---
Polly Saltonstall is editor of this magazine.
Schooner Lewis R. French
207-230-8320
Maine Windjammer Association:
Share this article:
2023 Maine Boat & Home Show

Join Us for the Maine Boat & Home Show!
Art, Artisans, Food, Fun & Boats, Boats, Boats
August 11 - 13, 2023 | On the waterfront, Rockland, Maine
Click here to pre-order your tickets.
Show is produced by Maine Boats, Homes & Harbors magazine.