Letters Issue 173
An Art Paine fan
Any and every Art Paine article for MBH&H in which Mr. Paine is describing some boat, whether sail, power, paddle, steam, or whatever—I want that boat!
Is it Art's elegant and insightful writing? Is it his astute eye for a fine boat? Maybe both. I want that boat!
Paul Brown
Rockland, Maine
---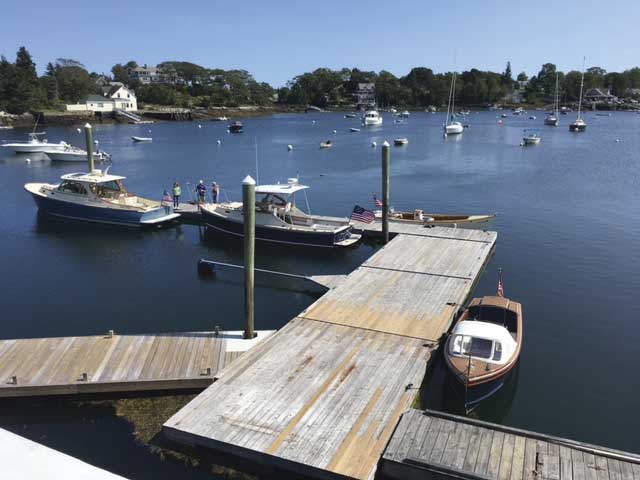 Thanks for running the shark story (MBH&H July/August 2021). While haddock fishing with Capt. Barry Gibson aboard his Shark VI, on Plattes Bank last summer, we were "pestered" by two blue sharks trying their best to steal our reeled in fish. Annoying, however, a sign that that some sharks are surviving.
This photo (above) is of our dark blue Dyer 29 , bookended by a Hinckley 34, and a Pulsifer Hampton, and a Doug Goldhirsh Handy Billy recently while we were having lunch at Coveside Restaurant.
My wife, Marijke, and I squabble as to who gets to read MBH&H when it arrives at the Georgetown Post Office!
Bob (Sharky) Damrell
Via email
---
Who's Henry Swan
What an interesting piece on tide mills. As a longtime summer resident of Swan's Island, however, I am familiar with its tidal millpond, but I've never heard of Henry Swan.
Kent Mullikin
Swan's Island, Maine
The reference should have been to James Swan, not Henry. Thanks for the correction! —the editor
---
A magazine fan
Thank you for continuing to put out a great magazine. I am glad that it has not lost its way as other boat magazines have done over the years, producing magazines mostly featuring boats (yachts) that are beyond the reach of most boaters. The articles here also reflect the real people of Maine and their lives as seen mostly from away while having the opportunity to see it from our cottage in Steuben.
Perhaps you can lure Mary South to contribute since she is no longer with one of the glitzy magazines. She always put a bit of herself into her stories making them more genuine.
Thank you, and especially John Hanson, for the great show last August in Rockland.  While a bit smaller than in the past (undoubtedly due to the lingering effects of COVID) it was great to have some sense of normal.
Edward W. Gasser
Avon, Connecticut
✮