Milbridge
Local Spirit
By Mimi Bigelow Steadman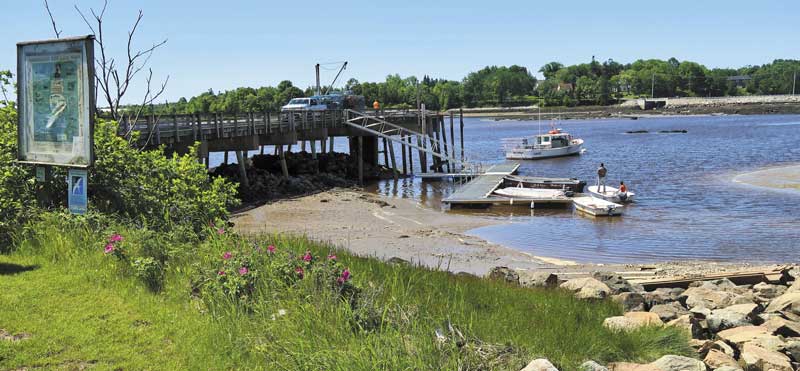 Milbridge's Town Marina provides both commercial and recreational vessels with access to the harbor and the Narraguagus River. Photo by Mimi B. Steadman
"Milbridge is up and coming," declared Janis Lesbines, a professional landscape gardener. "It has restaurants, a medical center, banks...." As she spoke, I thought to myself, Milbridge also has remarkable community spirit.
I'd happened upon Lesbines, watering hose in hand, in the midst of a prime example of this small downeast town's dynamism: an 18,000-square-foot organic vegetable garden at Milbridge Commons Wellness Park, a riverside green space that also offers a children's garden, pollinator garden, and walking path. Designed by Lesbines and tended by volunteers, this vegetable garden, a second, 14,000-square-foot plot up the road, and several micro gardens together yield about 8,000 pounds of veggies annually—and it's all free for the picking by anyone, regardless of economic status. Called Incredible Edible Milbridge and overseen by a local organization called Women for Healthy Rural Living, the project is successfully encouraging healthier eating.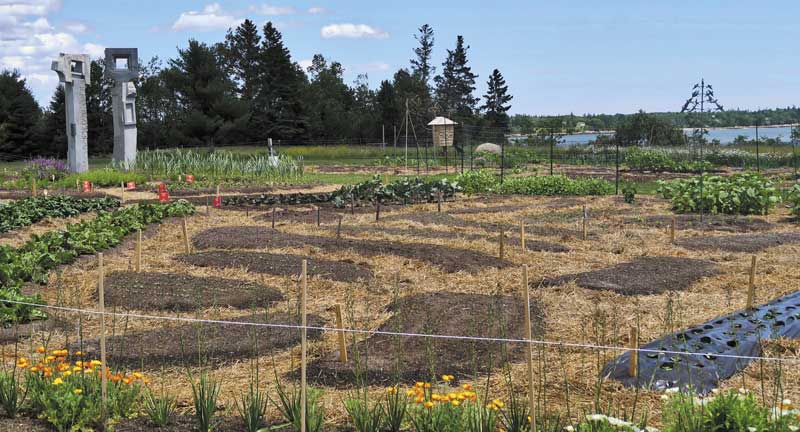 The entire community is welcome to pick vegetables in the garden at Milbridge Commons Wellness Park. Photo by Mimi B. Steadman We found healthful ingredients of another sort a few miles away at Chipman's Wharf, a family-run wholesale and retail enterprise that deals in lobsters, steamers, oysters, finfish, and other seafood. Monica Chipman, who operates the business on Narraguagus Bay with her husband, his brother, and his wife, showed us around a spic-and-span building that houses a processing room with large saltwater tank, a market, commercial kitchen, and dining deck.
We bought some salmon and smoked scallops, tucked them into our cooler, and drove downtown to Vazquez Mexican Takeout. Set in a can't-miss lime-green building, it's another successful family business, begun two decades ago after the Vazquezes came from Guanajuato, Mexico, to work in the region's major wild blueberry harvest. Known for their cooking, they were soon feeding workers from a taco truck on the barrens; they opened an in-town eatery in 2014. As I sat at a picnic table happily crunching my flautas, I was reminded that about 25 percent of Milbridge residents are Hispanic people, most of whom arrived to pick blueberries and then joined the community. They've been welcomed by their neighbors and by a local outreach organization called Mano en Mano, which helps with finding affordable housing, educational opportunities, and other necessities.
Crossing a bridge over the Narraguagus River—once site of a booming wild Atlantic salmon population—we continued to the Town Marina, where we scanned the fleet of lobsterboats moored in the harbor. At the pier, what I guessed were a father and young son used a crane to transfer traps from a pick-up onto a boat tied alongside. Home to more than 100 licensed fishermen, Milbridge's commercial fishing dates to the days when local sardine canneries rivaled those in Eastport. Sardines are still caught here, as well as lobsters. Other income-producing natural resources include timber and evergreen trees whose branch tips are used in large-scale Christmas-wreath production.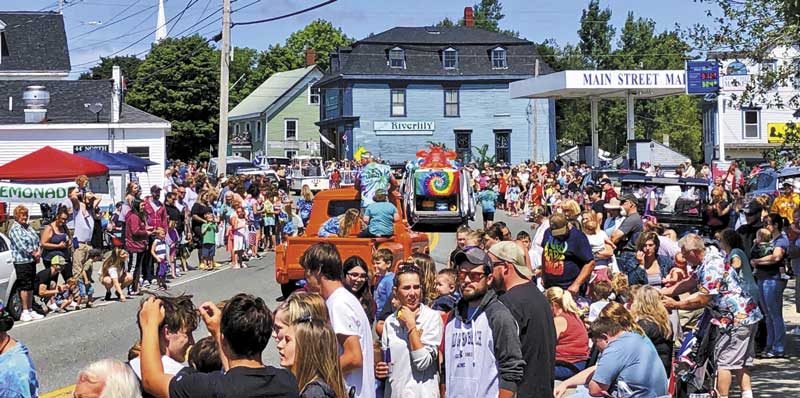 A festive parade draws a crowd during Milbridge Days, a community-wide celebration held every July. Courtesy Richard Bondurant, Near the pier stands a small stage where summer concerts draw several hundred audience members—"as many as 500, who come from as far away as Bangor, Bucksport, and Eastport," Richard Bondurant later told me. He's the board chair of Gateway Milbridge, another energetic organization whose key project—along with operating the outdoor theater and spearheading the Holidays on Main Street and summertime Milbridge Days celebrations—is to replace an old theater that stood for nearly eight decades before disrepair necessitated its removal in 2014.
Thanks to enthusiastic support from individuals, businesses, and grants, the new Milbridge Theater and Community Arts Center is rising downtown, with plans to open next summer. As there's currently no performing arts venue in the 60-mile stretch between Gouldsboro and Machias, it will provide a much-needed community gathering place—and yet more proof that Milbridge is, in Bondurant's words, "very alive. People are moving here because of it. You can feel the energy."  
---
Contributing Editor Mimi Bigelow Steadman lives on the Damariscotta River in Edgecomb.
If You Go to Milbridge
On the Water
Primarily a working harbor, Milbridge does not have any town-owned guest moorings. However, John Chipman, harbormaster for the past 25 years, offered, "If they call me, I can find something for them." (207-546-7251). He advised following the buoys carefully to stay in the channel (the harbor dries up to either side of it) and stressed the importance of paying close attention to the tides. "I never know what the tide's doing," he said. "It might be going out at the Town Marina pier, and then ten feet off the pier it could be running in." For waterborne sightseeing, check out Robertson Sea Tours, which offers trips aboard a 32-foot lobsterboat-style vessel to see lighthouses, seabirds, and other wildlife, and to learn about lobstering. There are also cruises to view the summertime puffin colony on Petit Manan Island, and specially scheduled trips that venture farther in search of whales.
---
Dining
From spring through fall, Vazquez Mexican Takeout serves up burritos, quesadillas, guaraches, chimichangas, and tacos made with handmade flour tortillas, plus many other authentic dishes. The morning menu at Milbridge House has been voted the best breakfast in eastern Maine. At lunch and dinner, the fish and chips and house-made pies get raves. 44 Degrees North Restaurant and Pub offers a traditional lunch and dinner menu featuring burgers, steaks, and fresh seafood, plus memorable desserts.
---
Shopping
Chipman's Wharf sells lobsters and other fresh seafood to take home to cook. The kitchen also serves a variety of tasty options for enjoying on the dining deck overlooking the bay. The shop carries a small but good selection of Maine-made condiments and non-food products. Plan a stop at River Lily, in a big blue, mansard-roofed building in the center of town. With books, kitchen gadgets, jewelry, luxury toiletries and more, it entices even the most reticent shoppers. Browse the greeting cards and stock up from the large and entertaining selection.
---
Hiking
Walking the waterside track at Milbridge Commons Wellness Park offers a great way to rack up your steps. In addition to the gardens and river, the scenery includes an intriguing granite sculpture entitled Transitory, one of 34 large pieces sited along the 200-mile-plus Maine Sculpture Trail. The Petit Manan National Wildlife Refuge encompasses several properties in Downeast Maine. Both its Sawyer's Marsh Division in Milbridge and a larger Petit Manan Point Division next door in Steuben offer trails and excellent opportunities for wildlife watching.
---
Don't Miss
In December, a Holidays on Main Street festival adds sparkle to the season. Late July brings Milbridge Days, which attracts some 3,500 people to a plethora of events including a parade, car show, lobster cookout, concerts, fireworks, and the always-entertaining codfish relay race. Look into summertime offerings at Gateway Milbridge's outdoor stage at the Town Marina, as well as what's scheduled at the Milbridge Theater when it opens. Be sure to drive through the blueberry barrens. In the spring, the plants burst with flowers. In late July and August, you'll see workers harvesting the berries. In the fall, the barrens turn a deep red, providing a stunning complement to the colorful foliage. More than 10,000 acres of blueberry land is owned by Jasper Wyman & Son, begun in 1874 as a sardine-canning business in Milbridge and still headquartered there. The company switched to blueberries when the sardine industry faltered and is today a leading grower, processor, and marketer of Maine wild blueberries.
Share this article:
2023 Maine Boat & Home Show

Join Us for the Maine Boat & Home Show!
Art, Artisans, Food, Fun & Boats, Boats, Boats
August 11 - 13, 2023 | On the waterfront, Rockland, Maine
Click here to pre-order your tickets.
Show is produced by Maine Boats, Homes & Harbors magazine.