Body Footer:
Let's hear it for the kids!
A crew of 20-somethings who all learned to sail on Mt. Desert Island and raced on the high school sailing team beat out 13 other crews from across the country to win the IOD Class North American Championships. The regatta, which took place off MDI last September, featured 14 teams from San Francisco, Annapolis, Bermuda, Nova Scotia, Long Island Sound, New York City, Marblehead, and Northeast Harbor.
The red-hot team went on to compete at the World Championship of the International One Design Class in Fishers Island, NY, where they finished fourth out of 16 boats, just one point out of third place, and were awarded the Priscilla Kehm trophy for outstanding performance by a crew.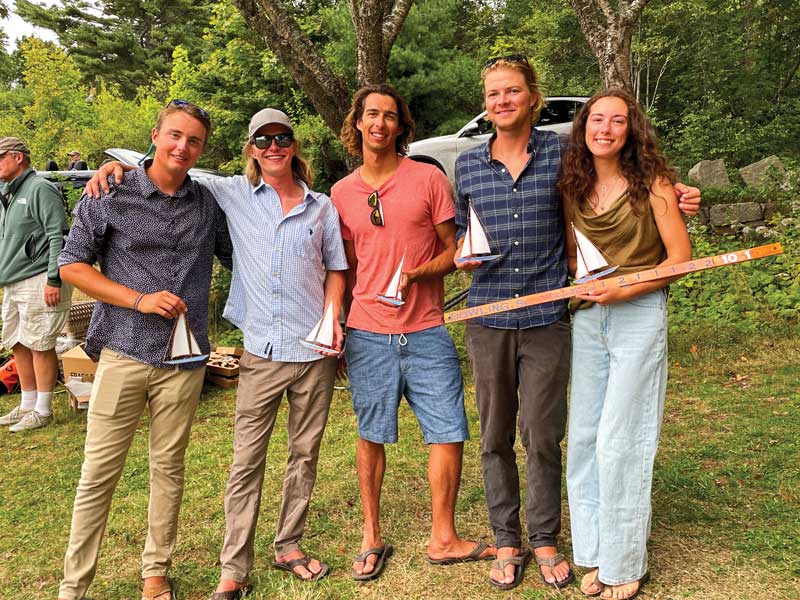 Lucas Ingebritson, Connor Ratcliff, Alec Fischella, Sean Beaulieu, and Sofie Dowling at the IOD North Americans. Photo courtesy Glenn Squires ​Skipper Sofie Dowling, 20, raced with close friends Connor Ratcliff (22), Lucas Ingebritson (21), Alec Fisichella (21), Sean Beaulieu (26), and Kevin Elk (25) who filled in for Beaulieu during some of the MDI races. Four members of the team have parents who work in the boat business. Wythe Ingebritson is a broker with Hinckley; Will Ratcliff works at the John Williams Co.; Jim Elk runs Elk Spars; and Jean Beaulieu heads up Classic Boat Shop.
At the North Americans, Dowling and her crew, who learned to sail at the MDI Community Sailing Center in Southwest Harbor, "absolutely crushed the competition," according to the sailing center's director Glenn Squires, with four firsts and three seconds during the three days of racing. "They were by far the youngest team on the water," Squires said. "The competition could be their parents or even their grandparents." You can find a slide show of images from those races here: www.maineboats.com.
At the worlds, the team was moving up in the standings over the several-day event, but racing ended early due to high winds. According to one report, Dowling was one of the first female skippers ever in the IOD Worlds, as well as the youngest skipper. Dowling noted the wins were a team effort. While she handles the helm, Fischella handles tactics, and Ratcliff calls starts, and they all hike and trim sails. "We have such an understanding of mutual respect and there is always a conversation," she said. "And at the end of the day we are always still friends."
"Sailing in her first IOD World Championship, Northeast Harbor's Sofie Dowling (who will turn 21 in a few weeks) and her young team… were a force to be reckoned with," said Greg Mancusi-Ungaro, a member of the IOD executive race committee. "They gave all the past world champions everything they could handle every time they sailed…. All week long they made great tactical decisions and handled their boat expertly. They seemed to get better and better as the regatta wore on. Not only were they fast—scary fast—but they were fun. It was obvious to all that they were having a wonderful time."
The MDI sailors will get their names engraved on the Kehm trophy as a permanent reminder of the team from Maine. "And we feel sure that these talented young sailors will be back in future years to find their place on the victory podium," Mancusi-Ungaro said.
So, one more time, let's hear it for the kids!
---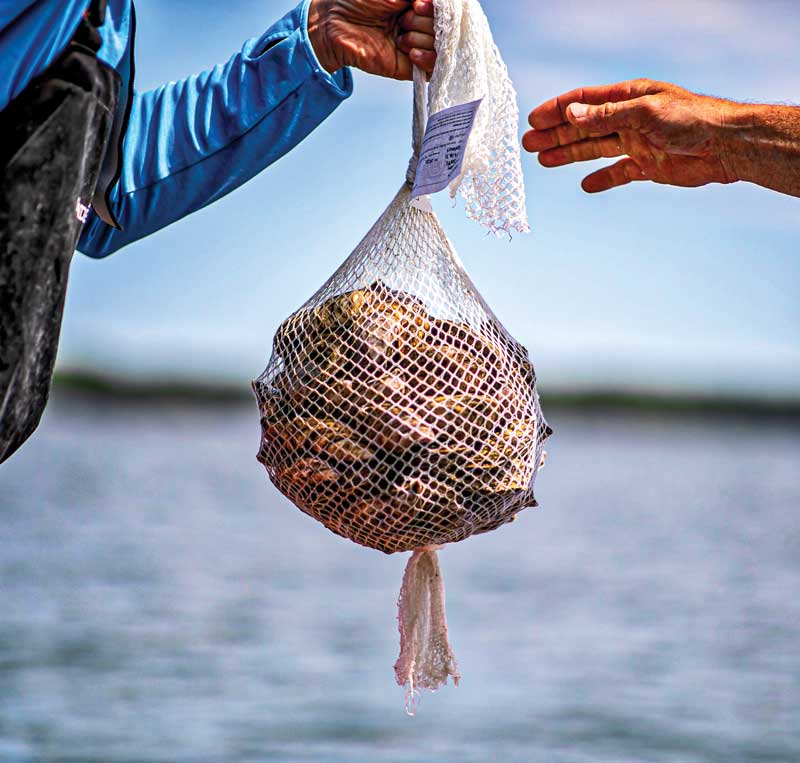 A mesh oyster bag made from wood. Photo courtesy Ocean Farms Supply
Cutting out the plastic
Rather than relying solely on plastic equipment, shellfish and seaweed growers are finding alternatives, and a lot of this work is happening in Maine, according to a report in the online Hakai newsletter.
The folks at Harraseeket's Maine Ocean Farms have launched a new business called Ocean Farms Supply that is marketing non-plastic gear, including the mesh bags commonly used by fish farmers. Ocean Farms owner Erin Adams and her business partner Eric Oransky have been using bags woven out of string made with 100 percent European beechwood to hold their farm-raised oysters.
The company uses roughly 1,200 of these bags every season, and also sells the material to oyster, clam, and mussel growers, and wholesale distributors as far away as Mexico, California, and Florida.
Already these bags have replaced the use of 22 kilometers of polypropylene mesh, Hakai reported.
Aquaculture both contributes to and is potentially harmed by ocean plastics, Hakai noted. Much of the industry's gear, from ropes to cages to flotation devices, is made of plastic. Over time, that plastic degrades, generating millimeter-sized particles that can be ingested by shellfish and finfish.
Another Maine oyster farmer, Abby Barrows of Long Cove Sea Farm on Deer Isle, who is also a plastics researcher, is developing experimental oyster bags made of cork and cedar trees, with fine stainless-steel or aluminum mesh on their tops and bottoms. She's also developing ropes made from Manila hemp.
She has been running side-by-side experiments to compare how well baby oysters develop in wood and metal cages versus plastic ones in collaboration with scientists in Nova Scotia, who will measure the oysters' microplastic content.
In addition, the Maine start-up Viable Gear, run by Katie Weiler, is tackling the mussel socks used to grow baby mussels. Weiler prototyped kelp-based seeding twine to replace the nylon that kelp growers currently use. She is also working on bait bags for the lobster and crab industries and is interested in kelp-based cling wrap to replace the plastic used to wrap boats in the winter.
---
MITA acquires a shoreside base
The Maine Island Trail Association has acquired property in Freeport that will be used to house the organization's fleet of workboats in the offseason. The nonprofit currently operates eight aluminum workboats that facilitate stewardship efforts on more than 250 island and mainland sites along the Maine coast. Last season, MITA volunteers made over 1,600 island visits for stewardship work and removed approximately 12.6 tons of debris across a cumulative 6,700 hours of service.
"Having a dedicated facility for our fleet is a real milestone for MITA," said Executive Director Doug Welch. "We have relied on a combination of member generosity and leased space for our boat storage needs in the past, however there were never any guarantees from year to year. In addition to providing off season storage for the boats, this facility will also serve as a true headquarters for MITA's stewardship efforts."
---
Shark expert alert
In the wake of 2020's fatal shark attack off Bailey Island and increased sightings along the coast of great whites, the Maine Department of Marine Resources has hired its first-ever researcher dedicated to studying the apex predator. His job, according to a report in the Portland Press Herald, is to figure out how and where sharks spend their time in the Gulf of Maine. Much of his work involves running the state's shark monitoring program. The state now has about 30 acoustic receivers in Southern Maine that collect data when sharks with monitoring tags swim within a couple hundred yards of them. Another pair of receivers send out real-time shark detections off Popham Beach and in Saco Bay, giving life guards and public safety officials a chance to know immediately if a great white—if it is tagged—is nearby.
---
The big tuna
After a four-decade hiatus, Boothbay Harbor hosted a tuna fishing contest last September 4-8 featuring 60 contestants, each of whom paid a $750 entry fee. The event, which benefited Boothbay's Fishermen's Memorial, included a $30,000 cash prize for the heaviest tuna, with smaller cash prizes for the next four biggest catches.
The brainchild of Jax van der Veen, who manages Carousel Marina which was recently bought by the van der Veen family, the tuna contest was run by a new non-profit: the Boothbay Harbor Tuna Challenge. Fishermen were restricted to fishing in waters in Zone 1A which runs from the Massachusetts to the Canadian border.
First prize, according to the Wiscasset Newspaper's web news, went to Robert Fifield who docked his Wasabi at Carousel Marina in the evening of the contest's last day with a behemoth 725-pound tuna—that's a lot of tuna fish sandwiches! Second place went to Joe Pinkham of Five Islands with a 712.5-pound tuna. Steve Morse of Harpswell caught the third heaviest fish at 669 pounds aboard his Reel Estates. The fourth heaviest catch, 644.5 pounds, was recorded aboard the Ivy Jean. Brent Olsen of South Bristol caught the fifth biggest fish, a 641-pounder aboard the True North. After catches were weighed, captains sold them to fish buyers from Massachusetts and Rhode Island. In all, 44 tuna were landed.
"We're very happy with the tournament and all the community support. We're also looking forward to next year's tournament," Jax van der Veen told the Wiscasset Newspaper.
---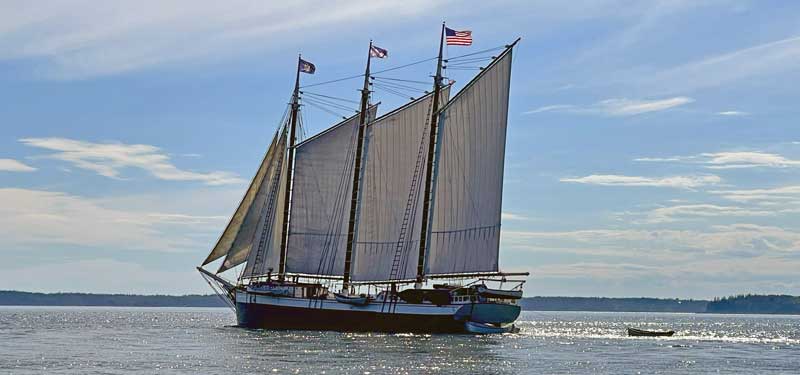 Photo by Kat Stuart
Victory Chimes drops anchor
The owner of the historic passenger schooner Victory Chimes has called it quits for the iconic green-hulled, three-masted vessel.
"After long and careful consideration, we have come to the difficult decision that 2022 will be Victory Chimes' last sailing season," Sam Sikkema, captain of the 128-foot wooden schooner, said in a news release. "Upcoming Coast Guard compliance, cost and availability of materials for upcoming maintenance, the lack of ability to haul the ship in Maine, and the losses of the 2020 season have all become a hill too big to climb."
Sikkema said he is working to find a new home for the vessel.
Built in 1900 in Delaware, the vessel, which was originally called the Edwin and Maud, carried cargo around the Chesapeake Bay until 1946 when it was converted to carry people. Renamed Victory Chimes, the schooner began working as a passenger windjammer in Maine in 1954. In the early 1980s, she was sold to an owner in the Great Lakes, and later bought by the owner of Domino's Pizza, renamed Domino Effect, and extensively rebuilt at Samples Shipyard in Boothbay. The Chimes returned to Maine in 1990, and Sikkema bought the vessel in 2018. Featured on Maine's 2003 commemorative quarter, the Victory Chimes is the largest member of Maine's windjammer fleet.
---
Hybrid cruising
We've been seeing quite a bit of news about new electric-powered recreational vessels. Now comes a hybrid cruise ship.
Folks in several Maine ports were able to get a glimpse of the 459-foot Hurtigruten expedition ship Roald Amundsen, the world's first hybrid cruise ship, as it cruised down the coast on a 9-day trip from Halifax to Boston in mid-September. It visited Eastport, Bar Harbor, Castine, and Rockland. The 530-passenger Norwegian vessel is powered by low-sulfur diesel fuel and two massive battery packs that boost power thus reducing fuel consumption. The vessel also can go a short distance on battery power alone, according to the company. The hybrid technology reduces fuel consumption and C02 emissions by 20 percent, according to Hurtigruten Expeditions. Launched in 2018, the Norwegian vessel began expedition cruises in 2019. The ship, which was built to undertake polar voyages, is named for the Norwegian explorer Roald Amundsen, who led the first expedition to reach the South Pole in 1911.
Hybrid technology has started to take hold for ferries, as well as cruise ships. The Casco Bay Lines in Portland has commissioned a hybrid-electric ferry that is under construction in Rhode Island and expected to be in service in 2024.
The vessel will have the ability to operate in diesel-electric, zero-emissions, fully battery-powered modes, or a combination of those options. Designed to hold up to 599 passengers and 15 vehicles, it will replace an existing diesel-powered ferry, resulting in a reduction of approximately 800 tons of carbon dioxide each year, according to the ferry line. Casco Bay Lines received $3.6 million in federal grants for the hybrid propulsion system from the Department of Transportation's Federal Transit Administration Passenger Ferry Grant program.
---
A very long detour
Remember the old "Bert and I" comedy skit about getting directions in Maine, the one where you can't get there from here? Folks driving through the Northern Maine town of Jackman last summer found out just how true that can be when traffic on route 6/15 in Jackman was sent on a 143-mile detour for two days after a section of the road was washed out in a heavy rain, according to a story in the Bangor Daily News.
Locals quickly figured out a much shorter detour that included driving on soggy dirt roads. But visitors and truckers faced delays as they diverted down Route 201 to Bingham and then followed Route 16 to Abbot to reconnect to Route 6. Some changed plans altogether, like a family that opted to go to the Skowhegan State Fair instead of visiting Greenville, the newspaper reported.
---
Maine stone headed to NY
Freshwater Stone in Orland, Maine, has taken on a monumental project this year: the restoration of Fort Hood, the base upon which the Statue of Liberty stands.
The job involves replacing 23 stone walls that run around the Statue of Liberty. The 11-pointed, star-shaped base, originally used as a military fort, will require more than 1,000 pieces of granite from Freshwater's quarry at Mosquito Mountain in Maine, totaling about a quarter-million pounds of cut stone.
Historical renovation projects require blending the old with the new as seamlessly as possible. To achieve this result, edges of the fresh-cut stone are being distressed with a torch and hammer to give them an authentic, antiqued look.
"The less you can tell that restoration has occurred," John Horton, Freshwater's architectural stone manager, "the better the restoration work that was done."
Freshwater Stone sourced, cut, and prepped the 250,000 pounds of granite from their Frankfort quarry. Sadly, the stone sloops that once carried Maine granite to Boston and beyond no longer exist (profiled on page 44). Instead, Freshwater transported its granite to New York in tractor trailer trucks.