Model Pond Racer Wins Design Kudos and Fans
By Art Paine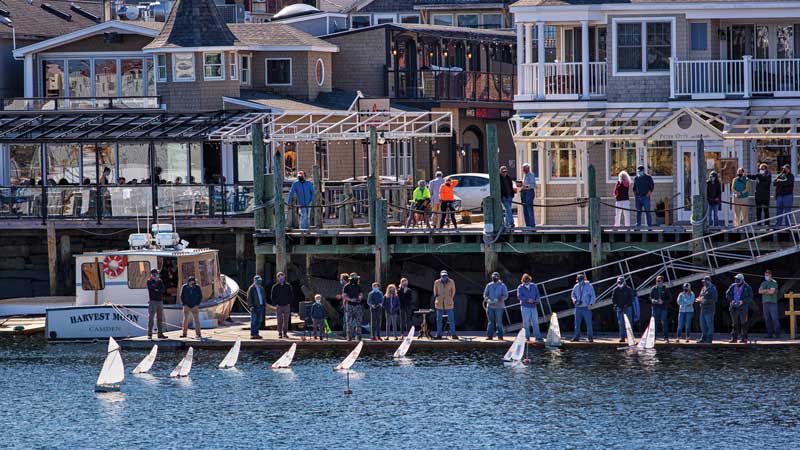 The Maine Model Pond Yacht Club holds weekly races in Camden Harbor during the winter. Competition is fierce in the DragonForce 65 class, shown here being raced off Camden's public landing. Photo by John Williams
Sometimes the best yachts are also the smallest. One of the hottest new racing classes along the coast in recent years has been a radio-controlled model sailboat called the DragonForce 65.
Model sailing yachts had been around for centuries. Initially, they were fancy miniaturized versions of yachts owned by gentry and lords. Then, somewhere along the line, two men launched comparable vessels in the same direction, and the concept of model sailboat racing was born.
In this country the sport became popular in the late 1800s—pond models were racing in Prospect Park, Brooklyn, by 1872 and in New York City's Central Park by 1875. Back then most boats were controlled by using a fixed rudder and adjusting the sails—skippers following along in skiffs often used a pole to nudge their boat in the right direction. By the 1930s, model yachting had reached a peak, with ponds being built in urban areas across the country and several different classes of yachts being built. The competition was fierce, even involving matches between countries—according to one history, the United States beat Britain in the first international championship in A class boats, in part because the British were unfamiliar with controlling their boats from skiffs.
By the 1950s, things took a major step ahead with the advent of radio controls, which offered precise steering, and later the sheeting in and out of sails. I've always taken keen interest in ideas that appeared on pond sailing models. Impact-absorbing cork and rubber bumper bows, vertical fins and teardrop ballast bulbs, the "fork" keel, down-pushing boom vangs, rotating "aero" rigs, windvane steering, and dozens of other groundbreaking inventions appeared, sometimes long before finding their way into boats one actually steps foot into.
I was reminded of this recently when I visited an old dinghy racing rival in Belfast and he introduced me to his new DragonForce 65. Just over 25" long and about 5" wide, the DF65 has a 36" tall mast, a sail area of about 344 square inches (jib and square-top main), and weighs about 1,200 grams. The aluminum fin bulb keel makes for a draft of 13 inches. A transmitter in the hull allows a shoreside sailor with controls to adjust the rudder and sail trim. The basic kit includes mylar film sails and extruded carbon-fiber mast and boom tubes.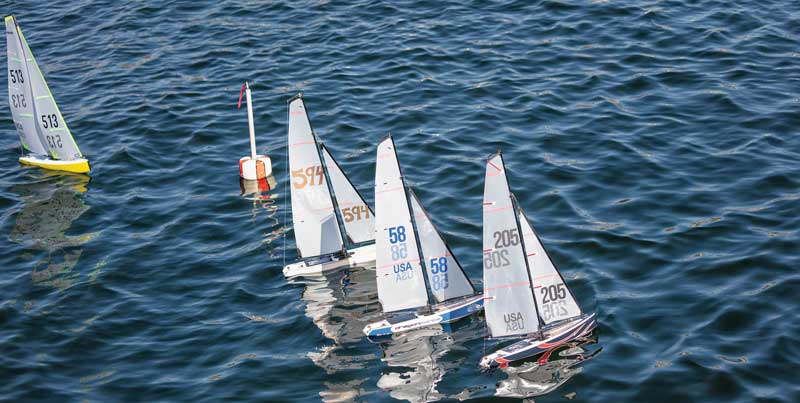 Just over 25" long and about 5" wide, the DF65 has a 36" tall mast, and a sail area of about 344 square inches. A transmitter in the hull allows a shoreside sailor with controls to adjust the rudder and sail trim. The basic kit includes mylar film sails and extruded carbon-fiber mast and boom tubes. Photo by John Williams
The more closely I investigated its features, the more convinced I became that the DF65 is a brilliant boat design. I watched videos and eventually even sailed one. The boat sailed amazingly well and the control device worked nicely. My buddy's boat only cost him about $300 and provides him with one day of competition and camaraderie per week, even through the dead of winter.
The DragonForce 65 is marketed by Joysway Hobby International Ltd., and is available by fast delivery around the world. The company might have gone to a naval architect for its plan, but had they done so I bet they'd have ended up with a flop. Instead, Joysway, a toy manufacturer that had some success with a little plastic sailboat, got lucky when one of England's top model racers, John Tushingham, met up with company rep John Wesley.
Tushingham had designed, built, and won races with several different pond model classes, many featuring wooden hulls. He, his friends Mark Dicks, who concentrated on a smaller class called the RS65 (it is 65 centimeters in hull length), and another fellow pond model fan Mike Weston, had long dreamed of developing an inexpensive one-design sloop. "What was needed was a well-designed, plastic, one-design yacht with three rigs (for different wind strengths) at a price unheard of," Tushingham said.
Joysway had connections with factories in Hong Kong and mainland China that could build small items economically. The several designers conspired to blend the best features of little boats that must contend with blustery winds and relatively big waves, but deferred to industrial toy designers for the manufacturing details.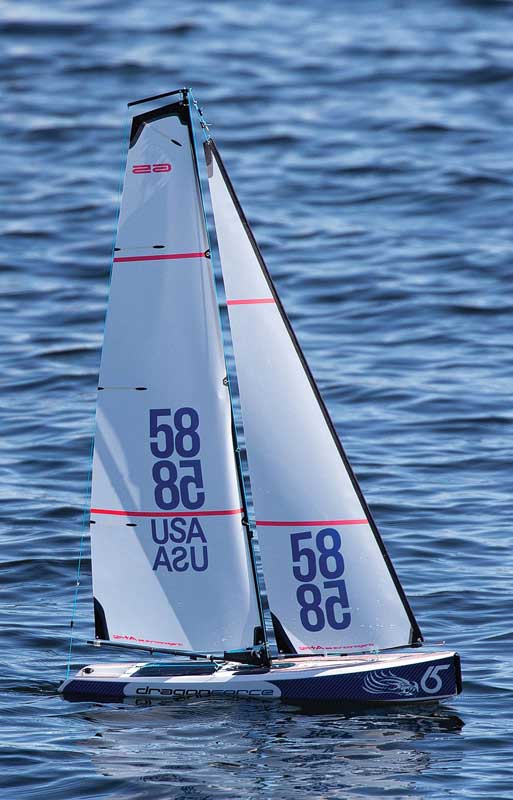 Photo by John Williams As in big boat design, the proof of success lies with the marketplace, and in eight years, the DragonForce 65 has become the best-selling model sailboat in history, approaching 50,000 sold with the tally rapidly rising, according to Joysway.
Model yachting has always been linked with full-sized boats. Early classes were modeled on gaff riggers and meter boats. The modern era of radio control features plastic hulls replicating Lasers and Solings and other worthy designs steered by humans. Joysway decided to mostly ignore humankind in order to perfect a racing machine with great performance, durability, portability, and low cost.
A key to its good performance is the DragonForce 65's deep fin keel—the draft of the boat is about a third the height of the mast. This stems from a key principle of yacht design, which is explained in the classic book, Skene's Elements of Yacht Design. A chapter entitled, "The Laws of Mechanical Verisimilitude" explains that the apparent strength of the wind increases relative to many other factors as a boat gets smaller. Model boats are often sailing in puffs that "feel" to them like a gale of wind. For this reason, they require very deep keels and very heavy ballast located down low.
Once model yachting developed beyond attractive shrunken versions of beautiful types, which always sailed on their ear, sailing models evolved in ways to greatly increase stability.
The DF65 has an unstayed carbon fiber mast and Mylar sails and can heel at an alarming angle, but the 13-inch draft keeps it from slipping sideways.
Although narrow models have proven faster and less prone to steering misbehavior due to shape changes when heeled, this boat is wider to accommodate a cost-efficient construction process known as "blow-molding."
It's the same process used to create a Clorox bottle, whence plastic is melted down and expanded into a cavity mold by compressed air. This hull is wider than it might ideally be because it is impractical to blow-mold something that is too long and narrow.
An advantage to blow-molding (beyond cost containment) is that it produces a seamless product with no deck joint that could leak, an obvious advantage for a radio-controlled, battery-powered boat.
I made two trips to meet a group of DF65 sailors from the Maine Model Pond Yacht Club in Camden and another to South Blue Hill to the shop of Thom McLaughlin, who taught pond model construction at the WoodenBoat School for 21 years. He also races a DragonForce 65 with the midcoast club.
He disabused me of my hope that the one-design aspect of a DF meant I'd no longer have to tweak things in search of boat speed. "There are plenty of small adjustments. You use things called 'bowsies' to tune all kinds of little aspects of the rigging, and you can even set up variations on how the servo motors steer and sheet," he told me.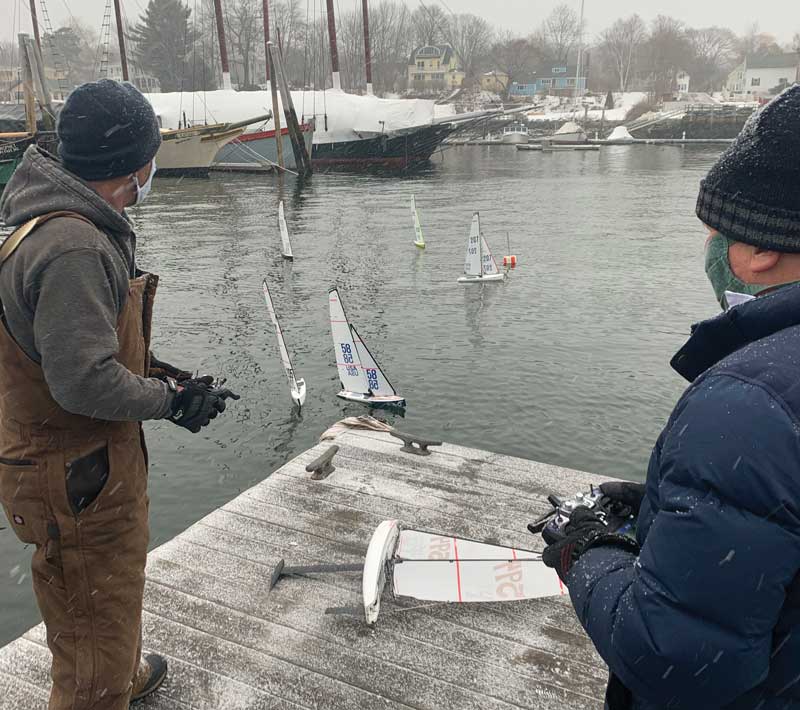 Model pond racers are much easier to launch than full-size yachts, which allows for winter sailing. Note the deep bulb keel on the boat lying on the dock. Photo by Huck Massey
Part of my detective work involved actually taking over the twin joysticks on a remote control box and attempting to sail a DragonForce 65 in a fleet of 15 racing in a quarry in Rockland—the summer venue when inner Camden Harbor is busy with yachts. I was hopeless initially, varying between tense and intense, and was repeatedly reminded that leaning my body far left wasn't likely to make the boat go any faster. Still, in one race I managed a second place.
The midcoast's DF65 racers range from arthritic dinghy jocks like me to a walker-aided gentleman who wins races as if his entrant was equipped with tiny sailors hanging out on radio controlled trapezes. The DF65 association lists 137 clubs across the United States and Canada; and I'm proud to report that Maine's is the most active club in Region One, which encompasses New England.
After my first visit to observe some of these boats in action, I attended an after-action beer social at club commodore Jeff Van Peski's house. I quickly realized how perfectly I fit the demographic. When I asked if the group included hotshot regular boat racers who were finding big boat racing increasingly exhausting, many hands were slowly elevated.
I said I liked the DF65 because it's a true one design, and was quickly informed that you can buy different sails than the ones in the stock kit, and a few other minor upgrades are also available.
Someone also told me that I would need to read my rule book, the same Racing Rules of Sailing required for racing my Luders 16. Lo and behold, it includes a section covering the rules for model yachting. Several local racers, I learned, are training for the DragonForce 65 National Championships, which will take place in Punta Gorda, Florida, in late November. Then it's on to the Worlds in England.
Something tells me that after my DF65 arrives in its box and I paint its hull with some outrageous color scheme, and spray paint the sail, that won't be the end of it. This is a whole new world, in miniature.  
---
Contributing Author Art Paine is a boat designer, fine artist, freelance writer, aesthete, and photographer who lives in Bernard, Maine.
---
The Maine Model Yacht Club races Sundays in the winter months from 1:30 p.m.-2:45 p.m. at the Public Landing in Camden, and in the summer from 3:30-6 p.m. at a quarry in Rockland. Their website is www.mainemodelyachtclub.org.
Share this article:
2023 Maine Boat & Home Show

Join Us for the Maine Boat & Home Show!
Art, Artisans, Food, Fun & Boats, Boats, Boats
August 11 - 13, 2023 | On the waterfront, Rockland, Maine
Click here to pre-order your tickets.
Show is produced by Maine Boats, Homes & Harbors magazine.