Hound: Refit included a larger rig
By Art Paine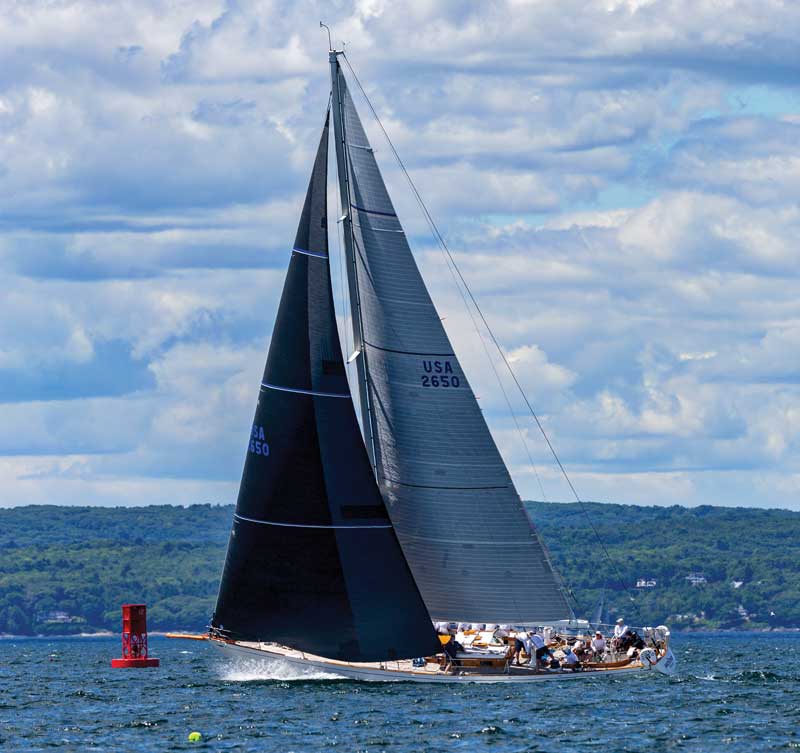 Built over 50 years ago, the classic Aage Nielsen-designed yacht Hound has been refit taking advantage of advances in design and materials. Photo by Alison Langley
Back in the days when a fleet of J/24s raced regularly in Camden, there was this "nipper," maybe 10 years old, named Dan Litchfield, who loved boats and racing and would do anything to get aboard. Some 30 years later, Litchfield now owns his own racer, the classic Aage Nielsen-designed, 59-footer Hound.
Built in 1970 by Abeking & Rasmussen, Hound had been a fixture for years on the Vinalhaven side of the Fox Island Thorofare when Litchfield bought it. He had some work done on the boat at New England Boatworks in Portsmouth, RI, including finagling a complex marriage between the classic Barient coffee-grinder pedestals and modern Harken multi-speed winches, along with a few other mechanical improvements. Litchfield raced the boat during the summer of 2021 with the goal of discovering any shortcomings and brainstorming for a speedier overall package, mostly involving a new rig and North 3di sails. Then that fall, he took Hound to Lyman-Morse's yard in Thomaston for an extensive refit with supervision by the yacht's captain Tom Stark of Middletown, RI, and design supervision from Jason Black. Black worked for Sparkman & Stephens at one time and had collaborated with Lyman-Morse on a previous project. The immediate goal was to get Hound ready to sail fast in the 2022 Bermuda Race.
Design improvements called for by Black included a taller carbon fiber mast, a longer boom so that the mainsheet would land in a more user/cruiser friendly place on deck (the existing boom had been shortened in an earlier refit), and the addition of a carbon fiber bowsprit to make the asymmetrical spinnakers and Code Zero more effective. The old-fashioned fore and aft lowers were to be eliminated, which required a single chain plate for a new D-1 shroud. That job, an integral tang for the bobstay at the bow, and an anchor for an inner forestay, made good use of the skilled welders at Lyman-Morse.
The single biggest change was increasing the size of Hound's rig. The old aluminum mast was heavy, Litchfield explained, and replacing it with a much lighter carbon fiber spar gave the boat enough additional stability to carry more sail area. The new spars and a new Jim Taylor-designed rudder were built by Moore Brothers in Bristol, RI.
"It's a totally different boat now," Litchfield said. "It's super lively and the motion through the water is much improved."
As part of the refit, Hound now has two bowsprits, one for racing and a shorter one for cruising. Switching them out takes about an hour, Litchfield said.
The list of additional projects in the Lyman-Morse refit included boxing in the new D-1 chainplate with attractive joiner work; adding a new teak and holly cabin sole throughout; fairing up the hull underbody; adding a full instrument package, navigational, tactical, and wind instruments; rebuilding the galley and main head; redoing all the interior lighting controls; building new interior doors; upgrading driveline, batteries, refrigeration, bilge pumps, hoses, and seacocks; and making sure all the safety equipment was up to date.
The weather for the Bermuda Race was fierce, and the race committee delayed some of the classes after a few early groups were knocked down in 30 knot gusts.  Nonetheless, Hound finished first in her class, and ninth overall in the 108-boat St. David's Light division.
Since the Bermuda Race, Hound returned to Lyman-Morse for a new, Jim Taylor-designed keel that diminishes draft from 10 feet to just 8 1/2 feet, reduces her rating, and promises more speed.
Just Hound's third owner in 50 years, Litchfield is proud of the boat's history and has taken care to reach out to relatives of the previous owners, as well as previous crew members, many of whom have sailed or raced with him on the boat.
He noted that recent improvements in electronics and construction materials make this a really good time to modernize a classic like Hound. "You can really make a dramatic difference." 
---
Contributing Author Art Paine is a boat designer, fine artist, freelance writer, aesthete, and photographer who lives in Bernard, Maine.
---
Hound
LOA: 59.4'
LWL: 43.75'
Beam: 13.45'
Draft: 8.67'
Displ: 48,000 lbs.
Refit: Lyman-Morse Boatbuilding
84 Knox St., Thomaston, ME
207-354-6904
www.lymanmorse.com
Share this article:
2023 Maine Boat & Home Show

Join Us for the Maine Boat & Home Show!
Art, Artisans, Food, Fun & Boats, Boats, Boats
August 11 - 13, 2023 | On the waterfront, Rockland, Maine
Click here to pre-order your tickets.
Show is produced by Maine Boats, Homes & Harbors magazine.