Experiencing the North Woods and Finding New Love
By Ben Emory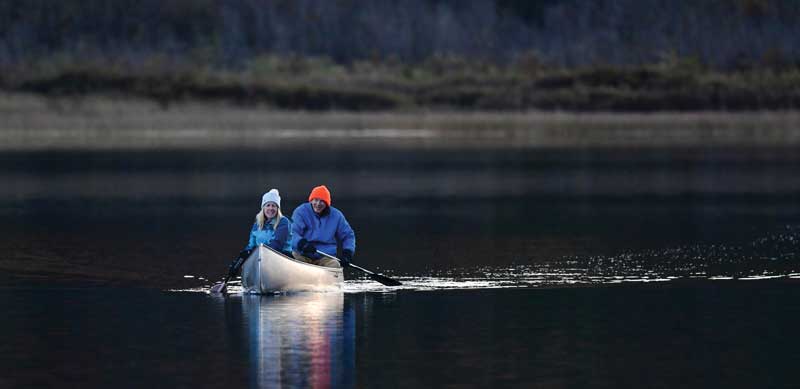 The author and Karin Tilberg return to the shore of Nahmakanta Lake as chilly October daylight fades. Photo by Robert Breshears
A year's crash course in the joys and importance of Maine's North Woods has been a personal journey into light after darkness—a love story of place and people. My guide is one of the region's experts, Karin Tilberg, president/CEO of the Forest Society of Maine, the land trust for the North Woods. Together, on the rivers and lakes, in the forests, and up mountains we rekindled delight in life after the near simultaneous passing of our spouses.
Three and a half times the size of Connecticut, the North Woods has a proud past and distinctive cultures. An outdoor recreation paradise, a vital economic resource, a haven for fauna and flora, and the absorber of nearly 70 percent of Maine's carbon emissions, it is rough country with few inhabitants. My life-long experience of Maine's natural world has primarily been coastal. To develop new interests and undertake new outdoor adventures in my eighth decade is an extraordinary blessing.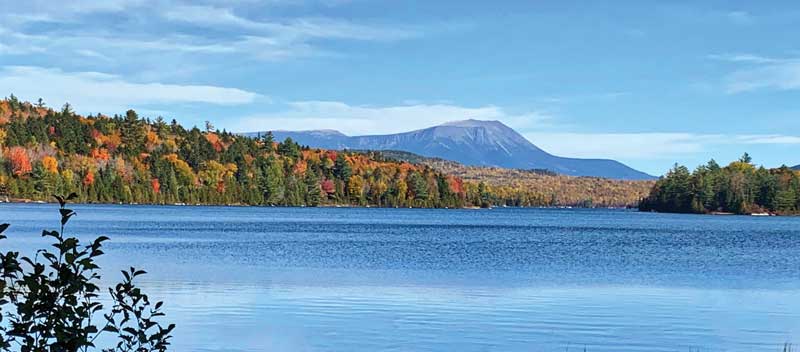 The Wabanaki's sacred Mount Katahdin, dusted with autumn snow, looms above Rainbow Lake. Photo courtesy Ben Emory
Very special was emerging from the forested section of the Appalachian Trail at the Rainbow Lake dam under cloudless skies during one trip to the region. The calm lake waters were rimmed with hardwoods ablaze in October color; snow-capped Mount Katahdin loomed above—no wonder the Wabanaki have for millennia found the dramatically imposing mountain sacred.
After downing sandwiches while enjoying the spectacular scenery, we retraced our steps along the AT toward Nahmakanta Lake Wilderness Camps, where we were spending three nights. This was the sixth sporting camp where Tilberg and I stayed during this first year exploring together.
Sporting camps, some dating back to the 19th century, are an integral part of North Woods history and culture. Fishermen and hunters have flocked to them, often year after year and, in some families, generation after generation. Our nights and days at these sporting camps have been enchanting. One of their draws is the eating and conversation with other guests. Meeting and chatting with others similarly enthralled by Maine and its outdoors is invigorating.
For the first time in my life I have a Maine fishing license and am learning to flyfish. In June we went to Grant's Kennebago Camps at Kennebago Lake near Rangeley for fishing. Created after sports discovered brook trout weighing seven pounds or even more following the Civil War, Grant's Camps is well over 100 years old. Today Maine's North Woods is the last refuge of native eastern brook trout. We used a Rangeley boat with 6-horsepower outboard—Grant's Camps owner John Blunt has had his fleet restored as necessary, and maintains them in serviceable, but not fancy, condition.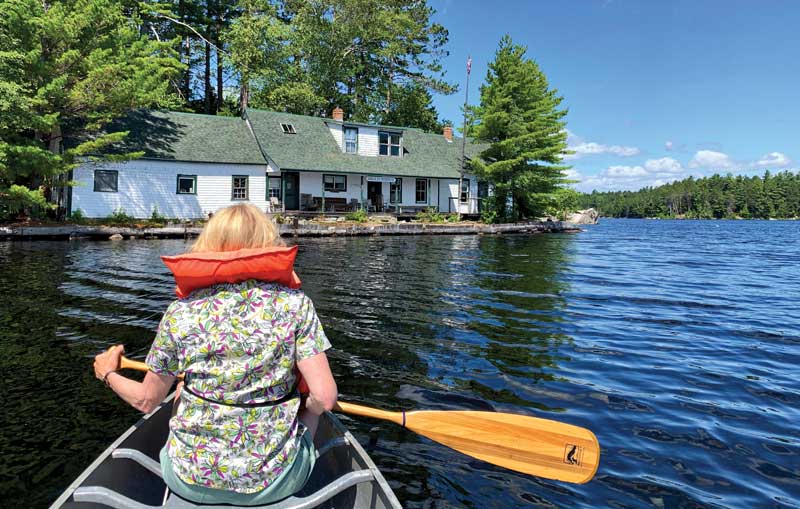 Historic treasure from logging days: the Boom House Museum on an island in Ambajejus Lake near Millinocket. Photo courtesy Ben Emory
Rangeley boats are wider than a canoe for stability and much more rugged and heavy in their construction. We were able to stand and cast from our boat and easily returned to camp through sizeable choppy waves churned up by a rising northwest wind. I loved the Rangeley boat—and even caught my first land-locked salmon from it.
Grant's Camps offers the special experience of fishing on remote Flatiron Pond. In the Rangeley boat we powered several miles to the south end of Kennebago, left the boat at a trailhead, and carried our flyrods, carefully, on the short, forested hike to the pond, where we fished from canoes that are kept there. For the whole of a brilliant sunny Sunday we had the pond to ourselves, not only fishing but exploring into wetland areas where the water was deep enough to float our canoe.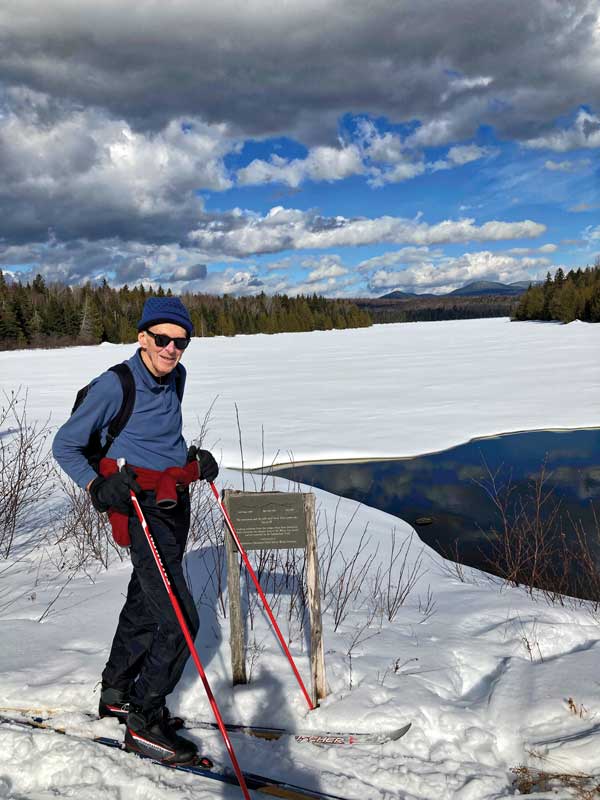 The author heads into the 100-Mile Wilderness east of Greenville on a multi-day skiing adventure. Photo courtesy Ben Emory The winter brought adventuring on skis. Tilberg is an avid Nordic skier, and I have done my share of skiing, too. What I had never done was a several day trip skiing camp to camp. The Appalachian Mountain Club operates three old sporting camps east of Greenville. We left our car in the so-called winter parking lot several miles down a treacherously icy road from Greenville and loaded our duffels onto a toboggan that was towed by snowmobile to our first camp, Gorman Chairback Lodge and Cabins on the shore of Long Pond. Off we skied in unseasonably warm weather with soft snow conditions. Overnight the temperature plummeted, and when we set off the next morning for Little Lyford Lodge and Cabins, also an AMC facility, we were skiing on sheer ice, but with care we made it safely. For our third night we skied to West Branch Pond Camps. Privately owned and operated, it cooperates with the AMC camps, including in the transfer of personal gear. The night in a cabin on the shore of West Branch Pond was one for the memory book, full moon brilliantly illuminating the snow-covered pond with the shores and surrounding hills intensely black. I fully grasped how the North Woods calls Tilberg's soul, and was beginning to call mine too.
As at Nahmakanta, hiking has been a major part of our forays into the North Woods. The region is laced with trails open to the public, thanks to the cooperation of private timberland owners and the ownership of large tracts by the State of Maine and conservation organizations. The high point, literally in terms of altitude, was Katahdin in mid-July. Tilberg has climbed Katahdin about a dozen times, but I had only climbed it once and that in 1974. Then, I was glad to have done it but found the Abol Trail's huge rocks tedious on the way up, and the Hunt Trail very long coming down. This time we used the now improved Abol Trail both going and coming, and, to my surprise, I enjoyed the climb much more than before. Perhaps it was the adrenaline kick from finding I can still do it!
To enhance whitewater canoe skills Tilberg arranged for guide Kevin Slater of Mahoosuc Guide Service to provide a day of instruction in rapids on the Penobscot River. I've enjoyed learning to adapt a lifetime's worth of saltwater boat handling skills to maneuvering canoes, not only in whitewater on rivers and streams but also in high wind gusts with resulting waves encountered at Chase Lake in Aroostook County.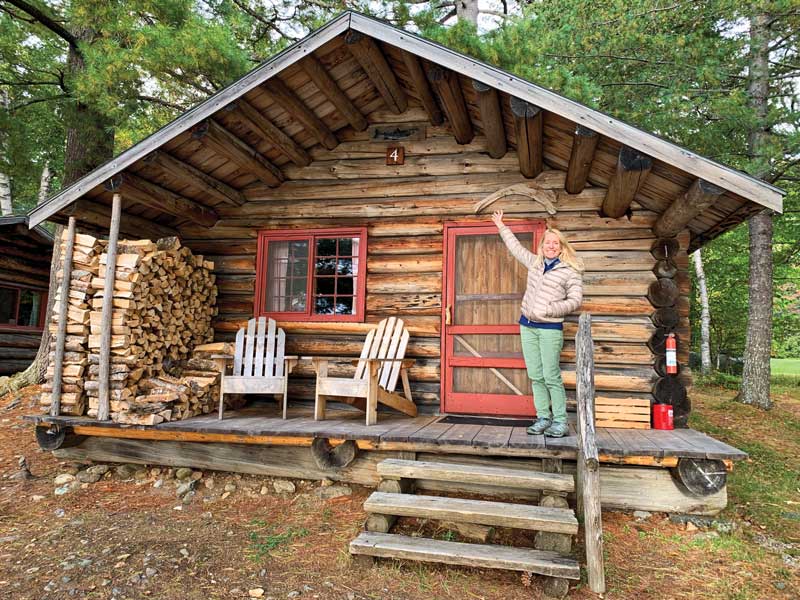 Delighted by arrival at Bradford Camps cabin on Aroostook County's Lake Munsungan, Karin Tilberg signals her North Woods exuberance. Photo courtesy Ben Emory
The morning after Katahdin, Tilberg and I paddled our 13-foot Grumman canoe a relatively short distance through a brisk northwester to the Boom House Museum, which is on an island in Ambajejus Lake. What a treat! The curator/caretaker was ashore, but we found the unlocked building full of old photographs, equipment, and interpretive information. The education in what tough river drivers accomplished moving logs across lakes and down rivers will long stick with me.
The Forest Society of Maine oversees more than a million acres of land under conservation easements, 90 percent being working forest where development is prohibited but management for timber production continues. The rest is land kept wild and unharvested as ecological reserves. When Tilberg goes to the North Woods, she has people to see, completed projects to check on, and potential new projects to see. I was privileged to tag along as we visited conserved lands and targets for conservation by vehicle, on foot, by canoe, and by pontoon boat. All this deepened my understanding of the importance of not losing forested acres and of the vital roles played by forest conservation programs.
Did I pass my crash course in Maine's North Woods? It seems so. Tilberg, impassioned guide and teacher, married me. The North Woods has brought us both the deepest sense of spiritual renewal and commitment to each other.
✮
---
Ben Emory splits his time between Salisbury Cove and Brooklin, Maine. He is the author of Sailor for the Wild—On Maine, Conservation and Boats, published by Seapoint Books.
Share this article:
2023 Maine Boat & Home Show

Join Us for the Maine Boat & Home Show!
Art, Artisans, Food, Fun & Boats, Boats, Boats
August 11 - 13, 2023 | On the waterfront, Rockland, Maine
Click here to pre-order your tickets.
Show is produced by Maine Boats, Homes & Harbors magazine.