In a FOG!
By Ted Ruegg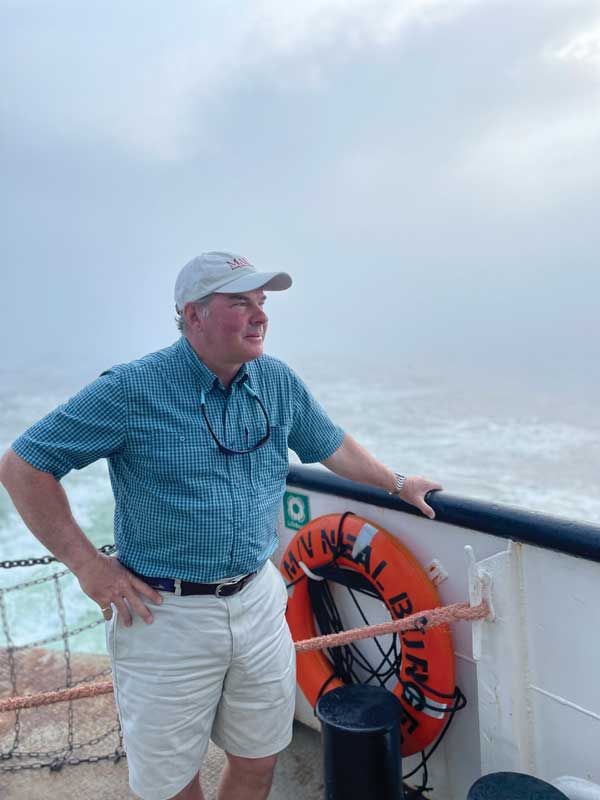 Early summer this year was dominated by that weather phenomenon known as FOG. According to NOAA there are several types of fog: radiation fog, precipitation fog, advection fog, steam fog, upslope fog, valley fog, freezing fog, ice fog. I believe we have been experiencing radiation fog, which occurs when the temperature meets the dew point. But the fog has not kept me down. I've been sailing in the fog, gone on picnics in the fog, gardened in the fog, motorboated in the fog. The name of my family's previous boat was Fogwater, which came from a murky delivery from Annapolis to Block Island. The fog was so thick on our approach to Block Island that it blanketed everything on the boat—sails, deck, and crew—with condensation. No rain, but we were soaked in fog water.
Navigating in the fog is aided greatly by a good radar set. Radar technology has improved with color screens, high definition, and chart plotter overlay with AIS. Still, the images on the radar screen are subject to interpretation. Is that a buoy, a rock, or a boat? Is the boat on a mooring or moving? I prefer using the split screen of the chart with AIS and the radar to verify targets. Lobster pots in general do not show up on radar, so avoiding them in the fog becomes even more difficult.
Since 2015 most foghorns in the state have been shifted over to new technology. Rather than coming on automatically when the air becomes moist, they must be activated on demand by nearby boaters. Set your VHF radio to 83A and click the talk key five times. I tried this recently while returning from another foggy picnic as we passed by the Goose Rocks lighthouse at the eastern approach to the Fox Island Thorofare… and it didn't work. Fortunately, visibility was not less than half a mile and I was able to find my way. Perhaps it needed to be foggier or I needed to be closer. Let me know if you've had success with the on-demand fog horns along the coast.
For everyone's sake, I hope that late summer and fall will bring bluebird days with sunny skies and fair winds to all.
✮
Share this article:
2023 Maine Boat & Home Show

Join Us for the Maine Boat & Home Show!
Art, Artisans, Food, Fun & Boats, Boats, Boats
August 11 - 13, 2023 | On the waterfront, Rockland, Maine
Click here to pre-order your tickets.
Show is produced by Maine Boats, Homes & Harbors magazine.