Small and Efficient Dwellings
By Connie Sage Conner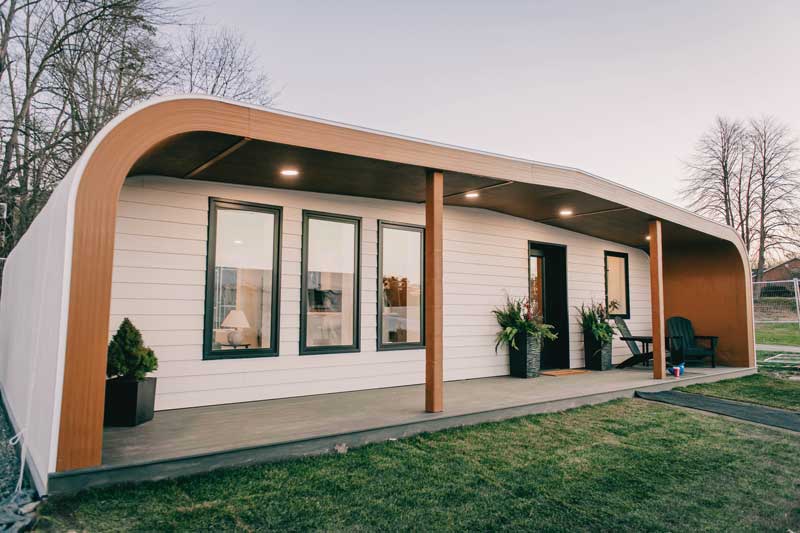 Call them prefab pods, modulars, tiny houses, or accessory dwelling units. Small, efficient dwellings, and the research around them, could be the wave of the future at a time when housing is scarce, especially in coastal communities.
A number of Maine-based organizations are creating innovative small dwellings. They include OPBOX, in Nobleboro, which builds structures entirely from recycled plastic; Knickerbocker Group, with offices in Portland, Brunswick, and Boothbay, which is building prefab units that use sheep wool for interior insulation; and the University of Maine in Orono, which has used what is billed as the world's largest thermal plastic 3-D printer to construct a prototype house.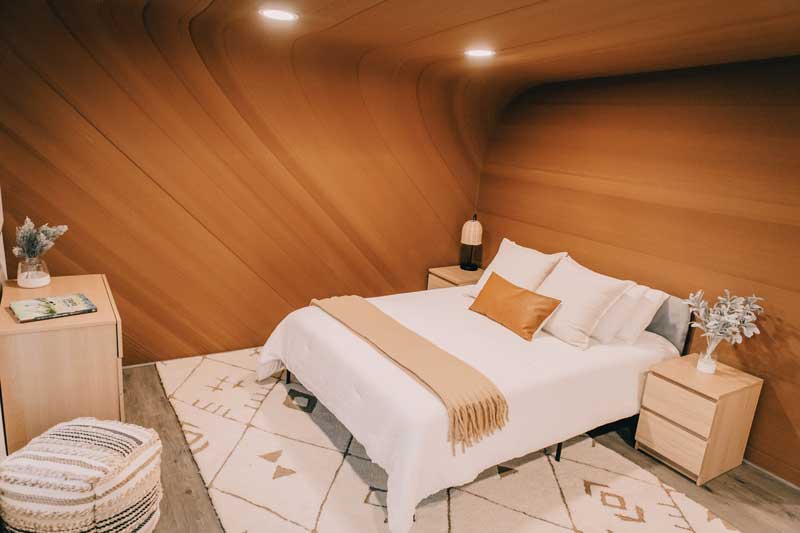 UMaine's 3-D printed home was lifted by a crane onto its foundation and finished in three weeks. Photo courtesy University of Maine's Advanced Structures & Composites Center
These are not the only companies working with the concept of building small and efficient living spaces. Tiny Homes of Maine, in Houlton, builds units that look like mobile homes but are 400 square feet or smaller. Other builders include BrightBuilt Home and GO Logic, known for their net-zero, prefab buildings; and OPAL Architecture, whose partner Matt O'Malia has cofounded GO Lab, a clean tech company based in the former paper mill in Madison that is making insulation from wood fiber.
All have the same goals: to provide energy-efficient, affordable, sustainable, and environmentally friendly self-contained units for multiple uses, and to provide much-needed economical housing.
The Maine Legislature, taking note of the state's pressing housing needs, has passed laws requiring cities to zone for accessory dwelling units, commonly known as ADUs, by 2024. ADUs are small, self-contained units that have been called "granny flats" or "in-law suites." Elsewhere in the country the concept has taken off. A recent Washington Post story noted that more than 23,000 ADU permits were issued in California last year, compared with fewer than 5,000 in 2017. In Maine, the demand for downsizing or building small is also strong. High-end home builder Knickerbocker Group leased an 18,000-square foot building in Wiscasset and this summer planned to launch a line of prefab living pods. OPBOX planned to expand its already robust operation from a large shop at the foot of the family's fourth-generation homestead in Nobleboro to a 15,000-square-foot facility in Woolwich.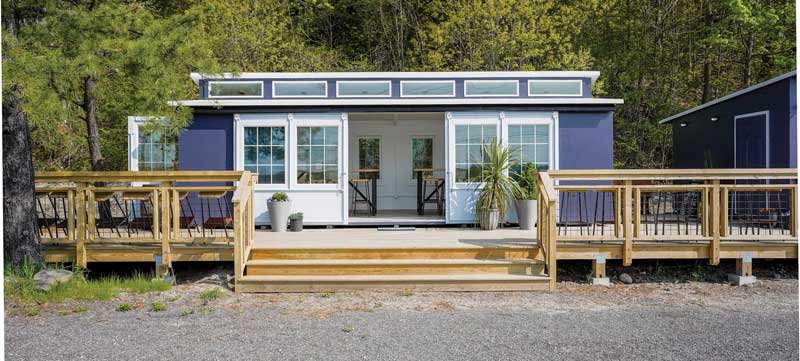 This modular structure was built by OPBOX using recycled plastics. Photo courtesy OPBOX
The concept for the OPBOX (short for "opportunity box") took off in 2017, when owners Ben Davis, and his sister, Emily, started a company marketing containers. Ben Davis has a boating background; he has served as captain on multiple boats, and owns True Course Yachting, a concierge yacht service company. His sister worked in high-end retail in New York City. Both returned to Maine when their father, who has since died, was ill.
"We were ready for a change and took our experiences to start our first pods," said Ben Davis. In 2018, the siblings hosted a show of photos in an 8x16-foot "art box" parked in a downtown Portland parking space during a local art walk. "That was our first opportunity box," said Ben Davis. "We ended up having dozens of local artists who thought it was great because it was mobile and modular."
Eventually the siblings developed OPBOX plastic pods. "We've developed our own sustainable building system that utilizes recycled plastics for more efficient, cost-effective building," Davis said.
OPBOX transforms recycled plastic and other raw materials into Edura, the company's brand name for its panels. "Because we can make the panels continuously—the whole walls are in one piece—there's no thermal bridging (energy loss) so they're really strong and really great for new energy codes," Davis said. "There's virtually no maintenance. They never rot and never rust."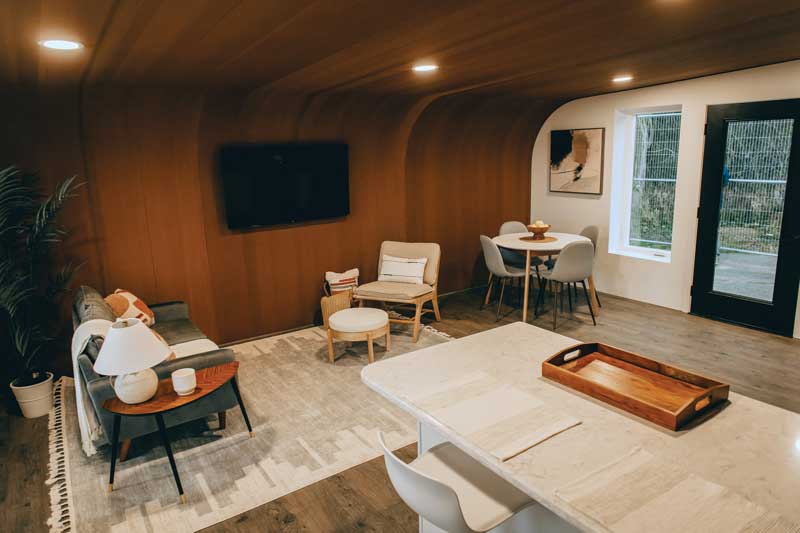 University of Maine's 3D prototype was printed using wood fibers and bio resins, making the house fully recyclable and resulting in very little waste. Plans call for the Advanced Structures & Composite Center to continue its research in housing construction with the opening of the Green Engineering and Materials research Factory of the Future. When complete, the factory will serve as a hub for AI-enabled large-scale digital hybrid manufacturing. Photo courtesy University of Maine's Advanced Structures & Composites Center
The pods have been purchased for retail, hospitality and other commercial uses. "This year we're coming out with 600-square-foot residential boxes for houses," he continued. "We do the whole thing. What's unique is we developed our own building material to build modular houses." The basic model starts at $11,000 and commercial units can cost up to about $100,000.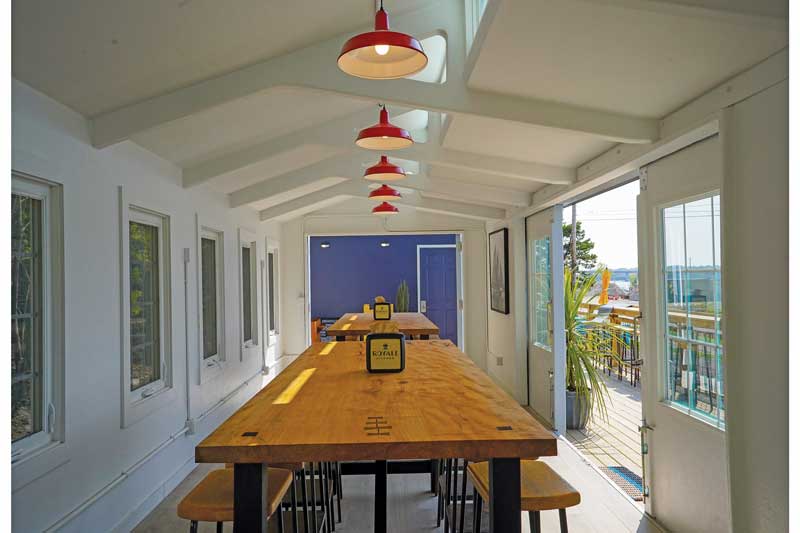 The OPBOX pods are built using structural panels, that avoid the need for studs, sheathing and insulation. Photo courtesy OPBOX
OPBOX isn't concentrating solely on recycled plastic homes. It's partnering with L.L. Bean and state parks and municipalities in Maine, New Hampshire, and Massachusetts to build "recreation stations" on beaches to hold chairs and other items for sun worshipers. A similar self-service pilot project this past winter held sports gear for loan in the Boston area. OPBOX also is working with the town of Old Orchard Beach to create several "comfort stations" as restroom options for beachgoers. The company has designed plastic fences for an Atlanta business to shield its construction site. Noise from a pickleball court was irritating neighbors in York, Maine, so a plastic fence made out of OPBOX material was installed to dampen the sound.
This summer, a business used a "pop up" box in downtown Portland to sell seafood; pod boxes also are being used in Boston, said Davis. A unit will be shipped to Chicago where sports teams plan to use it for retail sales of T-shirts and other merchandise. OPBOX also has teamed up with a podcast producer to create its own mobile studio unit for podcasts featuring customers and partners.
Knickerbocker Group is among traditional design-build companies entering the prefab, modular construction arena. Bill Burge, Knickerbocker's prefab operations manager, said the company has leased a warehouse in Wiscasset where it is building 500- and 800-square-foot units.
"A lot of people are realizing they don't need to heat a big house," said Burge, adding that each unit will
have "everything you would need in a (traditional) 2,000-square-foot house." Knickerbocker's scaled-down homes, called prefab pods, are stick-built and upscale with the same attention to detail as its custom homes. "This is not your typical modular," Burge continued. "These will be recyclable and renewable."
Burge said using wood, for example, allows for carbon sequestration, the process of capturing and storing atmospheric carbon dioxide. "We want a healthy home for people to live in."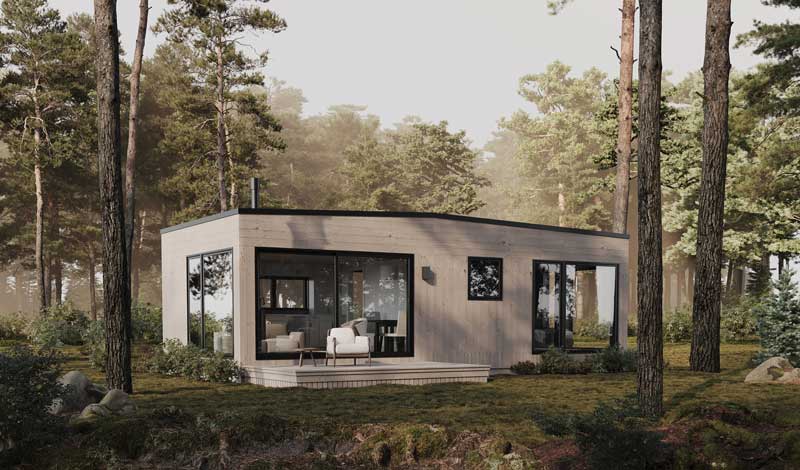 Knickerbocker Group has started a unit that is building prefab 500 square foot (shown here, above and below) and 800 square foot pods made from as many renewable materials as possible. The pods can be used as standalone or accessory dwelling units. (Above and below) Photos courtesy Knickerbocker Group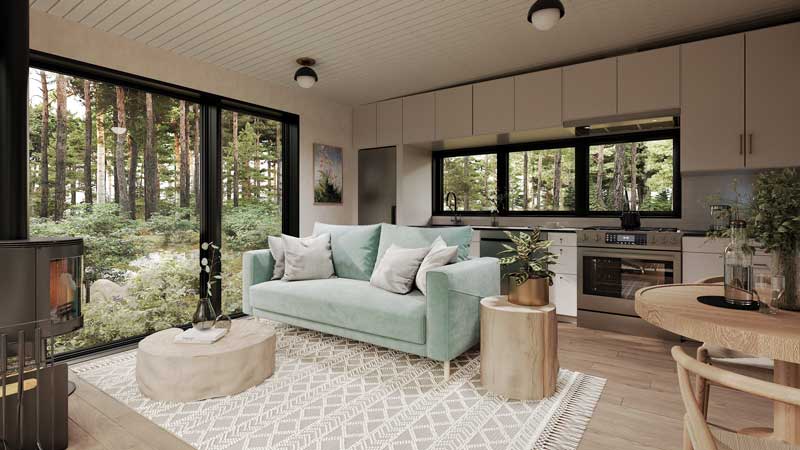 Knickerbocker displayed the prefab pod model at a home show in Portland last spring. Visitors were fascinated that something so small could be built so well, according to Burge. The 8 x 20-foot model was outfitted with custom German windows, stainless steel appliances, a full-size bathroom with walk-in shower, and recycled paper countertops.
The company's units are built entirely inside its warehouse, from walls to windows and plumbing to paint. Its staff can help a buyer locate land, if necessary, and also do all the prep work for a new dwelling, from installing the septic tank to digging a well, Burge said. The framing, finish work, and installation of cabinets, electrical, and plumbing are completed before a unit is moved to its site.
The base unit price for the 500-square-foot unit is $225,000 and $300,000 for the 800-square-foot pod.
Danielle Betts, president at the employee-owned group, knows the value of living small firsthand. She and her husband, Brad, spent two years in a 400-square-foot home with two young sons, a dog, a cat, and a bird. "I joke we had 100 square feet each," said Betts. The outdoors was their living room. "There are certain things you realize are essential and you take advantage of every square foot," she said. The couple later built a 1,200-square-foot house in Boothbay and use the small dwelling for visitors. Another small unit is a studio for Danielle's husband, who is an artist.
"Many people come here from out of state and can't find a place to live," Betts continued. That realization hit home when an intern initially accepted a job offer at Knickerbocker, but then could not find a place to live and had to back out.
Maine faces a housing crisis, Betts said, with little available inventory. Small dwellings can fill that gap for singles, couples, young families, or empty nesters who have lost a spouse or partner. ADUs allow for an older person to remain independent without going into assisted living. Knickerbocker's homes meet Americans with Disability Act requirements and "are designed to be accessible so that someone truly could stay there as long as they could," Betts said.
Julien Jalbert, one of a half-dozen architects at Knickerbocker, said construction of the prefab units relies on energy-saving materials like wood, hemp, and even wool. The interior wall insulation comes from Havelock Wool in Reno, Nevada, a company that bills itself as producing alternative building products for healthier, sustainable ecosystems. "It's literally sheared wool from a specific breed of sheep," said Jalbert. The industry standard is fiberglass, he continued, but from an environmental standpoint sheep wool is better."
The exterior insulation within the floors and exterior walls is made from wood-fiber insulation produced in Madison, Maine, by TimberHP by GO Lab.
How did Knickerbocker come up with the idea for its small modular homes? "I was sitting down with head architect Rick (Nelson) and Danielle (Betts) for my annual review," said Jalbert. "They asked what I was not doing that I might be passionate about. I said a lot of companies are really pushing prefabrication with off-site construction." He's now "super excited" about designing modular structures for a living. "I've found my passion at Knickerbocker with passionate folks who got behind this idea. I'm living my dream."
At the University of Maine's Advanced Structures & Composites Center, researchers have produced a 600-square-foot home using the world's largest 3-D printer, which itself—at 60 by 22 feet—is the size of a small building. Evan Gilman, the center's chief operating engineer for additive manufacturing, said the big printer uses thermal plastics, which can be melted, cooled, hardened, melted again, and turned into another shape. "In theory, the home we 3-D printed could be ground up and printed again," he said.
The 3-D printed home was made in four main sections and lifted by a crane onto its foundation in Orono. "We finished the home in three weeks after putting it on the foundation, primarily with staff and students who had never built a home," Gilman said.
"Our lab's mission is to try to solve problems using green technology," he continued. "We're not trying to go into the home making business. We want to refine technology for industry to adopt. We're building an addition to our lab to be open in 2026 that will have a lot more 3-D printing capability. This new lab addition will allow us to make more homes at a more productive rate."
The need for housing is driving people to be open to a lot of different solutions, including smaller, single-family dwellings, Gilman said. "Everyone is looking for ways to provide housing."
Some 100 students are paid to work at the U-Maine lab, including would-be civil or mechanical engineers, as well as students majoring in business, chemistry, and various other disciplines.
"The whole object was to learn from the experience of making a full-size house and finishing it," noted Gilman. "The home went through a good old Maine winter and survived well. We learned there were a lot of things left to be done by hand that we can hope the printer will do the next time."
The Advanced Structures & Composites Center has partnered with the Oak Ridge National Laboratory in Tennessee to refine 3-D printing technology. In one pilot project, two molds for seven-piece, 100-foot offshore wind blades were built on UMaine's printer using cellulose materials. The lab has also produced 3-D printed boats and boat molds.
Gilman said the center "has been doing work for more than 20 years with thermal plastic and wood fiber," which differs from thermal plastics derived from petrochemicals that may not be eco-friendly. "With prefabs we can be building a house in a climate-controlled environment and simultaneously do site work" like clearing land and preparing the foundation. "With prefab you can literally have the house built and ready in a matter of weeks," he said.
While the approaches differ, everyone interviewed for this story agreed the challenge is real. "Our tourism and workforce economy will fall apart if we don't have housing," said Knickerbocker's Betts. "Housing is the root of the economy." 
---
Connie Sage Conner is a retired editor at The Virginian-Pilot. She and her husband cruised on their Kadey-Krogen, Epilogue, with their two cats. They live in Harpswell, Maine.
Share this article:
2023 Maine Boat & Home Show

Join Us for the Maine Boat & Home Show!
Art, Artisans, Food, Fun & Boats, Boats, Boats
August 11 - 13, 2023 | On the waterfront, Rockland, Maine
Click here to pre-order your tickets.
Show is produced by Maine Boats, Homes & Harbors magazine.