John's Bay Boat: Outer Fall
A bigger, faster wooden workboat
By Brian Robbins
Jim Tripp doesn't fit the clichéd vision of a downeast lobster fisherman—he eschews the traditional billed cap for a red bandanna to keep his shoulder-length grey/blonde hair in place, for instance. But get talking with the Spruce Head, Maine, lobsterman and you'll realize that not only has he paid his dues on the water, he's been a traditionalist about it, as well. With one exception (a fiberglass 37' REPCO he worked for six months years ago) Jim Tripp has had a wooden hull under his boots since he was eight years old. He is now 58.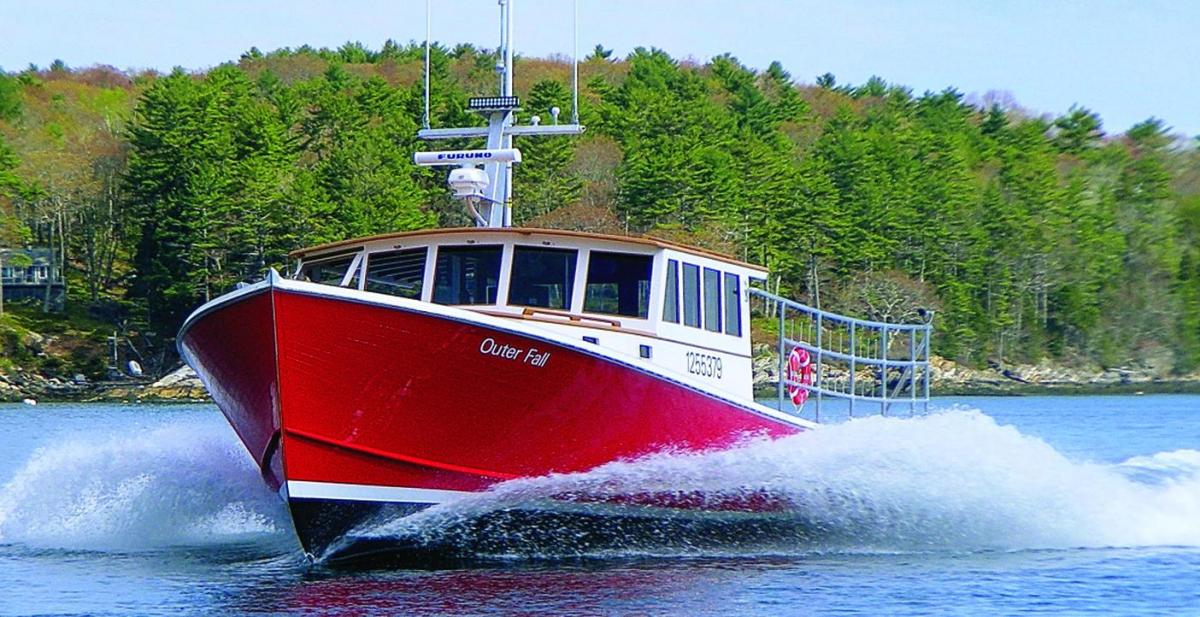 During the 2015 lobsterboat races Outer Fall won the John's Bay Boat class in Stonington, where it was radar gunned at 24.6 mph. Photo by Brian Robbins
"There's just something about a wooden boat that feels almost human to me," he said. "They always have. It's almost like they've got their own souls." 
Since 1996 Tripp has worked out of a 42-footer that John's Bay Boat Co. in South Bristol built for him. "I loved that boat; I still do," Jim said. "My son John owns her now. We're keeping her in the family."
The only reason Jim Tripp gave up the helm of that Peter Kass-built boat was to take the wheel of a new one: the 47' x 15'8" Outer Fall slid down the railway at John's Bay Boat Co. back in the spring.
Tripp's criteria for his new boat made for a simple list: a little bigger, a little faster—and just as comfortable as his old one. According to Jim, the folks at John's Bay nailed it on all counts.
While Outer Fall's 803-hp C18 Caterpillar pushes her along easily at 23.8 knots with the throttle pinned, the cruise numbers tickled Tripp the most: "1700 rpm is about 17 knots; 16 at 1600 … that's real easy duty for this engine."
The 47-footer's visibility at all speeds had Tripp smiling as well. "With some boats you get a blind spot running up on a buoy," he said. "This one's good to see out of and handles really well for her size."
Actually, Jim Tripp had done some bonding with his new boat before she hit the water: he worked alongside the John's Bay crew for the last two months of the process—Kass and his crew only build one boat at a time.
"I'll tell you something: building a wooden boat is hard work, harder than lobstering as far as I'm concerned," he said. "Pete and his crew were all great, man… they're like family."      
Outer Fall Specifications
LOA  47'
Beam  15'8"
Draft  5'4"
Power  803-hp C18 Caterpillar
Top speed  23.8 knots
Builder:
John's Bay Boat Co.
Bristol, ME
207-644-8261
www.johnsbayboat.com
---
Brian Robbins is senior contributing editor at Commercial Fisheries News, where he writes about boats, gear, and people (when he's not writing about music for various publications or riffing on his guitar in the Horseshoe Crabs).
Share this article:
2023 Maine Boat & Home Show

Join Us for the Maine Boat & Home Show!
Art, Artisans, Food, Fun & Boats, Boats, Boats
August 11 - 13, 2023 | On the waterfront, Rockland, Maine
Click here to pre-order your tickets.
Show is produced by Maine Boats, Homes & Harbors magazine.