Ladona arises like a phoenix
Ladona arises like a phoenix
Tuesday, May 24th 2016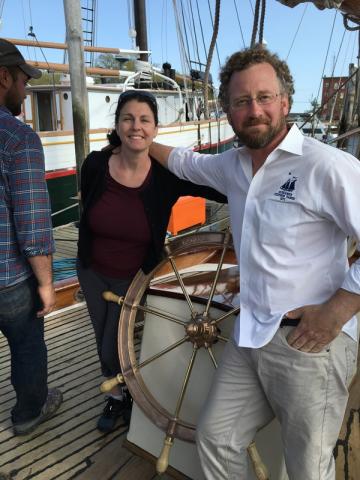 Often the process of restoring an old vessel is more like a rebirth than a rebuild. Such was the case with the 82-foot schooner Ladona.
The stately vessel was re-commissioned May 18 in Rockland after 20 months of "rebuilding," but for the most part she is a new boat with an old and illustrious soul, ready to take on the next 100 years.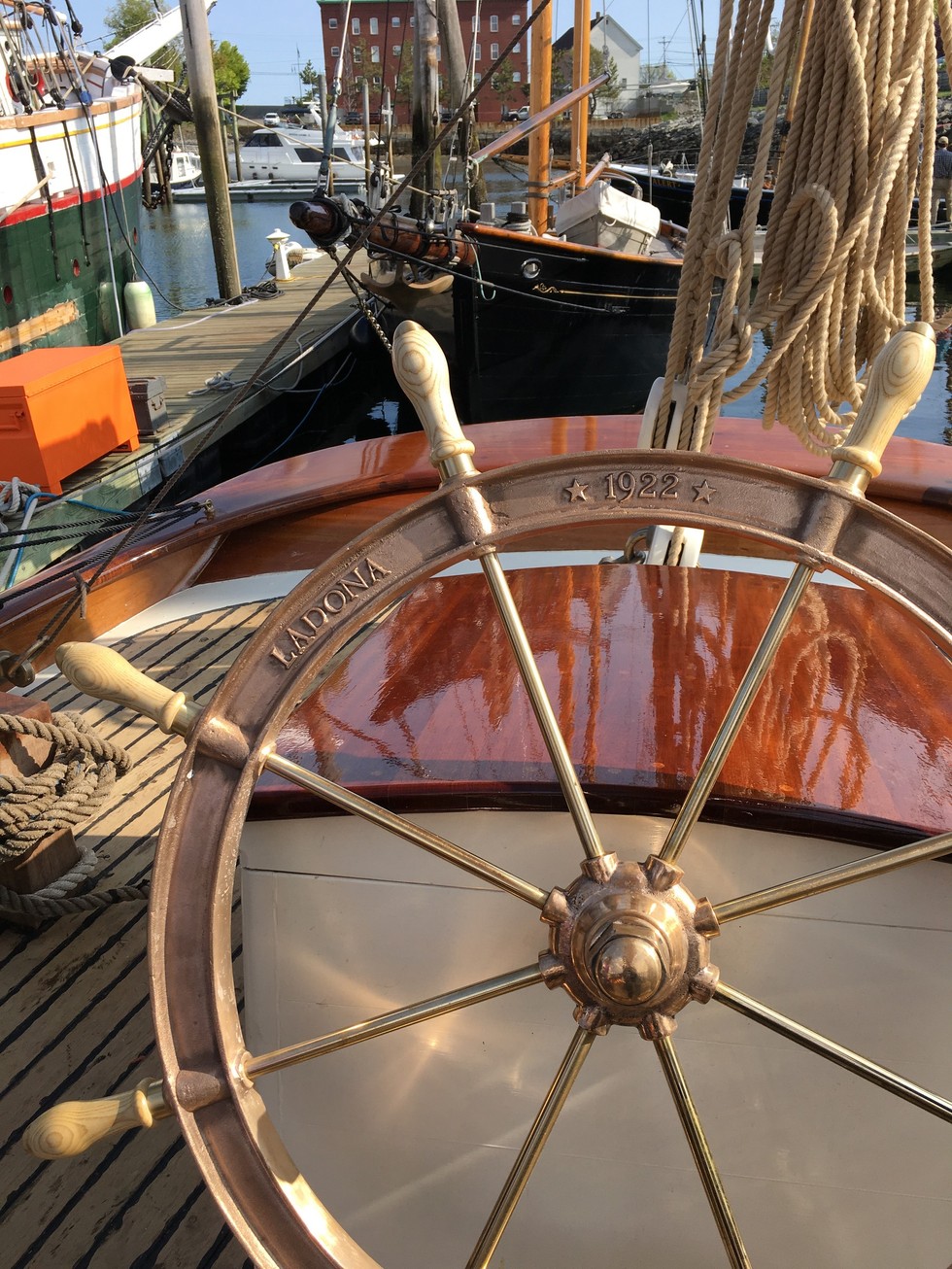 The new wheel was cast at the Lunenburg Foundry, which once was known for proving parts for schooners up and down the coast.
Built in 1922 at the Hodgdon yard in East Boothbay as a private yacht, the William Hand-designed vessel was used during World War II as a Coast Guard patrol boat looking for enemy submarines off New Jersey, New York, and Connecticut. She was then used for fishing and as a training vessel and eventually in 1971 ended up in the Maine Windjammer fleet where she was renamed the Nathaniel Bowditch.
Jane and Noah Barnes, who took over the schooner Stephen Taber in 2003 from Noah's parents, Capt. Jen and Ellen Barnes, bought the Bowditch in 2014, gave her back her original name Ladona (she was named after a Civil War gunship), and began restoring her.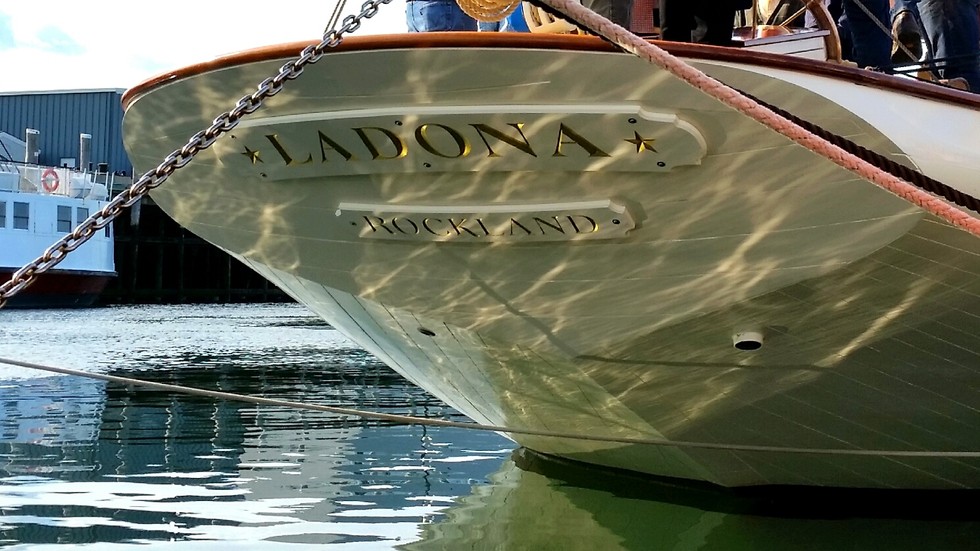 The newly rebuilt schooner will join the fleet in Rockland.
Some highlights of the rebuild include a new brass wheel cast at the Lunenburg Foundry in Nova Scotia. Although the company no longer specializes in making parts for sailing vessels, the Ladona's new captain, J.R. Braugh, persuaded the foundry to dust off an old mold and cast a shiny new 44-inch wheel stamped with the name Ladona and 1922. Lowe Hardware, of Rockland, Maine, which makes high-end architectural and marine hardware, provided special solid brass door handles.
Along the way, Noah Barnes discovered that Ladona had never been formally recognized for her war work. As part of the recommissioning process, Coast Guard Cmdr. Andrew Meyers was on hand to present the long-overdue American Campaign and WWII Victory medals.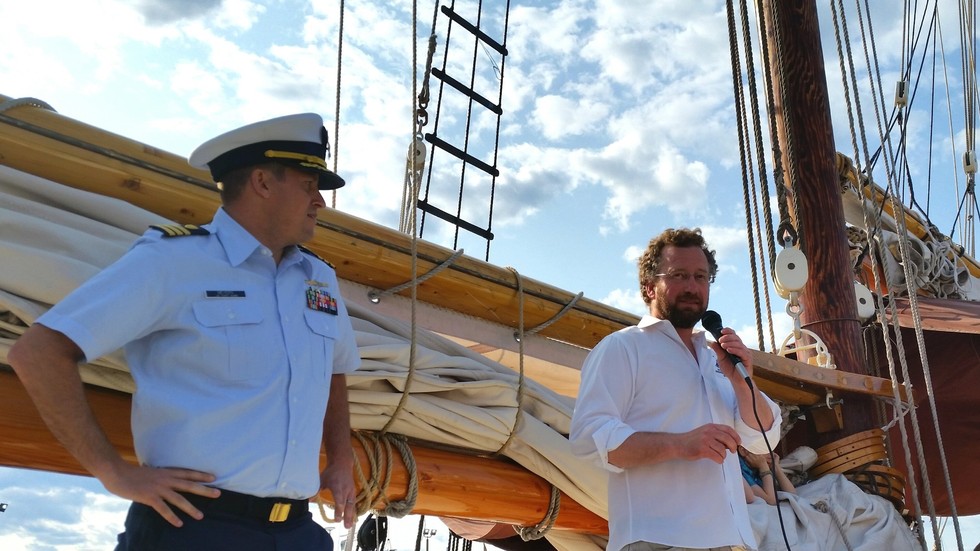 Coast Guard Cmdr. Andrew Meyers presented long overdue medals for the schooner's war service.
A member of the Maine Windjammer Association, Ladona became available in June for three-to-six-day sailing adventures along the coast. For more information, visit schoonerladona.com.

If you can't sign up for a cruise but want to tour Ladona, she will be dockside Saturday, Aug. 13, during the Maine Boats, Homes & Harbors Show. The show takes place Aug. 12-14 on the waterfront in Rockland, Maine. For more information: maineboats.com/boatshow.